
Table of Contents

About the Author

Reviews and Awards

Best Data Recovery Software for 2021
Q: How can I stop Trash deleting items immediately on Mac
"As of upgrading to macOS High Sierra, my trash folder deletes files immediately. Dragging files to Trash, it prompts the message 'Are you sure you want to delete xx? This item will be deleted immediately. You can't undo this action.' It seems that the Trash becomes unusable as it no longer saves the deleted files. How can I stop Mac from bypassing Trash and deleting items immediately?"

Don't worry. This article covers everything you want to know to stop Trash deleting files and recover lost data.
Workable Solutions
Step-by-step Troubleshooting
Fix 1. Recover unintentionally deleted files
Download EaseUS Data Recovery Wizard for Mac > select the location > scan...Full steps
Fix 2. Stop Trash deleting files immediately
Step 1. Launch Application and go to Terminal.
Step 2. At the command prompt, type: sudo rm -ri ~/.Trash and press return...Full steps
Why does Mac Trash delete files immediately, not receiving deleted files
There are basically two reasons that cause Mac delete file immediately without saving to Trash.
1. Using Delete Immeidately feature on Mac
"Delete Immediately" is a handy feature for Mac users to get rid of a file or a folder from Mac right away without manually emptying the Trash. It skips the Trash function and just deletes the files. There are two ways to access and use Delete Immdeiately featre on Mac: 1). A quick access keystroke: Option + Command + Delete; 2). File Menu > Delete Immediately...
By using this feature, Mac users can remove and delete files instantly from Mac by skipping the Trash, making it faster than deleting files to Trash and emptying the Trash.
2. Trash file permission error
According to some official explanations, it's because the file permissions associated with Trash are out of whack, making it impossible for OS X or macOS to write new files to the Trash folder or move the items you want to delete into a temporary location. That's how you have to accept the truth that deleted files or folders will bypass the Trash and disappe instantaneously.
How to recover unintentionally deleted files not going to Mac Trash
Don't worry when you lost the quick access to retrieving deleted files from Trash on Mac as files were deleted immediately without going into the Trash. Yo can easily recover trash bin emptied files on Mac with EaseUS Mac data recovery software.
Regardless of your files getting deleted immediately from trash due to file permission issue or you used the keyboard shortcut "Option + Command + Delete" or "Delete Immediately" option from the file menu in Finder, EaseUS Data Recovery Wizard for Mac is a handy data recovery utility in this case to help you immediately scan and find the lost files. 
Tutorial: How to recover files deleted immediately from Trash or Finder
Step 1. Select the location where your important data & files were deleted and click the "Scan" button.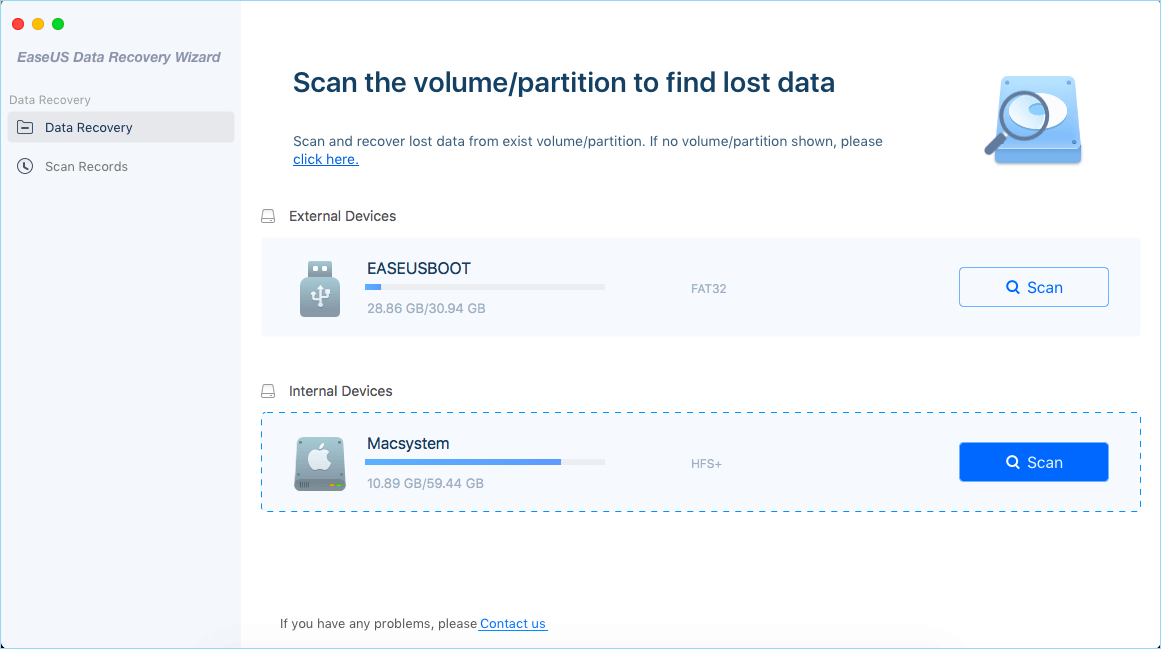 Step 2. The software will run both quick scan and deep scan and work hard to find as many deleted files as possible on the selected volume.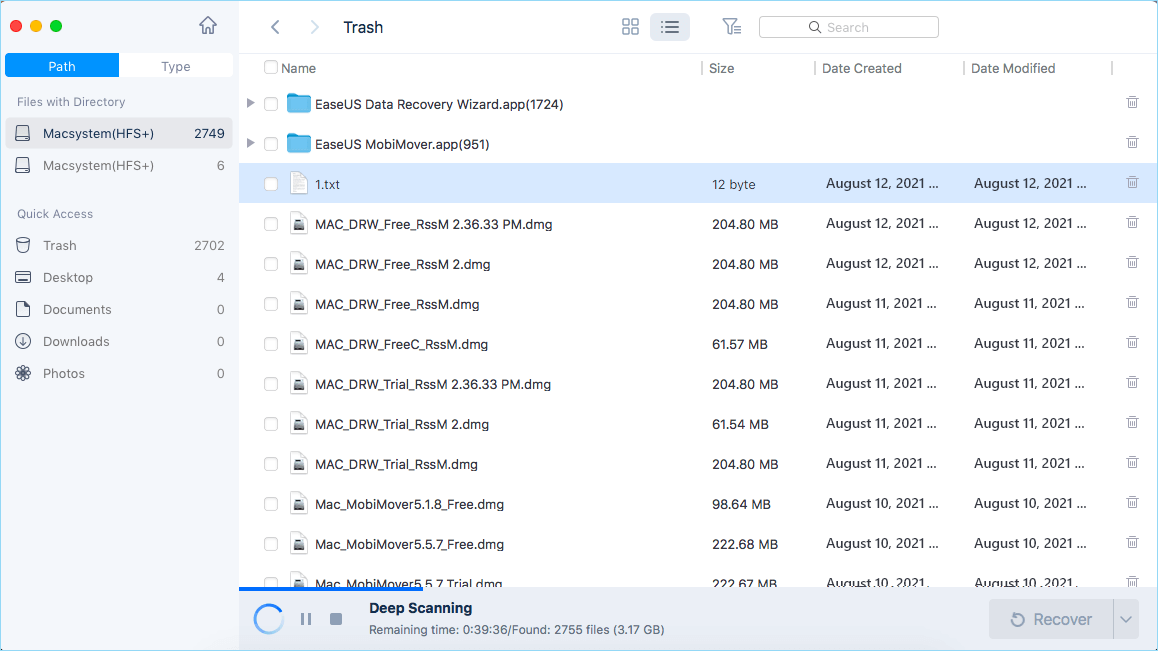 Step 3. The scan results will be displayed in the left pane. Just select the file(s) and click the "Recover" button to get them back.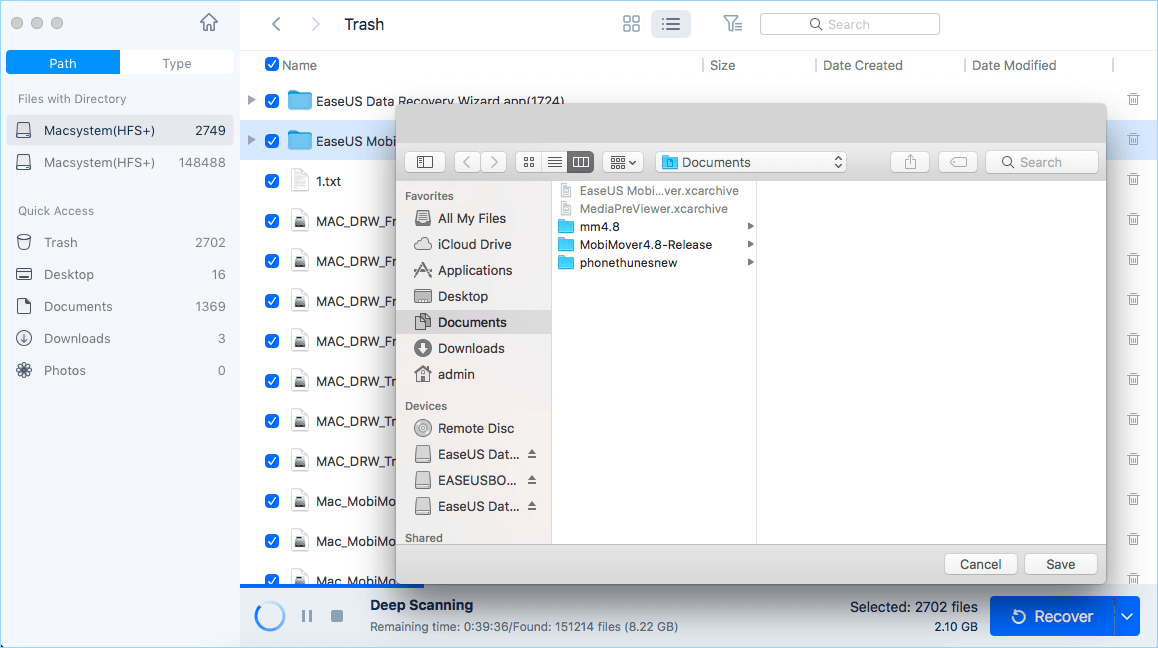 How to stop Mac Trash from deleting files immediately
If your files get deleted immediately on Mac by pressing Option + Command + Delete or "Delete Immediately" option on the Mac menu, it's easy to stop this operation. Remember to move files to the Trash instead of using the quick access when you need to delete some files next time.
If the removed files were not saved to Mac Trash but deleted immediately due to file permission issue, the Terminal command prompt is a good way to solve the problem. You need to be very careful when entering a command in the guidance, a single mistake could delete other innocent files.
Tutorial: How to use Terminal to stop Trash deleting files immediately
Step 1. Launch Application and go to Terminal.
Step 2. At the command prompt, type: sudo rm -ri ~/.Trash and press return.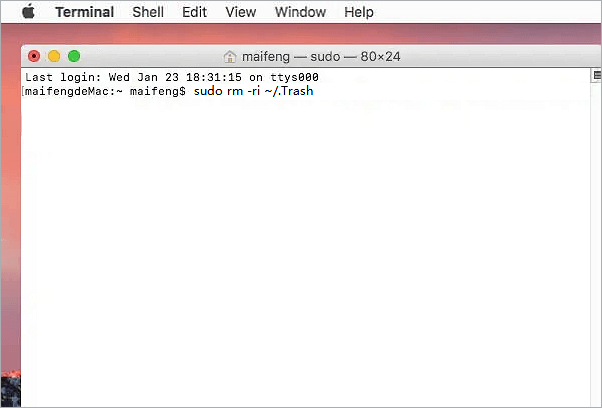 If Terminal prompts and requries for your account's password, enter it and press return.
Next you should be prompted to remove any files and folders in the .Trash folder, followed by the .Trash folder itself. Type yes and return at each prompt.
Step 3. Log out of your macOS or Mac OS X account and log back in. 
After executing the commands in Terminal, the "delete immediately" trash problem on Mac shall now be resolved, as Mac will create a new .Trash folder with the correct permissions.
Conclusion
This page explains why files get deleted immeidately without saving to Trash on Mac. There are two reasons: using "Delete Immediately" feature with quick access on Mac, or Mac Trash file permission error.
To fix this issue, you can stop using the Delete Immediately quick access, or run Terminal command as introduced above. For the lost files deleted immeidately on Mac, EaseUS Data Recovery Wizard for Mac can help you out in only 3 simple steps.
FAQs about Mac Trash Delete
Some of you may have more questions about Mac Trash delete or recovery. If you are one of these Mac users, having similar or the same questions as listed here, check the answer and follow the guide to get rid of the problem from your Mac now:
1. How do I prevent files from being deleted immediately on Mac?
Besides deleting files with awareness, backup is the safest way to protect files/folders being wrongly deleted. It's worry-free and risk-free to backup files on Mac with Time Machine or third-party Mac backup software.
2. Why does my Mac trash delete immediately?
Usually, if you press Option + Command + Delete keys or use File > Delete Immeidately option in the Finder menu, Mac will directly delete files by skipping the Trash. The best way to avoid this issue is to stop using the access. Instead, you should drag files to the Trash and then empty them from the Trash when you are 100% for sure that you don't need these files again.
3. How do I stop my Trash from emptying on my Mac?
Mac Trash has a similar feature as Windows Recycle Bin which can be set to remove items from the Trash after 30 days.
If you happen to have enabled this feature, you can go to Finder > Prefernece > Advanced > Uncheck "Remove items from the Trash after 20 days". To prevent you delete the wrong files, you should also check "Show warning before emptying the Trash" in Finder Prefence.
4. How do I recover deleted files after empty Trash?
If you happen to lose files after emptying Trash bin, you can use the effective solution introduced here to get emptied Trash data back on Mac without any obstacles. EaseUS Data Recovery Wizard for Mac will help you effortlessly get back files deleted from the Trash bin on Mac, also undo empty Trash Mac.
For more details, you may refer to How to Recover Deleted Files after Emptying Trash on Mac for help.

Author Jean has been writing tech articles since she was graduated from university. She has been part of the EaseUS team for over 5 years. Her special focuses are data recovery, disk partitioning, data space optimization, data backup and Mac OS. By the way, she's an aviation fan!
EaseUS Data Recovery Wizard is a powerful system recovery software, designed to enable you to recover files you've deleted accidentally, potentially lost to malware or an entire hard drive partition.

 Read More

EaseUS Data Recovery Wizard is the best we have seen. It's far from perfect, partly because today's advanced disk technology makes data-recovery more difficult than it was with the simpler technology of the past.

 Read More

EaseUS Data Recovery Wizard Pro has a reputation as one of the best data recovery software programs on the market. It comes with a selection of advanced features, including partition recovery, formatted drive restoration, and corrupted file repair.

 Read More