
Table of Contents

About the Author

Reviews and Awards

Best Data Recovery Software
Updated by
Gemma
on Oct 26, 2022  
Are you confused with the multiple file systems options you get while using the Disk Utility on your Mac system? Mac is the signature flagship of Apple, under which it sells computers and laptops. The macOS is one of the most efficient systems. When it comes to partitioning the hard drive or formatting it, Mac users often get confused. 
The presence of multiple options makes choosing difficult. Which file system would be the best for your system? To help you understand, we have explained APFS and Mac OS Extended in detail. 
Step 1. Search for lost files
Select the disk location to search for lost files (it can be an internal HDD/SSD or a removable storage device) on macOS Sierra, High Sierra, Mojave, Catalina, Big Sur, Monterey and the latest Ventura. Click the "Search for lost files" button.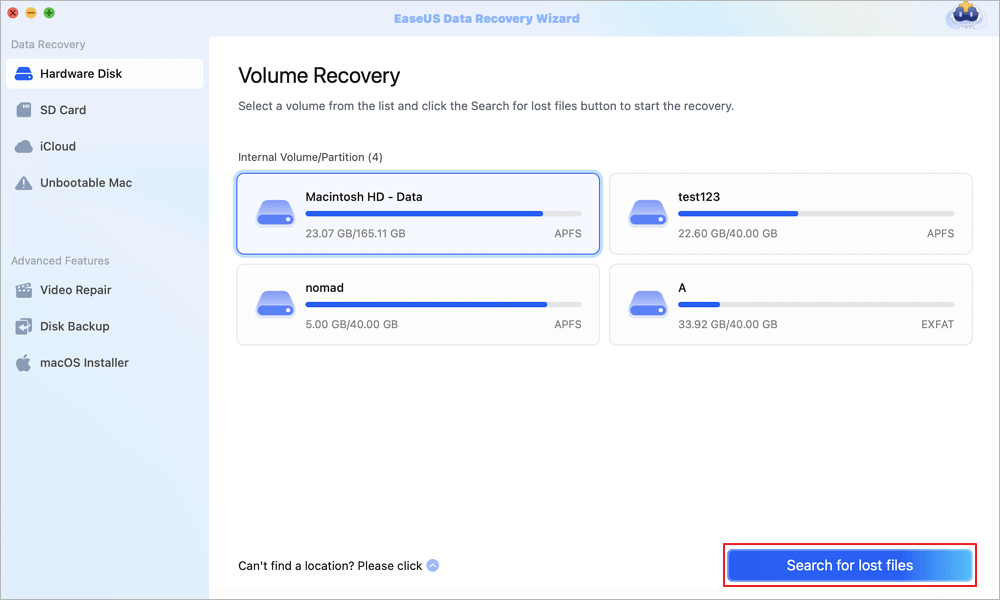 Step 2. Go through the scanning results
EaseUS Data Recovery Wizard for Mac will immediately scan your selected disk volume and display the scanning results.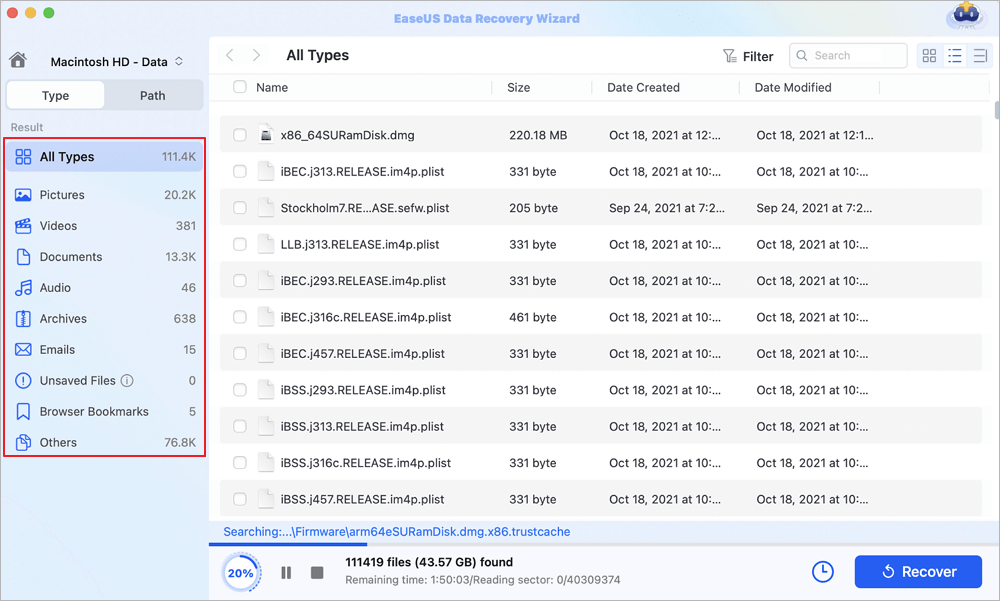 Step 3. Select the file(s) and recover
In the scan results, select the file(s) to preview and click the "Recover" button to have them back.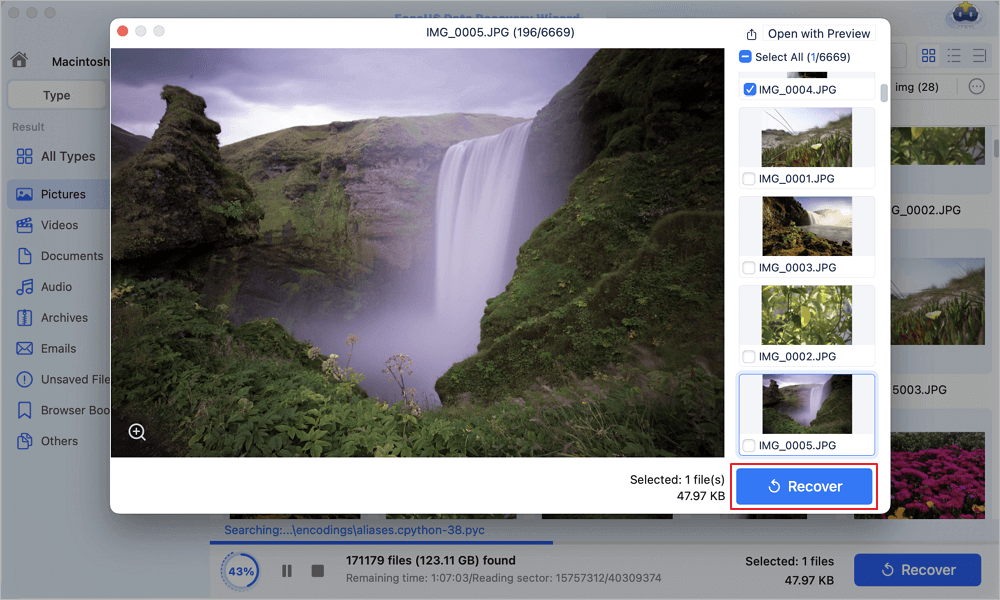 What is APFS?
APFS, or the Apple File System, is the latest file system by Apple for Mac users. First released in 2016, this file system is now the default option for devices based on macOS High Sierra and later. The main reason for introducing this file system was to fix the various issues of Mac OS Extended.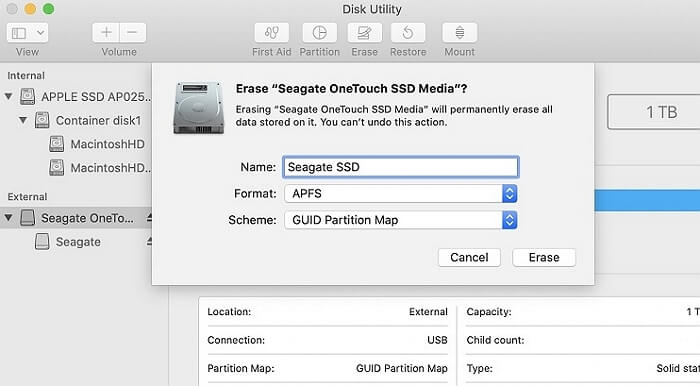 APFS is highly compatible with Solid State Drives or SSDs. One of the massive advantages that you can get from APFS is the improved data-copying speed. Moreover, copying and pasting files within the APFS hard drives occurs within seconds. It is this speed that makes the APFS a desirable option. 
Changes in the storage and management of metadata also lead to a faster directory in APFS. The metadata storage is much more accessible, making it possible for the file system to operate seamlessly. Now, APFS doesn't have to examine each metadata file. 
Another unique advantage of APFS is the reliable storage of data. There is no need to worry about file corruption for various reasons. The space-sharing feature of APFS is impressive, and there is no need for manual partition of the storage space in this case. 
APFS offers a dynamic storage space distribution method. It occurs automatically and is based on the need of each partition. That means users don't have to take the extra headache of estimating how much space each partition needs. 
However, there are some disadvantages too. For instance, the lack of reverse compatibility makes it impossible for APFS to be used on the older macOS versions. If that is the case, you will need to reformat APFS to Mac OS Extended. 
Moreover, it is also not compatible with Windows-based systems. In that case, the preferred choice would be ExFat. 
What is Mac OS Extended?
Since 1998, Mac systems have been using Mac OS Extended as the default file system. There is no doubt this is the most preferred hard drive format choice for most Mac users. However, Mac OS Extended is used only on hybrid and mechanical drives in macOS High Sierra and later versions.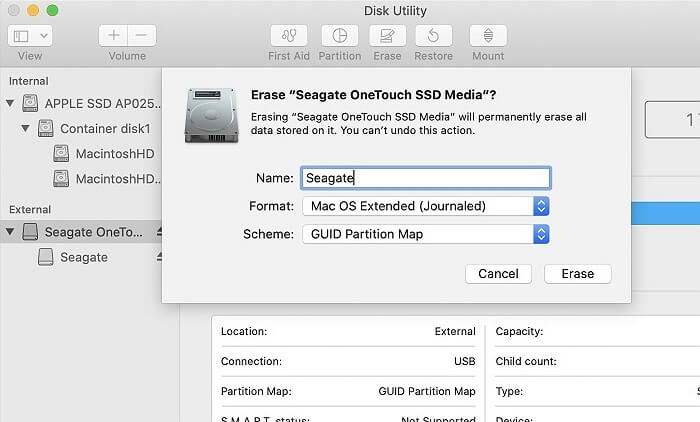 Though the introduction of the APFS file system has sidelined the Mac OS Extended significantly, there are still some advantages that one can get. The primary reason for using Mac OS Extended is the well-known reverse compatibility. The inability of the APFS file system to be compatible with the older macOS versions contributes to the relevance of Mac OS Extended. 
Mac OS Extended is also known as HFS Extended, HFS Plus, or HFS+. Apple released Mac OS Extended to replace the then existing file system HFS in 1998. 
Moreover, Mac OS Extended is still the default option for macOS Time Machine backup drives. If you want to format a portable flash drive as a backup for Time Machine, Mac OS Extended is a perfect choice. 
The cross-compatibility aspect of Mac OS Extended is another attractive feature. However, it is essential to note that Mac OS Extended is incompatible with Windows. That is why we do not encourage users to use Mac OS Extended as the file system format for both Windows and Mac systems.

File System Format Comparison: ExFAT vs Mac OS Extended
Every external storage device has a file system format. On macOS, the compatible formats include FAT, ExFAT, APFS, and Mac OS Extended. For some users, it's difficult to choose between ExFAT and Mac OS Extended because they don't know about their pros and cons. In this article, we will help you make it clear.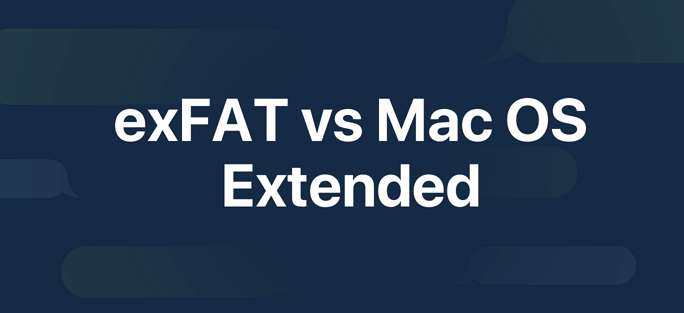 APFS vs. Mac OS Extended
Comparison between APFS and Mac OS Extended is a regular debate topic. Mac users often get confused about using which file system. To point out the differences between the two file formatting systems, we have made a list of the pros and cons of each. Take a look –
APFS
Pros:
Much more reliable and stable when compared to Mac OS Extended
Easy to develop point-in-time snapshots for Mac users
Allows multiple copies of a single file
Only the changes are stored in the form of deltas
Aids in the reduction of storage space
Improves security with full disk encryption
Increases system performance with lack of writing change needs
Checksums can be used to check metadata integrity
Easy to get extra free space due to the excellent storage management system
To prevent metadata corruption, new records are created and overwritten
Cons:
Incompatibility with the Time Machine
Do not allow compression
Access to the encrypted volumes from another system running on macOS High Sierra or later
Lack of support for Fusion drives
Checksums are not reliable for checking the integrity of user data
NVRAM or Non-volatile Random-access Memory is not ideal for data storage
Mac OS Extended
Pros:
Supports different macOS and Mac OS X versions
Support to Fusion drives
Volumes encrypted can be accessed from all macOS and Mac OS X versions
Cons:
Lack of point-in-time snapshots for Mac users
Checksum not used for user data or metadata integrity check
Limitations in the native file support when it comes to different file systems
No concurrent access to the file format system
February 6, 2040, will see the end of Mac OS Extended support
To sum it up, the main difference between Mac OS Extended and APFS is the increase in speed and reliability in the latter file system. However, if you use older macOS versions, choosing Mac OS Extended makes sense. 
APFS is the default option in the latest macOS versions. Moreover, if you have solid-state drives and flash storage devices, APFS is more suitable. But, if you have hybrid hard drives or mechanical hard disks, Mac OS Extended is a better option. 
In reality, both these options are suitable depending on the macOS version you have and the state of the drive. However, it is important to accept that APFS is superior to Mac OS Extended. It is quite possible for APFS to take over Mac OS Extended in the near future. 
Conclusion
Both APFS and Mac OS Extended are file systems that support all Mac systems. Choosing the best file system depends on the macOS running and the drive type. For instance, APFS is best for Mac devices operating on macOS 10.13 High Sierra or later. Similarly, Mac OS Extended is perfect for the older macOS versions. 

Dany is an editor of EaseUS who lives and works in Chengdu, China. She focuses on writing articles about data recovery on Mac devices and PCs. She is devoted to improving her writing skills and enriching her professional knowledge. Dany also enjoys reading detective novels in her spare time.
Written by Gemma
Gemma is member of EaseUS team and has been committed to creating valuable content in fields about file recovery, partition management, and data backup etc for many years. She loves to help users solve various types of computer related issues.
EaseUS Data Recovery Wizard is a powerful system recovery software, designed to enable you to recover files you've deleted accidentally, potentially lost to malware or an entire hard drive partition.

 Read More

EaseUS Data Recovery Wizard is the best we have seen. It's far from perfect, partly because today's advanced disk technology makes data-recovery more difficult than it was with the simpler technology of the past.

 Read More

EaseUS Data Recovery Wizard Pro has a reputation as one of the best data recovery software programs on the market. It comes with a selection of advanced features, including partition recovery, formatted drive restoration, and corrupted file repair.

 Read More