The Shortcut Virus
The shortcut virus is a troublesome piece of malware that infects computer hard drives, USB flash drives, pen drives, and SD cards. The virus will transfer to a storage device whenever it is connected to an infected one. You can also infect your computer by running a .exe file that contains the virus. The aptly named shortcut virus hides all files within an infected partition or hard drive and replaces them with shortcuts of the same file names. When you open one of these shortcuts, the virus replicates and penetrates deeper into your storage device. 
Not only is the virus frustrating, but also it can be prying personal information from your computer or storage device, so it is vital to remove the shortcut virus fast. Luckily it is possible to recover files from the shortcut virus without lasting damage, and it can all be done for free with built-in Windows software.
Free Shortcut Virus Removal Tool
There are several third-party software products with the same goal, but the best shortcut virus remover tool is free and already on your Windows PC:  Command Prompt (CMD). With CMD, you can remove shortcut virus files from any drive on your PC. By specifying the drive letter, you can get rid of the virus once and for all on your hard drive, USB flash drive, pen drive, SD card, or any storage device connected to your PC. 
Remove the Shortcut Virus
The shortcut virus is pesky and can attach itself to your system's startup processes. Therefore, in addition to removing the shortcut virus files with CMD shortcut virus remover, you must also check the registry to terminate these processes, or the virus might sprout up again. The removal process is as follows:
It is important to remember that the virus spreads to a storage device whenever it is connected to an infected device. You must first remove the shortcut virus files via cmd from infected external storage devices, then your internal hard drive. 
1. Remove Shortcut Virus Files with CMD 
 Warning

Command Prompt is a powerful tool. Be careful when using cmd and only use the input commands from trusted sources if you are not sure how to operate it yourself. Improper use of CMD can result in serious damage to your system. Back up your system to avoid the damage.
Step 1: Right-click on "Start" and select "Command Prompt (Admin)".
Step 2: Sign in with your Administrator account and password if the system asks.
Step 3: Type: attrib -h -r -s /s /d D:\*.* and hit "Enter". (Replace D: with the drive letter of the location where the virus files exist.)
Step 4: Type: del autorun.inf and hit "Enter".
If you are infected by other viruses, replace autorun.inf with other virus extensions such as *.ink, *.exe, or *.vbm so to respectively delete those suspicious files. At this point, you've removed the shortcut virus from your storage devices and should be able to view and use the data normally.
2. Remove Shortcut Processes from the Registry
If only your storage devices were infected, and not your computer, this step is unnecessary. It may provide some peace of mind to know that the virus is not hiding on your PC, however.
Step 1: Press Win+R and type: regedit to enter the registry.
Step 2: Navigate to HKEY_CURRENT_USER> Software > Microsoft > Windows > CurrentVersion> Run.
Step 3: Look for any suspicious file names in the list. Search the name of any suspect virus processes that you see and delete the ones that are known to be malware. Take care to not delete any important non-virus processes.
The shortcut virus often finds its way into your PC startup applications, so it is important to check there as well:
Step 4: Press Win + R and type: msconfig then click "OK".
Step 5: In Startup, disable everything except for trusted apps and antivirus software.
Step 6: Then restart your computer.
3. (Optional) Cleanup Shortcut Virus Remnants with Antivirus Software
Although antivirus software is usually not capable of removing the shortcut virus on its own, it can serve as a double-guarantee that there are no remnants of the virus on your PC. Download and install antivirus software to scan your Windows PC. Some will be more effective than others for your particular hardware setup, so you may try more than one if you wish. Below is a list of recommended antivirus software to remove the Shortcut virus.
Trojan Removal Tool.
Shortcut virus fixfolder.
Malwarebytes Anti-Malware.
Supplemental: Recover Files After Removing the Shortcut Virus
In the process of removing the shortcut virus from your PC or external storage devices, there may have been some inadvertent deletions of non-virus files. You should browse your devices to see if any folders or files are missing. It can be a momentous and error-fraught task to manually scour an entire hard drive for a few potentially-lost files. 
To alleviate this strain, useEaseUS Data Recovery Wizard to search your drive for lost files. EaseUS Data Recovery Wizard scans deep into the data content of your disk to find all data loss from a virus attack, deletion, or formatting. Download it for free to see if you lost any files.
If you only lost a few files, you can recover them for free. The free version enables you to recover up to 2GB of data and preview any number of files to check their quality. For unlimited recovery, use EaseUS Data Recovery Wizard Pro.
Step 1. Select the virus infected drive to scan
Run EaseUS virus file recovery software on your Windows PC. Select the disk attacked by the virus to scan for lost or hidden files. Note that:
If it's an HDD where files were hidden or deleted by virus, it's better to install the software on a different volume or an external USB drive to avoid data overwriting.
If the infected device is an external hard drive, flash drive or memory card, it doesn't matter to install the software on the local drive of the computer.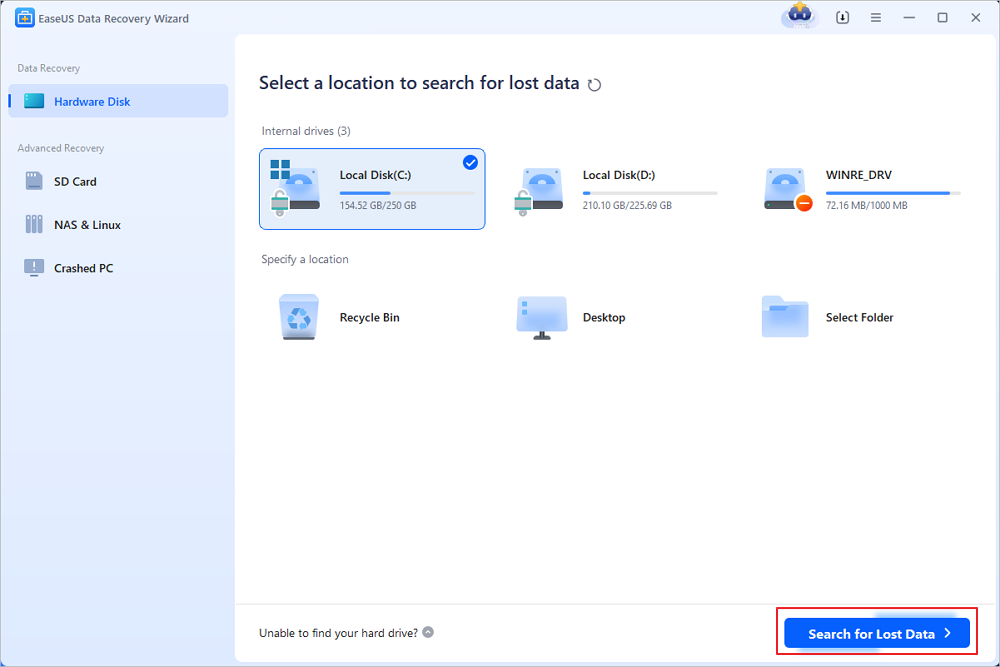 Step 2. Check all scanned results
EaseUS Data Recovery Wizard will immediately start a scan process to find your deleted or hidden files on the virus infected hard drive. To quickly locate the wanted files, you can use the Filter or type grouping feature to display only the pictures, videos, documents, emails, etc.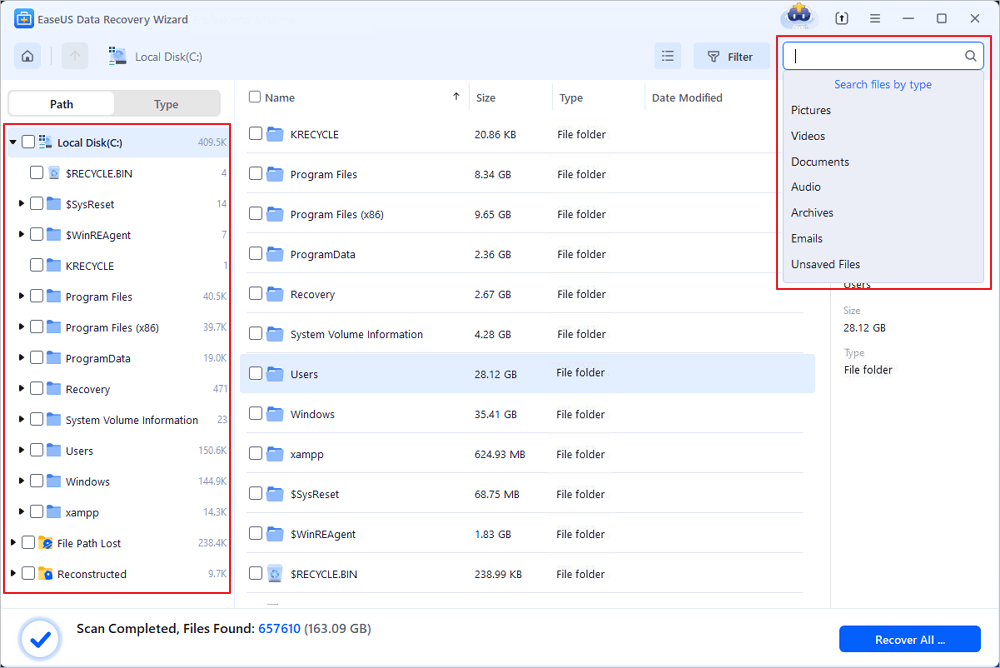 Step 3. Preview and recover deleted/hidden files
When the process finishes, you can preview the scanned files. Select the files you want and click the "Recover" button. You should save restored files to another secure location on your computer or storage device, not where they were lost.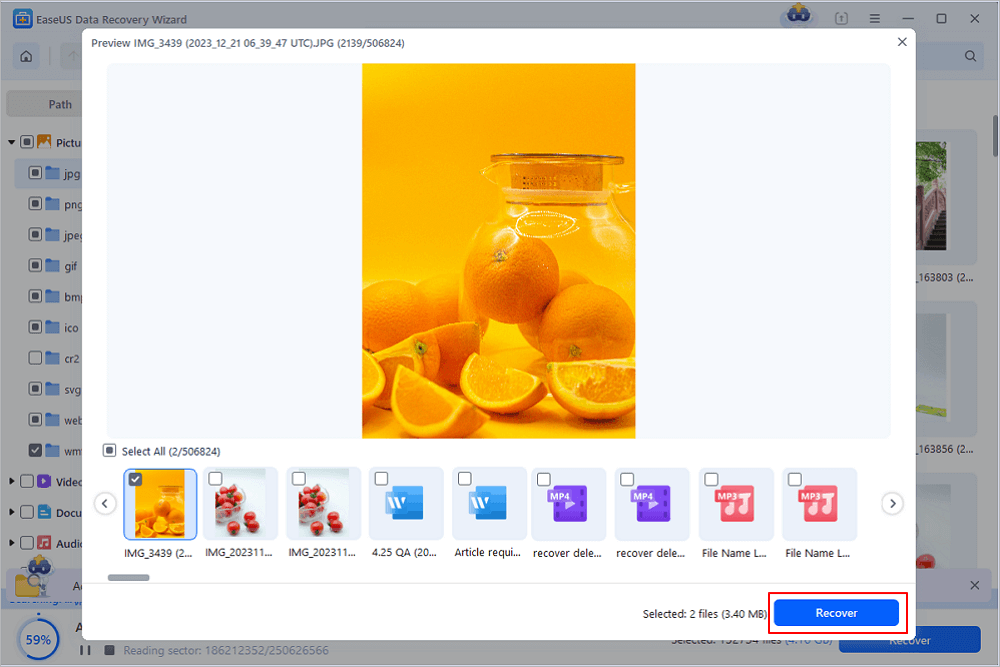 Cedric Grantham is one of the senior editors of EaseUS who lives and works in Chengdu, China. He mainly writes articles about data recovery tutorials on PC and Mac and how-to tips for partition management. He always keeps an eye on new releases and likes various electronic products.

Roxanne is one of the main contributors to EaseUS and has created multiple posts on digital devices like PCs, Mobile phones, tablets, Mac, etc. She loves to share ideas with people of the same interest.