Files and desktop icons disappeared in Windows 10, help!
"My brother played games on my computer last night. How strange! When I turned on the computer this morning, it showed me a blank screen. Where are those desktop icons? What's worse, there was a very important Word document saved on the desktop, now I can't find it anywhere including the recycle bin. What had he done? Do you have any ideas? How can I restore missing desktop icons and files in Windows 10 computer? Look forward to your kind suggestions."
Windows 10 computer desktop comes originally with icons like recycle bin, this pc, network, and control panel, meanwhile users prefer to create shortcuts of regularly used apps there. Sometimes, to enable a quick access, we're used to saving files like Word document, Excel sheets or PowerPoint presentations on the desktop, too. So the Windows desktop of a machine is a frequently visited place for us to play with or handle the basic computer management.
How to recover Desktop files and icons in Windows 10
What if the icons just disappeared or the files were removed to nowhere? It'll obviously reduce working efficacy on the computer. How to restore missing desktop icons as well as lost files in Windows 10? Well, the recovery methods won't be the same. You're able to recover common desktop icons without any help while recover desktop files using reliable data recovery software.
How to Add and Restore Common Desktop Icons in Windows 10
Windows 10 desktop icons missing in Windows 10 can be easily restored by yourself.
Step 1. Just right-click on the desktop and choose "Personalize";
Step 2. on the left panel, click "Themes" and among the "Related Settings" choose "Desktop icon settings";
Step 3. Then it showcases you the window exactly like the figure below.
Step 4. Once you click the checkboxes for the icons you want back and apply to the changes, you'll soon find the icons finally reappeared on the desktop.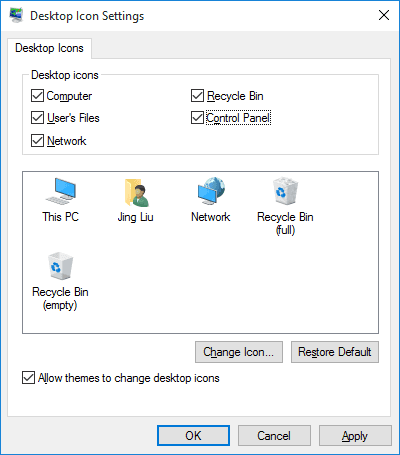 How to Recover disappeared files saved on Desktop in Windows 10
As for lost or deleted desktop file recovery in Windows 10, you'll need some help from a data recovery utility.
EaseUS Data Recovery Wizard, for example, helps recuperate almost all types of files from your computer hard drive. Files including documents, music, videos, pictures, emails and more by shift deleted or formatted can be found by the proficient file recovery software in all probability.
And it is exclusively designed with the wizard-based user interface for computer noobs to recover lost files from Windows computer all by themselves without many efforts. Windows 10/8.1/8/7/XP/Vista are all fully supported.
3-step disappeared desktop file recovery in Windows 10 with EaseUS Data Recovery Wizard:
Step 1. Run folder recovery software.
Launch EaseUS folder recovery software on your PC.
Connect the device to your computer if the lost folder is saved on an external storage device.
Click "Specify a location" to choose the exact location where you lost the folder.
Click "Scan" to begin scanning lost folder with files.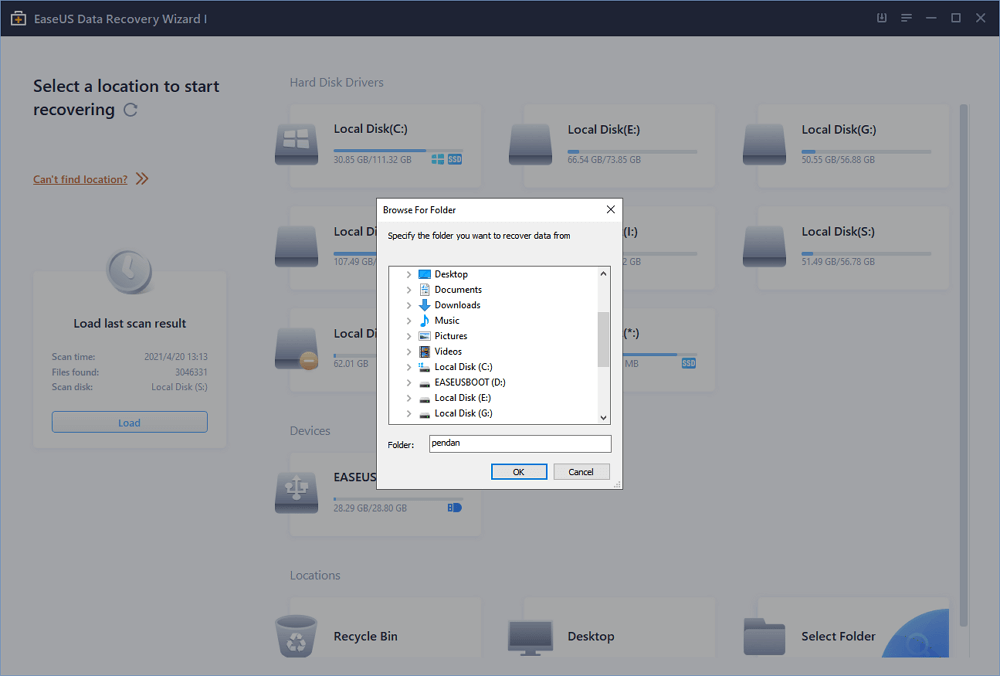 Step 2. Find lost folder.
You can use the "Search" feature to quickly find the lost folder by searching the folder name.
Or you can check and find them from "Deleted Files", "Drive (with your device name)".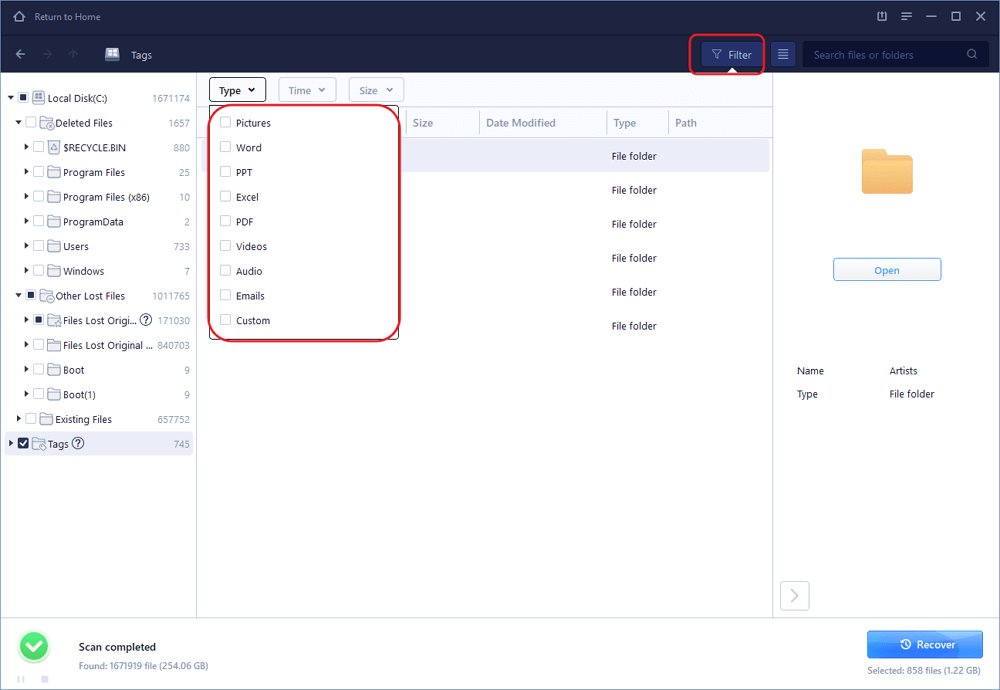 Step 3. Recover the lost folder.
Last, select the folder and choose to save it to a new & secure spot on your PC by clicking "Recover".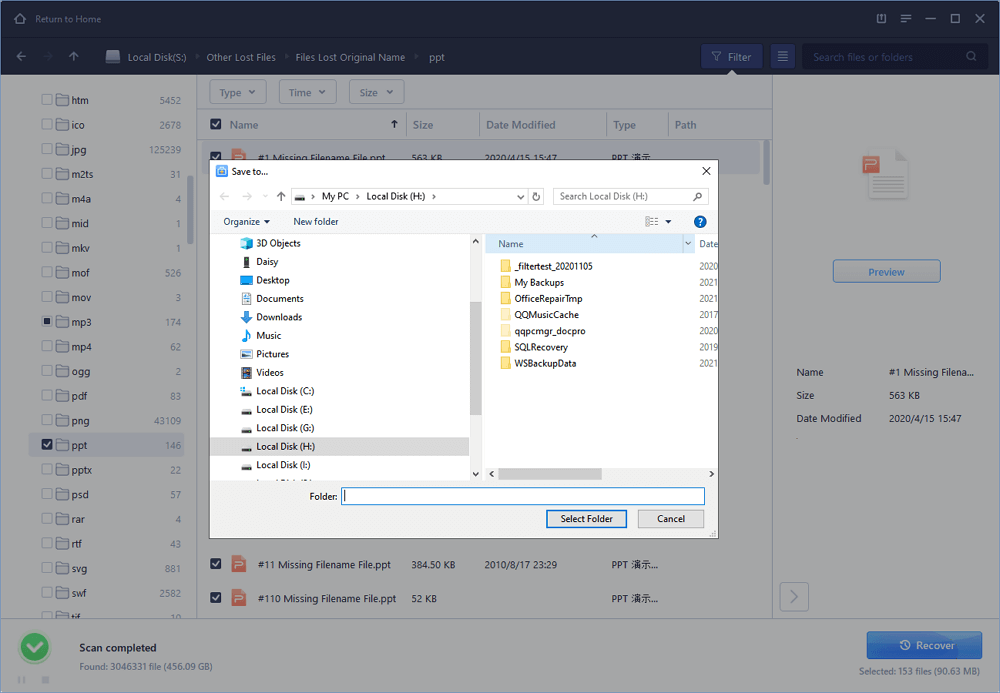 Hope the guide given above will help restore desktop icons and files in Windows 10 completely.