Lost Downloads folder, help!
"Hey there, do you know how to restore Downloads folder in Windows 10? I accidentally got it deleted the other day, and yesterday I was trying to download a program online. But after downloading, I could not access the Downloads folder to find the downloaded program.
So how can I restore the deleted Downloads folder? Help me please."
"Downloads folder icon is missing in Windows 10. I was trying to clean up the Downloads folder so to leave more available useful space on my PC with a faster running speed. But when I opened This PC, I could see no Downloads icon. It's missing. Do you know how to fix this issue?"
How to restore deleted, lost or disappeared/missing Downloads Folder and data?
Windows Downloads folder is a default folder which is used as a folder for saving downloaded files, software or programs online. You can access to most downloaded files and data in the Downloads folder. It will also automatically store and save all downloaded files, programs and software for you. As a result, if you lost some previously downloaded files or folders, you can try to find them in the Downloads folder.
However, if Downloads folder is deleted, disappeared or missing in Windows PC, you'll not be able to find any downloaded files or data anymore. When you try to download new files or program, you might not be able to access it either. So how to fix this issue? If you are having such an issue right here, relax! Here below, we'll provide you effective methods to restore deleted Downloads folder and data in Windows 10/8/7 with ease now.
Part 1. Restore deleted/disappeared/missing Downloads folder in Windows 10/8/7
Here in this part, we'd like to introduce useful and effective methods for you to restore deleted, disappeared or missing Downloads folder in Windows 10, 8 or 7. You may selectively follow any one of below-recommended methods to restore Downloads folder with ease now:
Method 1. Replace missing Downloads folder with File Explorer
1. Open File Explorer and navigate to C:\Users\Default folder;
2. Right-click on Downloads in the right side pane and select Copy;
3. Navigate to C:\Users\your name folder and right-click the folder;
4. Select Paste.
Then the missing Downloads folder shall be replaced and you'll be able to use it properly again.
Method 2. Restore default Downloads folder through desktop.ini file
Note: This method is suitable for restoring all user folders in "C:\Users\%USERNAME%" folder, so if you lost other folders such as Music or Videos etc folders, you can also apply below guide to restore lost folders.
Let's see how to restore default Downloads folder with desktop.ini file now:
1. Press and hold Win +R to open Run dialog;
2. Type: shell:downloads and hit Enter;
3. In Folder options, set protected operating system files to show;
4. Download the file desktop.zip containing the desktop.ini file; (You can directly Google to search and download the file.)
Note: Step 3 must be done before downloading and extracting the content of this zip file. Otherwise, you'll just see an empty archive when you open desktop.zip.
5. Extract desktop.zip content and right-click on the desktop.ini file which is a .txt file, select Properties;
6. In General tab, click Unlock button and select OK;
7. Replace the desktop.ini file in C:\Users\%USERNAME%\Downloads with the one you've extracted from desktop.zip file and then close the folder;
Confirm any additional dialog boxes that may appear, including the ones alerting about the dangers of moving system files;
8. Open an elevated command prompt and type: attrib +r -s -h %USERPROFILE%\Downloads /S /D and hit Enter;
9. Close the command prompt and restart Windows.
Then you'll be able to find and reuse Downloads folder again.
Method 3. Restore Downloads folder to original version by System Restore
System Restore will help you fully solve Downloads folder lost, disappear or missing issue in Windows 10, 8 or 7. It's highly recommended for all Windows users to create system and data backup firstly in case of unexpected errors from happening.
Here below we'll guide you to perform a system restore in Windows 10 as an example to restore Downloads folder to the original version with ease now:
1. Go to Microsoft software download website and create Windows 10 installation media;
2. Insert the installation media with PC and restart PC;
3. On the Install Windows screen, select Repair your computer;
4. On the Choose an option screen, select Troubleshoot > Safe Mode > Advanced Options > System Restore.
There you'll be able to use Download folder again without any further problems.
Part 2. Restore lost Downloads folder data in Windows 10/8/7
After restoring lost or disappeared Downloads folder, you may check whether downloaded files, folders or programs, software etc are lost or not.
If you indeed lost some important personal files and data in the Downloads folder, relax! Professional data recovery software will help. A trustworthy and highly recommended data recovery software - EaseUS Data Recovery Wizard shall be your best choice and you may directly download this software right here now:
EaseUS Data Recovery Wizard allows you to restore whatever you've lost in Windows 10/8/7 by deleting, formatting, virus attacking, system crash or other reasons within 3 simple steps. You may install it and just follow steps below to perform data recovery and restore your lost Downloads folder data with ease now:
Step 1. Launch EaseUS file recovery software and select disk partition or storage location where you lost Downloads folder files and click "Scan".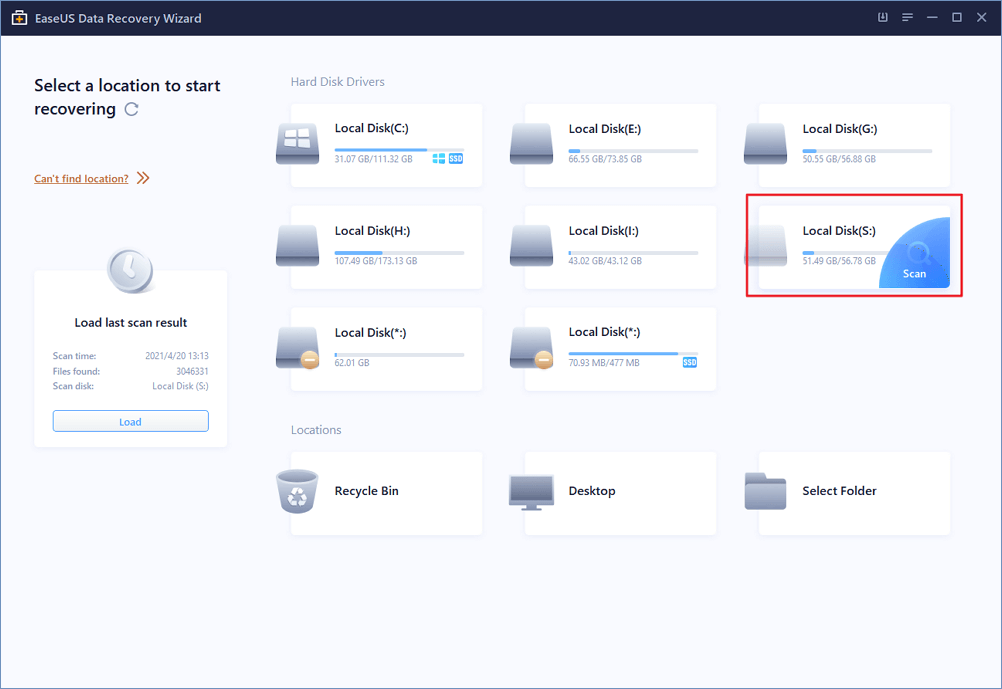 Step 2. EaseUS Data Recovery Wizard will start a quick scan to find deleted Downloads files;
After the quick scan, a deep scan will automatically start to find more files and data from Downloads folder;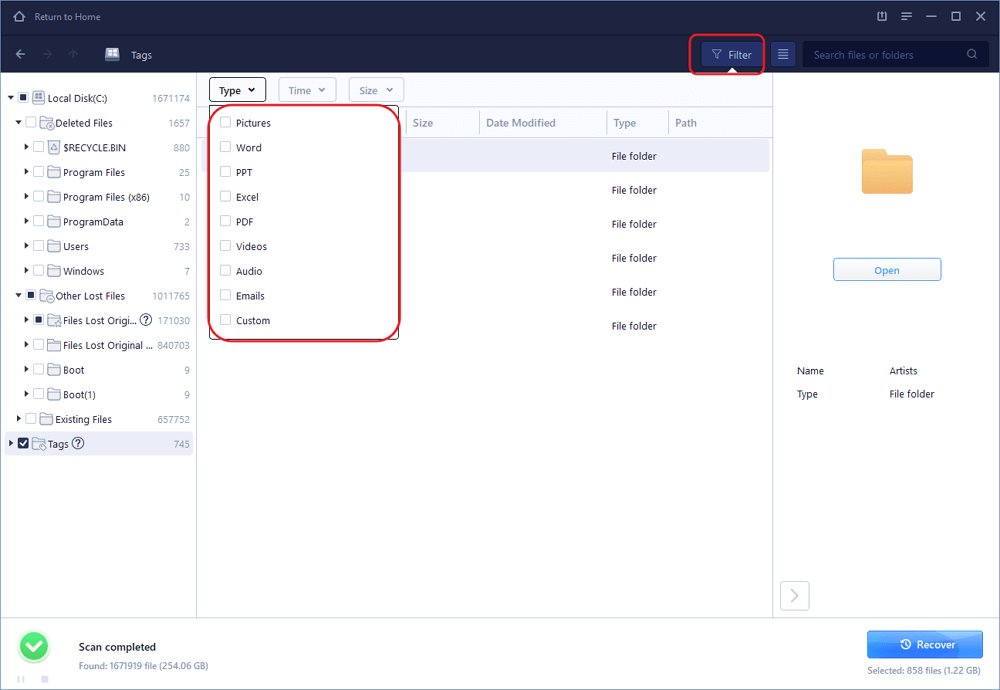 Step 3. Preview and restore lost Downloads files;
You can preview found data by file types, select found Downloads files and click "Recover" to save them to another safe spot in PC/storage device.