Do you want to delete the volume on a USB to fix in space for more data? What if you "can't delete volume on USB?" If that is the case, this article provides you with the right solutions you should seek to resolve this particular USB error on the computer.
Why Disk Management Can't Delete Volume on USB
What is Disk Management? It is a perfect utility available to manage the data and space in drives, whether internal or external. Along with cleaning data in disks, it also fixes errors in them. However, there are times when you "can't delete volume on USB" with the help of Disk Management. As USB is recognized as a removable device by old Windows versions, the issue is quite prominent in such devices. Furthermore, Disk Management only covers internal disks in the older Windows version, which is why you cannot delete the volume on USB, as such devices are not catered to.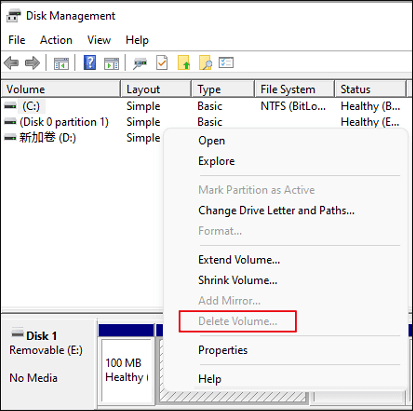 This particular error is common in versions earlier than Windows 10 Version 1803, where the USB drive is recognized as a removable device. For Version 1803 and later versions, the issue of disk partition is resolved, allowing you to delete the volume on USB.
By the way, there are some other errors you may meet while using Disk Management:
With an overview of the reason explaining why you can't delete volume on USB, we will proceed to discuss the solutions.
How Do You Delete Volume on USB Flash Drive Successfully
We will find out about deleting volume on USB Flash Drives in this part. While there are many methods to work through this, we will discuss two distinct techniques for this purpose. These two ways will be introduced and presented as the appropriate solution in this case:
Way 1: Use EaseUS Partition Master to Delete the Volume on the USB - Easy
Many third-party tools assist in such data management operations. EaseUS Partition Master Free is a third-party platform that features effective options for deleting volume on USB and provides a platform to manage disk data. Being an all-in-one partition manager, it provides effective solutions for Windows 11/10/8.1/8/7 users.
Step 1. Launch EaseUS Partition Master, and click "Partition Manager".
Make sure that you've backed up the important data before deleting any partition on your disk.
Step 2. Select to delete partition or delete all partitions on hard drive.
Delete single partition: right-click on a partition that you want to delete and choose "Delete".
Delete all partitions: right-click a hard drive that you want to delete all partitions, and select "Delete All".
Step 3. Click "Yes" to confirm the deletion.
Step 4. Click "Execute xx Task" and then click "Apply" to save the change.
0:00 - 0:26 Delete single volumes; 0:27 - 0:53 Delete all partitions.
With other supporting options in the partition manager, you can safely manage the hard drives and utilize different features, such as its clone wizard. In addition, EaseUS Partition Master is a complete tool featuring a system of disk optimization tools that makes it an excellent option.
Key Features of the EaseUS Partition Master
Way 2: Use Diskpart to Delete Volume on USB - Complex
If you are comfortable with working on Diskpart commands and command-based programs, Diskpart is a great option that you can consider to delete volume on USB. While it helps both internal and external partitions, it has a very directive utility, which can be understood with the help of the steps provided below:
Step 1: Select the "Search" icon on the taskbar and search for "cmd" to open Command Prompt on your Windows computer.
Step 2: Type in "diskpart" and proceed to the following command. Next, you need to type in "list disk" to display all available hard drives on the Windows computer.
Step 3: Use the command "select disk #" while covering the # with the disk number from your list.
Step 4: Use the command "list partition" to get the list of all partitions within the selected USB drive. Proceed to use the command "select partition #" with the number of the particular partition that is to be deleted.
Step 5: Finalize the process by using the "delete partition" command to delete the selected partition of your USB.
Conclusion
This article has displayed a straightforward guide on resolving the issue of "Can't Delete Volume on USB." With the help of the available options for resolving this problem, you can easily use tools like EaseUS Partition Master to obtain coherent results. This tool can help you manage your disk partition well. Use the available methods to delete the volume on your USB and make space in it.
FAQs About Can't Delete Volume on USB
We will be providing some insight into more information about deleting volume on USB drives. Look into the questions to know why you "can't delete volume on USB":
1. Why is my USB not letting me delete files?
If you cannot delete files in your USB, it is highly possible that the write-protection mode for it is turned on. In other cases, the USB may contain data that is only in read-only mode, thus preventing you from deleting them from the drive.
2. How do you delete the volume on a flash drive?
To delete volume on a USB flash drive, you will have to consider using EaseUS Partition Master as the quick solution to this process. It will help you delete the volume on the flash drive with ease.
3. How do I force delete volume?
To delete a volume, you will have to use the command "delete partition override" while using Diskpart to delete the volume in your USB.
EaseUS Data Recovery Services
EaseUS data recovery experts have uneaqualed expertise to repair disks/systems and salvage data from all devices like RAID, HDD, SSD, USB, etc.