The most effective SQL Server disaster recovery strategy is to back up in advance, and the most convenient and secure backup type is schedule backup. SQL Server Scheduled backup will automatically to do the backup job periodically as long as you create a SQL Server backup plan.
There are two ways to realize the schedule backup SQL Server:
These two SQL Server Scheduled backup solutions are both available to do the daily protect your SQL Server database. They have their own advantages and disadvantages. Here we will talk about it. You can read to learn the details and then choose the one which works best for you.
How to schedule backup SQL Server with EaseUS backup software
EaseUS Advanced Server backup software is the backup and disaster recovery for both physical and virtual Windows Server environments. It provides powerful SQL Server 2008 R2, 2008, 2005 and 2016 database backup & recovery, advanced backup scheduler and recovers to dissimilar hardware.
It will simplify both basic and advanced server backup & recovery management while minimizing server downtime as well as ensuring business continuity. For a detailed guide, please refer to how to backup and restore SQL with EaseUS Todo Backup.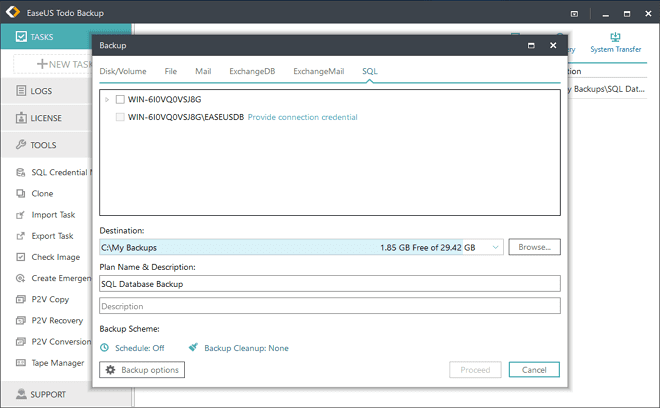 As you can see, being available for SQL Server Scheduled backup, the program can simplify the SQL server backup task very much. If you can't afford the tedious steps and too much time waste, it will be the best choice. Otherwise, you need to try Microsoft SQL Server built-in backup tool which is a little complex for SQL Server backup.
How to schedule backup SQL Server with MS built-in tool
SQL Service Management Studio is a suite of database management tools that allow you to perform necessary routine operations on your database. Schedule SQL server backup is a basic operation that should be done regularly. Fortunately, SQL Service Management Studio provides a straightforward process for scheduling an SQL server backup.
1. Start SQL Management Studio by clicking on "Start" and then "All Programs." Click on "Microsoft SQL Server," and then click on "SQL Management Studio."
2. Enter your credentials in the "Connect" dialog box. Click on "Connect".
3. Click on the "Object Explorer" window, and then click on the small plus sign beside "Databases".
4. Right-click on the database that you want to back up. Click on "Tasks" and then "Back Up".
5. Type the desired name of the backup in the "Back Up Database" dialog box in the "Database Name" box. Click on the "Add" button under the "Destination" box.
6. Click on "Browse" when the "Select Back Up Destination" dialog window appears. Specify a destination on the disk to which to save the backup. Click on "OK".
7. Click on the "Script" tab, and then click on "Script Action to Job".
8. Click on "Steps" in the "New Job" dialog box that appears. In the "Schedules" tab located within the "Steps" page, click on "New".
9. Specify the job schedule by clicking within the calendar that appears, and then type the name of the new job in the "Name" box. Click on "OK".