When Hard Drive Migration Software Is Needed
Most of the time, computer users consider migrating hard drive for the reasons that:
The old hard drive is too small to store the increasing data, and you need to transfer them to a bigger one.
You purchased a second hard drive which is bigger and faster than the current one, and you want to move programs and data from the old hard drive to the new one.
When recognizing computer, you have to do data migration to use precious space rationally.
If your data you want to migrate is not too big, there is no need to turn to professional software. Just select the target files and click the right mouse button, "Copy" and "Paste" can transfer your data to another hard drive simply. But if the data takes up too much space and contains system files or applications, things become not so simple and you need to individually install each application again. How to avoid this big trouble? Professional hard drive migration software is necessary!
There are two methods to help you realize data and system migration, you never need to reinstall the operating system or any applications.
Hard Drive Data Migration Software
Hard drive imaging software creates an exact image of your hard drive, which can be restored to the new hard drive. This kind of software also will ensure the normal use of the operating system and applications. It is not only a data and system migrating tool but also the efficient backup solution.
EaseUS Todo PCTrans Free is a free PC migration software to migrate data (including music, pictures, documents, videos, etc) and applications from one PC to another, from Windows XP to Windows Vista/7/8/8.1, from 32-bit OS to 64-bit OS.
Tutorial guide: How to transfer data from one hard drive to another
Hard Drive Clone Software
Not like simply copy, disk cloning software can migrate data hard drive and system hard drive to a new hard drive file by file or sector by sector. The original operating system will run normally in the new hard drive, and all the personal settings and applications will be kept safely.
Figuring out a safe one is not easy because many software tools have flooded the market, claiming to be the best tool to migrate a hard drive data. After a long time survey, authoritative editors recommend one which enjoys great popularity - EaseUS Todo Backup. Do you want to know whether it is a hard drive cloning or imaging software? It owns both disk clone and disk image functions. Download it first, and follow the steps here to migrate hard drive.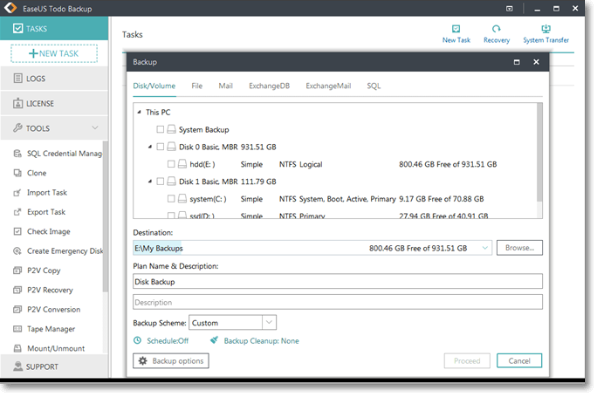 Case 1: Clone hard drive
Case 2: Backup hard drive to migrate