If you have purchased a Mac with standard 256 GB storage space and now you need to run a Windows-only program, don't consider yourself doomed. 
Your Mac's SSD might not have sufficient space to run Windows, but you can still load Windows on an external drive and run Windows To Go on your Mac. Windows To Go is the best option for you when you have limited space on your Mac's hard drive and have to run Windows programs urgently. 
However, Apple or Microsoft haven't yet shared any configuration to support Windows To Go on Mac. Therefore, in this article, we will make efforts to test whether you can use Windows To Go for Mac or not.
What's Windows To Go?
Windows To Go is a Microsoft feature for Windows 8/8.1/10 Enterprise and Windows 10 Education that allows you to run Windows systems via external storage devices like USB. Windows To Go drives can create the real Windows environment on Mac without the installation hassle. 
Windows Enterprise users can use Volume Activation Windows licensing to deploy Windows To Go workspace on compatible host computers. However, Microsoft certified USB drive, and the host computer is required to create a Windows To Go workspace on Mac. 
* Check the solution to how to create Windows To Go without the Enterprise edition.
Windows To Go host computer must possess the following technical specifications for smooth workflow:
1 GHz or faster processor 
2 GB or higher RAM 
DirectX 9 graphics device with WDDM 1.2 or greater graphics driver
USB 2.0 port or higher
USB boot enabled in the firmware 
Firmware architecture compatible with the architecture of the image used for Windows To Go workspace 
Some Windows To Go supporting USB drives are - IronKey Workspace W700, Kingston DataTraveler, Spyrus Portable Workplace, etc. 
When Is Creating Windows To Go on Mac Useful? 
Windows To Go on Mac is a highly useful feature for the modern workspaces that want to implement BYOD (Bring Your Own Device) policy. Generally, Windows To Go is useful in two situations:
When your Mac's internal drive space doesn't allow you to dual boot between the macOS and Windows OS. 
When you want to run Windows-only games and applications on Mac. 
* Interesting "Game" topics on Mac including:
Can I Use Windows To Go on Mac?
Talking about the main question, you can't use Windows To Go on Mac exactly. That's because the Windows To Go feature was discontinued by Microsoft in 2020, so it's only available for Windows Enterprise and Education editions. 
However, Apple has an equivalent software for Windows To Go called Boot Camp Assistant. So, you can use Apple Boot Camp Assistant to create a Windows environment on the bootable drive and run Windows on Mac. 
How to Create Windows To Go USB Drive Using Boot Camp Assistant 
To create WTG USB using Boot Camp, make sure that you have the following Mac devices: 
MacBook 2015 or higher
MacBook Air 2012 or higher
MacBook Pro 2012 or higher
Mac mini 2012 or higher   
iMac 2012 or higher
iMac Pro (all models)
Mac Pro 2013 or higher
If you have a compatible Mac, you can run Windows on Mac via USB as follows: 
Step 1. Check Secure Boot Settings 
By default, Secure Boot settings in Full Security. But if you have changed it, change back to Full Security before installing Windows. This way, you can use any Secure Boot settings without affecting your start-up.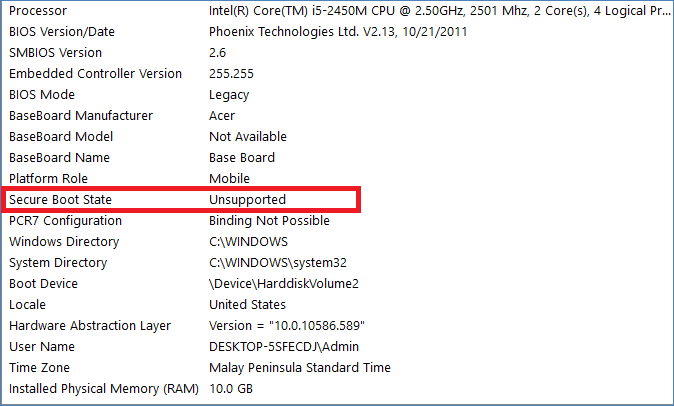 Step 2. Create Windows Partition on Boot Camp 
Launch Boot Camp Assistant from the Utilities folder under the Application folder. Here first-time Boot Camp users have to specify some settings like set partition size and others.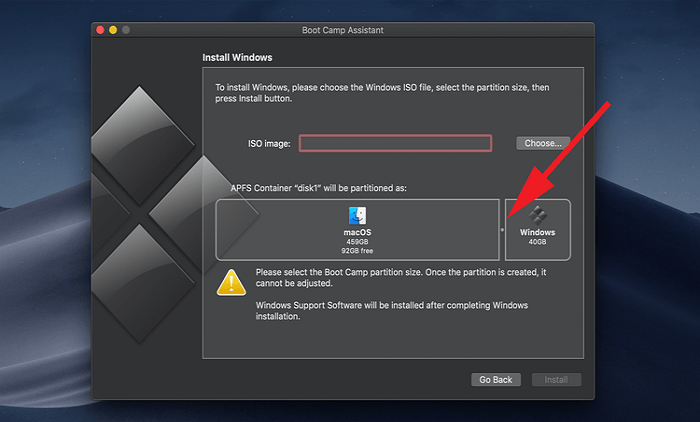 Step 3. Format the partitions 
Once Boot Camp Assistant finishes, Mac will restart to the Windows installer. When the installer asks where to install Windows, choose the Boot Camp partition and then click on the Format. Mostly, the installer selected the Boot Camp partition automatically. 
Step 4. Install Windows 
Simply unplug unwanted external devices attached to your Mac, click on the Next to install Windows, and follow the on-screen instructions. 
Step 5. Install Windows Drivers 
Once installation is complete, Mac will start-up in Windows and automatically download the suitable Windows drivers. But if automatic drivers install isn't initiated, you can find suitable Windows drivers on Apple's website and manually download them. 
Step 6. Dual Boot to Windows 
Now, restart your Mac and press the Alt or Option key while booting up and select the Windows partition. Also, connect your Windows To Go USB drive to your Windows environment on Mac. 
Step 7. Connect WTG USB to Mac 
Once the Windows To Go USB drive is connected to your Mac, use the Boot Camp drivers on the USB drive and copy them to the Windows OS on the USB drive. 
Step 8. Install Boot Camp Drivers
Download and install the Boot Camp drivers for all Mac hardware, and your work is done here.  
Is There Any Easy Way to Create a Windows To Go USB Drive for Mac?
Using Windows To Go on Mac might be possible with the Boot Camp Assistant, but it is quite a technical and time-consuming way. Thus, not everyone can use this method. 
But no worries, as you can use the easy alternative way to create Windows To Go USB for Mac - EaseUS OS2GO. 
EaseUS OS2GO is a third-party tool to create Windows To Go USB drives. Using the software, you can easily install Windows 11/10/8 or even Windows 7 on the USB drive and connect with your MacBook to run Windows programs on macOS. 
There's no need to go through the long Boot Camp process or just stick to Windows Enterprise and Education editions in WTG. The program can quickly and cost-effectively create WTG USB for Mac as follows.
Step 1. Install EaseUS OS2Go on your Windows computer, it will display your system drive's used space. Plug in a USB drive that is larger than the system drive used space. Choose the target USB drive and click Next to continue.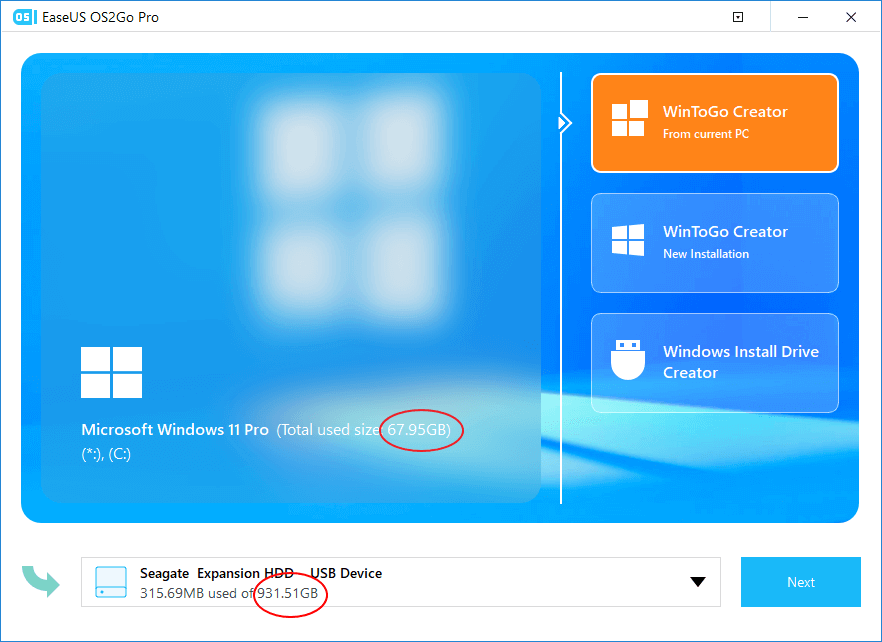 Step 2. EaseUS OS2Go will notify you that the following operation would delete all data on your drive. Make sure that you have backed up all the important data. Click the Continue button to proceed.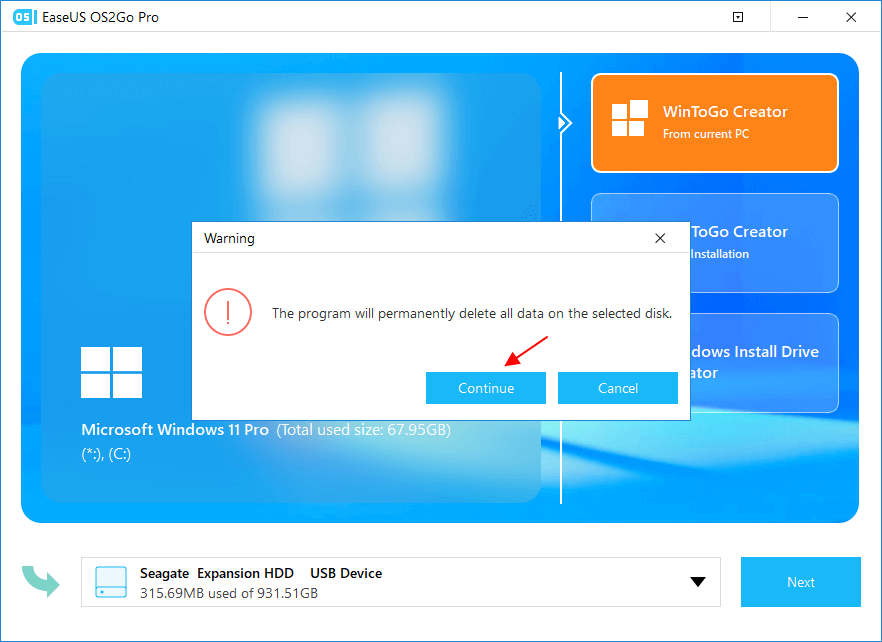 Step 3. Adjust disk layout. The default disk layout on the target drive will be exactly the same as the resource drive. You could also edit the layout according to your needs. Tick the option there if you're using a Solid State Drive as the Windows bootable drive. Next, click Proceed.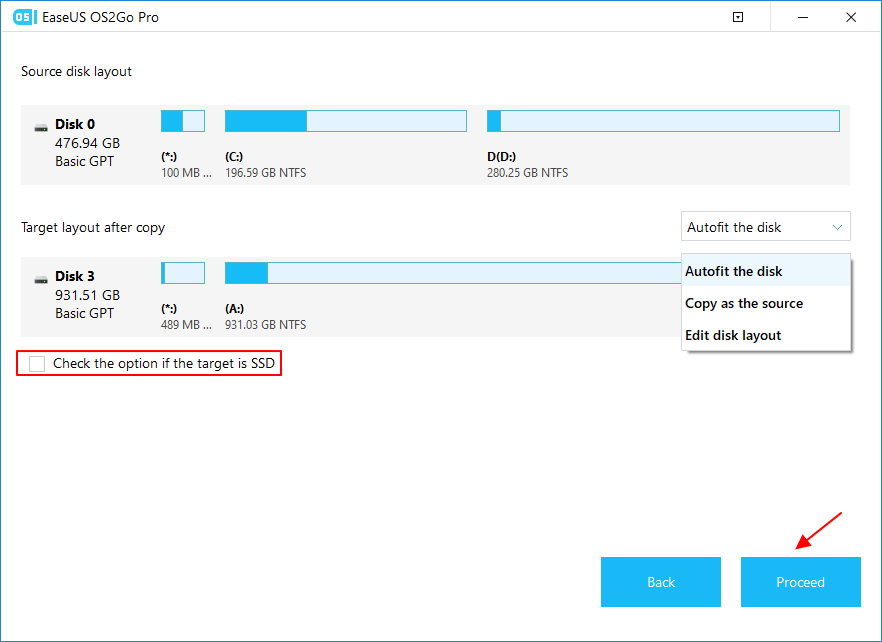 Step 4. Then EaseUS OS2Go will start to create the portable USB drive. It usually takes a while depending on your OS and Network condition. When the progress reaches 100%, the USB drive should be bootable now.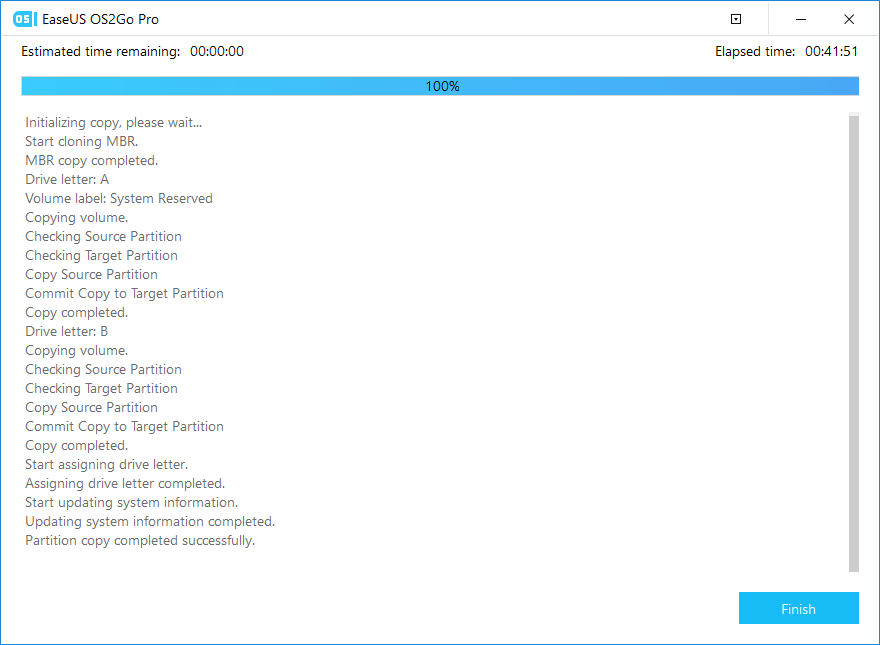 Step 5. Insert the portable Windows USB and start your computer. Press the required key (F2, DEL, F10...) to access BIOS. Choose to boot from the USB disk.
Note: Please make sure that the boot mode (UEFI or Legacy) of the portable USB and your target computer are the same, otherwise you may not be able to boot.
Parting Remarks 
Windows To Go is the perfect way to run Windows on Mac without consuming space on the hard drive. Though the WTG USB drive can't be directly used on Mac; thus, you have to use the alternative option Boot Camp Assistant to do so. 
Unfortunately, Boot Camp Assistant is way too technical and complicated for some users. Therefore, the best option to use Windows To Go on Mac is a third-party tool - EaseUS OS2GO. 
The software is compatible with all the latest Windows and Mac devices. Also, it can run all Windows programs on Mac without any hassle. So, you can check out the EaseUS OS2GO free trial today to create WTG USB for your Mac!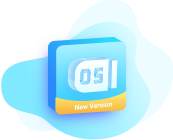 EaseUS OS2Go
Create portable Windows to USB
Copy installed Windows OS to USB
Clone Winodws OS drive to USB
Run Windows 11 on any PC
Run Windows 11 on unsupported PC
Run Windows 11/10 on a Mac
Download Now