Key Takeaways About Windows To Go:
#1. Windows To Go is a feature in Windows 8 Enterprise, Windows 8.1 Enterprise, Windows 10 Education, and Windows 10 Enterprise versions prior to the May 2020 update.
#2. Windows To Go makes it possible to run the supported Windows system from external USB flash drives and external hard disks. 
#3. The external USB devices must be certified by Microsoft as compatible. Following is a list of Windows To Go certified USB drives.
Imation IronKey™ Workspace W300 / W500 / W700 
Kingston DataTraveler Workspace 
Spyrus Portable Workplace
Spyrus Secure Portable Workplace
Spyrus WorkSafe
Super Talent RC4/ RC8 
WD My Passport Enterprise 
In general, Windows To Go lets you copy an installed operating system to a portable USB drive, but with prior requirements including a Windows Enterprise edition, a certified USB drive, and in fact another USB.3.0 hardware on your PC. 
Does it mean that you cannot use the Windows To Go USB on a non-Enterprise edition computer? What about you don't have a certified USB drive at hand? Can you still make your own portable USB drive of an operating system of any kind? 
When you lose access to the inbuilt application, try some third-party alternatives. With EaseUS OS2Go, the Windows To Go alternative, you can create a Windows To Go USB for Windows 11/10/8/7 without the Enterprise edition.
What's EaseUS OS2Go?
It's a clean and lightweight program that helps Windows users to create a Windows portable USB drive. It's developed by a reputable tech company called EaseUS. You may hear of many of its star products including Data Recovery Wizard, Partition Master, Todo Backup and Todo PCTrans, etc.
OS2Go goes fully compatible with Windows 11, the newest Microsoft operating system. It doesn't matter what Windows versions or editions you're running on a machine, or what USB devices you're using, you can feel free to put the Windows OS to the USB drive without doing extra work.
Besides the possibility to create a Windows To Go USB on non-enterprise edition computers, EaseUS OS2Go can impress you in many scenarios.
How to Create a Windows To Go USB on the Non-Enterprise Edition Step by Step Guide
Step 1. Install EaseUS OS2Go on your Windows computer, it will display your system drive's used space. Plug in a USB drive that is larger than the system drive used space. Choose the target USB drive and click Next to continue.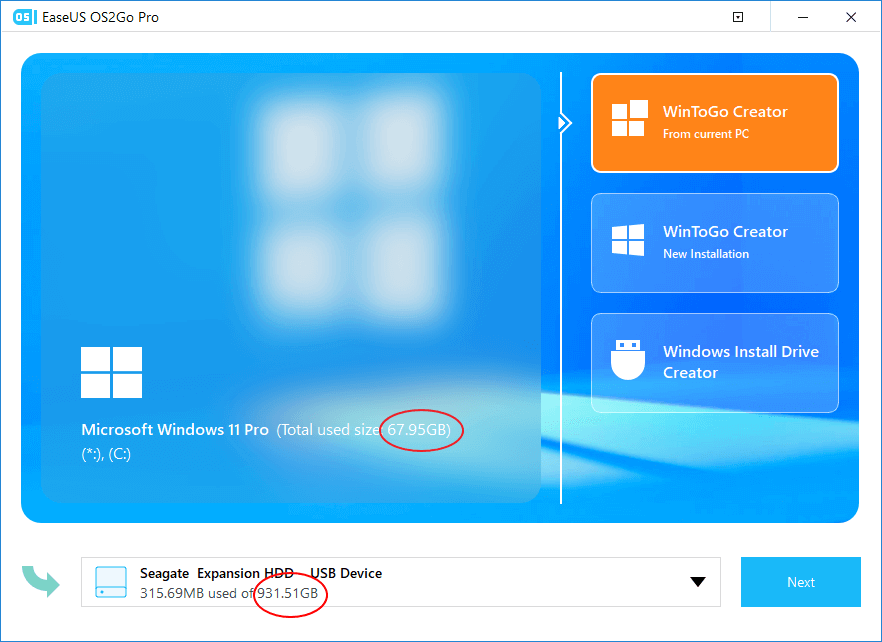 Step 2. EaseUS OS2Go will notify you that the following operation would delete all data on your drive. Make sure that you have backed up all the important data. Click the Continue button to proceed.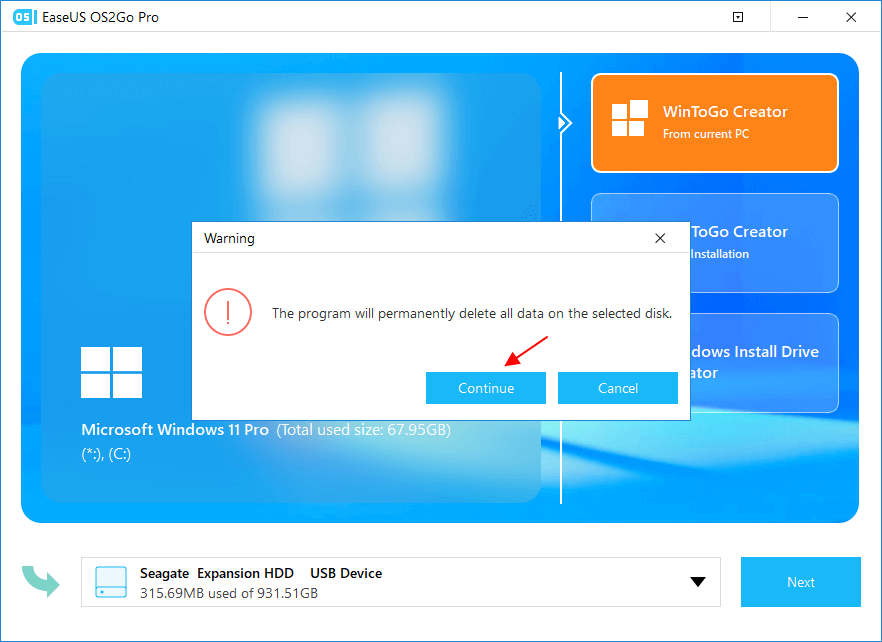 Step 3. Adjust disk layout. The default disk layout on the target drive will be exactly the same as the resource drive. You could also edit the layout according to your needs. Tick the option there if you're using a Solid State Drive as the Windows bootable drive. Next, click Proceed.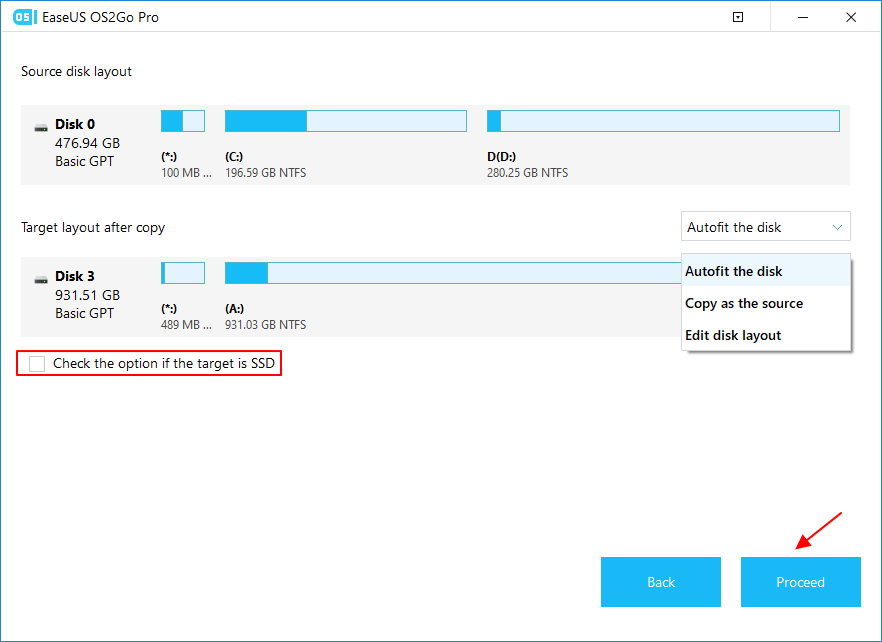 Step 4. Then EaseUS OS2Go will start to create the portable USB drive. It usually takes a while depending on your OS and Network condition. When the progress reaches 100%, the USB drive should be bootable now.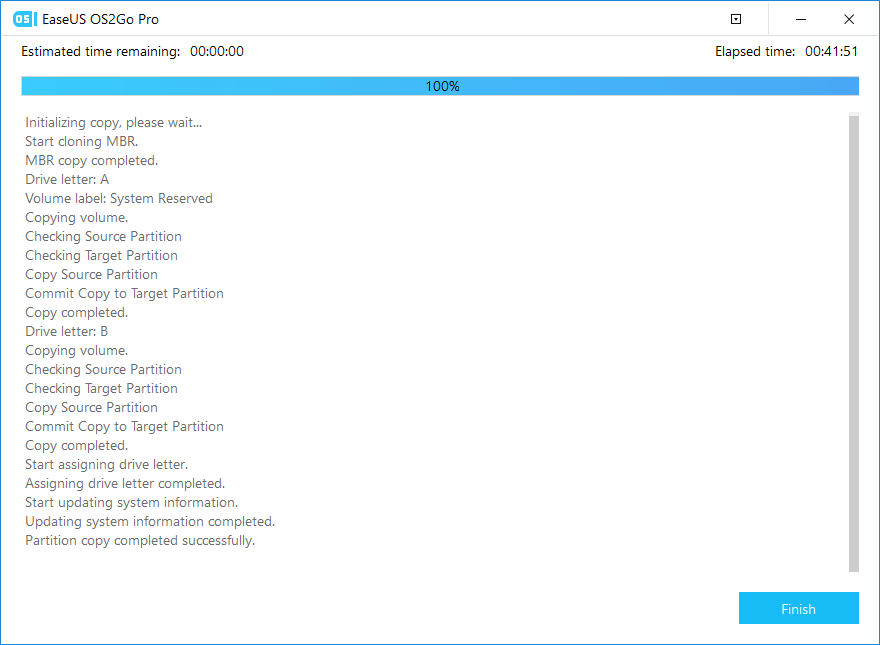 Step 5. Insert the portable Windows USB and start your computer. Press the required key (F2, DEL, F10...) to access BIOS. Choose to boot from the USB disk.
Note: Please make sure that the boot mode (UEFI or Legacy) of the portable USB and your target computer are the same, otherwise you may not be able to boot.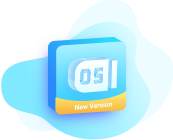 EaseUS OS2Go
Create portable Windows to USB
Copy installed Windows OS to USB
Clone Winodws OS drive to USB
Run Windows 11 on any PC
Run Windows 11 on unsupported PC
Run Windows 11/10 on a Mac
Download Now