Q: Can you play Windows Minecraft on Mac?
"My uncle invited me to his town to spend the summer vacation. I feel excited except for one thing. I play Minecraft games on a Windows 10 computer, but he uses a Mac. Is it possible for me to play Windows Minecraft on Mac without taking my own computer along with me?"
Key Takeaways
Minecraft is a multiplatform sandbox adventure game. Available download versions include Windows, macOS, Android, and iOS.
It doesn't matter you play Minecraft on a PC or a Mac because they are both computers. The difference is between Windows OS and macOS.
You can cross-play Windows Minecraft on a Mac as long as the Mac is running Windows operating system.
You can play the Windows Minecraft game on a none-Windows Mac by creating a bootable Windows Minecraft USB drive for Mac.
What's A Bootable Windows Minecraft USB Drive?
It's a USB hard drive, or a flash drive that is big enough to hold the Windows OS and Minecraft game installation and associated data configuration files. It's not a normal USB drive but a bootable one, and you can take it anywhere. It's using proper technology to clone the entire Windows OS environment including your games to this USB drive. In short, you packed your desired Windows machine into a tiny USB device. Whenever you need it, you can simply take it out and put it into use.
The good sides of owning this little portable Windows USB drive are as follows.
Migrate Windows 11/10/8.1/7 to a USB drive
Clone Windows games on a USB drive and play them on Mac
Playing Windows games on Mac without consuming Mac's hardware resource
Playing a large game like Minecraft through a USB drive on Mac won't cause the overheating issue
How to Create A Bootable USB Drive for Windows 11/10 Minecraft
You need a portable Windows USB creator tool to make it. EaseUS OS2Go is exactly what you need. When you first use this tool to create a USB drive, pay attention to the total used size of your current Windows system C: drive, which usually contains the Windows installation, and various programs, games, and your personal data.
According to the total size of the used size, prepare a USB storage drive, of which the capacity should be bigger than the used size. E.g. the used space detected by OS2Go is 55GB, then a USB drive of a minimum of 64GB should be enough to go. Make sure that the Minecraft game is installed on the system drive as well.
With a USB drive prepared and properly connected to your Windows computer, follow the steps to create a bootable USB drive of everything, including Minecraft, on your Windows system.
Step 1. Install EaseUS OS2Go on your Windows computer, it will display your system drive's used space. Plug in a USB drive that is larger than the system drive used space. Choose the target USB drive and click Next to continue.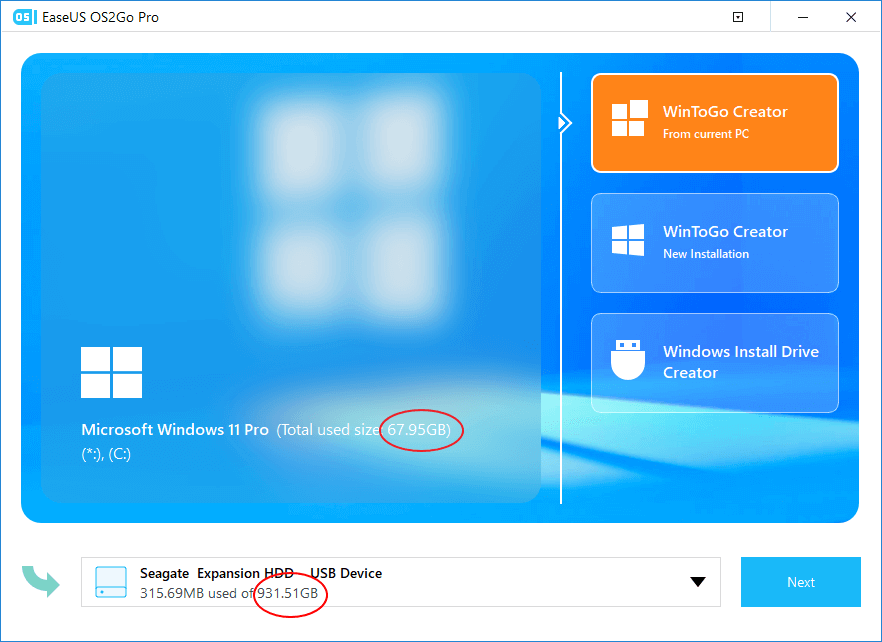 Step 2. EaseUS OS2Go will notify you that the following operation would delete all data on your drive. Make sure that you have backed up all the important data. Click the Continue button to proceed.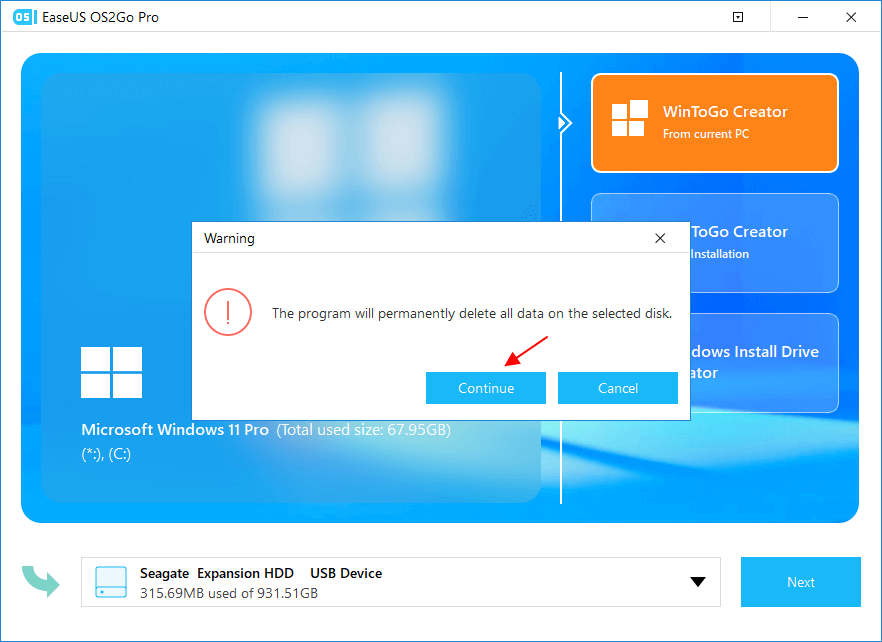 Step 3. Adjust disk layout. The default disk layout on the target drive will be exactly the same as the resource drive. You could also edit the layout according to your needs. Tick the option there if you're using a Solid State Drive as the Windows bootable drive. Next, click Proceed.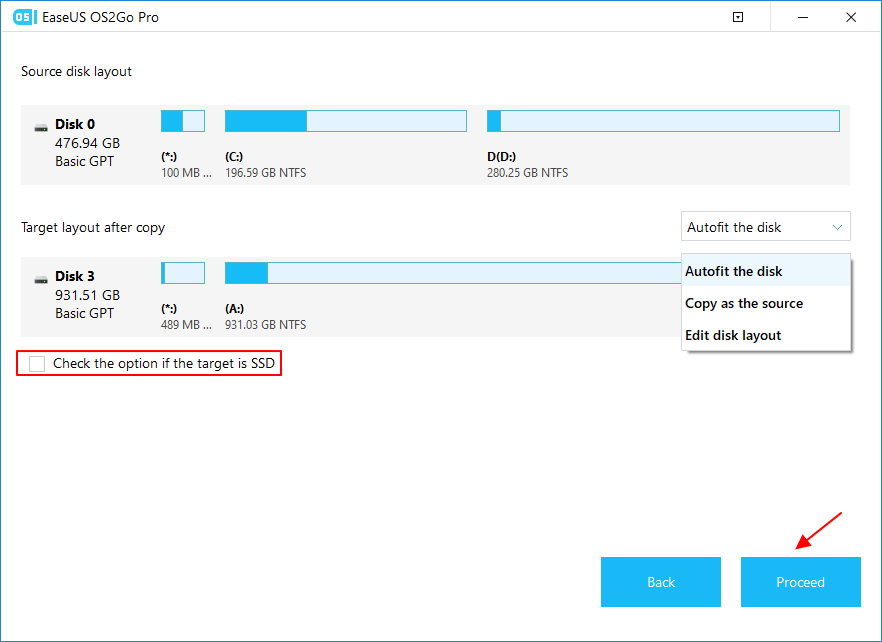 Step 4. Then EaseUS OS2Go will start to create the portable USB drive. It usually takes a while depending on your OS and Network condition. When the progress reaches 100%, the USB drive should be bootable now.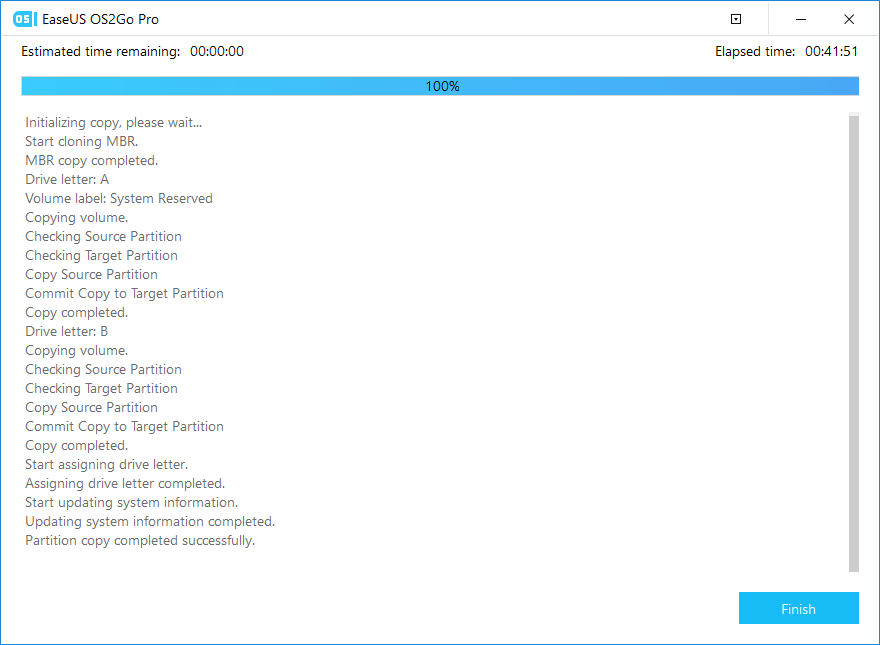 Step 5. Insert the portable Windows USB and start your Mac. Press the Option/Alt key. Choose the yellow EFI Boot icon to boot from the USB drive. Then follow the onscreen instruction to boot your Mac.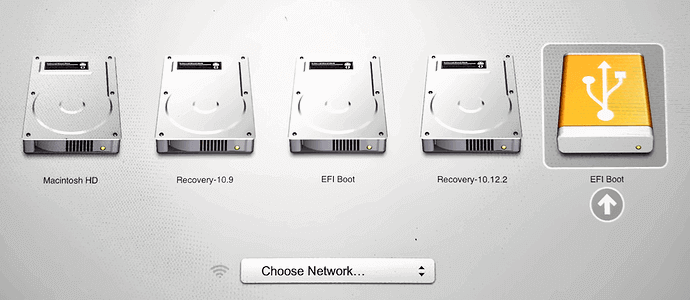 Isn't It Exciting to Play Windows Minecraft on Mac This Way?
One general way to play Windows games on Mac is to install Windows operating system on Mac with the help of Boot Camp. But after learning how to start Windows Minecraft on Mac through a portable Windows USB drive, you may find it much handy and hassle-free to cross-play a game on Windows OS and macOS.
EaseUS OS2Go is developed to make your Windows go everywhere. It'll be nice to put your customized operating system, configured programs, and gaming progresses to a portable drive that can connect to multiple devices, no matter you're in the office, at home, on a journey, or on a business trip.
Are You Interested in: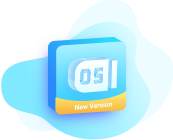 EaseUS OS2Go
Create portable Windows to USB
Copy installed Windows OS to USB
Clone Winodws OS drive to USB
Run Windows 11 on any PC
Run Windows 11 on unsupported PC
Run Windows 11/10 on a Mac
Download Now