Jean updated on Mar 10, 2022 to Windows System To Go | How-to Articles
Many times you might face a situation where you need to run your Windows OS on another computer, such as: 
You want to run Windows-specific games or apps on your Mac 
You need exact Windows settings on your work or personal PC 
Or, you don't want to leave traces of your work on another computer, etc. 
For the purpose of creating the same Windows environment on another computer, Microsoft has created a special mode called Windows To Go, which allows you to transfer your Windows OS to a USB drive. 
Using the Windows bootable USB drive, you can easily work on your Windows OS without installation. The feature seems great, but Microsoft has discontinued it after May 2020. 
That means Windows To Go isn't a powerful option any longer to run Windows on portable devices. But thankfully, many great Windows To Go alternatives are available today, and one such alternative will be disclosed in this post. 
So, let's get started. 
What's Windows To Go Creator?
Windows To Go is a Windows feature that allows you to run Windows OS on another computer, regardless of its operating system. This feature enables you to create a replica of your Windows workspace on another desktop or laptop.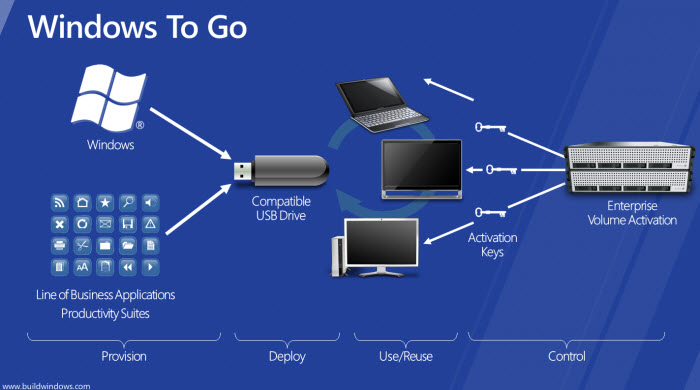 Windows To Go feature is only available for a few selective Windows OS, including Windows 8 Enterprise, Windows 8.1 Enterprise, Windows 10 Education, and Windows 10 Enterprise. In Windows updates prior to May 2020, Windows To Go is no longer available for Microsoft users. 
* Related post: How to Create a Windows To Go USB Without Enterprise Edition
Also, the Windows To Go feature is supported by certain USB brands, such as: 
IronKey Workspace W700 
IronKey Workspace W500 
IronKey Workspace W300 
Kingston DataTraveler Workspace 
Spyrus Portable Workplace 
Super Talent Express RC4
Super Talent Express RC8
Western Digital My Passport Enterprise
Technical Specifications of Host Computer to Support Windows To Go
USB boot enabled computer system 
A processor of 1 GHz or faster 
At least 2 GB or greater RAM 
DirectX 9 graphics device with WDDM 1.2 or greater driver
USB 2.0 port or greater
Why Do You Need Windows To Go Alternative 
Windows To Go is an inbuilt and free feature by Microsoft to create a portable Windows USB drive. But still, it is recommended to look for Windows To Go alternative because of the following shortcomings: 
Foremost, Windows To Go isn't supported by the latest Windows versions 
It will increase your budget as you have to get a compatible USB drive and host computer 
Windows To Go does not support many usual desktop Windows features such as automatic hibernation and Sleep mode are turned off, TPM is not used, Windows Recovery Environment mode is absent, and so on. 
Best Alternative for Windows To Go for Windows 11/10/8.1/8/7
Since Windows To Go isn't a perfect tool to run Windows on a USB drive; thus, it's time to look for the best Windows To Go alternative. You need an alternative solution that's affordable, quick, and solves the problem of not being able to get a certified USB drive or Enterprise edition. 
And such a powerful Windows To Go alternative is EaseUS OS2Go. This tool is an easy-to-use and intuitive tool that can create a portable Windows To Go USB drive with a few clicks. Importantly, the software supports all the latest Windows versions, including Windows 11. 
EaseUS OS2Go can help you easily travel while keeping your Windows environment in your pocket. Besides eliminating the Windows To Go shortcomings, this tool can offer you many other benefits, such as:
Allow you to run Windows-specific games or applications on Mac like Minecraft
Make it possible for you to run Windows 11 on any old or unsupported computers 
You can access all features of Windows and personal data on another computer 
Provide quick services without any obstacles 
It helps to save your Windows management costs 
It is super simple to download and install the software on your computer 
You can create Windows To Go environment with a non-certified USB drive as EaseUS supports all USB brands 
Offers seamless integration with all the USB drives on both Windows PC or Apple Mac 
EaseUS provides 24*7 email support to their customers 
How to Use EaseUS Windows To Go Alternative to Create Portable Windows 11/10 USB Drive
Are you excited to create Windows To Go using EaseUS? Then, all you have to do is follow these steps, and you can easily put Windows OS in your pocket: 
Step 1. Install EaseUS OS2Go on your Windows computer, it will display your system drive's used space. Plug in a USB drive that is larger than the system drive used space. Choose the target USB drive and click Next to continue.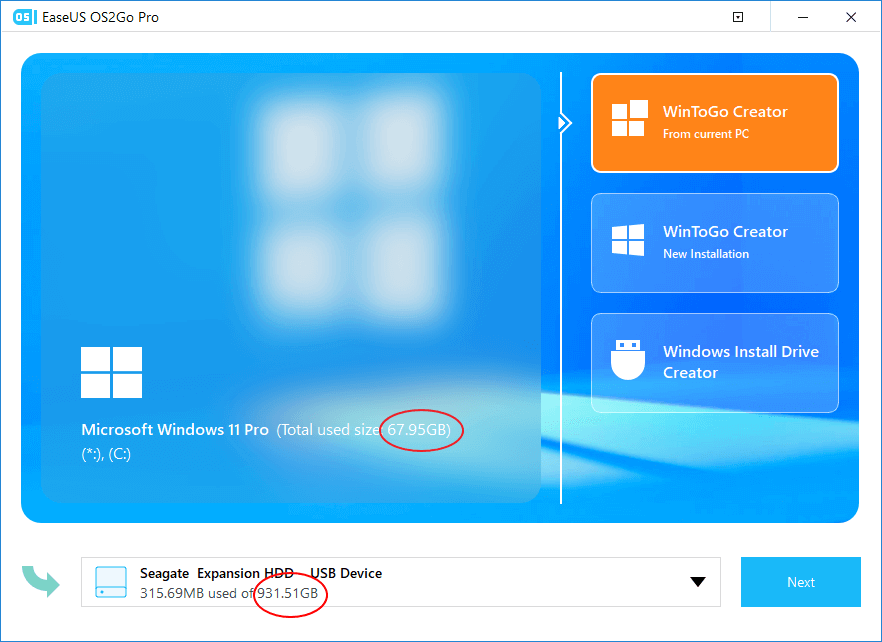 Step 2. EaseUS OS2Go will notify you that the following operation would delete all data on your drive. Make sure that you have backed up all the important data. Click the Continue button to proceed.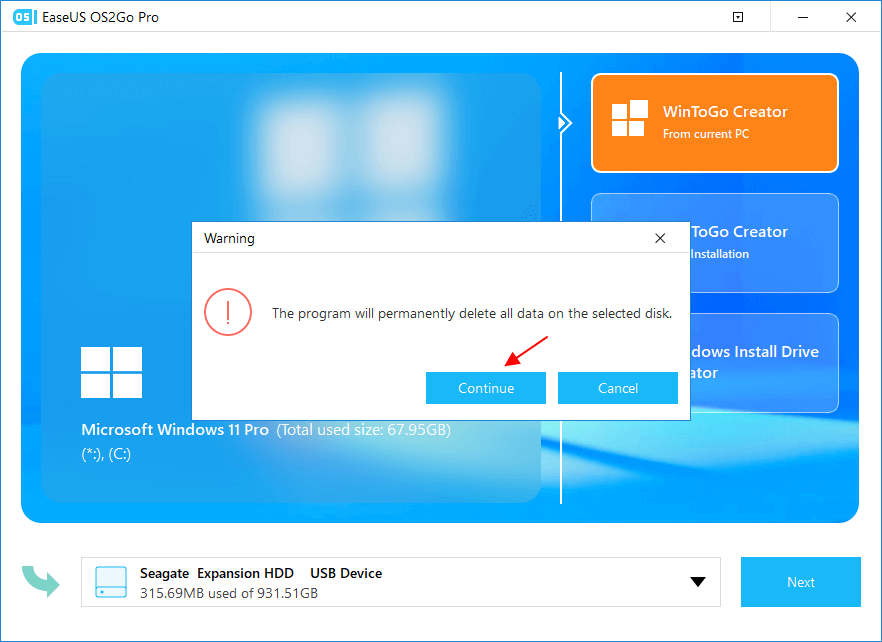 Step 3. Adjust disk layout. The default disk layout on the target drive will be exactly the same as the resource drive. You could also edit the layout according to your needs. Tick the option there if you're using a Solid State Drive as the Windows bootable drive. Next, click Proceed.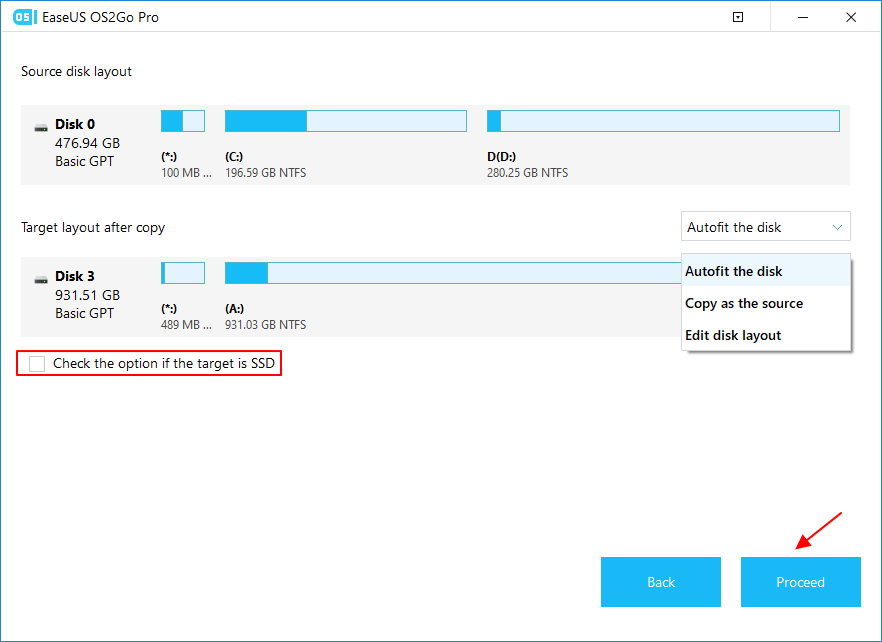 Step 4. Then EaseUS OS2Go will start to create the portable USB drive. It usually takes a while depending on your OS and Network condition. When the progress reaches 100%, the USB drive should be bootable now.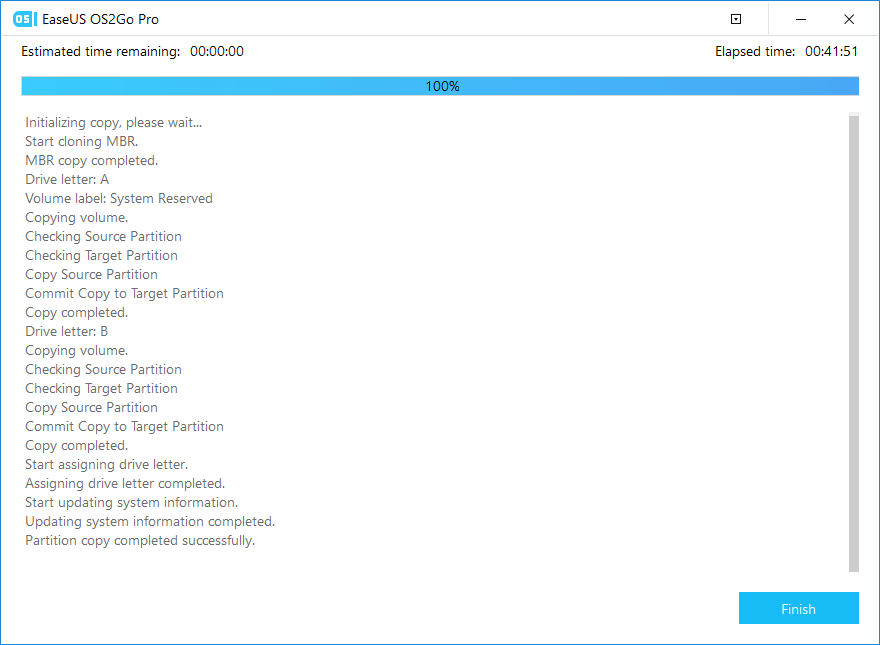 Step 5. Insert the portable Windows USB and start your computer. Press the required key (F2, DEL, F10...) to access BIOS. Choose to boot from the USB disk.
Note: Please make sure that the boot mode (UEFI or Legacy) of the portable USB and your target computer are the same, otherwise you may not be able to boot.
Sum Up 
Windows To Go is a great option to run Windows OS on another computer without any installation hassle. But unfortunately, Windows To Go is not part of the Microsoft family anymore, which makes it an obsolete method today. 
However, thanks to EaseUS OS2Go software, you can now create Windows bootable USB drives to run on Mac or other Windows computers. Further, the program supports all the USB brands, making it easy to create portable Windows USB drives. 
Today, you can try a free EaseUS OS2Go trial to test all its features and simply create a portable USB drive.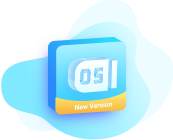 EaseUS OS2Go
Create portable Windows to USB
Copy installed Windows OS to USB
Clone Winodws OS drive to USB
Run Windows 11 on any PC
Run Windows 11 on unsupported PC
Run Windows 11/10 on a Mac
Download Now