In the beginning, we list three scenarios that may require a Windows 11 portable USB drive, which is using a special way to clone a Windows 11 computer to a removable disk like a tiny USB flash drive or a bigger external HDD/SSD.
When Do You Need "Windows 11 To Go"?
Scenario #1. Installing Windows 11 on a computer is full of challenges. Despite that Microsoft offers users Windows 11 free upgrade from Windows 10 by joining in the Windows Insider Program, it requires a minimum hardware requirement like UEFI secure boot, TPM 2.0, and at least 64GB free space on your system drive. It sounds impossible for old devices to get the new upgrade, right? Things can be totally different if you got a Windows 11 portable USB drive because you can run Windows 11 from the bootable drive on any of your lower-configured devices.
Scenario #2. You work with a Windows 11 desktop in the office, but a Windows 10 laptop at home. Can you use the office computer's operating system on the home laptop? Yes, you can if you create a bootable USB drive for the office computer's operating system along with the installed programs and working materials.
Scenario #3. When you try to replace a Windows PC with a Mac, you want to continue playing Windows games on Mac without reinstalling. You can try to play games on Mac by cloning the Windows computer games to a USB drive, or an SSD for better gaming performance. 
How to Create Windows 11 Portable USB Drive
EaseUS OS2Go is a popular Windows To Go creator for Windows 11/10/8.1/8/7  that is clean and lightweight. It goes fully compatible with the Windows 11 operating system, making it simple and fast to create a bootable USB drive for Windows 11. You can take the Windows 11 portable USB drive everywhere for use.
What You Can Benefit from EaseUS OS2Go - The Top Windows 11 To Go Creator:
Migrate Windows 11 to a portable drive, along with programs, backgrounds, programs, games and files in the system drive
Restore the cloned Windows operating system to a different computer anytime and anywhere
Play Windows 11 on some old computers which lack UEFI secure boot or TPM 2.0 configuration
Run Windows 11 on a Windows 10 or Windows 7 computer without the booting issue
Run Windows 11 on a macOS device without creating dual boot systems
Follow a Step-by-step Guide to Create a Windows 11 Portable USB Drive with EaseUS OS2Go:
Step 1. Install EaseUS OS2Go on your Windows computer, it will display your system drive's used space. Plug in a USB drive that is larger than the system drive used space. Choose the target USB drive and click Next to continue.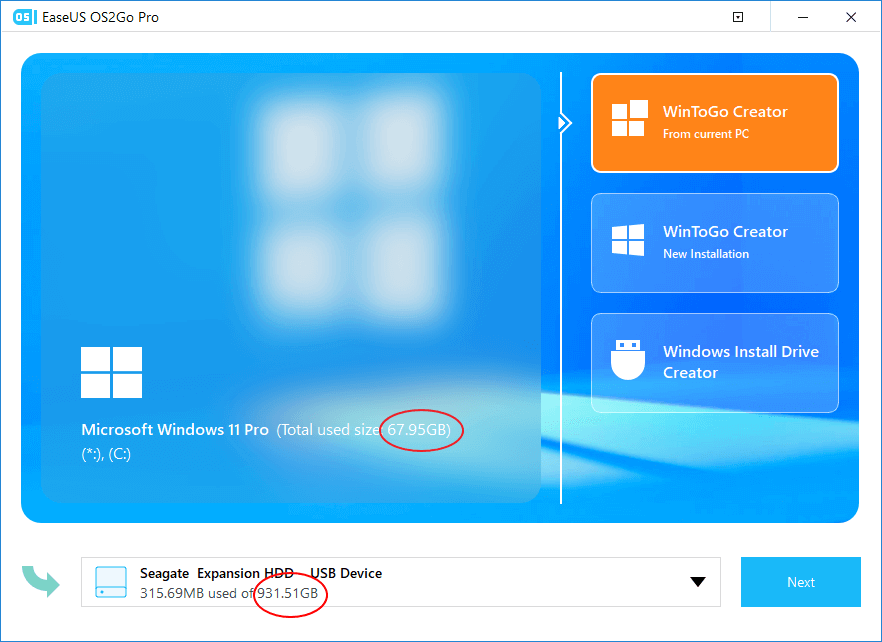 Step 2. EaseUS OS2Go will notify you that the following operation would delete all data on your drive. Make sure that you have backed up all the important data. Click the Continue button to proceed.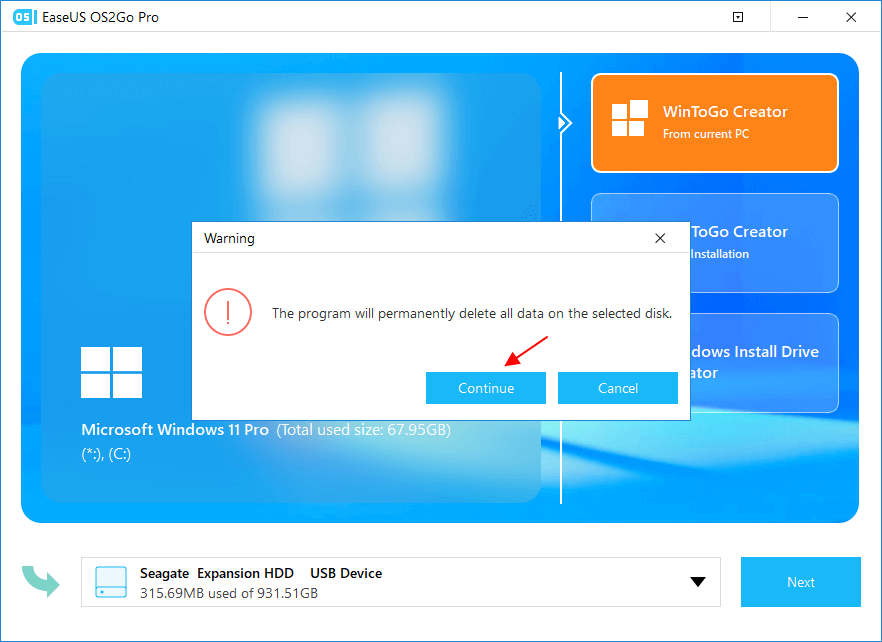 Step 3. Adjust disk layout. The default disk layout on the target drive will be exactly the same as the resource drive. You could also edit the layout according to your needs. Tick the option there if you're using a Solid State Drive as the Windows bootable drive. Next, click Proceed.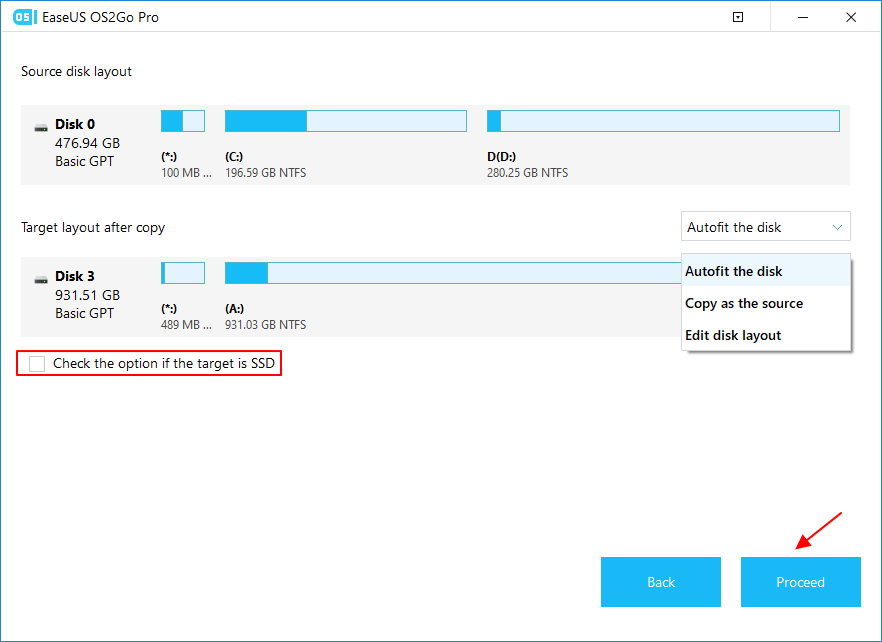 Step 4. Then EaseUS OS2Go will start to create the portable USB drive. It usually takes a while depending on your OS and Network condition. When the progress reaches 100%, the USB drive should be bootable now.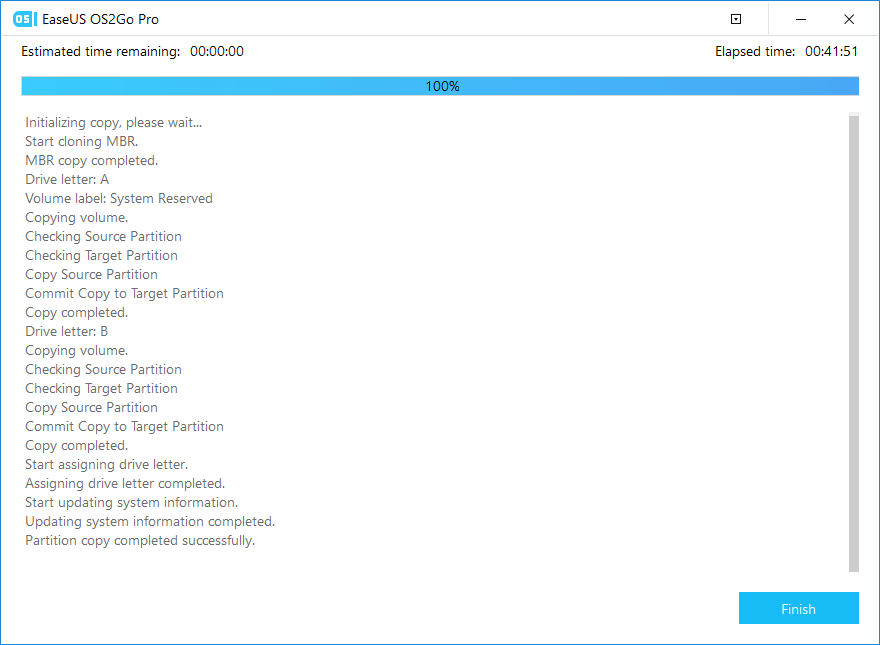 Step 5. Insert the portable Windows USB and start your computer. Press the required key (F2, DEL, F10...) to access BIOS. Choose to boot from the USB disk.
Note: Please make sure that the boot mode (UEFI or Legacy) of the portable USB and your target computer are the same, otherwise you may not be able to boot.
It's pretty easy and fast to copy installed Windows 11 to a USB drive as you followed the above procedure. However, the benefits the portable Windows USB drive brings to you are far from what we listed here. Do you want to explore more exciting scenarios by yourself? Download EaseUS OS2Go now, and welcome to share with us.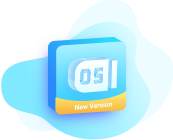 EaseUS OS2Go
Create portable Windows to USB
Copy installed Windows OS to USB
Clone Winodws OS drive to USB
Run Windows 11 on any PC
Run Windows 11 on unsupported PC
Run Windows 11/10 on a Mac
Download Now