You may never feel strange to those error messages: "Operating System not found" or blank screen without any message when you boot the computer? Sometimes you may corrupt Windows' MBR (Master Boot Record) unintentionally and come with the problem failing to enter the system. In this situation, to rebuild MBR rather than reinstall the Windows will be much more convenient and time-saving.
EaseUS Partition Master has already offered the function to rebuild MBR in the case of boot failure due to MBR problems. Please see the following step-by-step instructions to rebuild MBR.
How to rebuild or repair MBR with EaseUS Partition Master
Step 1: Create a WinPE bootable disk.
1. Download and launch EaseUS Partition Master on a new PC which runs the same system as yours.
2. Click "WinPE Creator" on the toolbar. And select to create the bootable disk on a USB drive. If your computer has a CD/DVD drive, you can also create the bootable disk to CD/DVD.
3. Click "Proceed" to finish the process.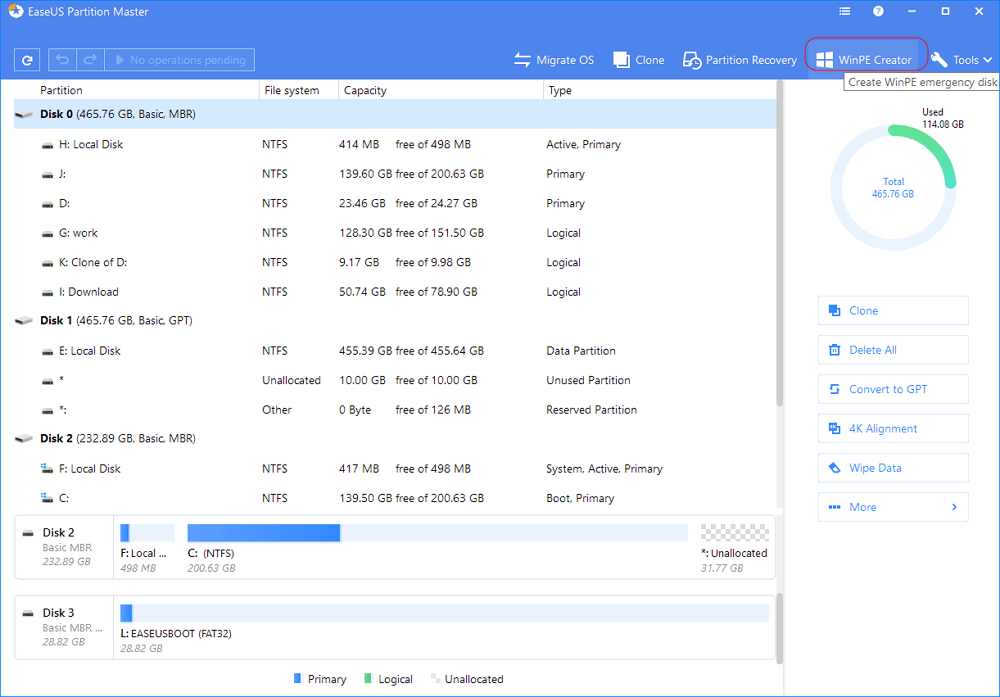 Step 2: Rebuild MBR.
1. Connect the bootable USB or CD/DVD to your PC.
2. Press "Del" when you are restarting the computer. Boot your computer from "Removable Devices" or "CD-ROM Drive". And then EaseUS Partition Master will run automatically.
3. Right-click the disk whose MBR is damaged. Choose "Rebuild MBR" to continue.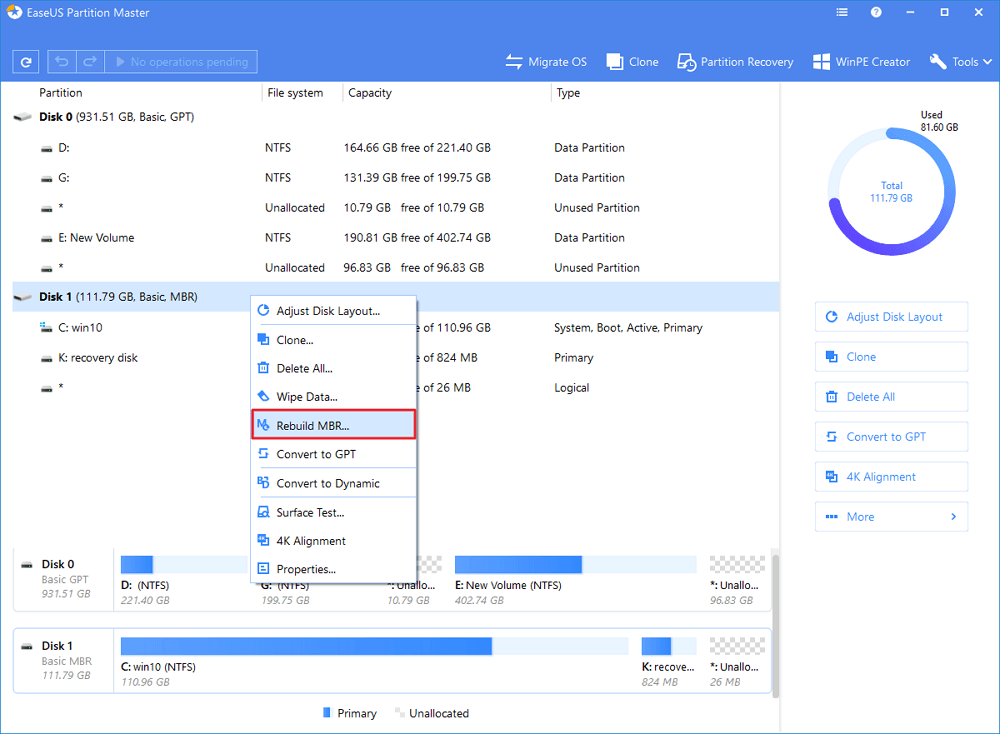 4. Select the type of MBR with the current operating system. Then, click "OK".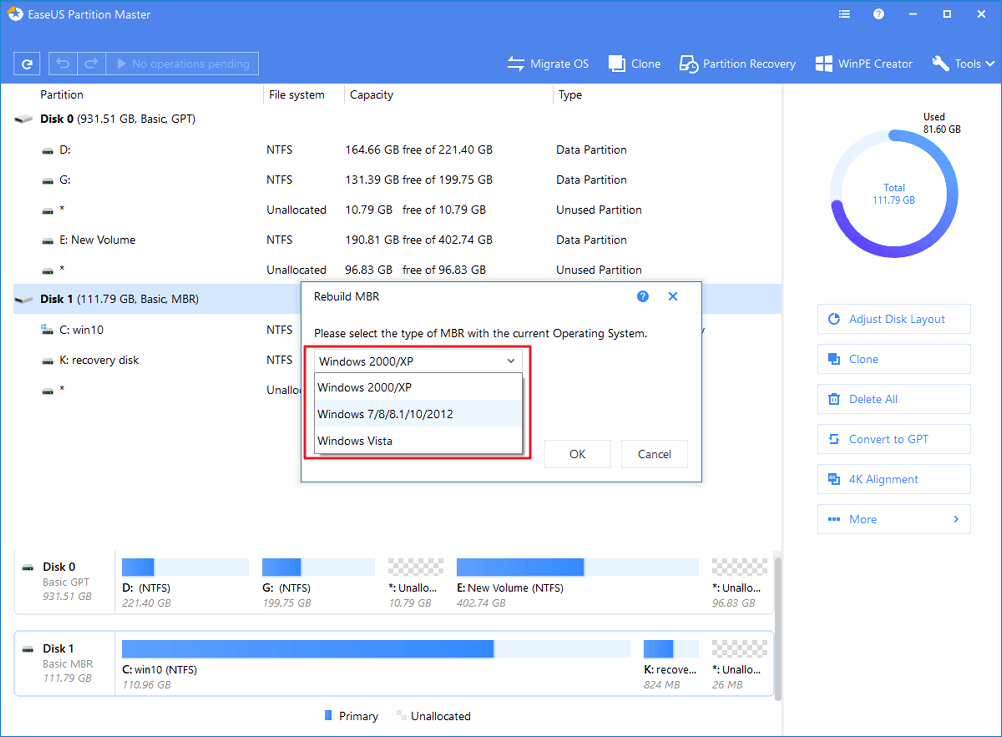 5. Click the "Execute 1 Operation" button at the top-left corner and click "Apply" to build the MBR. After that, your computer can boot normally again.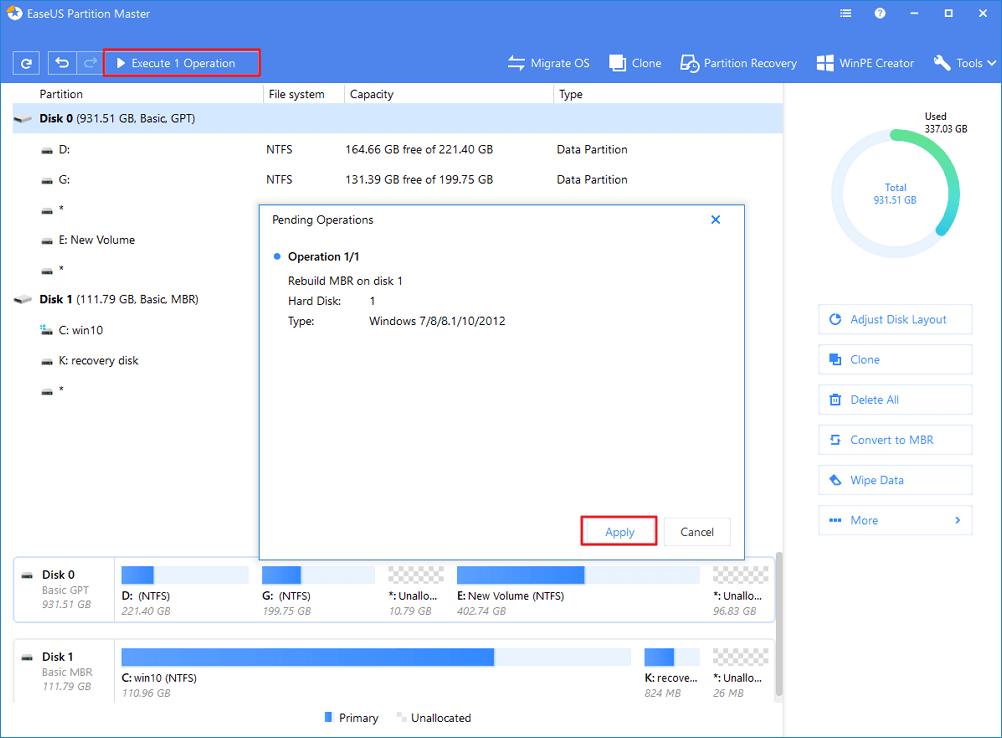 This rebuild MBR feature can fix master boot code problem, but it can not solve your problem if the Windows Operating System files are corrupted. Besides, creating a WinPE bootable disk is unavailable in EaseUS Partition Master Free, which can help you access and manage your computer disks/partitions when your OS cannot boot.