Problem: Left-click mouse causes delete
---
'left-click' behavior on a keyboard mouse causes deletion. Take it easy. You're not alone. Here in the following lies a list of situations that unveil some unusual performance of hovering a mouse on a file or program and left-clicking on it.
Programs, shortcuts, files or folders won't open on double left click as normal. Instead, they get deleted straightly without asking.
Clicking on an empty folder will delete it and if the folder has files it will ask for your confirmation for many times whether you want to delete it until you really delete the files.
Whenever the mouse selector pointer rests on a file or folder icon, Windows generates an automatic delete action and deleted files were not found in the Recycle bin.
Anyhow, left mouse click = delete and it's apparently an annoying problem and despairingly brings big data loss trouble.
EaseUS Data Recovery Wizard: Recover deleted files by left clicking
---
Never mind letting us know how many files or folders have been wrongly deleted by such a malfunctioning mouse. EaseUS Data Recovery Wizard is able to recover everything, even you emptied the Recycle Bin, that was deleted off from a computer/laptop internal drive partition, a portable hard drive, a USB flash drive and SD card. Use this handy file recovery software to get back all deleted items in the first place, and later take measures to fix the mouse problem. It's the only guaranteed way to minimize the loss of computer data.
You don't need to purchase the program necessarily, just install its free version at the beginning, it works all the same in scanning all over the file location like its commercial version as opposed to the supported data amount you can recover. When the scan is over, you're allowed to recover 0.5GB files for free, and then the rest 1.5GB as soon as sharing your recovery result on social media websites.
Learn how to recover deleted files in three steps.
Step 1. Choose a location to scan
Where were the deleted files located? Choose the right location, it can be a hard disk or a specific folder and click "Scan".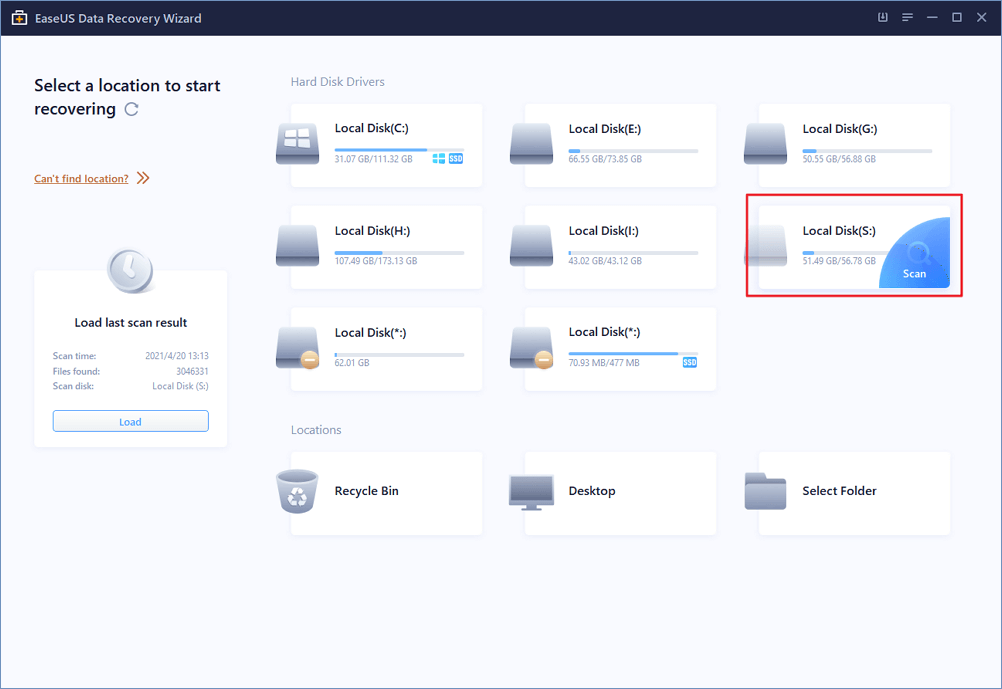 Step 2. Initiate a scanning process
The software will start the scanning process immediately. It takes a while to finish, or perhaps even longer, all depending on the capacity of the data storage location.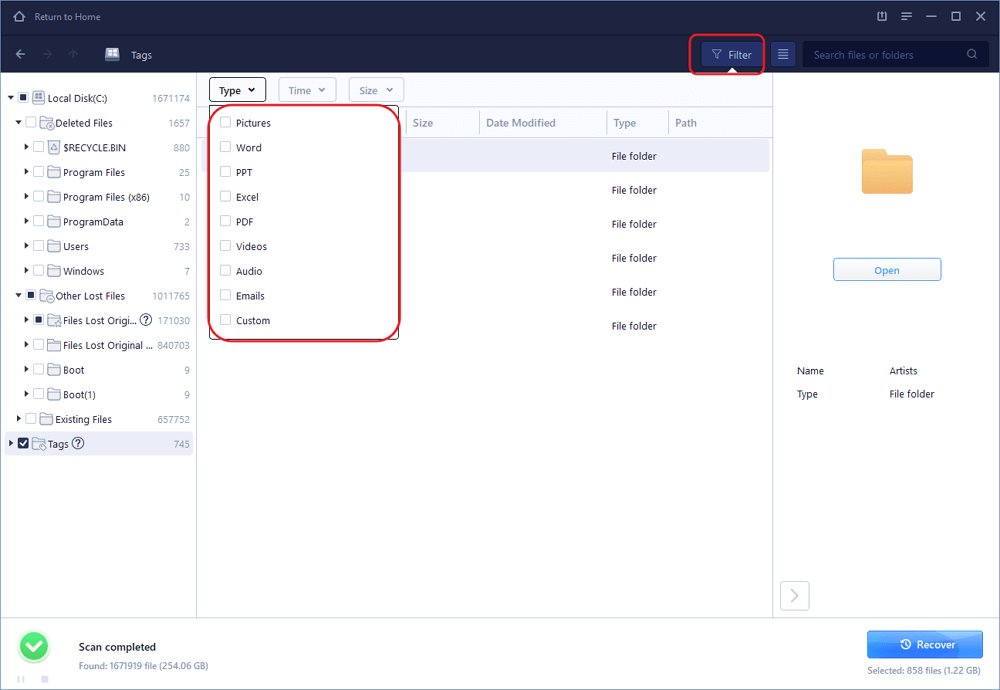 Step 3. Preview selected files and recover
In the scan results on the left pane, choose the files deleted by left clicking. Double click allows you to preview. Click "Recover", you can restore the selected files to an appointed location.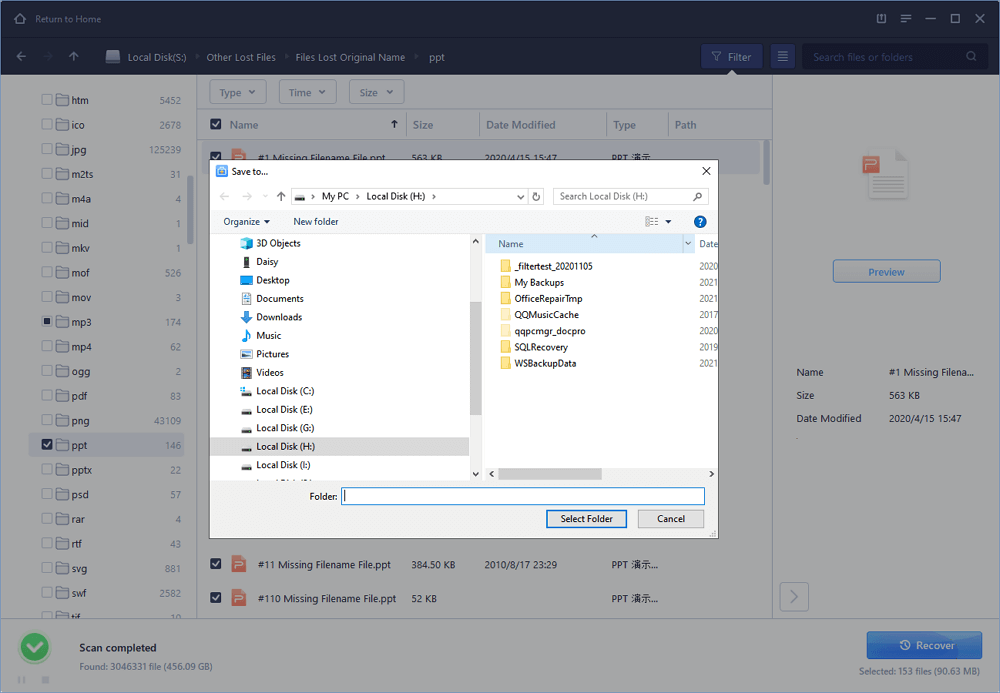 Troubleshooting: We've tried several that are helpful
Stay focus. It's time for you to contemplate the causes of the exact mouse errors. We collected some reliable answers, and it's worth testing all the suggested fixes unless you feel like replacing your computer, hard drive, mouse or reinstalling an operating system.
Option 1.
Scan malware and viruses using your existing antivirus software. Or, use cmd to remove a computer virus if you have skills.
Option 2
Uninstall programs and drivers you recently installed on your computer.
Option 3
Perform a system restore and try to restore your operating system to a restore point before the left-click mouse problem arouses.
Will system restore delete files? Yes, it's necessary to back up computer data that is created after the restore point.
Option 4
Update mouse drivers. To do this, press Windows + X keys and choose Device Manager. Locate the Mouse and other pointing devices and then right-click on your mouse driver to open its Properties. Switch to the Driver tab and then click the Uninstall/Uninstall Device button.
Afterward, disconnect the mouse and plug it in again. By reinstalling a new mouse driver, the auto deletion problem should now disappear.
Option 5
Fix corrupted system file. DISM command generally repairs various system issues that are likely to be the cause of the improper deletion by clicking a mouse. To run DISM tool, you need to use Windows + X keys to access Command Prompt (Admin) and enter the command as follows.
DISM /Online /Cleanup-Image /RestoreHealth
Do not interrupt or close the window in case that it takes a long time to find the corruption and fix it alright.
The five methods are not absolutely working, but comparing with other higher-leveled and riskful troubleshooting, they're easy to handle, and not causing further damage to your computer.