Forensic Copy seems like some procedure altogether, but it's just cloning electronic media like hard drive, hard disk bit-by-bit, or sector-by-sector. Forensic copies are used as digital evidence in investigations to use data in corporations or law. In this post, we will know what it is and how to make a Forensic Copy of a hard drive with professional cloning software.
What Is a Forensic Copy of A Hard Drive & Its Benefits
Electronic devices have become an integral part of our lives, with everything going digital. And, a lot of time, data stored in devices becomes crucial for investigations for companies and law. In such cases, we make Forensic copies or images to carry out the investigation. So, how exactly these Forensic copies are different from normal clones?
Since Forensic images are made bit-by-bit cloning, we clone the replica of the source drive without even changing a bit by creating a bitstream. Furthermore, the biggest advantage is copying the deleted data, including the files in free spaces, and swapping. Here are some more advantages of Forensic images:
Data preservation of the original data, even if the copy drive data gets altered.
Allows you to retrieve the deleted data, as bit-by-bit clones deleted data too.
Reduces the risk of accidental data loss or contamination.
You can use them as admissible evidence in courts as legal evidence.
📖You may be interested: Top 10 Forensic Imaging Tools | HDD RAW Copy Tool
Two Ways to Create a Forensic Copy/Image of a Hard Drive
There are two methods to make a forensic copy/image. While both methods are useful for creating copies, the major differences are how we store them and space. Let us know about them in detail.
Way 1. Exact Copy: Disk-to-Disk📀
This is as straightforward as the name: you are copying the whole disk to another disk. All of the data is transferred from one drive to another, and the empty space is filled with zeros if the destination drive is larger.
Way 2. Create Image: Disk-to-File📁
In this method, we transfer the data to a file located on the other drive using the sector-by-sector image of the drive. This image format can be stored in two ways DD (RAW) or Encase (E01).
DD (RAW): The DD format stores a file on the destination drive similar to the size of the drive. Even if the hard drive has space, this method also occupies the space for that. Due to this, the investigator or forensic expert has to buy larger drives and bear additional costs.
Encase (E01): While storing the data on the file, it is compressed to save disk space in Encase. Generally, this method can shrink the file size to as low as 9 times the original one. Additionally, an Encase image is the best way to maintain data integrity. The data integrity is achieved by creating a hash, where the file creates a hash for the current file of 64 KB size to encrypt the next one. This goes on until the last one. With this data coding, you can confirm the integrity and reveal whether any changes have been made to the file. If you detect any compromises, you can localize the original data and remove it from the study with encryption.
Now, you know what's better, the Encase Image, it saves space and data integrity just by data compression. A good example is how many companies provide you with zip files to download, which you can later extract to your local drive. This way no one can interfere with the code, and data is secured.
Is the passage helpful? If yes, don't forget to share it with your fans:
Easy! Create a Forensic Image with a Professional Disk Cloning Tool
You can use Windows tools or third-party tools to create a forensic image. The built-in utility is complex, and there are many third-party tools. The disk cloning tool to make forensic copies should be reliable, secure, and, more importantly, one step ahead of its contemporaries. One such excellent yet user-friendly tool is EaseUS Disk Copy, which helps you make forensic copies with just three steps.
EaseUS Disk Copy is a professional disk copy tool for cloning, migrating, and transferring data from one drive, system, or partition to another. Along with imaging, it is the ideal tool for backup and restoration with simple procedures. With a user-friendly interface, you must select the source and destination drive to make the image. Download the tool now, and make the forensic copy in no time.
Create a hard drive copy with a sector-by-sector clone.
Clone, Upgrade, and migrate your drive to another without losing data.
Best software to clone hard drives with bad sectors.
A complete solution for backup and recovery.
Make bootable drives to boot your computer without reinstallation.
📑What you need to prepare before disk cloning:

Proper documentation of who is handling the process
Write blockers to prevent write operations on the data
Download the EaseUS disk cloning tool on your Windows device
A hard drive with enough storage space and connectors to store the data
Now, follow the detailed flow chart below to create a Forensic Image with EaseUS Disk Copy. The process of making a forensic copy of ahrd drive is the same as cloning an HDD/SSD.
The Final Words 
A Forensic Copy is a vital source of information in this digital world for investigation or law purposes. Anyone having the process should be quite thorough with the entire process. The blog discusses what a forensic copy is and how to make a forensic copy of a hard drive with a professional disk cloning tool, EaseUS Disk Copy. 
EaseUS Disk Copy is a perfect solution to copy your hard drive with advanced solutions, especially how it handles the bad sectors. With all the ideal features, it is the ideal tool to make forensic copies of a hard drive.
Is the passage helpful? If yes, don't forget to share it with your fans:
FAQs
1. How can a forensic image be made if the drive is not removable?
If you want to create a forensic image without removing the hard drive, you can opt to clone a bootable USB or hard drive. With this method, you can transfer or clone the entire drive's contents into a new one and boot it on the other computer to access the files.
2. Can a dead hard drive be cloned?
Yes, you can clone the dead hard drive. Before giving up, you can recover the hard drive's contents with a professional disk cloning tool. EaseUS Disk Copy allows you to create a clone of the drive, even when the system cannot boot.
3. What is the difference between forensic copy and forensic image?
A forensic copy duplicates the content of the source drives to the target drive with standard copying methods. It maintains the data integrity but may not preserve the data. Whereas the forensic image is a comprehensive snapshot that captures everything on the source drive, along with deleted files. Due to this special feature, an image is preferred for forensic investigations.
Was this page helpful? Your supoport is truly important to us!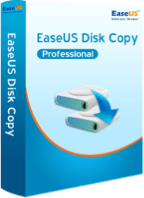 EaseUS Disk Copy
EaseUS Disk Copy is a well designed and very easy-to-use HDD/SSD cloning and migration tool, a tool which should be ideal for anyone wanting to quickly and easily migrate an existing system disk to a new disk (or newly installed SSD drive) with the minimal of configuration required.
Updated by

Larissa has rich experience in writing technical articles. After joining EaseUS, she frantically learned about data recovery, disk partitioning, data backup, and other related knowledge. Now she is able to master the relevant content proficiently and write effective step-by-step guides on computer issues.…

Read full bio