Summary
EaseUS data recovery software is a reliable data recovery software for Windows. It fully supports recovering lost, deleted and formatted data from the ext2/ext3 Linux partition as well. Feel free to download the software for Linux partition data recovery in Windows. Others who wish to recover a whole partition along with data, try EaseUS Partition Recovery instead.
Is it possible to recover data from a Linux partition in Windows?
Here are a couple of commonplace scenarios that Linux users tend to lose data.
Careless deletion
Disk formatting
Emptied recycle bin
Virus infection causes drive inaccessible
Hard drive corrupted, with too many bad sectors to open
I believe that we all experienced at least one of the data loss situations, and eagerly wanted to find a data recovery way to get lost files back. The truth is, with the popularity of Windows 7 and recent Windows 10, fewer and fewer people are still using the Linux operating system. Some of them are likely to use a dual boot system, for example, Windows 7 and Linux or Windows 10 and Linux.
The other fact is that there are dozens of dependable data recovery software in the market, but nearly no one supports the Linux operating system. That's why Linux users are so afraid of deleting some critical files by wrong, or what's worse, formatting the disk and erasing all data on it. Is it the end of the day for Linux users who lost files? Not yet. As long as you have a Windows computer nearby, it's possible to recover data from Linux partition in Windows with the help of EaseUS Data Recovery Wizard.
How to Recover Data from Linux Partition in Windows
First, download and install the EaseUS hard drive recovery software on your computer or laptop that is running Windows 10/8.1/8/7/XP/Vista
Then, safely remove the Linux hard drive from your computer and then correctly connected to your Windows computer. Neglect this step if it's a dual boot system. You don't need to take out the Linux hard drive.
Next, run EaseUS Data Recovery Wizard in Windows, and follow the three-step guide to recover data from Linux EXT2/EXT3 partition.
Step 1. Launch EaseUS Data Recovery Wizard and scan Ext2 or Ext3 drive.
Since the Windows system doesn't support the Linux file system, the Ext2 or Ext3 partition will be recognized as 'lost partition' with no label or drive letter in EaseUS Data Recovery Wizard.
Select "Lost Partition" and click "Scan" to let this program scan the Ext2 or Ext3 partition.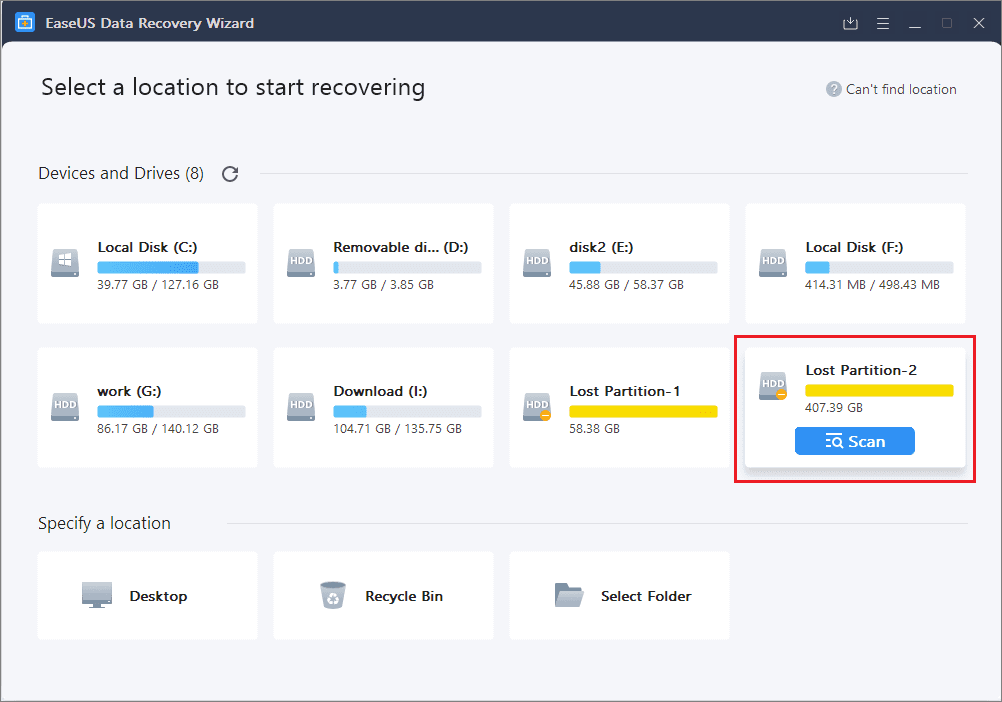 Step 2. Preview found Ext partition files from the scan result.
Once the scanning process finishes, find your Ext2 or Ext3 partition data from "Deleted Files", "Lost Files". Or you can search them by file type, name or extension via Filter or Search.
Double-click to preview and check them to confirmed the Ext2 or Ext3 drive data have been found.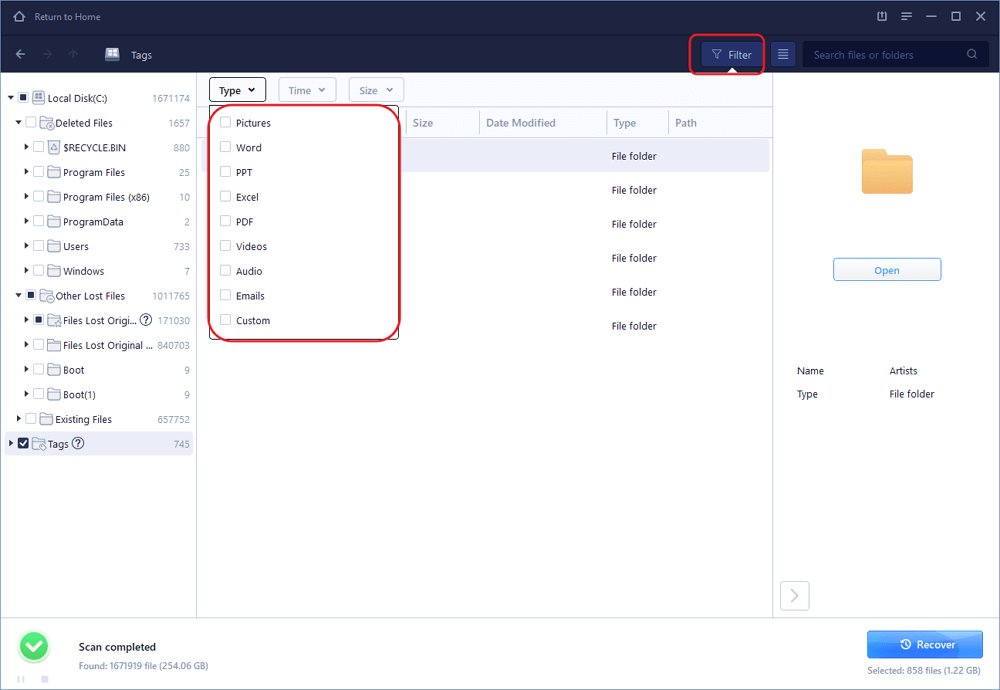 Step 3. Recover found data from Ext2 or Ext3 drive.
After selecting the found data and click "Recover" to recover lost them. Before making your Ext2 or Ext3 drive safe, save these files to another secure location.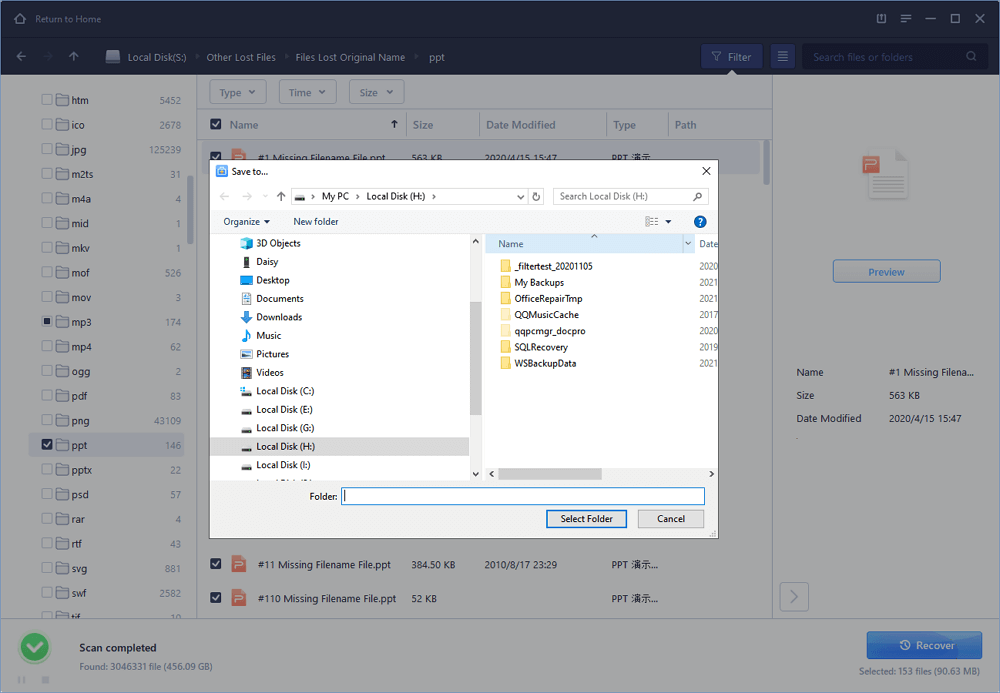 Caution: Saving the file(s) to the partition or drive from where you are recovering data may result in data overwriting, which will result in a permanent data loss!
How to Recover Deleted/Lost EXT2/EXT3 Partition in Windows
Instead of data itself, sometimes people tend to mistakenly delete a hard drive partition using Disk Management or third-party partition manager software, turning a partition into empty unallocated space. If this is the case and you wish to recover a whole partition along with data, turn to the other EaseUS product called EaseUS Partition Recovery this time.
In the same way, connect the Linux hard drive to your Windows 10/8.1/8/7/XP/Vista computer, and follow the guide to begin EXT2/EXT3 partition recovery.
Step 1: Run EaseUS Partition Recovery on your PC.
Step 2: Wait for the scanning process to complete.
Step 3: Preview and restore lost partition(s).
Step 4: Click "Recover Now" to finish the partition recovery process.
Further Reading - What's EXT2 or EXT3 File System
The EXT2 or second extended file system is a file system for the Linux kernel. It is initially designed as a replacement for the extended file system. It is fast enough that it is used as the benchmarking standard. Its main drawback is that it is not a journaling file system. Its successor, EXT3, is a journal file system and is almost completely compatible with EXT2.
The EXT3 or third extended file system is a journal file system that is coming into increasing use among users of the Linux operating system. It is the default file system for the Red Hat, Fedora, and Debian Linux distributions. Why migrate from EXT2 to EXT3? Four main reasons: availability, data integrity, speed, and easy transition.
Although its performance and scalability are less attractive than many of its competitors such as ReiserFS and XFS it does have the significant advantage in that it allows in-place upgrades from the popular EXT2 file system without having to backup and restore data.
The EXT3 file system adds, over its predecessor:
A journal
H-tree (hashed tree) directory indexes
In-directory file types
Without these, any EXT3 file system is also a valid EXT2 file system. This has allowed well-tested and mature file system maintenance utilities (like fsck) for maintaining and repairing EXT2 file systems to also be used with EXT3 without major changes. It also makes conversion between the two file systems (both forward to EXT3 and backward to EXT2) straightforward.
There are three levels of journaling available in the Linux implementation of EXT3:
Journal, where both metadata and file contents are written to before being committed to the main file system. This improves reliability at a performance penalty because all data has to be written twice.
Writeback, where metadata is journaled but file contents are not. This is faster but introduces the hazard of out-of-order writes where, for example, files being appended to during a crash may gain a tail of garbage on the next mount.
Ordered, just like writeback, but file contents are forcedly written into the origins files after its associated metadata, which is an acceptable compromise between reliability and performance, so this is the default.
100% of people found this article helpful.
Frequently Asked Questions
1. Why choose EaseUS Data Recovery Wizard?

"EaseUS Data Recovery Wizard is the best we've seen. It's far from perfect, partly because today's advanced disk technology makes data-recovery more difficult than it was with the simpler technology of the past, but it's fast and efficient..." —PCMag

"The first thing you'll notice about EaseUS Data Recovery Wizard Pro is that its interface is very clear and uncluttered, with only a small collection of self-explanatory controls. You won't find lots of extra options hidden in a system of hidden menus, either; what you see really is what you get." —techradar

"Recover lost files, even after deleting a partition or formatting your drive." —Macworld
2. Why cannot I recover 2GB data for free?

It is recommended to check the version installed is Free or Trial because they are different versions.

Trial has data preview function but cannot save any files, while the Free version enables to recover 2 GB files. The default free space is 500 MB and you may share the product on social media to get another 1.5 GB.
3. Why cannot the recovered files be opened?

A file is saved as 2 parts on the storage device: directory info (which is comprised by file name, time stamp and size info, etc.) and data content.

If the files with original file names and folder structures cannot be opened, one possible reason is the corrupted directory info. There is still a chance to recover the data content with the RAW Recovery method in our software.
4. Why isn't it suggested to recover the files back to the original drive?

The storage structure of the lost files would be altered or damaged by any changes on the drive. If you save the recovered files back to the same drive, the original data structures and data content would be corrupted or overwritten, which causes permanent data loss. So you should prepare another disk to save the files.
5. How can I check whether my data is recoverable or not before purchase?

The Free version helps you save 2GB files to better verify the recovery quality of our product before purchase.
6. How long does it take to scan the drive?

It strongly depends on the capacity of your hard drive and the performance of your computer. As reference,most drive recoveries can be completed in around 10 to 12 hours for a 1-TB healthy hard drive in general conditions.
About Data Recovery Wizard
It's super easy to recover 250+ types of files after deletion, disk formatting and virus infection. Click the links and compare the difference of each version.