Adobe Acrobat is an application developed by Adobe Inc. for users to view, create, and edit PDF files. PDF stands for Portable Document Format, it is one of the most common document formats in the world. Many individuals and organizations would use Adobe Acrobat to make resumes, brochures, and specifications in PDF form.
Can Adobe Acrobat Files Be Recovered?
If you have closed the Adobe Acrobat without saving or going through a software crash while editing a PDF file, you may want to know if it is recoverable? Luckily, the answer is Yes. You can try to recover unsaved Adobe Acrobat files with Adobe Autosave feature. Provided that you have saved the files before, but lost them due to misoperation or virus attack, you can also recover PDF files through Adobe apps and data recovery software. Please keep reading and learn more about PDF file recovery.
1. How to Recover Unsaved Adobe Acrobat Files
To prevent users from data loss, Adobe developed a protection feature called Autosave. This feature is enabled in Acrobat by default. It saves a file of changes every few minutes, generally, it's five minutes. To check the Autosave status, you need to open the application and click Edit > Preferences, then click Documents and head to Save settings. You can change the save time by checking the "Automatically save document changes to temporary file every X minutes" option. Then Acrobat will generate a temporary file every few minutes. Once the Adobe Acrobat gets crashed, it automatically opens the auto-saved PDF file when you relaunch the software. 
If your PDF files do not appear, there's another way for you to try to restore the files manually. Under this condition, you need to find where are the Adobe Acrobat temporary files stored on your computer. You can find the answer in the following steps.
Step 1. Go to the following path on your computer, that's where the Acrobat temporary files are:
C:\Users\username\AppData\Roaming\Adobe\Acrobat\DC
If you are using the Adobe Reader, then go to:
C:\Users\username\AppData\Local\Temp\Adobe\Reader\11.0
Step 2. Find the temporary files in the above location, copy and paste these files to another location.
 Notice:

The extension of these temporary files may not be the same as the original ones. It could be *.dat files or *.tmp files.
Step 3. Change the extension of the copied temporary files as *.pdf.
Step 4. Try to open the temporary files with Adobe Acrobat.
According to Adobe support, the temporary file is deleted if you close the Adobe Acrobat (whether you save or not). The only purpose of the temporary saves is to recover if Acrobat or computer crashes, power cut, etc. So if you didn't encounter a software or computer crash, you might not be able to recover unsaved Adobe Acrobat files through temporary files.
2. How to Recover Lost/Corrupted PDF Files
In addition to unsaved PDF files, another common data loss situation is that users lose saved files after system updates or virus attacks. Worse still, your files may be corrupted. If you find your PDF files are under the following conditions, then these files might get damaged.
PDF file not readable
The root object is invalid or missing
Error opening document
File damage or corrupt
Can't be opened by the viewer
Error processing page
If you are stuck in this dilemma, please do not perform any operations that may cause file overwriting. Then check your Recycle bin to see if your lost files are in it. If the answer is negative, it is highly recommended you take advantage of a data recovery software to recover the files.
EaseUS Data Recovery Wizard works well in many data loss scenarios. It supports users in recovering data deleted by antivirus, recovering files from formatted hard drive, recovering deleted files from the recycle bin, etc. With EaseUS Data Recovery software, you can recover the lost or corrupted PDF files in three steps.
Now download this software on your computer and have a try.
Step 1. Select the drive where you lose your data and click "Scan".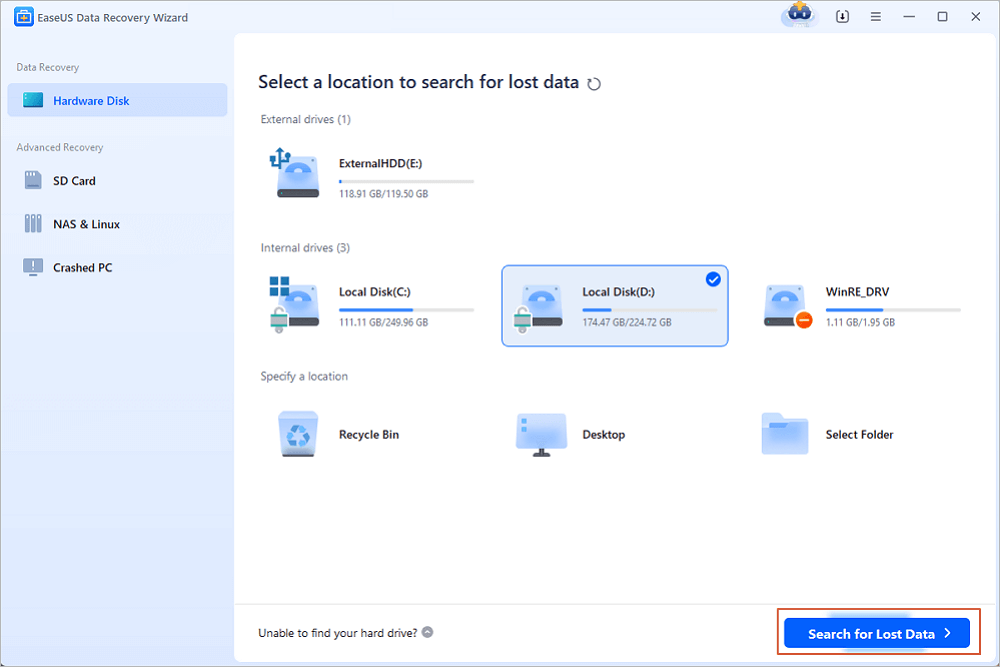 Step 2. Use "Filter" or "Search" to find the lost files when the scan completes.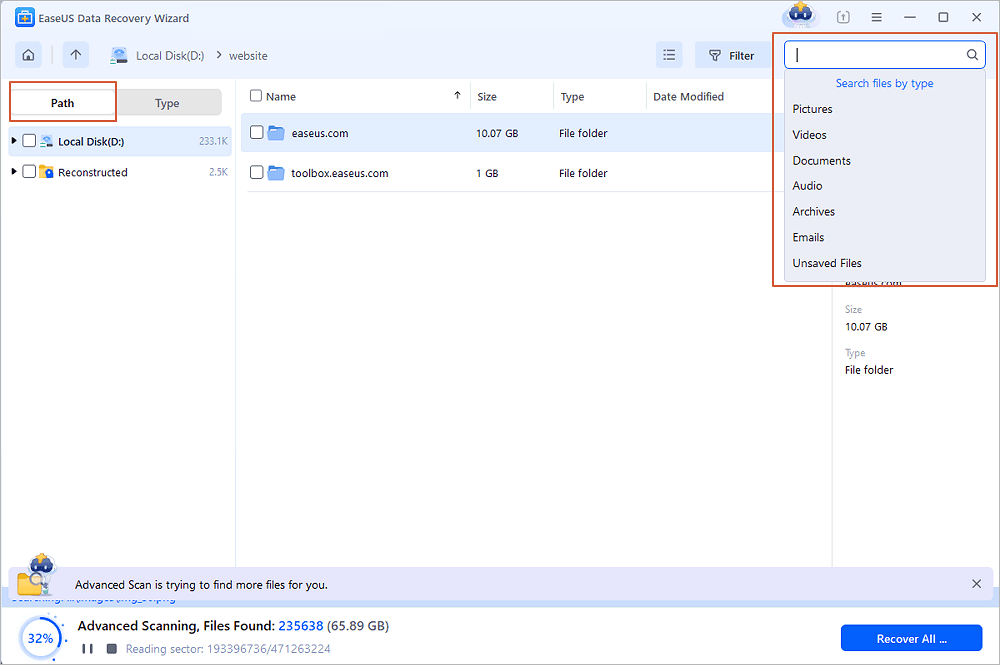 Step 3. Select all the files you want and click "Recover". Then, browse another secure location to save them.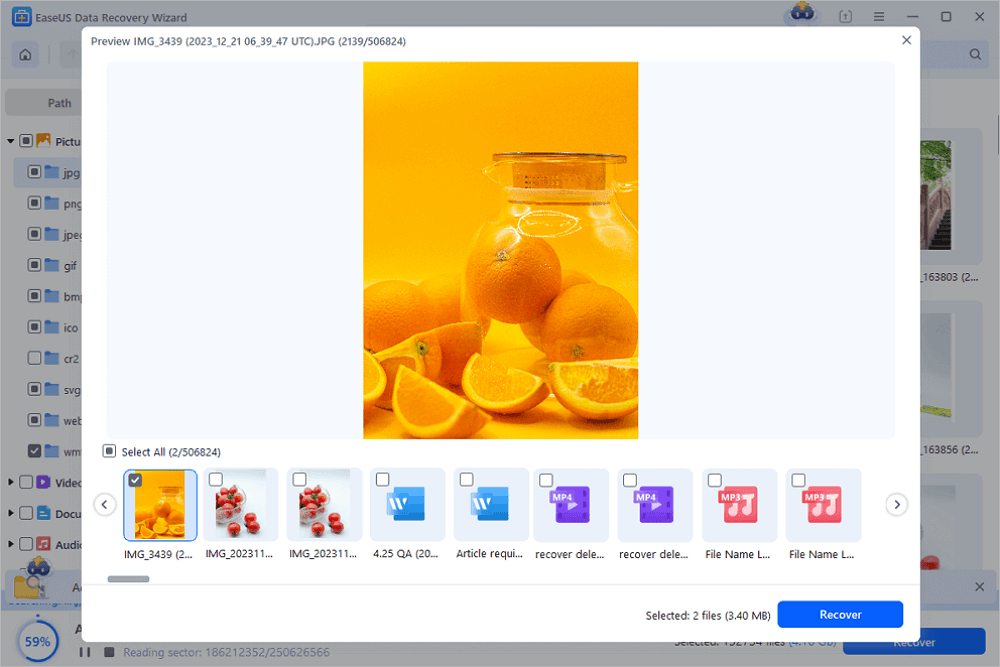 3. How to Repair PDF Application in Adobe
Despite file corruption, sometimes the reason why you cannot open or manage a PDF file is that the Adobe Acrobat app is damaged. In this case, you need to repair the PDF application to solve the problem. Here are the two most common means to fix a damaged PDF application.
Method 1. Download Up-to-Date Application
First, uninstall the current version of Adobe Acrobat, then download and install the latest version of Adobe Acrobat/Reader on your computer.
Method 2. Check for Updates
To check for Adobe Acrobat updates, you need to launch Adobe application > Click "Help" > Choose "Check for Updates".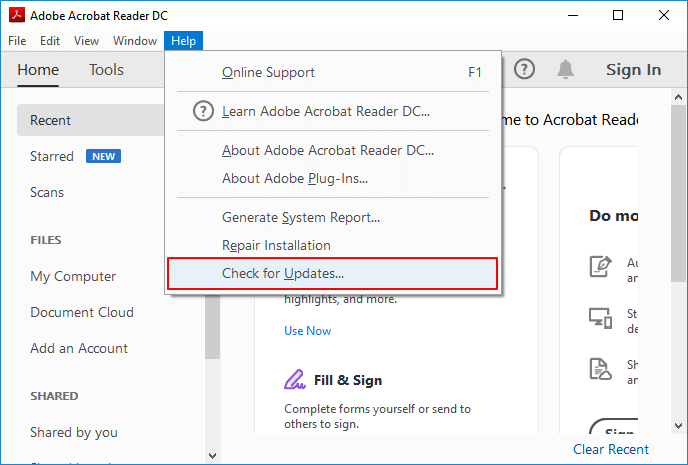 Method 3. How to Repair Corrupted PDF Files
EaseUS Data Recovery Wizard helps repair corrupt PDF documents stored on external storage media. It can also extract the text, comments, labels, graphics, etc. from the PDF file.
Step 1. Launch EaseUS Data Recovery Wizard, and then scan disk with corrupted documents. This software enables you to fix damaged Word, Excel, PPT, and PDF files in same steps.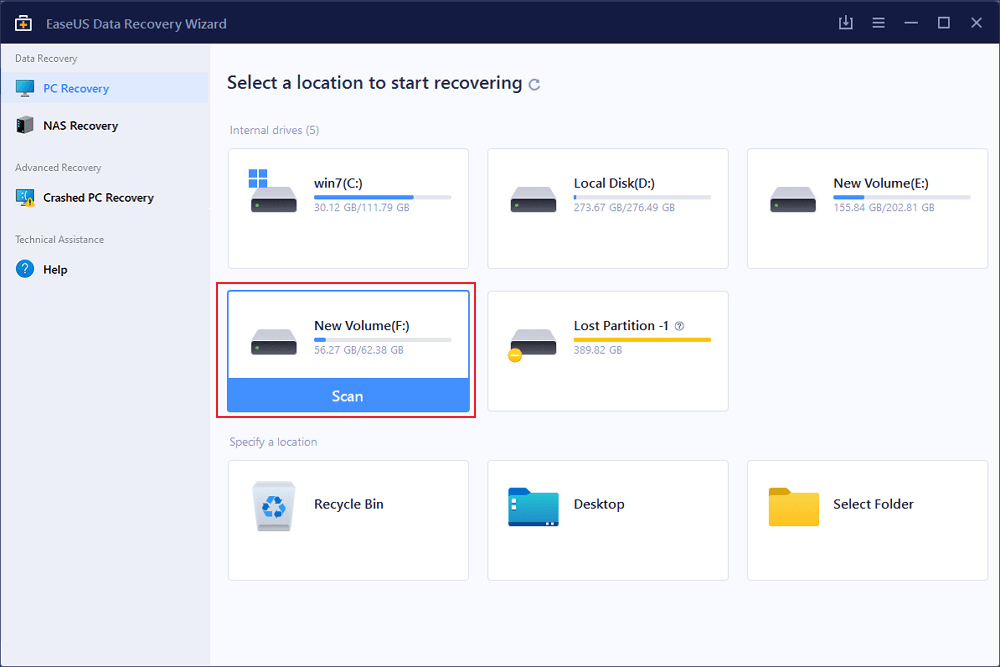 Step 2. EaseUS data recovery and repair tool will scan for all lost and corrupted files. You can find the target files by file type or type the file name in the search box. 
Step 3. EaseUS Data Recovery Wizard can repair your damaged documents automatically. After file preview, you can click "Recover" to save the repaired Word, Excel, and PDF document files to a safe location.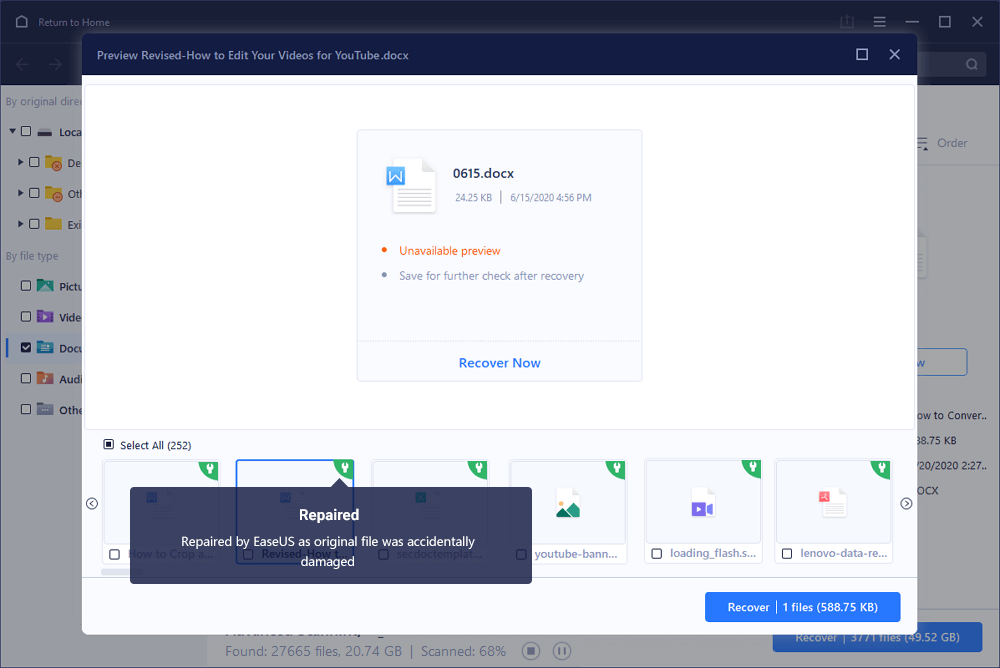 What is the Difference between Adobe Acrobat and Adobe Reader
This article is mainly talking about how to recover unsaved Adobe Acrobat files. But Acrobat is not the only application in the Adobe family that can open PDF files. Another often used app is Adobe Reader. Since both of the two applications are able for users to manage PDF files, some users might want to know what's the difference between them? Let's check the functions of these two applications.
Adobe Reader: Read PDF files and perform fundamental tasks like allowing users to fill in form fields and add some highlights.
Adobe Acrobat: Create PDF files from other formats, edit them in various ways, add form fields, security settings, etc.
In other words, the main difference is that Adobe Acrobat does not only have all the features of Adobe Reader but much more, including the ability to create and edit texts and images in PDF documents. It is the more advanced version of the Adobe Reader with added functionalities.
The Bottom Line
That's all about how to recover PDF files on the Windows PC. Generally speaking, you don't need to worry about your PDF files safety as Adobe Acrobat autosaves all the files you edit. Even if you have encountered some desperate conditions which lead to a data loss or file corruption, you can get back the PDF files with a data recovery tool like EaseUS Data Recovery Wizard. If you are interested in this tool, download it and have a try!