What Is Mac Safe Mode
The Mac Safe Mode is intended for troubleshooting on macOS. Not only does starting up in safe mode assist in separating software problems from hardware failures, but it is also advised as a method of problem diagnosis of issues you come across.
When you boot Mac in Safe Mode, certain checks are performed to prevent some software from loading or opening automatically. When you boot your Mac Safe Mode, it will:
Resolve issues related to Mac startup disk.
Load essential kernel extensions only.
Automatically clean the system and font caches.
Here is a video instruction about what is Mac Safe Mode and how to use it.
00:03 - Safe Mode
00:30 - When Should You Use Safe Mode
01:11 - What's a Safe Mode Do
02:22 - How To Boot in a Safe Mode
03:56 - Use Safe Mode To Fix Problems on Your Mac
04:53 - Reboot
06:07 - Create a New User Account
06:36 - Login Items
07:05 - More Information about Safe Mode
How to Start Your Mac in Safe Mode
Now that we've defined Mac safe mode, let's look at how to boot a Mac into it. It's straightforward and secure to start your Mac in safe mode.
The following tutorials apply to Macs with Intel processors and Macs with M1 chips.
Method 1. Steps to boot Safe Mode in Intel Mac:
Step 1. Shut down the Mac and Press the power button to launch your Mac.
Step 2. Press and hold the Shift key and wait for the Apple logo to appear.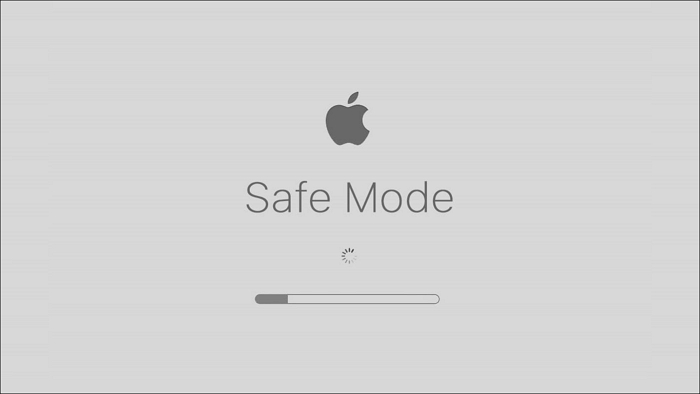 Step 3. Release the shift key when the login window displays, then log in.
Step 4. If you have FileVault enabled, you might have to log in twice.
Method 2. Steps to boot Safe Mode in M1 and later Mac:
Step 1. Shut down the Mac.
Step 2. Hit and hold the power button and wait for the startup options.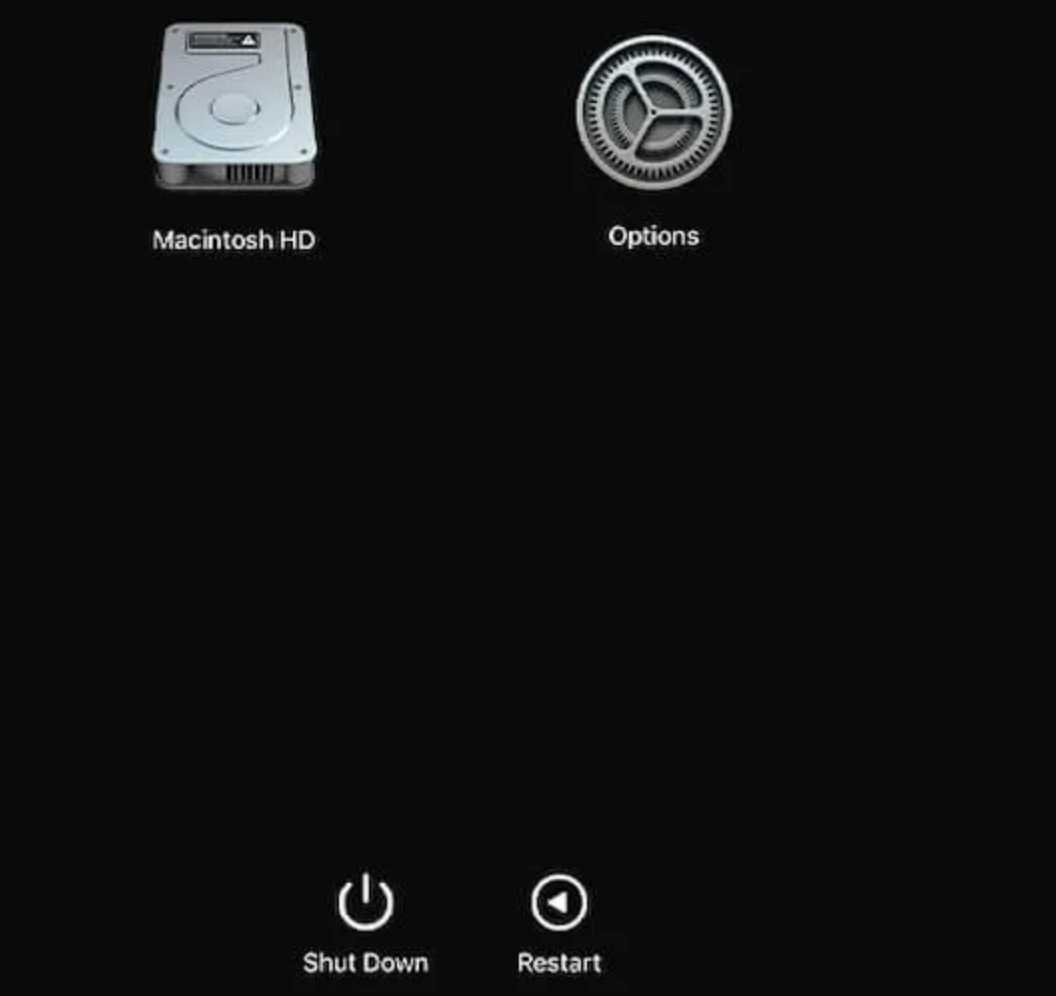 Step 3. Hit the Shift key and choose "Continue" to log in to Mac Safe Mode.
Use your computer generally once you've entered safe mode. For instance, if a certain app caused your Mac to crash, try rerunning the app in the Mac Safe Mode to see if the problem still exists.
Difference Between Mac Safe Mode And Recovery Mode
Mac Safe Mode is an easier version of the macOS that is different from Mac Recovery Mode. If you attempt to resolve these issues on your Mac: the OS is running slowly which is caused by software, you can boot your Mac into Safe Mode to check the problem and boost your startup speed.
However, Mac Recovery Mode and Mac Internet Recovery Mode is booting from a hidden recovery partition on Mac's hard disk. Via Mac Recovery Mode, you can restore data from Mac Time Machine backup, utilize the Terminal, check and correct any disk errors, and reinstall macOS.
 
Utilities
Functions 
Mac Safe Mode

The OS is running slowly

Startup and login items issue

Force a directory check of your startup drive

Load only essential kernel extensions

Mac Recovery Mode

Wipe a Mac or disk

Repair the disk

Clean install of macOS
 

Restore data from Mac Time Machine backup

Utilize the Terminal

Check and correct any disk errors

Reinstall macOS
How to Fix When Mac Safe Mode Not Working
To start Safe mode on Mac is rather simple. However, sometimes, several users have issues that their Mac Safe Mode cannot work as usual. There are some problems that should be tackled right now if the error emerges. This section will go over the top 2 solutions for the error - Mac won't boot into safe mode.
Fix 1. Use the Option Key
Choosing the Option key is one of the finest solutions to fix the Mac won't start in safe mode problem. The steps are as follows:
Step 1. Shut down your Mac.
Step 2. Then Press and hold down the Option key.
Step 3. Then hit the Power button.
Step 4. Choose the startup disk from the list of your Mac's drives.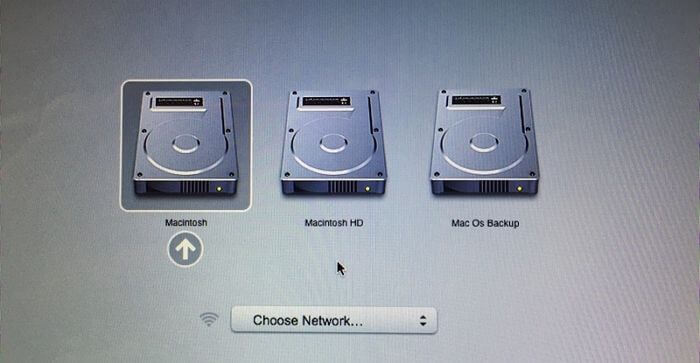 Fix 2. Reset SMC
Resetting the SMC can sometimes fix the Mac Safe Mode not working issue. You cantake the following actions for Macs with the T2, M2, or Apple M1 chip:
Step 1. Turn off your Mac.
Step 2. While holding down the Control + Shift + Option (Alt) keys at the same time, press and hold these keys for a while.
Step 3. After that, hold down the Power button while pressing it. The system will be disabled by the above steps.

Bonus Tip: Recover Data When Mac Safe Mode Not Working
Even when Macs are sufficiently advanced, accidents can still occur. The Mac Safe Mode problem may be a sign of an OS malfunction and irreparable data loss.
There are several reasons for the Mac Safe Mode not working issue. Whatever the reason, certain errors in your Mac prevent you from booting your Mac into Safe Mode. Thus, data loss on your Mac is proven possible.
EaseUS Data Recovery Wizard for Mac, a robust and safe data recovery software, can help you recover permanently deleted files on Mac. The tool's straightforward interface makes data and file recovery easier even for computer beginners.
EaseUS Data Recovery Wizard for Mac
Recover lost or deleted system files when the Mac cannot boot as usual and boot into Safe and Recovery Mode.
Recover data and files from the formatted hard drive for Mac, empty Trash Bin, memory card, and so on.
Support data recovery for a sudden system crash, not starting up the issue, hard drive corruption, virus attack, and different situations.
Here are the steps of data recovery when your Mac can't boot into Safe Mode and come across start-up issues.
How to Create a USB Bootable Media
Step 1. Install and run EaseUS Data Recovery Wizard for Mac on another Mac computer, and select "File > Create Bootable USB". Then, choose a USB drive to create the bootable disc.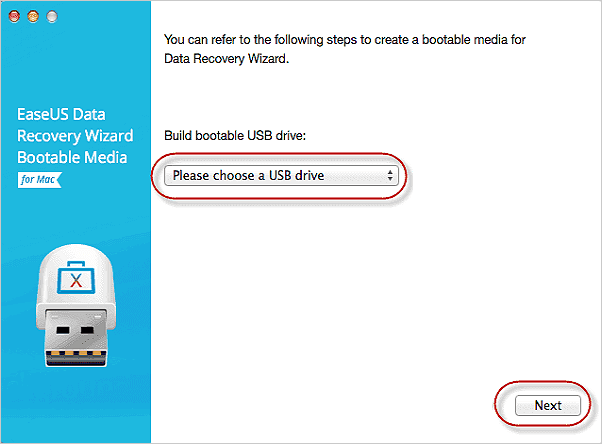  Warning

The creator will prompt to erase the drive to reallocate the space; then it can write the bootable files to this drive. Please back up all USB files before processing "Eraser".
Step 2. The program starts to create a 2GB space and save the boot files. The rest space on the USB can be still used for storage.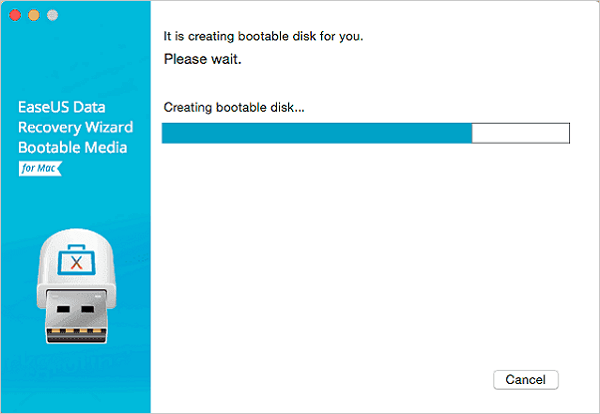 Step 3. Once it completes, please follow the guide to boot the corrupted Mac from the bootable disc and start the recovery. We suggest you restore the data to an external hard drive.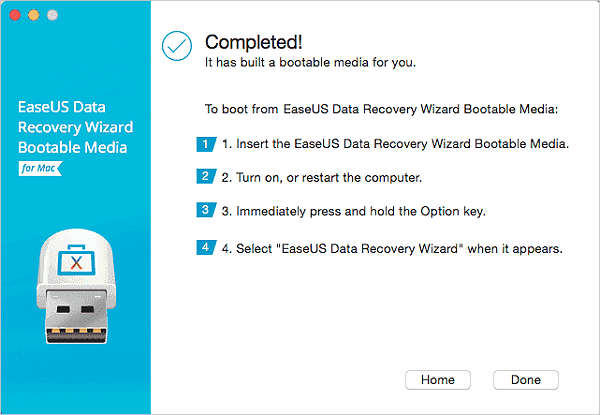 How to Recover Data from Mac Hard Disk
Step 1. Select the disk location (it can be an internal HDD/SSD or a removable storage device) where you lost data and files. Click the "Search for lost files" button.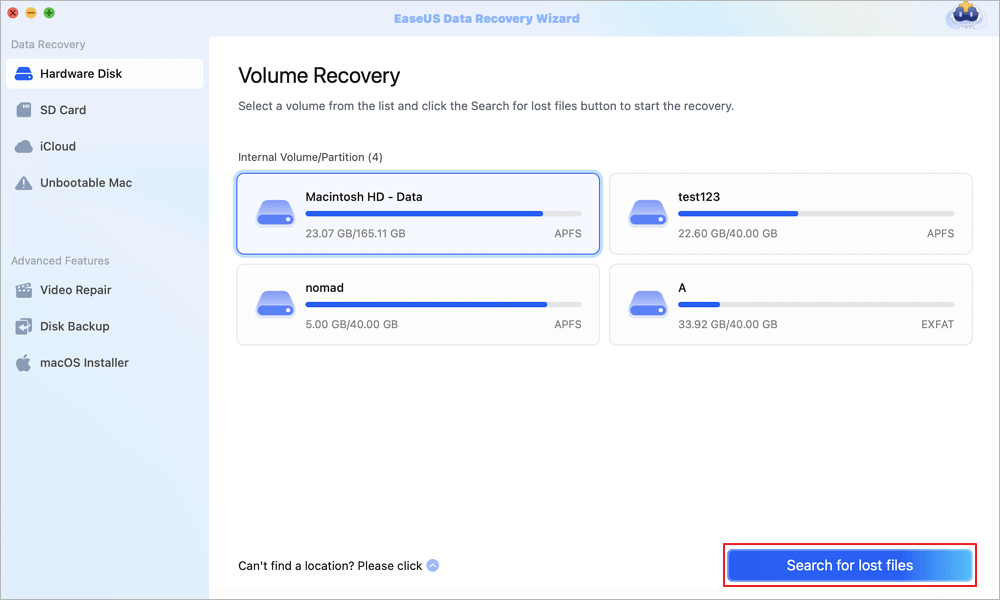 Step 2. EaseUS Data Recovery Wizard for Mac will immediately scan your selected disk volume and display the scanning results on the left pane.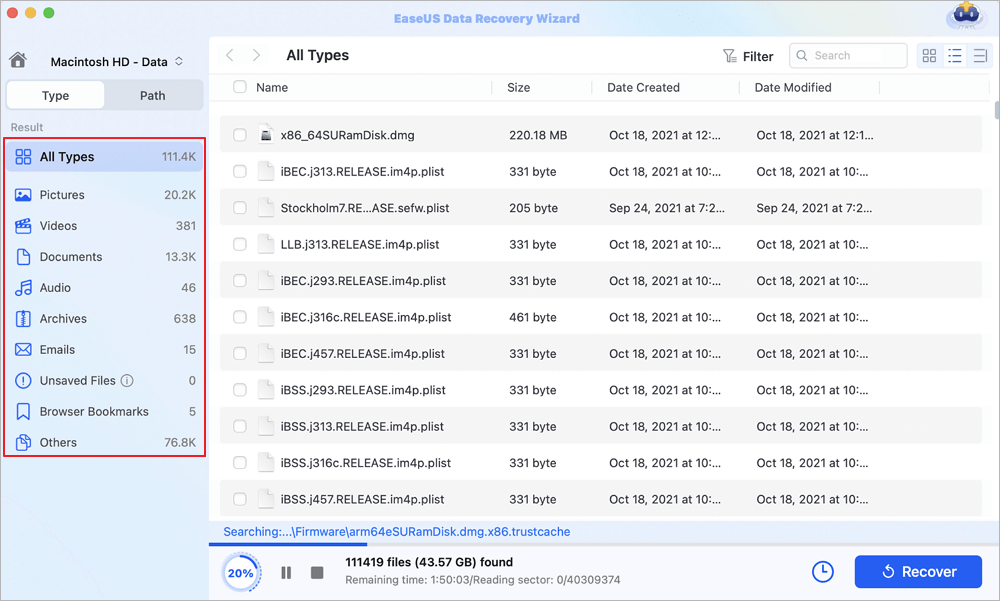 Step 3. In the scan results, select the file(s) and click the "Recover" button to restore data from Mac.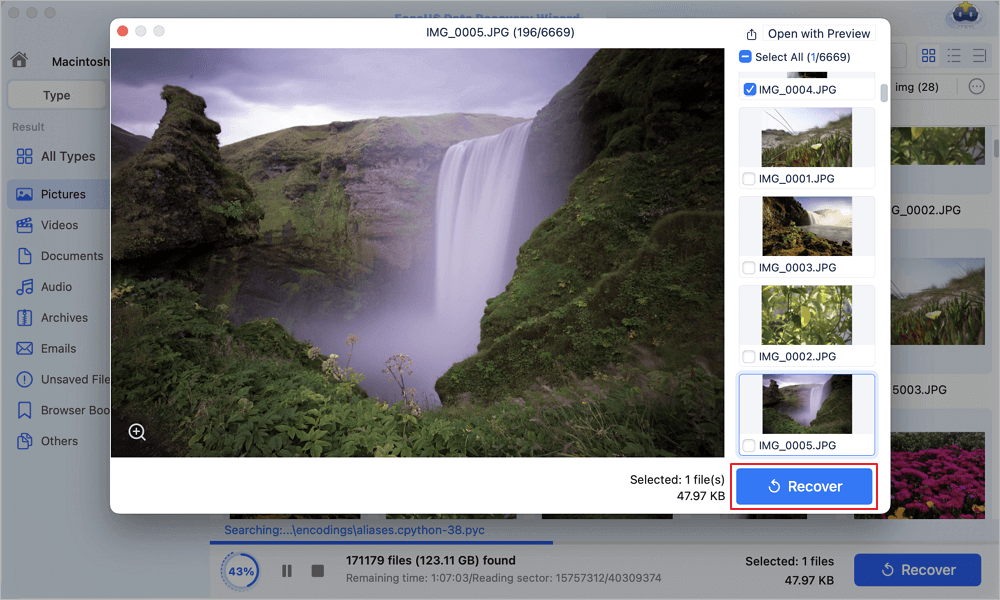 To Wrap It Up
After reading this post, you may learn what Mac Safe Mode can do and how to use it. However, it is necessary to be aware of recovering your data when your Mac Safe Mode is not working. So, EaseUS Data Recovery Wizard for Mac can be a great option for you to safeguard your data.
Mac Safe Mode FAQs
Here are 4 questions about Mac Safe Mode not working. Check here for the answers.
1. What is the purpose of Safe Mode on Mac?
Safe mode startup employs the fewest system resources possible and turns off all startup programs and third-party design elements. Only necessary kernel extensions can load in Mac Safe Mode, allowing you to solve startup issues.
2. How do I take my Mac out of Safe Mode?
To take your Mac out of Safe Mode, don't hold down any keys while your Mac starts up; instead, select the Apple menu - Shut Down and restart the Mac normally.
3. Why can't I start my Mac in Safe Mode?
System Management Controller (SMC) issues
PRAM/NVRAM-related problems
There are file system issues on the startup disk.
Make sure the keyboard is operating flawlessly so that you can utilize the Shift key effectively.
There are bugs with the mac OS.
4. How do I start my computer in Safe Mode with a black screen?
Hold down the Windows logo key while simultaneously hitting Ctrl + Shift + B keys.
EaseUS Data Recovery Services
EaseUS data recovery experts have uneaqualed expertise to repair disks/systems and salvage data from all devices like RAID, HDD, SSD, USB, etc.