Have you ever racked your brain to search an ease of use hard drive imaging software to take an image of your entire hard disk drive? This article will introduce you a hard drive imaging software - EaseUS Todo Backup, which enables you to backup your whole hard disk or partition to an image and restore it or clone your hard disk drive to another.
When do we need a hard drive imaging software?
You may need a reliable and hard drive imaging software in the following cases: if you need to replace the slow and old computer with a new one and take all the data with you, you can backup all the data to image and store it on an external hard drive or CD/DVD and then restore it to the new computer with hard drive imaging software built-in function - Recover to dissimilar hardware. If you want to do a complete format of the computer and start off fresh or do some operations which may lead to data loss, say, partitioning your hard drive, if anything goes wrong, you would like to return your computer to the way it is now with the low-cost hard drive imaging software; It is also a best way to backup your hard drive to secure all your data.
How to image the hard drive with the imaging software?
EaseUS Todo Backup is an award-winning and backup and restore solution for a good reason: with detailed instruction wizards, your computer will be in a safe condition within minutes without the help of an IT specialist. EaseUS Todo Backup can backup your hard disk drive to image in case of a system crash or hardware failure. It allows you to backup and restore disk or partition after viruses attack, hard drive failure, etc. It enjoys a good popularity among its users. Please download the hard drive imaging software and following the steps as below to image your hard drive: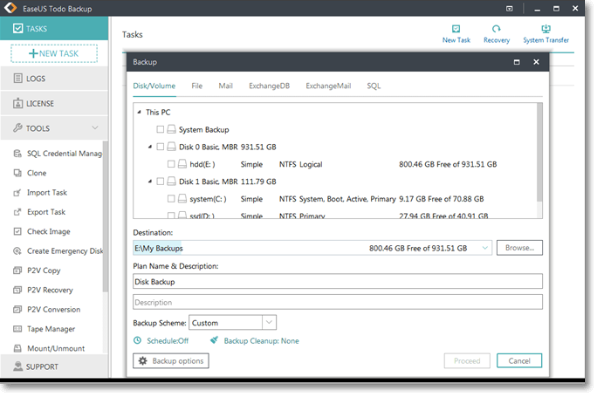 Case 1: Backup system, please see how to backup system.
Case 2: Backup partition or disk, please see how to backup hard drive and disk.
Case 3: Backup files or folders, please see how to backup files and file folders.