Why you need to create a system image backup in Windows 10?
Creating a Windows 10 system image backup is really important for users. Why? People familiar with computer may know that there are various factors such as natural disasters, virus attacks, human errors, and sudden crashes might lead to system failure. If you happened to encounter such a situation, you will be facing a Windows 10 re-installing job. It usually takes much of your time and efforts. But at this moment, if you have a Windows 10 system image backup, things will become much easier. This page shares you two solutions to create an image backup in Windows 10. Next you can read on to learn more details.
Solution 1. Create a system image backup in Windows 10 File History
Windows 10 keeps the solution for system backup called "File History" which exists in Windows 8/8.1. So you are allowed to directly create a System image backup in Windows 10 File History. Here is the guide:
1. Swipe in from the right edge of the screen, and then tap Search. (If you're using a mouse, point to the lower-right corner of the screen, move the mouse pointer up, and then click Search.)
2. Enter File History in the search box, tap or click File History, and then click System Image Backup.
A few things you should know about system images in Windows 10:
You can create only one System Image Backup on a drive: any previous versions will be overwritten.
There is no easy way of scheduling image backups.
System image will occupy a large amount of free space on the hard drive, which might slow down the computer.
It can not be denied that File History is an easy and helpful Windows 10 image backup solution. But at the same time it has some disadvantages. So here you may want a better alternative.
Solution 2. Create a Windows 10 System image backup with EaseUS Todo Backup
EaseUS Todo Backup is a professional system backup software that fully compatible with Windows 10. You can use it to do system backup, hard drive/partition backup, file backup and more. With its recovery function, you can quickly get your crashed PC up by system recovery function.
Compared to Windows built-in backup functions, EaseUS Todo Backup offers more. It allows you to schedule backup your data, like system, important documents etc. Therefore you can restore data from any point-in-time. The incremental and differential backup will save lots of disk space. There are many choices that you can choose to store images files and keep them safe. Network place, local or external hard drive, NAS devices or cloud space are all allowed.
Guide to create a system backup for Windows 10 with EaseUS Todo Backup
1. Download and launch EaseUS Todo Backup. Then choose "System Backup"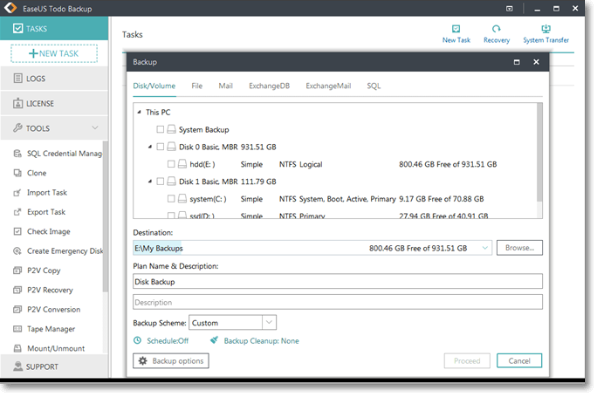 2. The software will choose the most suitable place to store your image files. Or else you can change it.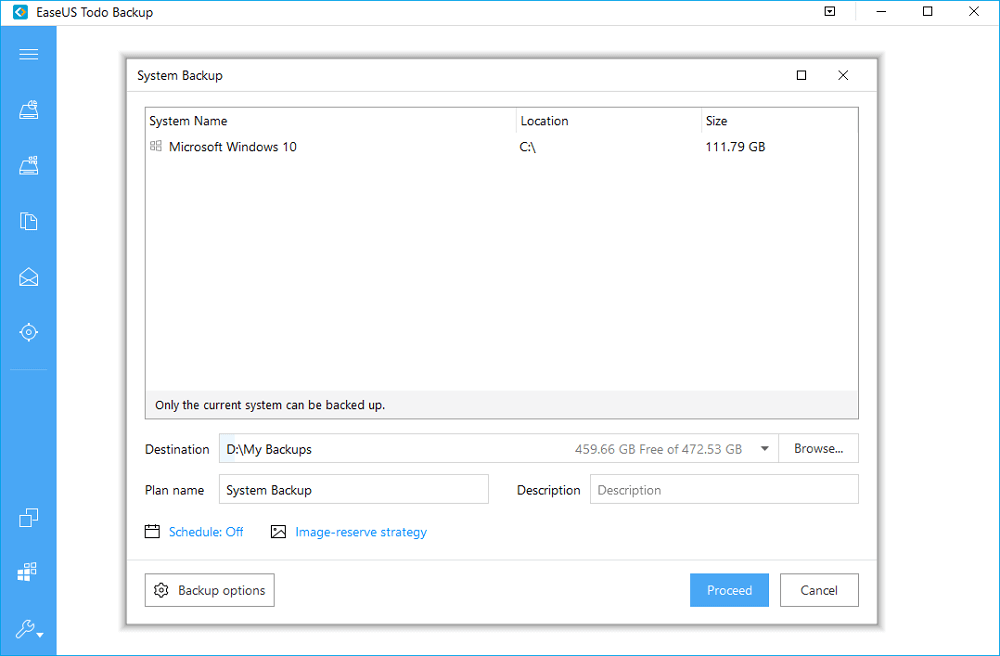 If one day disaster happens and your PC is down. Just use EaseUS Todo Backup, it can quickly restore your PC to a good state with an easy way.