6 Solutions for Windows 10 Can't Create Recovery Drive

Jean updated on Feb 03, 2021 to Todo Backup Resource | How-to Articles
"Today I tried to create a recovery USB drive but failed. I got the error message displaying in the below screenshot, it says 'We can't create a recovery drive' with the added information 'A problem occurred while creating the recovery drive'. I don't get to the screen to select the USB flash drive, so no indication of what the problem is about. It's a 64GB formatted USB drive by the way."
Why Can't I Create a Recovery Drive 
You can create a USB flash drive or an optical disc-based recovery drive on the Windows platform, which allows you easily access a failed Windows system that won't boot. Regardless of how you create a recovery drive, sometimes the whole process doesn't accomplish as expected, and one of the commonly seen errors the Windows displays is about 'we can't create a recovery drive' without pointing out the exact error source.
So, you have to dig out by yourself, by learning some common reasons and making a preliminary judgment. Here are the four most common reasons:
The option 'back up system files to the recovery drive' requires at least a 16GB USB flash drive.
The USB flash drive has a corruption issue, and Windows cannot format everything on the drive to create a recovery drive.
The Windows file system has corrupted.
When the winre.wim file gets lost or deleted, you will also see the error message.
How to Fix We Can't Create Recovery Drive on Windows 10
Based on the above reasons that may cause you to be unable to create a recovery drive in Windows, it is strongly recommended to use the following 6 solutions when the recovery drive creation gets stuck, fails, and sends the error message "We cannot create a recovery drive". Now let's check them one by one.
Solution 1. Prepare another USB flash drive
If you get an extra USB hard disk in your hand, go ahead replacing the current one, and start afresh to create a recovery drive in the same way.
Solution 2. Disable Antivirus software
Sometimes the antivirus software on your computer may block certain operations. Temporarily disable your antivirus software and try to create a recovery drive once again to see if it helps. In most cases, you should not disable the antivirus software. If you have successfully created a recovery drive after closing the antivirus software, you should re-enable it as soon as you're done. 
Solution 3. Check & repair system files corruption
Try to run a System File Checker (SFC) scan to check for any file corruption. SFC scan will scan for corrupt system files on the computer and repair them.
Step 1. Press "Windows + X", click "Command Prompt (Admin)".
Step 2. In the Command Prompt, type the command sfc /scannow and then press "Enter".
Solution 4. Check and format the USB drive
In the case that your flash drive has been using for several years and was formatted many times, it's necessary to check its health state and format the flash drive to have another try.
Step 1. Make a full backup of all your drive content.
Step 2. Connect your USB drive to the computer, enter "This PC" to find it.
Step 3. Right-click your USB drive and choose "Format".
Step 4. Under the Format Device Name (Drive Letter) window, click File System, and use the drop-down arrow to select your preferred filing system.
Step 5. Follow the lead message to confirm your operation
Solution 5. Create a USB recovery drive in another way
We think a third-party bootable USB creation tool as the last resort to solve the problem of Windows can't create a recovery drive. When you find no reason and the corresponding solution to troubleshoot the displayed error, try EaseUS system backup software to create EaseUS Todo Backup bootable disk, which works the same as a Windows USB recovery drive for the purpose of disaster recovery and boot from USB on a Windows 10 PC.
Step 1. Download and launch EaseUS Todo Backup.
Step 2. Click "OS" on the home screen to back up your Operating System (Windows 10/8/7). Then a mini window pops up, it will detect and display the operating system information automatically.
Step 3. Select the backup destination, the software will choose the most suitable location by default.
Step 4. Click "Schedule" option to open the Backup Scheme window, here you can create a scheduled backup plan to back up your OS later, daily, weekly, monthly or upon an event. Then, your OS will be automatically backed up.
Step 5. Save all of the changes. Click "Proceed" to start Windows 10 system backup.
After creating the image backup of your OS, you can create a WinPE disk on your USB flash drive. If your computer can't create a recovery drive, you can try to boot your computer from the WinPE disk.
Step 1. Prepare a USB drive which can be written and read.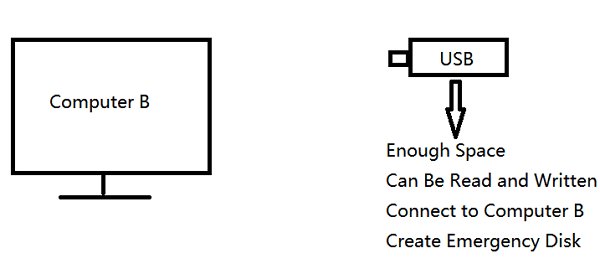 Step 2. Launch and install EaseUS Todo Backup on the Computer B
Step 3. Open the tool and click "Tools" > "Create Emergency Disk".
Step 4. Select "Create WinPE emergency disk".
Step 5. Select a bootable media type: here we choose USB drive.
Step 6. Click "Proceed" to create a bootable disk.
Solution 6. Run DISM tool
DISM tool stands for Deployment Image Servicing and Management. You can run this tool through CMD and try again.
Step 1. Open an elevated command prompt. Press Win Key + X, click Command Prompt (Admin).
Step 2. Type the following command, and then press Enter. It may take several minutes for the command operation to be completed.
Command: dism.exe /online /cleanup-image /scanhealth
Step 3. After you get the message "The operation completed successfully" type second command and press enter. It will take some time to finish.
Command: dism.exe /online /cleanup-image /restorehealth
Awards & Reviews

    
"Backup, restore and recover documents, as well as create emergency disks and wipe your hard disk entirely."
- By Mircea Dragomir
Read More >>

EaseUS Todo Backup
Smart backup tool for your files and entire computer in Windows 10/8/7.
Free Download
100% Secure
Size: 1.88MB