System Backup Image vs. Recovery Drive: Which Backup Method Works for Me
Updated by
Jean
on Jun 29, 2022
Making a backup of your vital data is an excellent practice to get into. And, if you're running Windows 10, you have a variety of alternatives for backing up your data. However, system backup image and recovery drive are the two most effective techniques for creating a data backup. If you use a computer, you already know how important data backup is.
Therefore, it is worthwhile to discuss several backup options, which undoubtedly prevent system failures. Are you unsure which of these fantastic backup alternatives would be most beneficial for you? We have highlighted the differences between System Backup Image vs. Recovery Drive to discover the best suitable option for you.
What's a System Backup Image?
A system backup image is a file (or a group of files) that includes all the data available on a computer's hard drive or just one partition. A system imaging program examines the disk drive and replicates all the data. As a result, it can be as huge as the system hard drive's utilized space.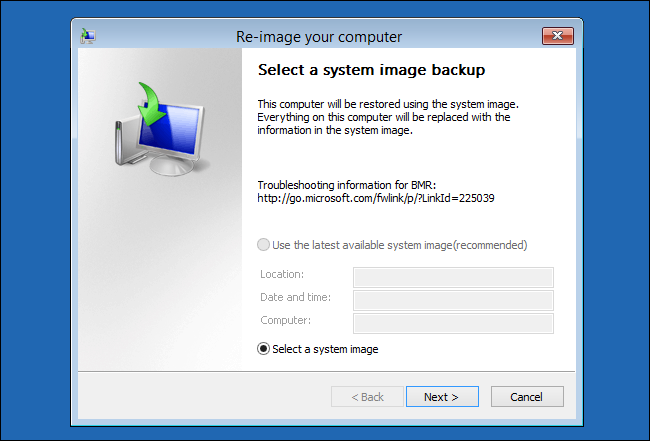 System Image is often used to take backups of the primary partition or the Windows operating system's location. So, it includes all of the user data, software files, registry entries, boot files, and all other files and directories. This backup option may also be restored if your computer crashes or won't boot without reinstalling OS.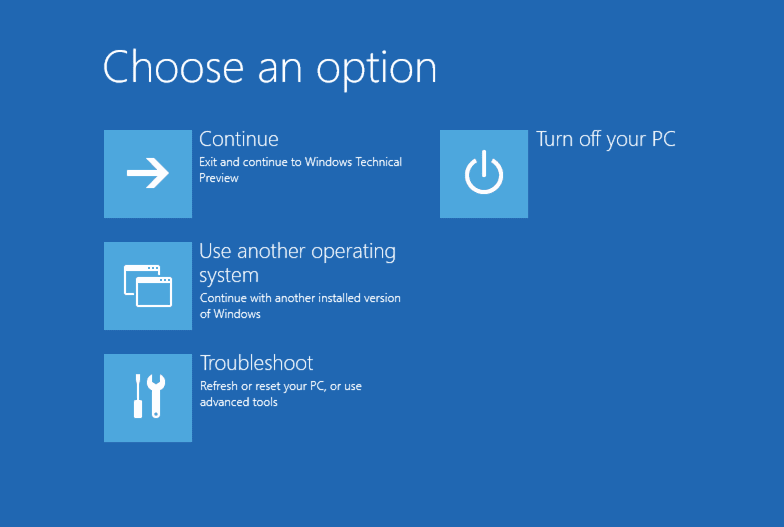 What's a Recovery Drive?
Related: How to Fix the Trouble of Cannot Create Recovery Drive
As its name depicts, a recovery drive restores the system to its original condition. This original condition can be anything, such as factory default or a clone of your Windows system. The most important thing to know is that you will need a vacant USB drive to store the backup on a recovery drive. This capability works similarly to a factory reset on iOS or Android smartphones.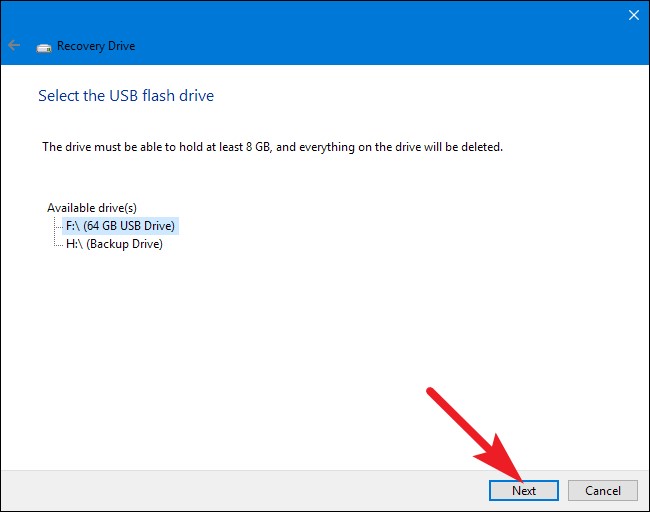 It will completely format your machine. Unfortunately, the desktop apps and other personal data will not be backed up as a part of this procedure. Users generally try out the Recovery Drive backup options when the system stops functioning, crashes, or has to be reinstalled.
Should You Create a System Backup or a Recovery Drive?
Using System Backup Image, you can recover anything on your system, even several drives. On the other extreme, Recovery Disk only allows users to transfer the most important files and data from the system drive.
Only a few vital data are stored on a recovery drive to ensure that the system boots up properly. A system backup image is a backup of the whole system disk drive.
Both of the backup options are critical components of the backup procedure. System Image is the way to go when you need to restore certain apps or files. Recovery Drive is a good choice for user settings. If the computer ever has a significant problem, such as a component failure, you may reinstall Windows 11 using the recovery drive. As Windows updates regularly increase the security and efficiency, we suggest recreating the recovery drive at least once a year. However, it is essential to remind that personal data and software not included with your computer will not be accompanied.
As a result, both are equally helpful and significant. Users can accordingly choose among them, depending on their needs and requirements.
| System Backup Image | Recovery Drive |
| --- | --- |
| Backs up all the data on the hard drive.  | Restores the computer to its initial stage.  |
| Does not require any USB drive.  | Requires a USB drive for backup. |
| No deletion of personal data and desktop apps.  | Erases the desktop apps and personal data. |
Using the system backup tool, you may generate image backups on your computer and save them on safe storage media. However, since building a system image requires a lot of space on your device, ensure that you have enough storage space on the external device. As a result, even if you've made a recovery drive, we recommend that you perform a regular system backup.
How to Create a System Backup Image with a Small Size
The Windows Backup and Restore application can create a system image. However, it does not allow compression. Therefore, a smart and adaptive backup solution may be required, such as EaseUS Todo Backup. When making a system backup, this program gives users compression choices. Some of the most intriguing features of this tool are as follows:
It enables incremental backups and opens up space on the hard drive, allowing for additional storage space to be used.
Back up the operating system, install programs, and securely stores data on the drive.
It is portable and may be used to restore a system image to any system.
When something occurs wrong with the system, you may use an emergency restoration to restore stability.
Step 1. Launch EaseUS Todo Backup and choose "Create Backup" on the home page, click "Select backup contents".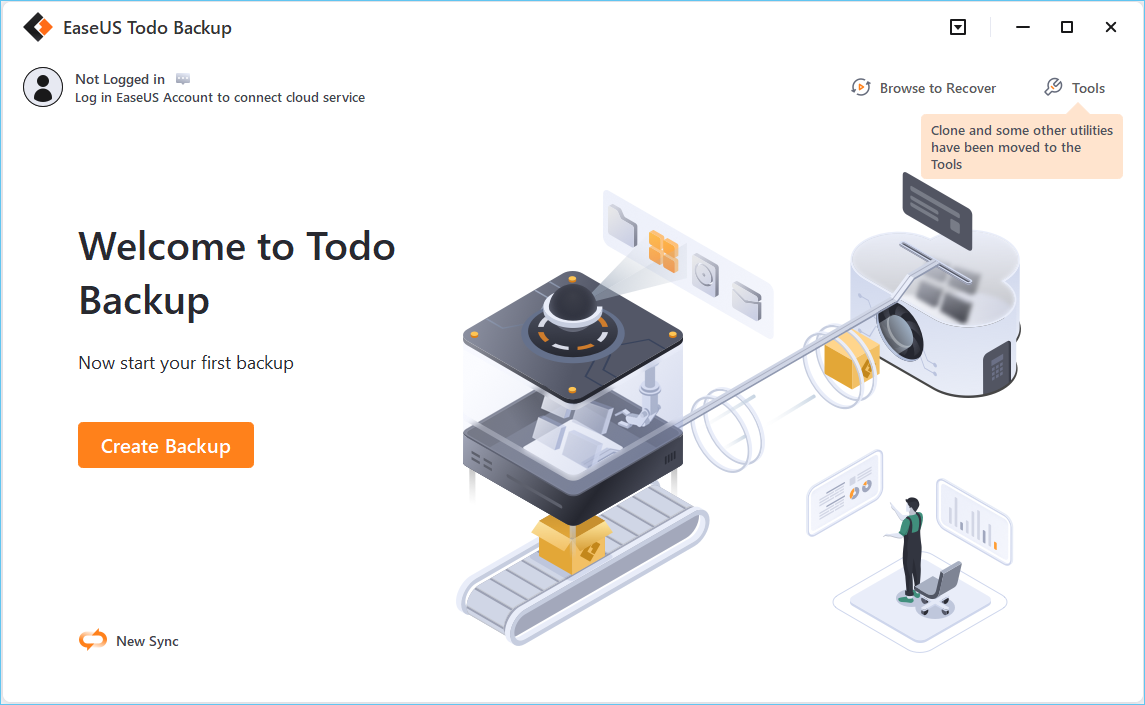 Step 2. Among the four available categories, click "OS" to start back up.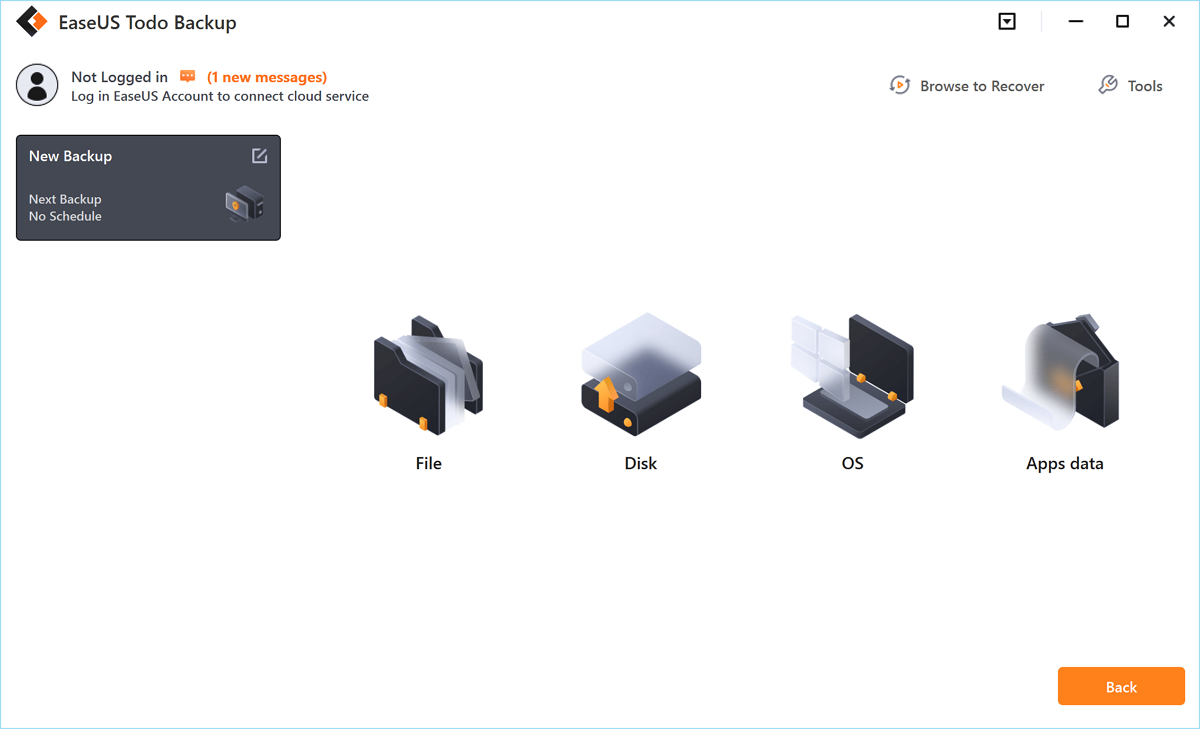 Step 3. The system partition will be automatically selected, you only need to select the location.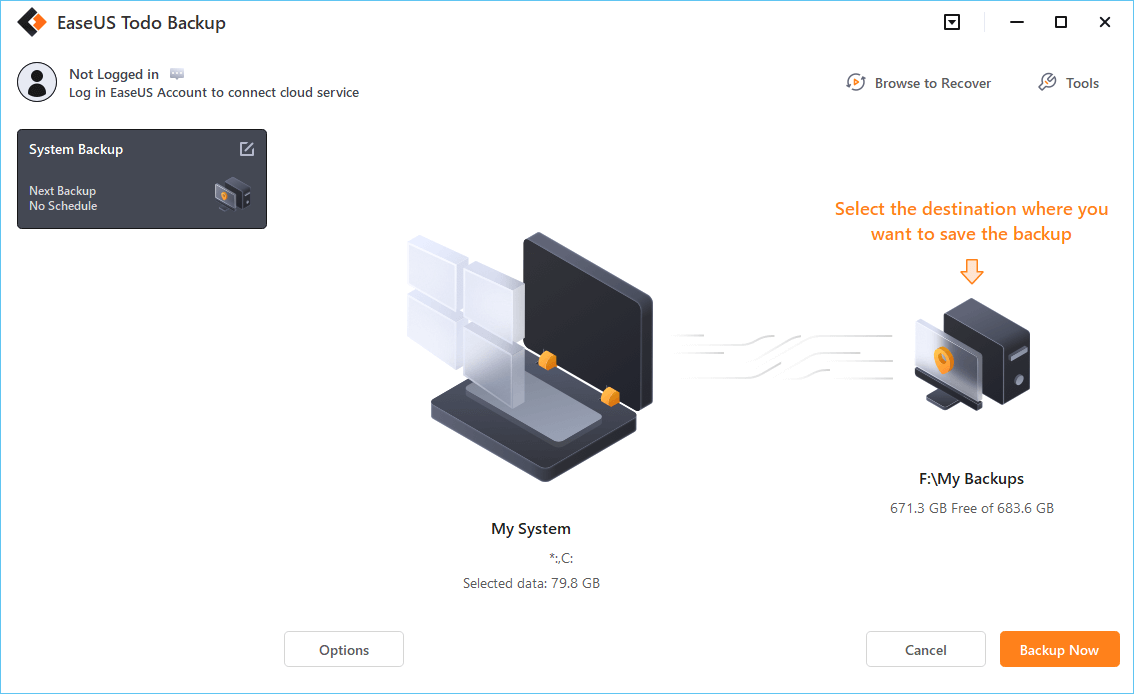 Step 4. Local Drive, Cloud, and NAS are available for you to save the backup file. You can also connect an external hard drive to preserve the system backup files.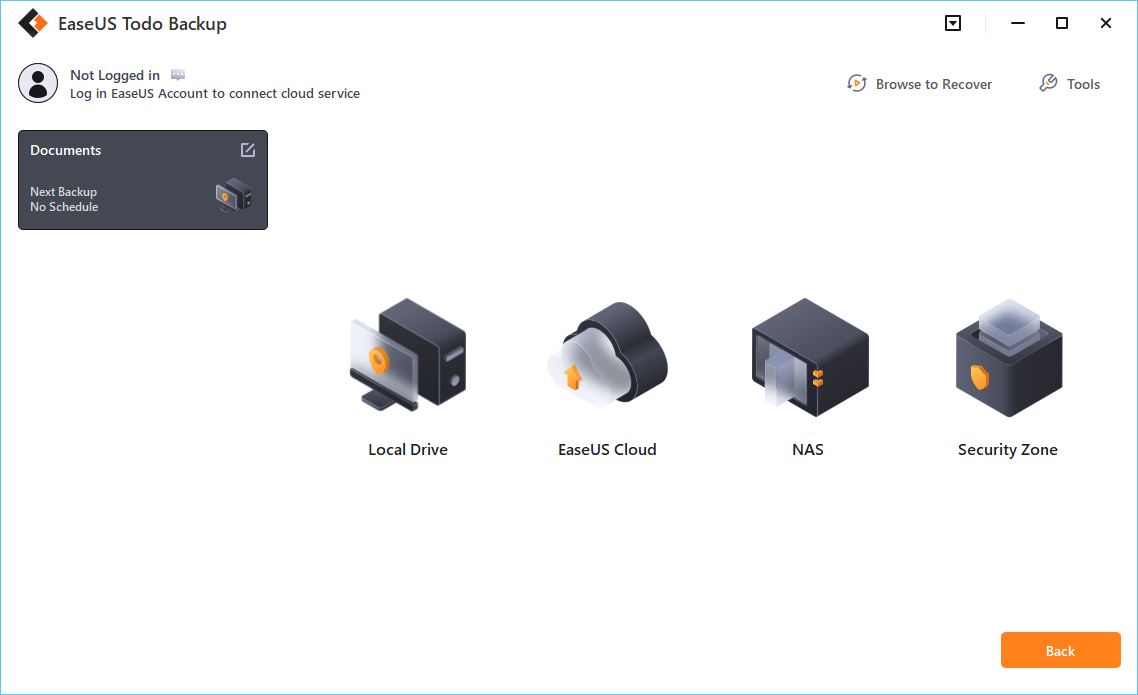 Step 5. You can customize the settings in "Options" at the left bottom. After that, click "Backup Now", and the process will begin.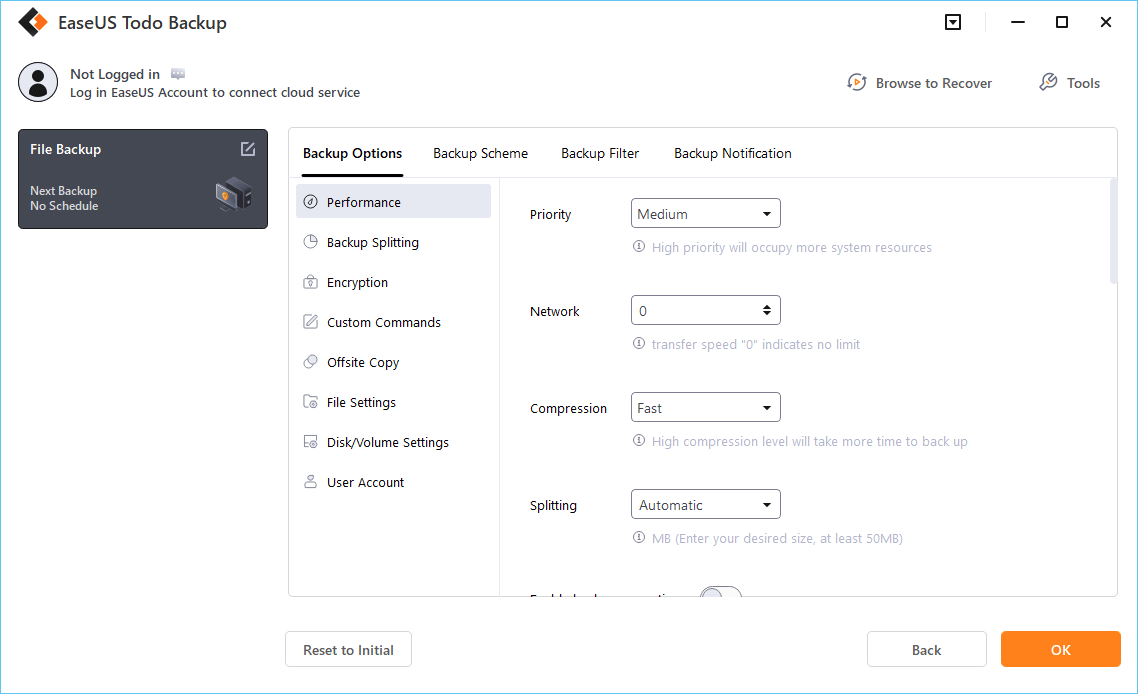 *After finishing the backup process, you can check the backup status, recover, open, or delete the backup by right-clicking the backup task on the left.
Conclusion
It's a good idea to back up your system frequently. Problems can arise at any time, such as discs failing, the system being hacked, etc. On the other hand, a backup will safeguard you from all of these unexpected tragedies and may even save your life. We have covered both critical backup choices, whether a System Backup or a Recovery Drive. We've also distinguished between the two to help you decide whether to use one or the other. Plus, we have mentioned the best adaptive third-party Windows backup and recovery software for better help.

Author Jean has been writing tech articles since she was graduated from university. She has been part of the EaseUS team for over 5 years. Her special focuses are data recovery, disk partitioning, data space optimization, data backup and Mac OS. By the way, she's an aviation fan!
Taking everything into consideration, we can say that EaseUS Todo Backup Home can offer you a little extra sense of security with a set of advanced tools. The interface provides quick adaptation, every process guiding you all the way through so you don't get stuck or further damage your system rather than keeping it safe.

 Read More

EaseUS Todo Backup Free lets you create backups of your important files or your entire computer through its streamlined interface. Just choose the backup type you'd like to get started, and let the program do the reset.

 Read More

EaseUS includes all the features I expect from backup software like versioning, incremental backups, and scheduling. For more advanced users, EaseUS allows you to install a pre-boot environment onto your hard drive so you can use it to restore files without burning a CD or putting it on an external USB drive.

 Read More

EaseUS Todo Backup
Smart backup tool for your files and entire computer in Windows 10/8/7.
Install Windows on Multiple Computers at Once? No Problem!
Learn how to install Windows 11/10/7 and special programs/software on a batch of computers. Use 10 minutes to do the 10 hours work without making a single mistake!
Get Free Solution!