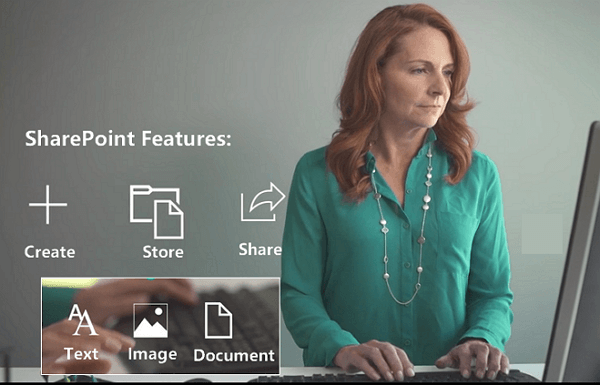 Microsoft SharePoint is a new online application that supports you and your team to create, store and share content on the web. With it, you can create pages, document libraries, and lists to share information across your company. You can add text, images, and documents to customize your content. It stores files on the cloud and anyone can securely work with you via a desktop or mobile app.
Can I Recover a Deleted Document in SharePoint? Yes!
When you carelessly deleted or someone else removed a document in SharePoint, what can you do to bring back the lost documents? 
Question: Can I recover a deleted, missing, or corrupted document file in SharePoint online?
Answer: Yes.
Read and follow through this page, we'll show you how to fully recover document in SharePoint from two respective angels:
Solution 1. Recover (Deleted) Document in SharePoint (from Recycle Bin)
Applies to: Recover deleted documents in SharePoint recycle bin online.
Why Can Document in SharePoint Be Recovered:
The deleted items in SharePoint or teams won't be immediately removed. The deleted items will be kept in the Recycle Bin for some time until it's emptied. 
Important Notes:
1. Recycle Bin in SharePoint is unlike the Windows Recycle Bin.
2. As long as you didn't delete the parent, a list, list item, library, file, or a version of a file can all be restored to its original location in SharePoint. 
3. SharePoint normally keeps deleted items in its Recycle Bin for 93 days. After this, the deleted items will be permanently removed.
How Do I Recover a Document in SharePoint:
Here is the detailed process of how do I recover a deleted file from Share Point online. If you are currently looking for the deleted document in SharePoint, follow this guide to recover deleted files from SharePoint Recycle Bin:
Step 1. Open SharePoint
Go to the SharePoint site.
Go to Files tab on Microsoft Teams > Select More > Click Open in SharePoint.
Step 2. Open Recycle Bin in SharePoint
Click Settings > Click Site content.
Click Recycle bin in the top right bar.

Step 3. Recover Document in SharePoint Recycle Bin
Find and select deleted or removed Document.
Click Restore in SharePoint.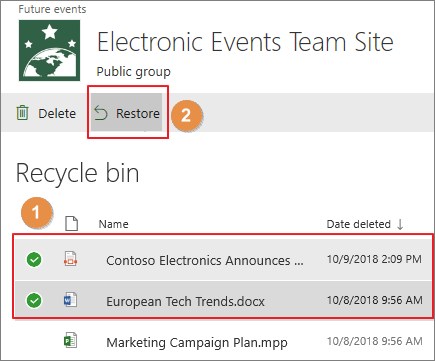  Notice:

If you didn't see the recently deleted items or documents, turn to your site collection administrator.
The SharePoint Administrator could restore it from the site collection Recycle Bin.
Solution 2. How to Recover (Deleted, Missing, or Corrupted) SharePoint Document on Computer
Applies to: Recover deleted, missing, or corrupted document that was synced from SharePoint to computer. 
Why Can Synced SharePoint Document Be Recovered on PC:
Except for online sharing, another amazing feature of SharePoint is that all the added items, like text, images, documents like Excel, Document, PowerPoint, and more, can be synced to a local computer and a mobile phone. 
In a word, you can both share files online via SharePoint and sync SharePoint file to a local computer. When you lost an online document, you can try to find it on your computer via reliable EaseUS Data Recovery Wizard. 
Important Notes:
1. Only synced SharePoint file which was deleted can be restored from the local PC.
2. Stop using the SharePoint folder or drive on the computer at once when a file was deleted or removed by mistake.
3. A corrupted Microsoft Document like Word, Excel, PPT, etc., can be repaired via reliable document recovery software.
How Do I Recover a Lost/Corrupted Sharepoint Document File:
EaseUS file recovery software with its file repair feature ensures that you can recover and even repair a lost document file that was corrupted to a good state. With it, you can:
EaseUS Data Recovery Wizard
Recover deleted, formatted, or missing files from HDD, SSD, external disk, USB, etc.
Repair corrupted Word, Excel, PPT, PDF, etc., MS Office files.
Recover and repair corrupted images, like JPG, PNG, BMP, GIF, etc.
Recover and repair damaged videos, like MP4/MOV, AVI, and more.
Here are the detailed steps:
Step 1. Choose the Word file location
Choose the drive or a specific folder and click the "Scan" button.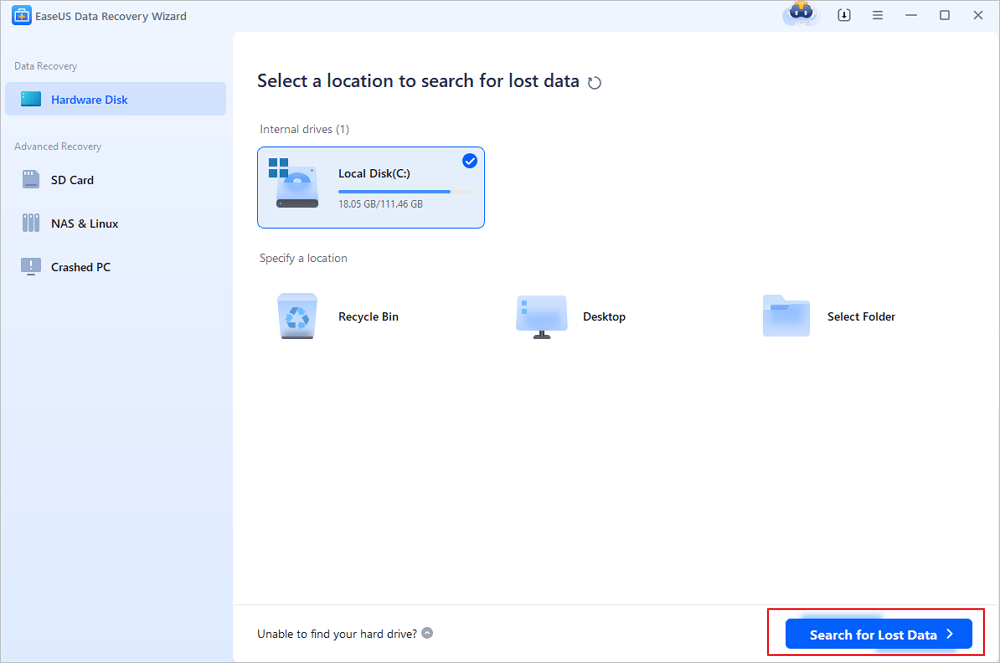 Step 2. Locate your Word files
The software will start immediately scanning all lost data on the selected drive. After the scan, click the "Documents" option in the left panel. Choose "Word" from the category bar. Then, click "Preview".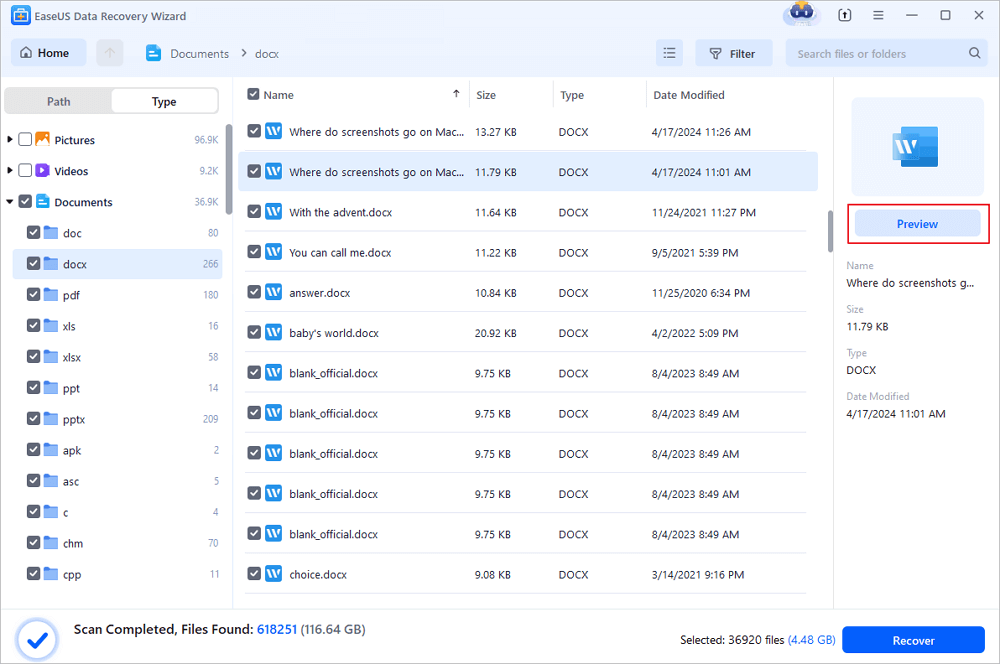 Step 3. Recover Word files
After previewing the lost Word files, select the desired Word files and click "Recover". Then, select a folder to store the Word files.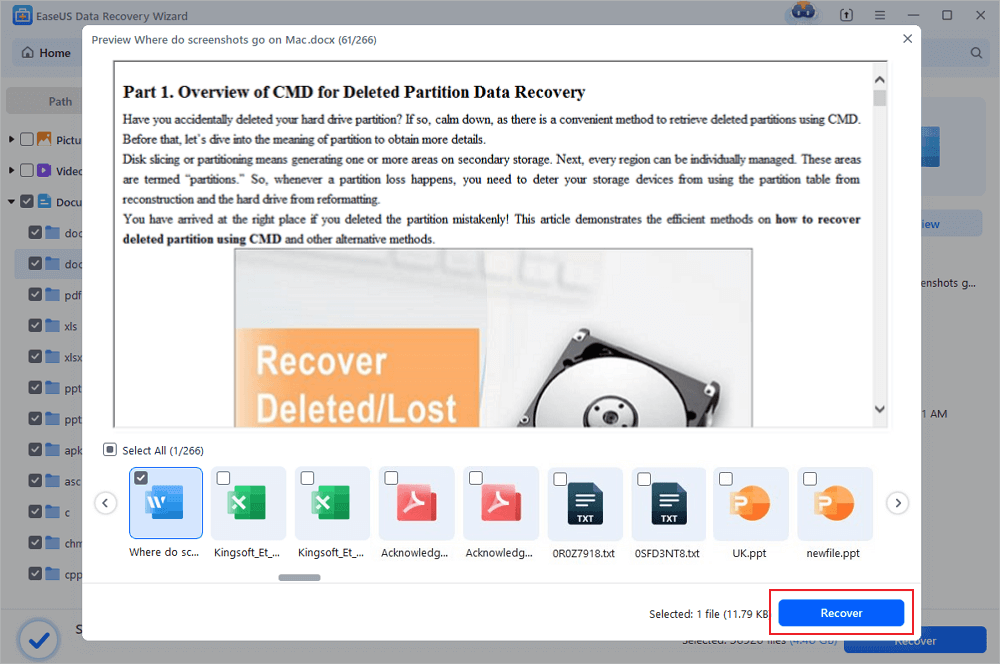 Sum Up: Deleted or Missing SharePoint Document Are Recoverable 
Stay calm when you deleted, lost, or removed a document in SharePoint Document Library. You have three ways for fixing this issue:
1st. You can directly view and recover it from the Recycle Bin.
2nd. You can view and recover documents as a SharePoint Administrator.
3rd. Recover lost SharePoint document on local computer via reliable file recovery software. 
SharePoint FAQs
1. How Does SharePoint See Who Deleted Files?
If you are a Microsoft 365 SharePoint user, as long as you are running as an administrator, you have the privilege to check and view items that were deleted by other people.
How to see who deleted files in SharePoint:
On modern team sites or classic sites, select Recycle bin in the left pane.
On modern communication sites, select Site content > Recycle bin.
Or click Settings > Click Recycle bin under Site Collection Administration.
Click Second-stage recycle bin > View the items that were deleted by you or other people.
Check items and click Restore if you want to recover them.
2. Where Do the Restored SharePoint Files Go?
The recovered items will return to their original location in SharePoint.
As long as the items are in the Recycle Bin, you can bring them back to their original place.
With the administrator privilege, you can not only recover the items that were deleted on your account but also the documents and even lists that were removed by other people on the same team or sites.
3. Where to Find Synced SharePoint Document on Computer?
When you synced the SharePoint file to the computer via OneDrive or other apps, the shared files will appear in File Explorer. It will generate a subfolder under the name of your organization in Windows or Mac Finder.
Updated by Tracy King 
Tracy joined in EaseUS in 2013 and has been working with EaseUS content team for over 7 years. Being enthusiastic in computing and technology, she writes tech how-to articles and share technical solutions about Windows & Mac data recovery, file/system backup and recovery, partition management and iOS/Android data recovery.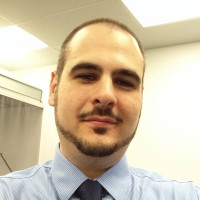 Approved by Evan Galasso 
Evan Galasso is a digital forensics and data recovery engineer with over 10 years of experience in the field. He presents opinions on the current state of storage media, reverse engineering of storage systems and firmware, and electro-mechanical systems of SSDs and HDDs.