PAGE CONTENT:
Introduction
Working on a computer entails downloading and saving files to various directories. The document folder, one of the default directories on a Windows PC, is one such significant folder. This default folder (Documents folder) is found on your system's C disk. However, as the folder is used more frequently, it grows in size, consuming a large amount of space on the C drive.
If you run out of space on your C drive, you may need to move documents folder to another drive. Let's take a look at how to relocate the documents folder to a different drive.
Move Documents Folder to Another Drive in 1-click on Windows 11/10 
If you are searching for a quick and straightforward method to move your documents folder, then we suggest using EaseUS Todo PCTrans as it is a simple and free Windows 10/11 transfer program that allows you to shift user folders from one hard drive to another. For average users, this is the most recommended way. It is a transfer tool that allows you to move apps, user accounts, files, and other settings between computers and laptops. The app migration tool also works nicely with the user folder transfer utility.
You can utilize the large file/folder move feature of PC data transfer software to transfer folders from the drive to any other partition. It is a quick and straightforward approach to modify the location of documents. Not only that but EaseUS Todo PCTrans Free may be used to restore and backup files and move software or apps from one computer to another or from one drive to another.
If you wish to relocate a file folder or software to another drive, simply click the download button and change the location of the folders in one click.
Features of EaseUS Todo PCTrans Free:
You may transfer programs and data from an old computer to a new one with EaseUS Todo PCTrans.
During an operating system update, you can effortlessly move chosen files or programs.
Migrate files and applications from 32-bit to 64-bit Windows OS with ease.
To make the most of your disk space, move apps between local devices.
Step 1. Click "Large File Cleanup" on the left panel, and click "Start" button.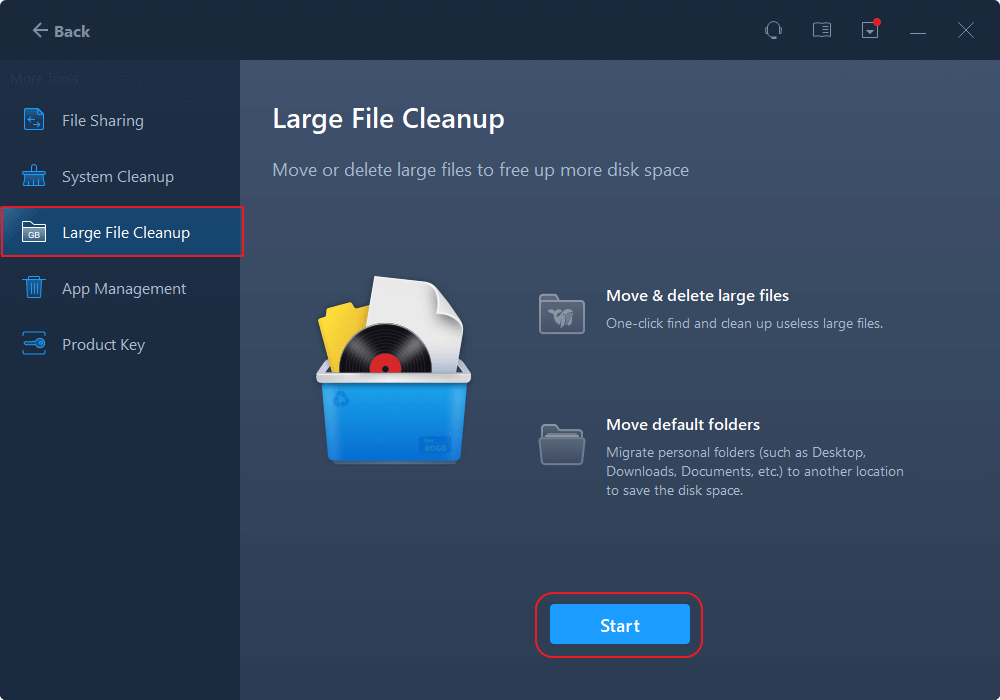 Step 2. Select "Folder" tab, check the folders you want to move. Choose target drive and click "Move" button.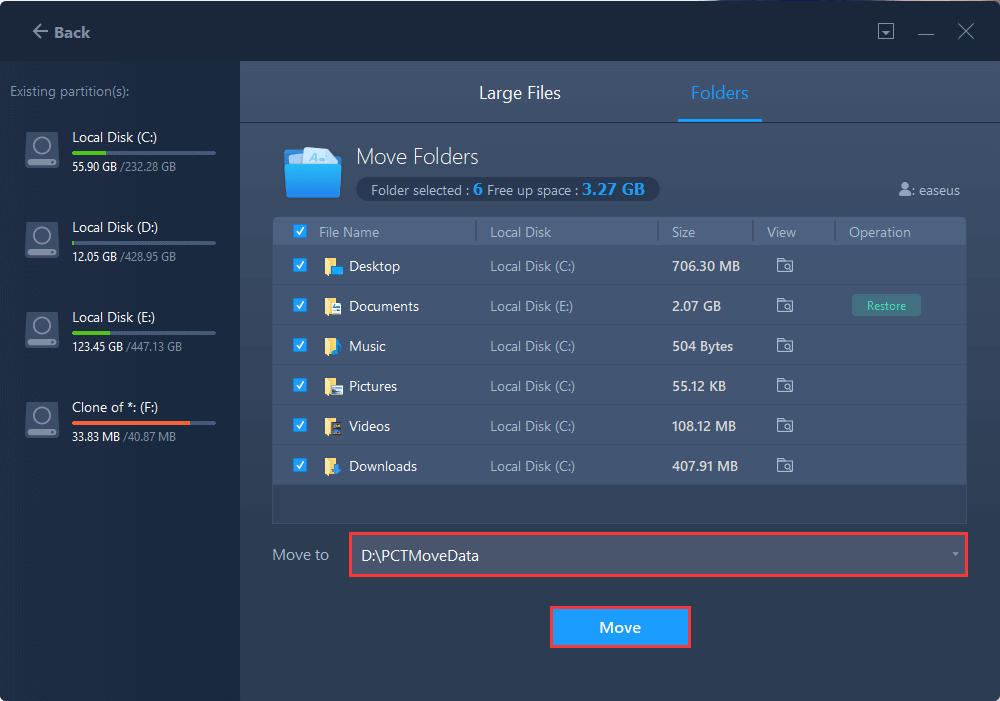 Step 3. Wait for moving process completes. Click "Finish".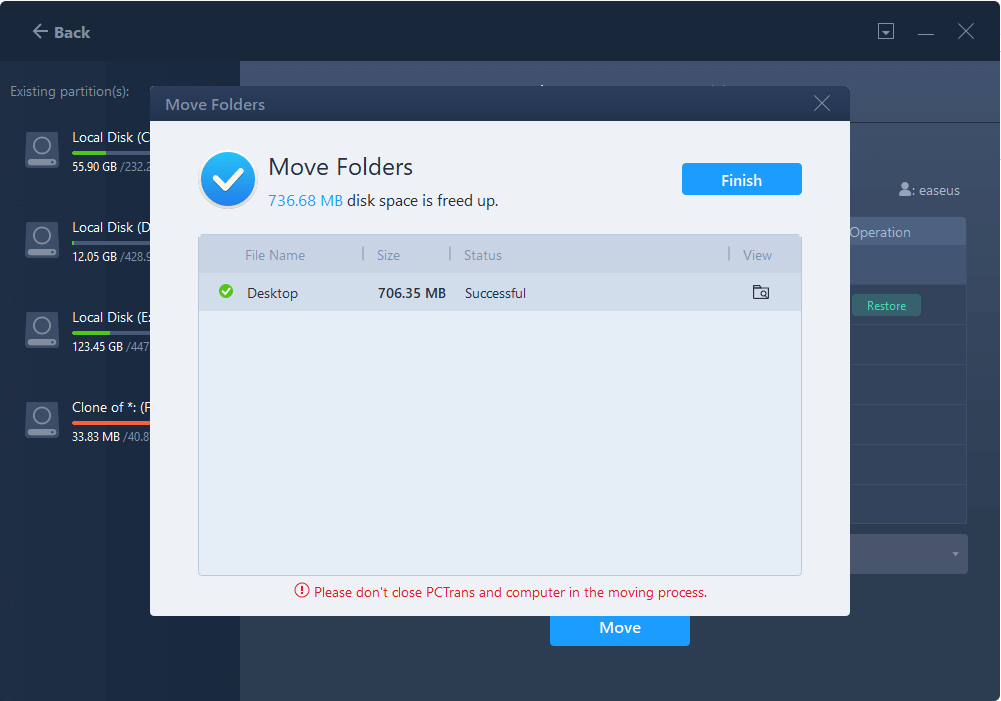 Note: You can click the "Restore" button to restore the current folder to the default location.
How to Change the Document Folder Location in Windows 11/10 
Windows 10 and 11 allow the users to change the default location of the Document folder in an easy manner. It means you can shift the Document folder to another partition, drive or even to an external drive by default.
However, if you don't wish to use any third-party tool in order to solve the issue of how to move Documents folder to another drive Windows 10 or 11, then you can simply do it manually via Folder Properties. Here are the instructions that you can follow to move Documents folder to another drive Windows 10:
Step 1: To access the File Explorer, press the Windows key + E on your keyboard simultaneously. Now, on the left, click on the "This PC" shortcut. Right-click the Documents folder on the right side of the pane and select Properties from the context menu.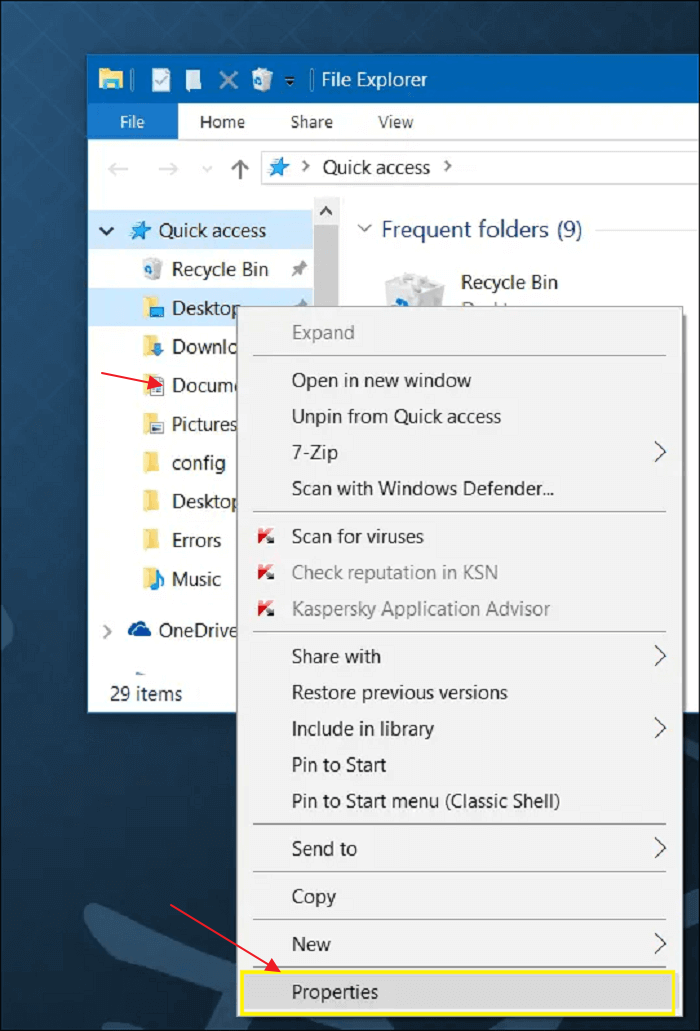 Step 2: Select the "Location" tab in the Document Properties window and then click on the "Move" button.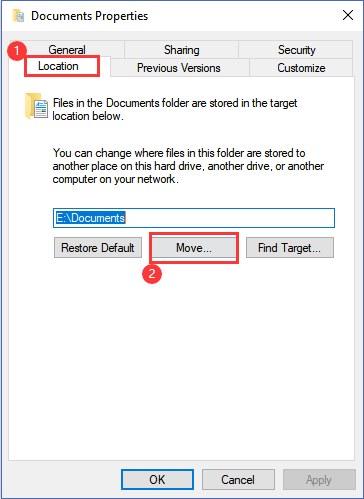 Step 3: It will reopen the File Explorer. Choose the place where you wish the Documents folder to be moved. First, select the drive you want to relocate to by clicking on the This PC shortcut on the left.
For example, in this case here, the E drive is selected. Then choose the "Select Folder" option.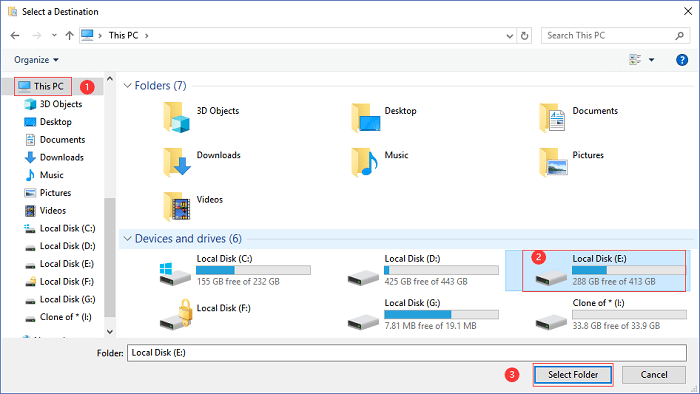 Step 4: Return to the Properties window and click "Apply," then "OK" to save and leave the changes.
Note: There are no changes in the steps on Windows 11 to move the Documents folder to another drive.
That is all there is to it. That's how you may alter the location of your Documents folder in Windows 10 and Windows 11 with ease.
Conclusion
This was all about how to move the documents folder to another drive! Moving documents folder to another drive might seem to be a challenging task for most of you, but in reality, it is not that tough as it sounds. Transferring documents folders from a C drive to an external drive in Windows 10 might save you a lot of time and work.
When it comes to the method of moving the folder, the EaseUS Todo PCTrans tool takes just one click to get your work done. This highly advanced tool simplifies transferring user folders from one computer to another within a couple of minutes. For average users, this is the most recommended way of getting work done in a hassle-free and quick manner.
So, what are you waiting for? Install this affordable and out-of-the-box tool on your computer now and follow the simple steps to complete the task of moving the documents folder to another drive on your own.
About the Author

Roxanne is one of the main contributors to EaseUS and has created multiple posts on digital devices like PCs, Mobile phones, tablets, Mac, etc. She loves to share ideas with people of the same interest.
Reviews and Awards
EaseUS Todo PCTrans Free is a useful and and reliable software solution created to serve in computer migration operations, be it from one machine to another or from an earlier version of your OS to a newer one.

 Read More

EaseUS Todo PCTrans is by the folks at EaseUS who make incredible tools that let you manage your backups and recover your dead hard disks. While it is not an official tool, EaseUS has a reputation for being very good with their software and code.

Read More

It offers the ability to move your entire user account from your old computer, meaning everything is quickly migrated. You still get to keep your Windows installation (and the relevant drivers for your new PC), but you also get all your apps, settings, preferences, images, documents and other important data.

 Read More