Samsung Galaxy S7 SD Card Notification Won't Go Away
"Nice work Samsung, you just released an awesome buggy phone! I bought Galaxy S7 only because the returned feature of an SD card slot, but I never expect it as a headache. Every time I restart Galaxy S7 or even wake it up, I see a repeating SD card notification in the pull-down menu. I can clear the notification instantly, however, it comes back again right after you open a file, launch an app or even unmount the card! Samsung Galaxy S7 SD card notification just won't go away. Do you have the same issue? How can I permanently remove SD card notification error from Galaxy S7?"
There seems to be an unsolved issue in Samsung Galaxy S7 and Galaxy S7 Edge that SD card randomly sends notifications on the drop-down menu and it never disappears. If you're seeing the notification like "SD card for transferring photos and media" and have no idea to remove, clear or dismiss it, try the following solutions provided by experienced customers and IT professionals.
Troubleshoot Galaxy S7/S7 Edge SD Card Notification Errors
As reported, the repeating SD card notification error happens to various carriers and SD card brands with different capacities, including 4GB/8GB/16GB/32GB/64GB/128GB memory card of Samsung, Kingston, SanDisk, Sony, PNY, Transcend, etc. Turning off notifications doesn't help at all, as it pops up randomly in seconds. Therefore, to cure your headache, you need some intensive treatments.
Following are some experimental methods from experienced customers and IT professionals, any of which turns out helpful. You may try each of them until fix the SD card notification problem on your Galaxy S7 or Galaxy S7 Edge.
Method 1. Format SD card on your phone
1) BACKUP your sd card - plug your phone into your computer and copy off the contents of the SD card.
2) On the phone, navigate to Settings -> Memory -> SD Card.
3) In the submenu, choose FORMAT
4) When the format is complete, all your data on the microSD card will be erased. Now simply plug the Galaxy S7 back into the computer and copy all the contents back to the microSD card. For most cases, the random SD card notification won't appear anymore.
Method 2. Format SD card on a PC
This method is quite the same with formatting SD card on the phone, however, in a more complete and thorough way. Sometimes, formatting SD card on the phone did not help, regarding this default, you should try an alternate SD card format tool to format SD card of Galaxy S7.
EaseUS free partition manager can format your phone SD card properly with the desired file system. First, backup SD card contents to the computer; free download and install EaseUS Partition Master on your computer, after your phone being recognized by Windows, do as follows to format SD card.
1) Launch EaseUS Partition Manager. Right-click the external SD card partition, choose "Format partition".
2) Choose a file system for your external Galaxy S7 SD card. FAT32 works without any problems, it is the format that Samsung puts on their microSD card when you buy them. But FAT32 has a 4GB limit, so if your SD card is above 4GB, NTFS is another good option.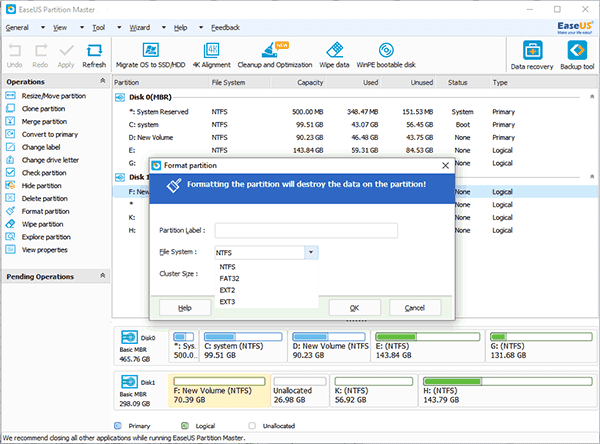 3) Click Apply to execute the formatting process.
In the end, also copy the contents back to your SD card and insert it into the phone. See if this method has fixed the annoying issue.
Method 3. Swap your Galaxy S7/S7 Edge with a new one
A small group of users also tried to factory reset Galaxy S7, unmount SD card, re-mount SD card, move SD card contents to internal memory, those attempts work for a period of time, but the problem came back again in the end. If none of the methods mentioned here solve the case, then this might be the last method you're going to take. Contact Samsung customer service and request a new product if it's still under warranty. Don't be afraid of being rejected, it's most probably that Galaxy S7 is a buggy phone that needs to be improved.