
Table of Contents

About the Author

Reviews and Awards

Best Data Recovery Software
"I have my external hard disk plugged into a USB socket. When I connect it in, it begins to run, and the power light illuminates, but I don't hear the customary noise that occurs when you plug something into the USB ports, and it does not appear."
External hard drives can readily store data in the gigabyte range. As a result, they are extensively utilized by students, entrepreneurs, and other personnel to store and access vital files. However, when you put an external drive into your Mac, it is occasionally unrecognized or does not appear. If you don't know how to solve this problem, it might be really aggravating. However, several users have reported losing critical data while attempting to solve this issue. As a result, this post will address what causes external hard drive files not showing Mac, how to fix external hard drives that aren't showing up, and how to recover data from unrecognized external hard disks.
* Related post: SSD not showing up on Mac
Why can't see files on an external hard drive on Mac?
"External hard drive not showing files even if they are still present" Many causes may cause your storage drive contents to disappear without your knowledge, such as:
1. Accidental deletion: Sometimes files are erased inadvertently, and you are unaware of it.
2. Hidden By System: The operating system hides files in some circumstances, making them inaccessible on an external hard drive. It's possible that you unintentionally hidden files and the system also hides sensitive files by default to keep things easy.
3. File system error: Files are not visible on an external hard drive because the disk's file system is corrupted. As a result, the computer system is unable to access or display the entries in your files.
4. Disk Driver issues: This has recently occurred on the new Apple Silicon M1 Mac, as well as macOS Big Sur. The NTFS disc driver may not function normally on the new Apple Silicon M1 Mac, which utilizes a different architecture than Intel. See how to fix external hard drive read only error on Mac.
5. Virus attack: Your external hard drive could be infected with a virus or be attacked by malware that hides, deletes, or encrypts the files on it.
In addition to the main causes, several other factors might contribute to external hard drive files not showing Mac. Don't be concerned. All of these issues are readily fixed, and files can be retrieved. Let's go right to work on resolving this issue in the next part.
Solutions to make external hard drive files showing up 
When confronted with such a situation, most users act like ants on hot bricks. First and foremost, take a deep breath and relax as you are unable to determine the precise cause; please try the below solutions one by one to fix this error.
* 79% of people prefer using the software method to tackle the external hard drive not showing files issue on Mac.
Solution 1. Check whether the external hard drive is mounted in disk utility
You can only access files on your external hard disc on Mac if it is mounted in Disk Utility. So, if you can't see files on your external hard drive, first check to verify if the external drive is visible in Disk Utility and mounted. To do so:
Step 1: First navigate to " Applications," then click on "Utilities" and tap on "Disk Utility."
Step 2: If the drive is displayed in the sidebar, mount it by clicking the Mount button at the top of the window. Alternatively, you can click the Mount button next to the drive.
You should now be able to see all of the files on the external hard drive in Finder and on the desktop.
Solution 2. Check external hard drive issues with First Aid
The First Aid tool is more beneficial than your computer's internal disk. It can also see the hard disk when connected to a Mac via an external source. If you're having trouble acquiring the correct mount for your external HDD or SSD storage, try First Aid to see if it can assist.
Step 1: First, go to your "System Preference" and then tap on the "Disk Utility" button.
Step 2: Now highlight the external hard drive and select "First Aid."
Step 3: Next, you will be asked if you want to run it on the media, then just hit on the "Run" button.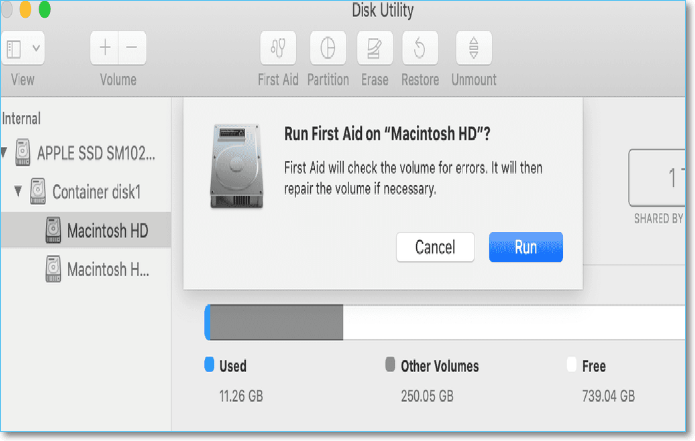 When you want to know how to open an external drive on Mac when it doesn't mount, this sequence automatically allows macOS to address potential problems. If any errors are fixed, you will be notified. If no problems are found, you must jump to the next solution.
Solution 3. Try to update or reinstall the driver for the external hard drive
The next solution is to update or reinstall the driver, and this scenario mainly comes in two situations i.e.
Following a new macOS upgrade, namely the current macOS Big Sur 11 release.
The switch from an Intel Mac to an M1 Mac.
If you can't access files from an external hard drive on your Intel-based Mac running macOS Big Sur 11, you can update to macOS Big Sur 11.4, fixing many existing issues.
If you can't read, view, or write files or folders on an NTFS external hard drive using an Apple Silicon M1 Mac, you'll require NTFS for Mac software that is compatible with the M1 Mac.
Solution 4. Try to scan external hard drive files with data recovery software
When nothing else works to resolve the external hard disc not detected Mac issue, then you can use EaseUS Data Recovery Wizard for Mac to recover lost data from your hard drive. It can also detect devices that your Mac did not recognize. It can extract data from any device, be it a media player, camera, USB drive, or HDD/SSD. It is safe and has a high success rate. You must perform the following steps:
Step 1. Search for lost files
Correctly connect your external hard drive to your Mac. Launch EaseUS Data Recovery Wizard for Mac, and select the external hard drive. Then, click "Search for lost files" to find lost/deleted files on your external devices.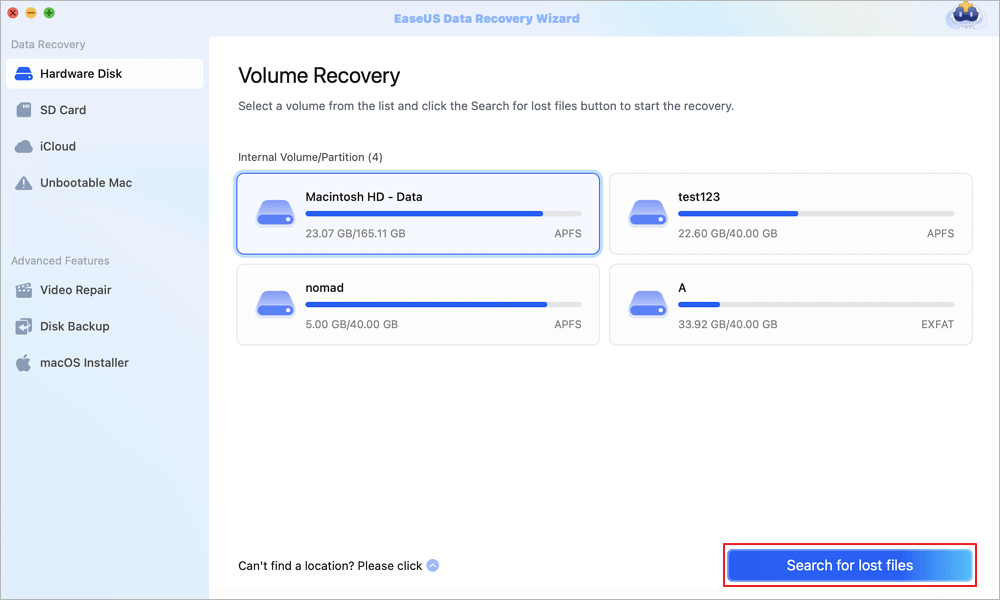 Step 2. Filter and find lost files
After the scan, all file types will be presented in the left panel. Select the file type to find wanted files on your external devices.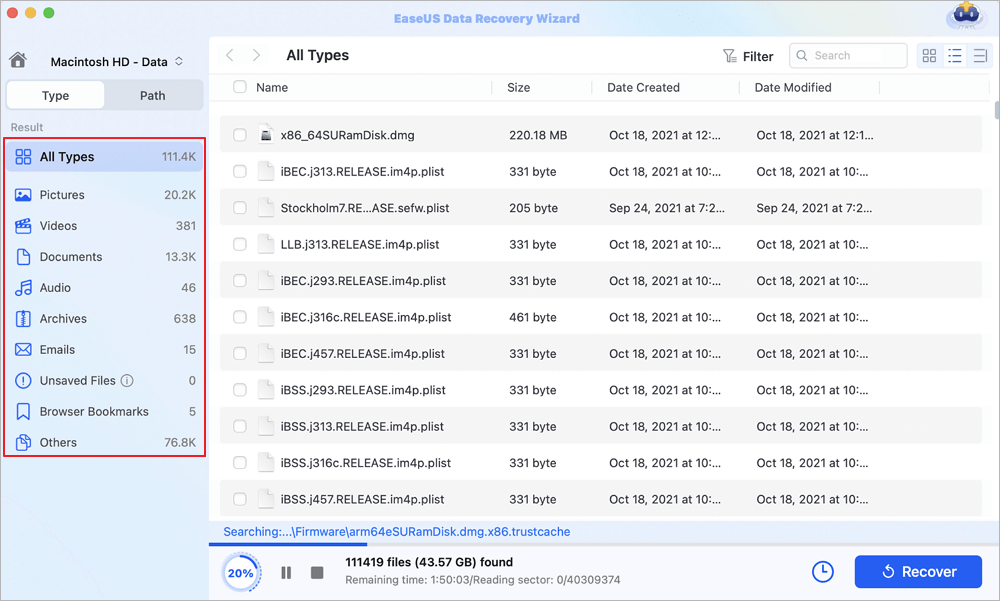 Step 3. Preview and recover
Click the file and preview it. Then, select the files you want to recover and click the "Recover" button. You can save your data to local and cloud drives.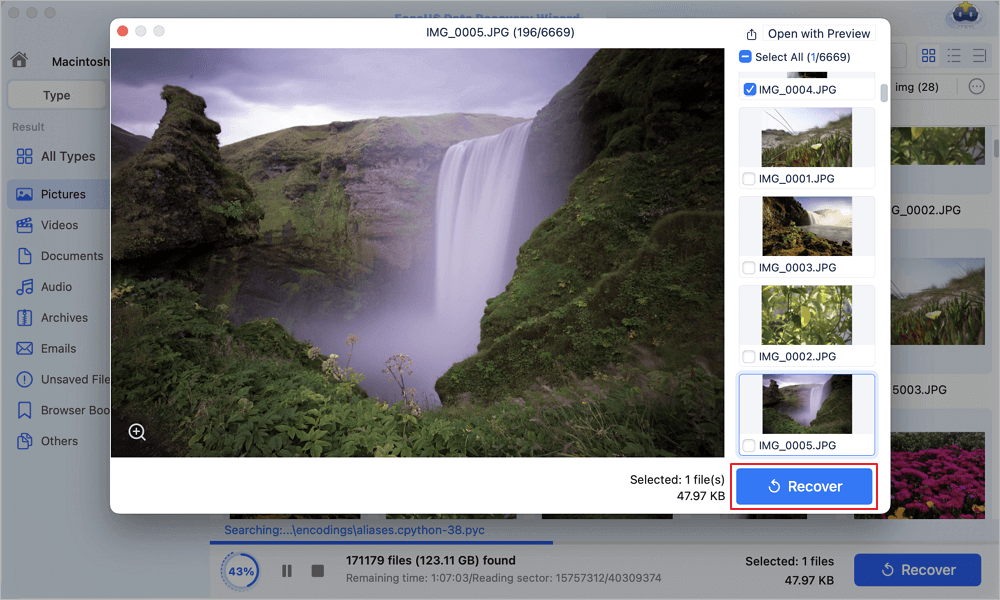 To summarise, it is common for external hard drive files not showing Mac, but with the methods mentioned above, you can simply tackle this issue on your own. Furthermore, if you have lost data from an external device, you may quickly recover it with EaseUS Data Recovery Wizard for Mac. Its user-friendly interface enables users to recover any volume of deleted data on Mac with ease.

Jean has been writing tech articles since she was graduated from university. She has been part of the EaseUS team for over 5 years. Her special focuses are data recovery, disk partitioning, data space optimization, data backup and macOS. By the way, she's an aviation fan!
EaseUS Data Recovery Wizard is a powerful system recovery software, designed to enable you to recover files you've deleted accidentally, potentially lost to malware or an entire hard drive partition.

 Read More

EaseUS Data Recovery Wizard is the best we have seen. It's far from perfect, partly because today's advanced disk technology makes data-recovery more difficult than it was with the simpler technology of the past.

 Read More

EaseUS Data Recovery Wizard Pro has a reputation as one of the best data recovery software programs on the market. It comes with a selection of advanced features, including partition recovery, formatted drive restoration, and corrupted file repair.

 Read More