There are different scenarios that can lead to the loss of valuable files. For instance, you could have lost your iPhone or damaged it beyond repair. Other situations include losing data after opting for a factory reset, too many unsuccessful login attempts, restoration of previous data from backup, etc. 
Additionally, signing with another iCloud account can lead to the deletion of the old data. Other precarious situations include the device being frozen in the recovery mode, white screen, the phone won't turn on, headphone mode, etc. 
Did you accidentally delete an important file from your iPhone? What happens when that file has no backup? The onslaught of anxiety and panic is inevitable when you realize you might have lost precious data. However, you can relax knowing there are different ways to recover the deleted files. 
This article will discuss the various methods to retrieve the files with and without backup. 
How Can I Recover Deleted Files on iPhone with Backup
Did you accidentally delete files from your iPhone? Even though the data has backup, instant worry and tension are evident. However, you can use methods to recover deleted files on iPhone with backup. 
Here, we will discuss three ways to restore deleted files that have a backup. You must choose the method depending on your needs. 
Fix 1. Recover Recently Deleted File/Document Individually in Files App
Have you accidentally deleted files or necessary documents from your iPhone? The Files app plays a crucial role in organizing and managing documents. You can even add tags and ensure that the documents are organized efficiently. However, mistakenly deleting these files is a significantly real possibility. 
Luckily, you can retrieve these files or documents with ease. You can get all the deleted files back at once. However, you can also opt for restoring one individual file at a time. It depends on your needs. 
Step 1. Go to the Files app. Click on "Browse" on the lower part of the screen. Select the "Recently Deleted" option.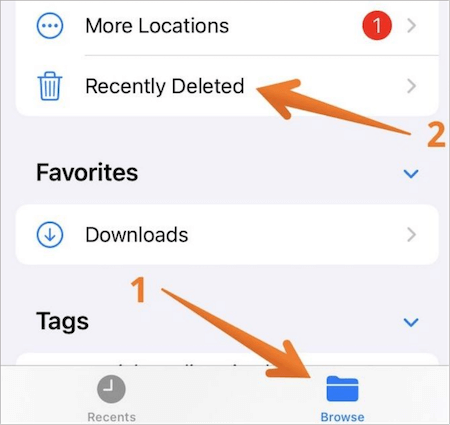 Step 2. Go to the top-right corner of the screen and tap on the "Select" option.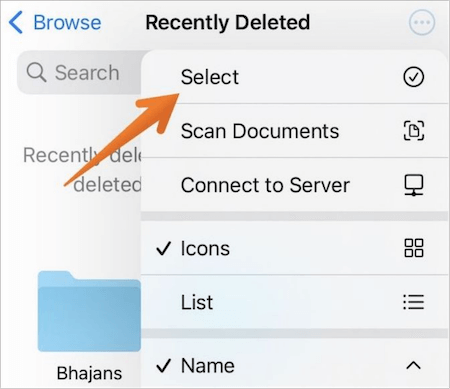 Step 3. Here, you will get the files that you have recently deleted. Click on the file you want to restore. After that, press the "Recover" button at the bottom of the screen, followed by the "Done" button.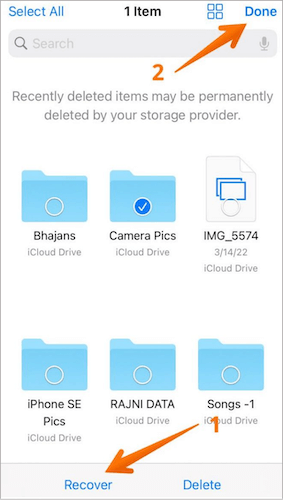 Note: Files and documents stay on the iPhone, even after deleting them for 30 days. After that, these are permanently deleted.
Fix 2. Recover Deleted iPhone Files from iCloud Backup
If you do not find the files you need in the Recently Deleted folder, you can choose other options. It might be that the files you want to restore have been deleted permanently. Now you must be wondering how to get them back. In that case, you can use the iCloud backup to recover the deleted iPhone files. 
Step 1. Open Settings and go to "General".

Step 2. Tap on "Transfer or Reset iPhone".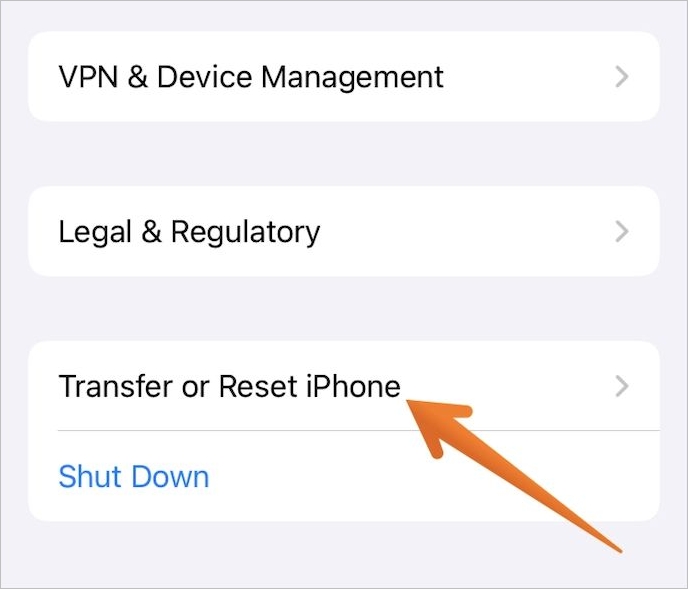 Step 3. Press on the "Erase all Content and Settings".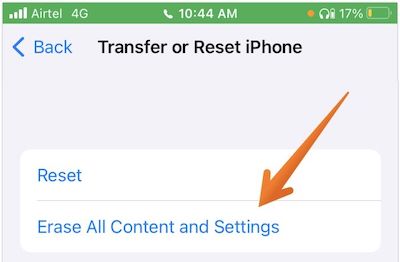 Step 4. Follow the instructions given on the screen. When you reach the "Apps & Data" screen, click on the "Restore from iCloud Backup" option. 
Step 5. Use the Apple ID to sign in to iCloud. From the list of archives, select the backup you want to restore. Check out the size and date while choosing the backup.
Step 6. Now, the transfer will start. You will see the progress bar. Wait till the process completes. 
Note: The time to restore the files you want depends on the backup size. It depends on the network speed too. If the Wi-Fi becomes unstable and disconnects, the progress bar will pause. However, it will restart once the Wi-Fi gets reconnected.
Fix 3. Recover Deleted iPhone Files from iTunes Backup
Apart from iCloud, you can also use iTunes to backup crucial data. That way, accidental loss of files or irreparable damage to the iPhone won't devastate you. It is possible to recover deleted iPhone files from iTunes backup. Take a look: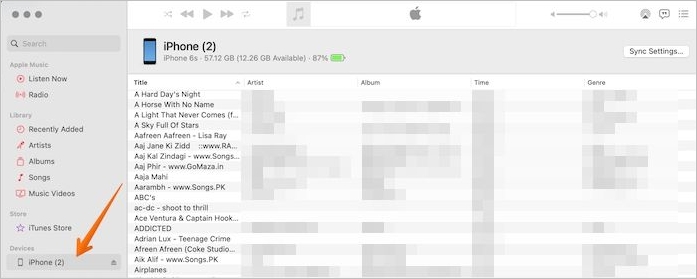 Step 1. Connect your computer to your iPhone. Go to iTunes. Select the iOS device present in the left sidebar, followed by "Sync Settings" on the top right-hand corner. After that, click on "Restore from Back up".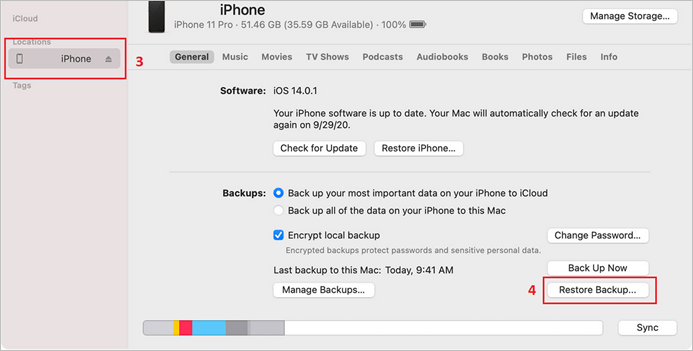 Step 2. You need to click on the most recent iTunes backup. It would help if you waited for the process to be completed. 
Note: Ensure you remove the iOS device from the computer only after the restoration process is done. 
How Can I Recover Deleted iPhone Files Without Backup
What about the files on the iPhone that don't have a backup? What if you deleted these files? These files are deleted permanently from the device. In that case, you must choose the best data recovery software. 
One of the best data recovery software available in the market is EaseUS MobiSaver for iPhone. You can use this software to retrieve files with or without backup.
The iOS data recovery software aids in recovering lost data from iPhones, iPods, and iPads. There are different situations that can lead to data loss. For instance, you can accidentally delete files or damage the device. Additionally, upgrading the device, water damage, virus threats, etc., can also lead to file loss.
It has three recovery modes:
Recover from iOS Device
Recover from iTunes Backup
Recover from Backup
You can recover different data types by using EaseUS MobiSaver. The data types you can retrieve are photos, contacts, videos, messages, Safari bookmarks, etc. 
It is easy to use and doesn't take much time. All you have to do is download the software and follow the steps listed below:
Step 1. Connect iPhone to Your PC
Download and launch EaseUS MobiSaver. Click "Recover from iOS device" on the left and click "Start".
Step 2. Scan for Lost iPhone/iPad/iPod Data
EaseUS MobiSaver will automatically scan your devices, and find all the lost data for you. Just wait for the scan to complete.
Step 3. Recover Lost iPhone/iPad/iPod Data
You can choose the lost data such as your photos, videos, contacts, SMS, notes, voice mails, and other files you want to recover and save those data to another location. 
Conclusion
Deleting files from your iPhone accidentally, even with the backup, can quickly become distressing. However, there are three different ways you can restore the files. But what happens when the deleted files do not have a backup? That is why it is vital to have a backup of all the essential files and documents. 
In that case, you must opt for excellent data recovery software. Choosing EaseUS MobiSaver is a great idea. It is a professional data recovery software for Mac and Windows. Download EaseUS MobiSaver and restore those vital files right away!
Recover Deleted Files in iPhone FAQs 
These are the different ways you can recover deleted files on your iPhone with or without backup. However, before you proceed, you need to know more. Remember that the more knowledge you have, the more you can complete the process without much hassle. 
We recommend taking a look at the below-listed questions and answers. 
1. Where do deleted files go on iPhone?
Deleted files go to the Recently Deleted album on iPhone. The files stay there for 30 days, after which they are automatically deleted permanently. 
2. Can you recover deleted photos from years ago on your iPhone?
Yes, you can recover deleted photos from years ago on your iPhone. For that, you need to go to iCloud or iTunes backup. There, you need to select the backup based on the date.
3. How to recover permanently deleted photos on iPhone?
You can recover permanently deleted photos on your iPhone with iTunes backup, iCloud backup, and data recovery software. You can also use third-party sources such as Google Photos, OneDrive, etc., to retrieve permanently deleted photos on your iPhone.
4. How to recover deleted files on an iPad without backup?
In order to recover deleted files on an iPad without backup, you need to use data recovery software. You can choose EaseUS MobiSaver.
5. How to recover videos permanently on iPhone?
You can recover permanently deleted videos on your iPhone using the iCloud or iTunes backup option. Apart from that, you can also take the assistance of reliable data recovery software such as EaseUS MobiSaver. 

Cedric Grantham is one of the senior editors of EaseUS who lives and works in Chengdu, China. He mainly writes articles about data recovery tutorials on PC and Mac and how-to tips for partition management. He always keeps an eye on new releases and likes various electronic products.