Why do you need to convert RAW to NTFS?
When hard drive partition, external hard drive, USB/SD or memory card become RAW, users will not be able to access the saved data on these devices. Mostly, users have to format the storage devices so to change the RAW file system to NTFS and make the device reusable again.
However, this will lead to serious data loss issue on your storage device. If there are some methods that can convert the file system from RAW to NTFS without losing data and formatting, it will be perfect.
How to convert RAW to NTFS without losing data?
So how to get important data out of RAW storage device to avoid data loss issue by converting RAW to NTFS? Just follow the below two steps to do the job now:
First. Recover data from the RAW storage device
In order to avoid unexpected and unnecessary data loss issue by converting RAW to NTFS, we highly recommend you all to recover data from RAW storage device firstly so to avoid unexpected data loss issue.
Professional data recovery software from EaseUS shall help to fix this issue and get all your data restored within 3 simple steps. All you need is to simply download it and follow below tutorial steps to get data restored from RAW drive, USB or SD card now:
Step 1. Locate the RAW hard drive
Download and install EaseUS Data Recovery Wizard on your Windows PC or laptop.
Launch the software. Make sure that Windows has detected your RAW hard drive and correctly listed the drive letter on the disk map.
Left-click on the RAW drive and then click the "Scan" button.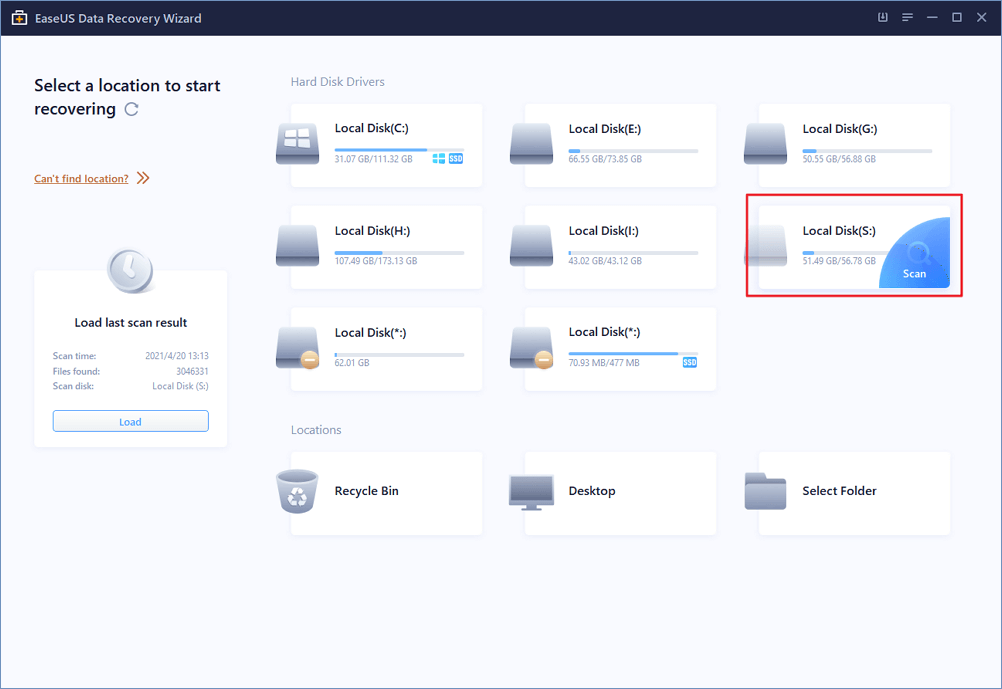 Step 2. Scan the data on the RAW hard drive
At this stage, the software would work very hard to search all data through the entire drive, and timely display the data as the scanning task goes on.
Tip: users are allowed to pause the scan process for an instant recovery as soon as the target files show up, but it's better to stay and wait for a complete scan till the end.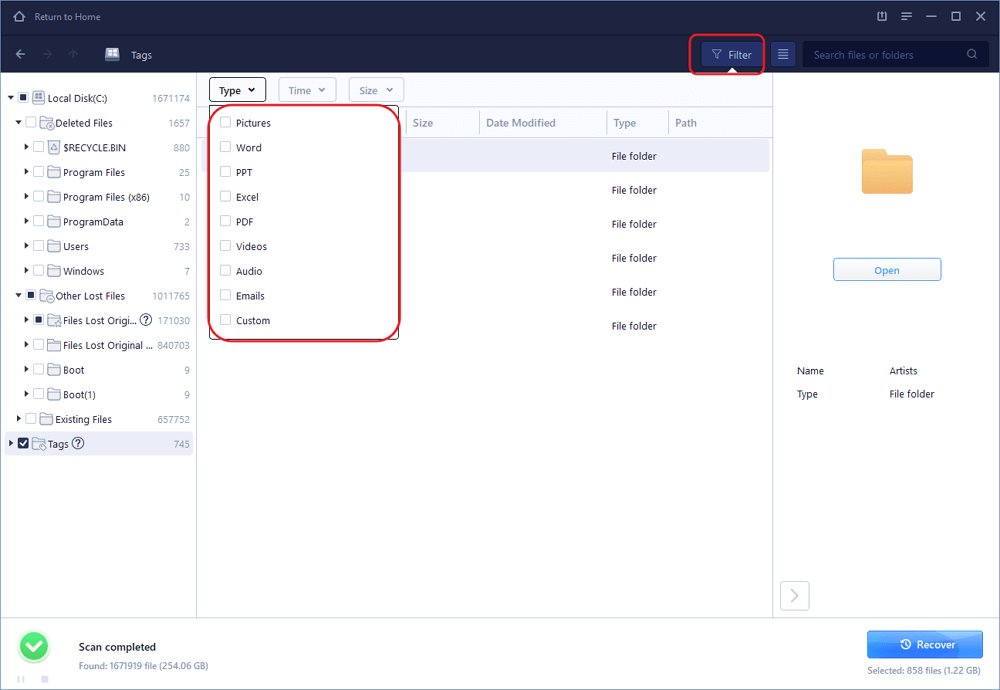 Step 3. Check files under the "Guess you recover" result
Besides the general scan results of all lost data on the selected drive, the "Guess you recover" is specially designed for RAW hard drive/USB flash drive/micro SD card data recovery, under which you're likely to recover what you want with a high success rate.
Of course, check all the scan results if necessary. Choose the target files and click the "Recover" button. You should save the items to a new location.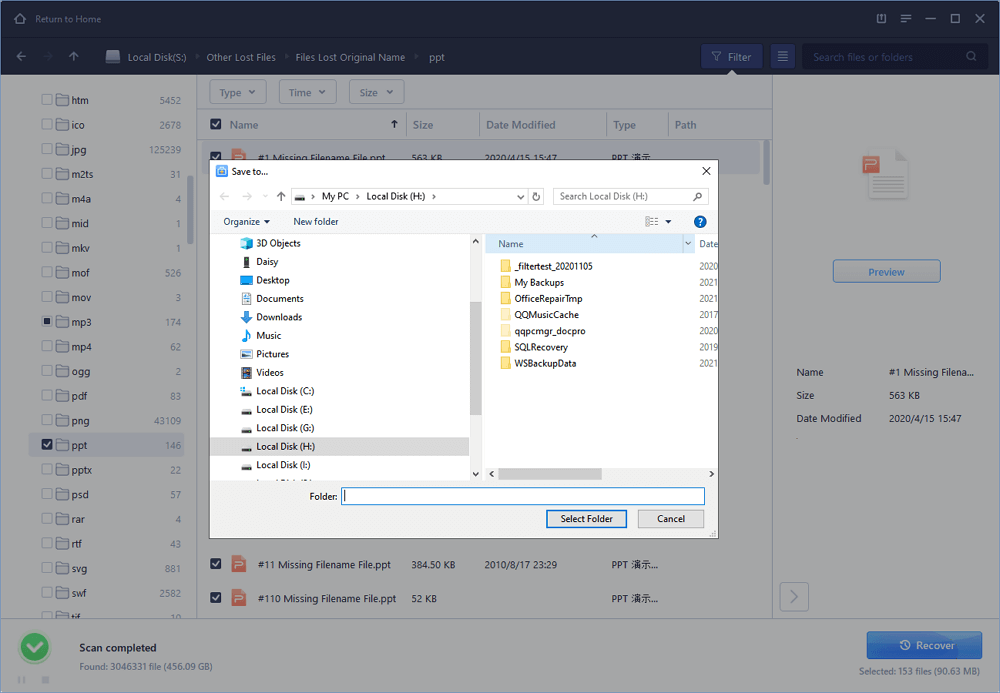 Second. Format to Convert RAW to NTFS
After getting lost data back, you can then change RAW to NTFS by formatting RAW drive now. You can selectively choose to use Disk Management, CMD or directly right-click to format the RAW device into NTFS.
But if you don't want to format RAW device into NFTS, you still have a choice. Professional solutions are available in the below passages to help you change RAW to NTFS without formatting.
How to convert RAW to NTFS without Formatting?
You have three options to switch RAW device into NTFS without formatting and you can selectively follow one option to convert your device from RAW to NTFS right now:
Method 1. Run Disk Management to convert RAW to NTFS
Right-click "This PC/My computer" and click "Manage".
Open Computer Management and click "Disk Management".
Find your RAW drive/USB and right-click on it, mark the RAW device as "Active".
Right-click on the RAW drive and go to "Properties".
Click on "Security" > "Advanced" > "Owner" > "Edit" > "Other users or groups" > "Advanced" > "Find now" > Select first listed user and click "OK".
After this, reboot your PC and then the RAW drive will be converted into NTFS and data can also be accessed again.
Method 2. Change RAW to NTFS file system with CMD
Click on Start, then type: cmd and hit Enter.
Right click on cmd and then click on "Run As Administrator".
Type "Diskpart" and then hit Enter.
Type H: /FS :NTFS and hit Enter. (H shall be the drive letter of your RAW storage device.)
Now your RAW drive shall be changed into NTFS file system and data stored inside can be used again.
Method 3. Change the RAW file system to NTFS by using System Recovery option
If you are able to access the RAW drive using the command prompt then back up the files on the drive by following below mentioned steps:
Open System Recovery Options - it will contain several tools to recover your Windows such as Startup repair.
Select "Startup Repair".
After navigating to the Recovery Options, follow the next steps.
Connect an external storage device such as USB to the system.
Open Command Prompt, type: Notepad and then hit Enter.
Locate "D Drive" (RAW drive),
If you are able to access the drive then Copy the files you want to back up and paste those file to external Drive.
Close the cmd.
Open the command prompt, type chkdsk /f/r and then hit Enter.
Now that you will convert your RAW drive file system into NTFS and use it to save important data.