Summary
This page provides the latest full and free CHK file recovery solutions for you to effectively recover lost or deleted CHK files. Follow to get the best free CHK file recovery software with reliable methods so as to restore lost CHK files in Windows 10/8/7 on your own.
This page explains what is a .chk file, whether you can delete CHK files, and how to recover CHK files by using manual methods, CMD command, professional CHK file recovery software and tools. If you are having
What is a .chk file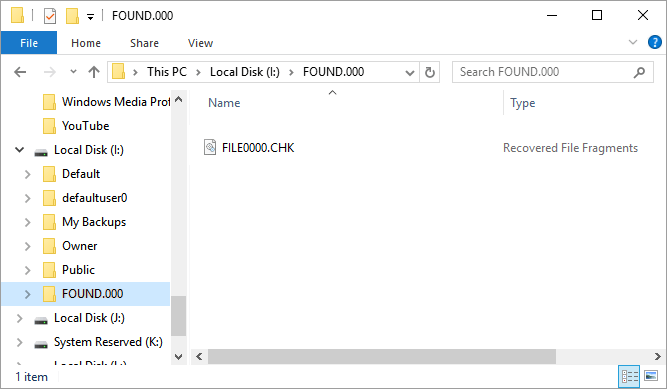 A CHK file is verified as fragments of corrupted files, data, images or other documents with .chk file extension on Windows computer. Usually, CHK files are generated by the Windows system due to hard drive or storage device corruption, interrupted file transferring, improper operations, virus infection, etc.
When the Windows system notices a problem with a file system on a hard drive or storage device, it would automatically run Check Disk to fix the file system. After this, Windows would create a Found.000 folder, saving all fragments of corrupted data and files as CHK files there.
Can I delete CHK files
Yes. Mostly, the FOUND.000 folder with .chk files is saved on the save device where the error occurred. For example, if you met a problem while transferring files from USB to your computer, you may find a Found.000 folder with CHK files. If you find CHK files appear on your system drive, it may contain some file fragments recovered from the C: drive.
Note that sometimes, the CHK files may get hidden. You can use Windows File Explorer to show hidden files and delete these CHK files visible.
However, we'd like to remind you to be careful if you plan to delete the CHK files. If your files and data are secure, you may delete them from your device. If your files are lost, only these CHK files exist on your drive, don't delete them.
How can I recover CHK files? (4 methods available)
If you are having the same question about how to restore CHK files on your devices, stay here. Four reliable methods are available here, and you may check any method as a guide to help you restore data from .CHK files:
# 1. Use file recovery software to recover deleted CHK files
Apples to: all levels of users
If you mistakenly deleted CHK files, or only have CHK files left on your device, reliable file recovery software can be your best shot. Here, EaseUS Data Recovery Wizard with its raw recovery can automatically help you recover deleted CHK files with simple clicks.
Don't save any new files to your drive and follow steps below to bring your files back:
# 2. UnCHK is a free tool for CHK file recovery
Applies to: all levels of users
Third-party tools like UnCHK can help you open a CHK file and recover lost files in an easy way. UnCHK is a free tool that can examine the contents of the CHK files and determine if the contents are known to file types such as audio files, video, images, archives, executable files, and documents. It also works to restore partial files from the CHK files.
Click to Download UnCHK
Steps to recover CHK files and data with UnCHK:
Step 1. Run UnCHK and choose the directory where the CHK files are and a destination directory.
Step 2. Choose your scan option - Whole files, Embedded files, Floppy disk, Hard drive, Keep a log, and click "OK" to confirm.
Whole Files will look at each file and check for a recognized signature.
Embedded Files can pull objects like images from inside the CHK files.
Floppy/Hard drive can check for cross-linking in the files.
Usually, we suggest you scan "Whole files" on your device.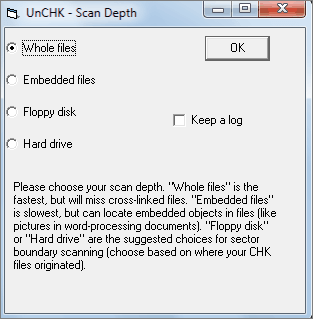 # 3. Run CMD to change CHK file extensions
Applies to: experienced computer users
For experienced administrators, some of you may apply CMD command to change CHK file extensions on your device, reverting all CHK files on your device to a recognizable format.
Note that if this method will change all existing CHK files to the same format at the same time. In other words, if the files saved on your drive share the same file system, try the following steps to restore your files from CHK files:
Step 1. Right-click on the Start menu and select search, type: command prompt.
Right-click on Command Prompt and select "Open as Administrator".
Step 2. Type: cd/ and hit Enter.
cd stands for change directory.
/ means to change the root directory.
Step 3. Input the drive letter where your CHK files were or the Found.000 folder is and hit Enter.
Such as:e: and hit Enter.
Step 4. Type: cd Found.000 and hit Enter. (Found.000 stands for the folder where chk files are in.)
Step 5. Type: ren *.chk *.mov and hit Enter.
If you need to change chk files to other formats, change .mov to other file extensions, such as .doc, .xls, .png, .mp4, etc.
When the process finishes, you may check files in the Found.000 folder and some of them may be available for you to reuse again.
# 4. Manually change CHK extension and restore files
Applies to: all levels of users, change single chk files to the original file extension.
If you have saved multiple types of files on your drive, and all of them are now .chk extension. Don't worry. As long as you remember the original formats of these files, you can follow steps here to manually change CHK file extension and restore them:
Step 1. Create a text document on your computer.
Step 2. Double-click to open, type ren *.chk *.jpg, and save.
If the original file extension of the chk file is .png, .mp3, or other formats, replace .jpg with the desired extension.
Step 3. Change the .txt suffix to .bat.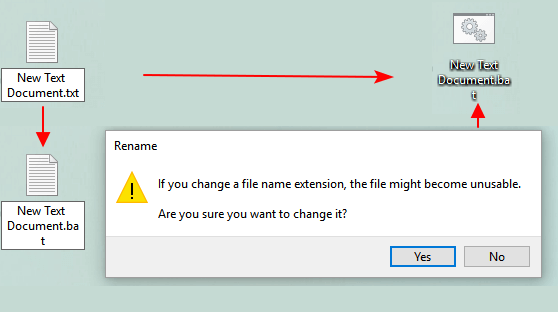 Step 4. Copy the .bat file to Found.000 folder. Double-click to run the .bat file.
Then, the .chk files will be converted to .jpg or other types of files.
After this, you can open the Found.000 folder to check and reuse the restored files again.
Conclusion
This page explains what is CHK file, the causes of CHK files, when can you delete the CHK files and how to restore CHK files back to the normal state.
If you have further problems with CHK file recovery or need a better method to detect whether existing CHK files are recoverable, you may send email our data recovery experts and customize a manual data recovery service via support@easeus.com.
CHK FAQs
You may also check below CHK FAQs to find more answers.
1. How do I restore files from Found.000 folder?
If some of you are having the same issue, follow the provided 4 methods - file recovery software, UnCHK, CMD and manually change CHK file extension above on this page can help you out. Or, you may also refer to this link to check more details on How to Recover Files from Found.000 folder.
2. What do I do with CHK files?
When you find CHK files existing on your hard drive or external storage devices, you may first check if the saved files on your device are still there, securely saved with no damage.
If yes, you may delete them directly.
If no, you will need to use a reliable file recovery software like EaseUSData Recovery Wizard or CHK recovery tool as recommended on this page to help you bring the lost files back immediately.
3. How do I prevent files and data from turning into CHK?
The best way to protect your files from turning into CHK is to create a backup on another secure device. You may create a copy of all these files to another secure device.
Here is a list of other tips you may apply to prevent files from turning into CHK:
Run virus cleaner regularly on your device.
Be careful with all the operations on your device, especially for file transferring.
Stay with a stable Windows system on your computer.
100% of people found this article helpful.
Frequently Asked Questions
1. Why choose EaseUS Data Recovery Wizard?

"EaseUS Data Recovery Wizard is the best we've seen. It's far from perfect, partly because today's advanced disk technology makes data-recovery more difficult than it was with the simpler technology of the past, but it's fast and efficient..." —PCMag

"The first thing you'll notice about EaseUS Data Recovery Wizard Pro is that its interface is very clear and uncluttered, with only a small collection of self-explanatory controls. You won't find lots of extra options hidden in a system of hidden menus, either; what you see really is what you get." —techradar

"Recover lost files, even after deleting a partition or formatting your drive." —Macworld
2. Why cannot I recover 2GB data for free?

It is recommended to check the version installed is Free or Trial because they are different versions.

Trial has data preview function but cannot save any files, while the Free version enables to recover 2 GB files. The default free space is 500 MB and you may share the product on social media to get another 1.5 GB.
3. Why cannot the recovered files be opened?

A file is saved as 2 parts on the storage device: directory info (which is comprised by file name, time stamp and size info, etc.) and data content.

If the files with original file names and folder structures cannot be opened, one possible reason is the corrupted directory info. There is still a chance to recover the data content with the RAW Recovery method in our software.
4. Why isn't it suggested to recover the files back to the original drive?

The storage structure of the lost files would be altered or damaged by any changes on the drive. If you save the recovered files back to the same drive, the original data structures and data content would be corrupted or overwritten, which causes permanent data loss. So you should prepare another disk to save the files.
5. How can I check whether my data is recoverable or not before purchase?

The Free version helps you save 2GB files to better verify the recovery quality of our product before purchase.
6. How long does it take to scan the drive?

It strongly depends on the capacity of your hard drive and the performance of your computer. As reference,most drive recoveries can be completed in around 10 to 12 hours for a 1-TB healthy hard drive in general conditions.
About Data Recovery Wizard
It's super easy to recover 250+ types of files after deletion, disk formatting and virus infection. Click the links and compare the difference of each version.