Avast Keeps Deleting My Files
Avast is widely-popular antivirus software used by over 435 million PC users to protect their systems from dangers. As a paid cybersecurity application, it detects suspicious or vulnerable files on your computer and deletes them immediately to avoid future circumstances.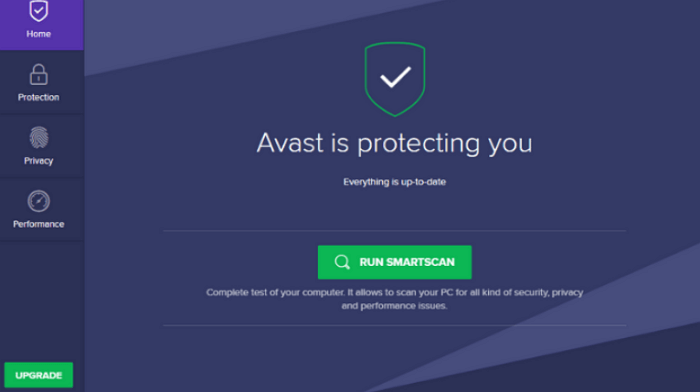 As a part of its work, Avast regularly scans and runs all computer files through the scanner to keep the system safe and sound. Due to this, malicious files are deleted and automatically sent to the Avast Virus Chest with other malware.
Unfortunately, this inspection can sometimes create problems for you, as Avast may mistakenly flag your important files as malware. Hence, such files are automatically deleted from your system. Although the problem can be frustrating, you can recover them easily with the help of this guide.
How to Recover Files Deleted by Avast Antivirus (2 Ways) 
Recovering Avast-deleted files is easier than it sounds if you carefully follow the steps mentioned below. We have divided this section into two parts. One part will guide you to recover the deleted data from the Virus Chest which is the recycle bin of Avast while the other section suggests you use a good data recovery software to recover files that have not landed in the Avast Virus Chest. 
Method 1. Restore Avast-Deleted Files from Virus Chest
Now that you know why Avast keeps deleting your files and where to find them let's discuss how you can restore them easily. Follow these steps to recover avast-deleted files from Virus Chest. 
Step 1. Look for the Avast Icon in the bottom right corner of your screen under the system tray. 
Step 2. Right-click on its icon and select the option for "Virus Chest".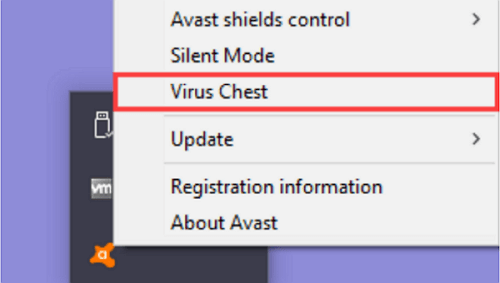 Step 3. Search for the files you want to recover and click the three horizontal dots to undelete them. 
Step 4. Now go to the option of "Restore", and Avast will automatically remove the file from the virus chest and put it back in your system. As a good rule, try to run the file once again with any anti-malware solution and ensure it won't harm your PC.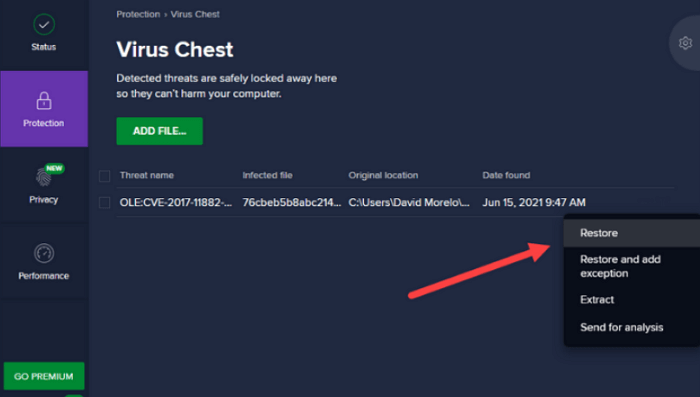 However, choosing the "Restore and Add an Exception" option can prevent Avast from deleting the same file again in the virus chest.
Method 2. Recover Files Deleted by Avast Antivirus (Not from Virus Chest)
In this section, we will discuss how to recover Avast-deleted files that are not located in the Virus Chest, which is the common recycle bin for deleted data. To recover permanently deleted files and folders, you'll have to use good data recovery software like the most trusted EaseUS Data Recovery Wizard.
With over 75,000,000 active users, Ease US data recovery software helps people recover lost files, pictures, videos, and other important data smoothly. From HDD, SSD, and external hard drives to a cloud drive, USB, and SD cards, this all-in-one software is designed to deal with any deleted file recovery.
Using a basic search algorithm, EaseUS offers flexible scanning modes to search, scan and preview all the deleted files before recovery, making the process smooth. Not one or two, but it allows you to recover over 1000 file types, from documents, graphics, video, audio, email, and other file types. Follow the steps below to recover deleted files from Avast.
Step 1. Select the disk drive where you have lost files after using an antivirus program and click "Scan".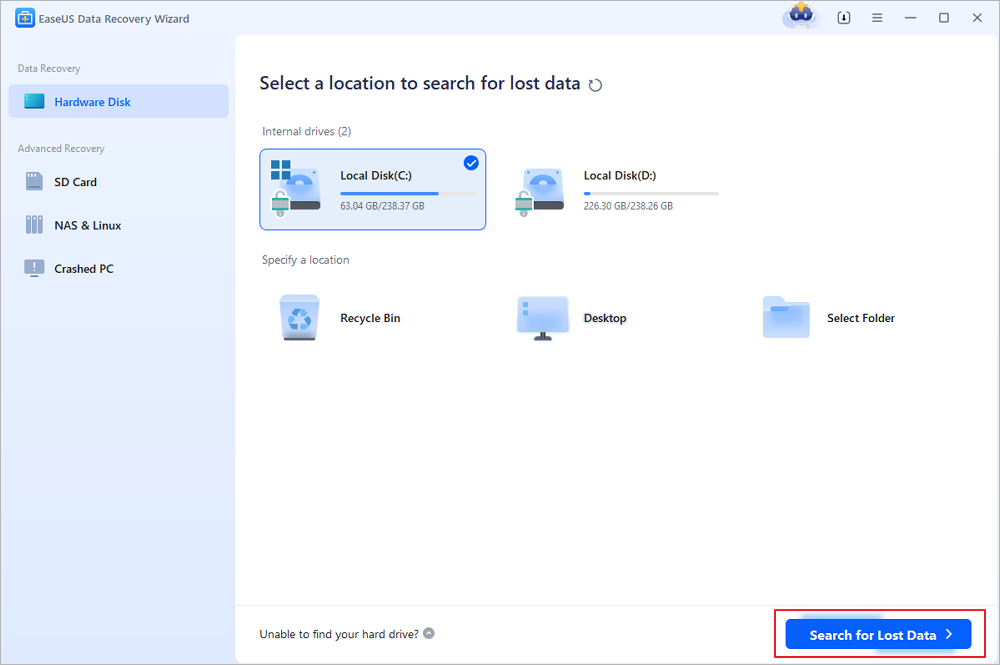 Step 2. When the scan process finishes, all the lost and deleted files on the selected drive should appear. You can try to locate the antivirus deleted items from the tree-view panel on the left, or use the "Filter" function to specify particular file formats, such as pictures, videos, emails, documents and so on.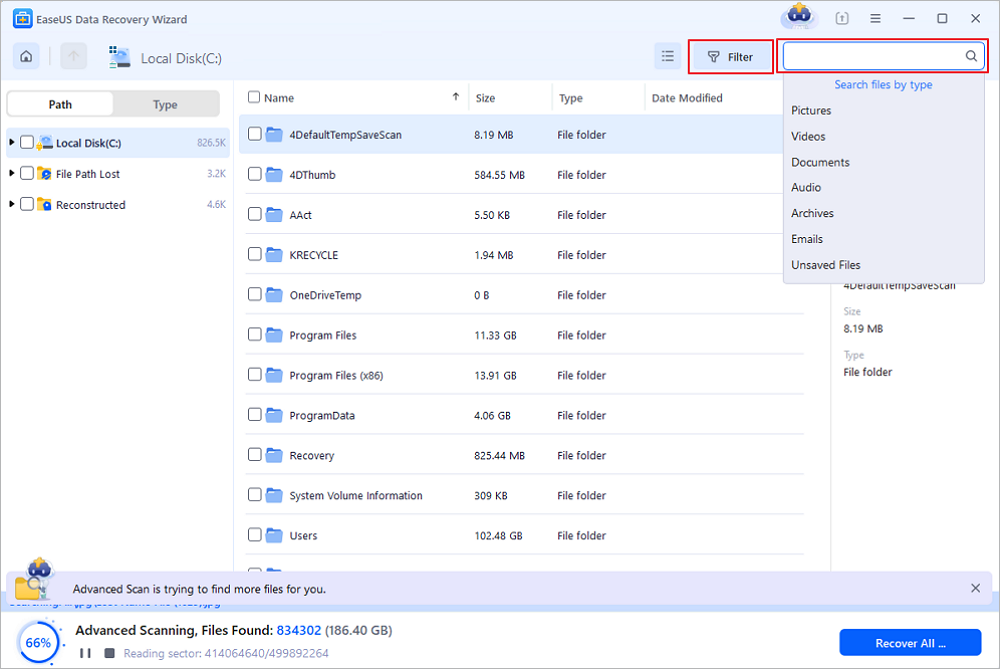 Step 3. Double-click a file to preview. After that, select the file(s) at one time and click "Recover".
How to Recover Files Deleted by Other Popular Antivirus Software 
Be it Avast or any other antivirus software solution; it's common to encounter lost or missing files when you run an antivirus scan on your system. If you've faced similar problems with other antivirus applications, this section is a must-read for you.
Kaspersky
Search Kaspersky on your PC screen and open the main application
Select the option "More Tools" and then click on "Quarantine". 
Next, select the deleted files you want to recover and click on "Restore Files".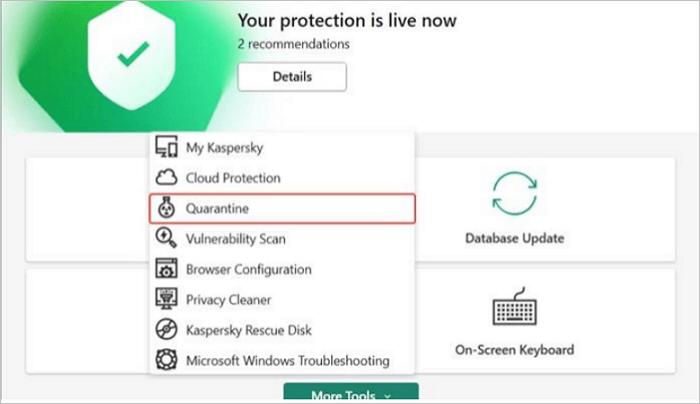 McAfee
Look for McAfee's main application page and click on the settings icon in the top right corner of the window. 
Next, select the option to quarantine items and tick the items you want to recover from its recycle bin.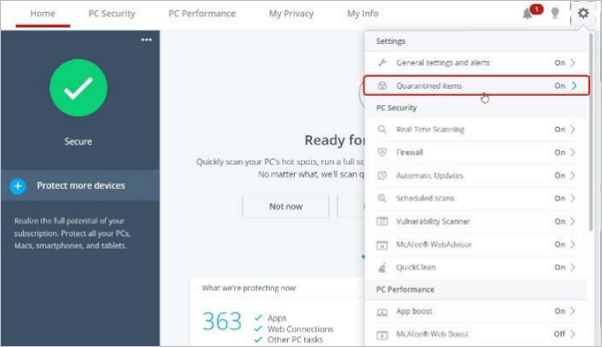 AVG 
Open the main AVG window and head to the option "Tools". 
Next, choose the option quarantine and select the deleted files that you need to recover or restore to your PC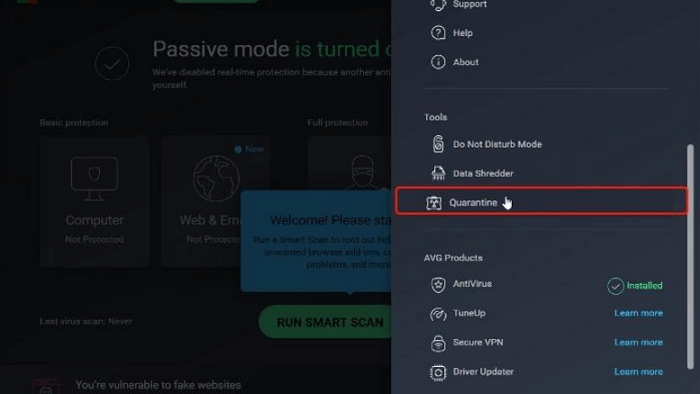 Windows Security 
Open the main application of windows security and click on the option for virus and threat protection on the left corner of the screen. 
Go to protection history, click on "Quarantined items" and select the files you need to recover.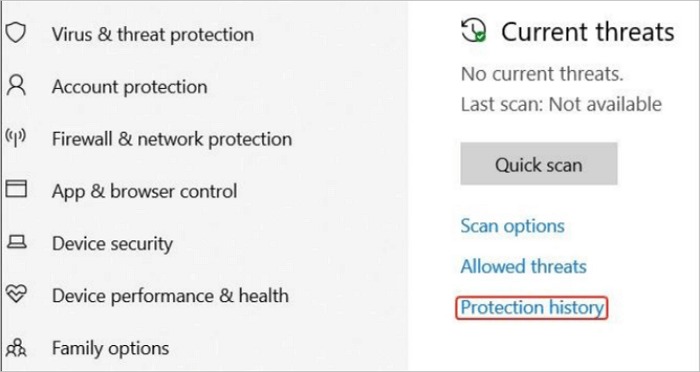 Conclusion 
If you've often been bothered by Avast deleting your important files mistakenly, you won't have to worry now because you have the solutions. With the help of this guide, you can restore any file or data deleted by Avast or any other antivirus software in a few minutes. 
If the traditional method doesn't help, take help from EaseUS data recovery software, which is no less than a blessing in data loss scenarios. Whether you want to recover files from recycle bin or formatted hard drives; this software can help you with all types of data recovery matters. With special features, it also takes the best care of your lost data.

Cedric Grantham is one of the senior editors of EaseUS who lives and works in Chengdu, China. He mainly writes articles about data recovery tutorials on PC and Mac and how-to tips for partition management. He always keeps an eye on new releases and loves various electronic products.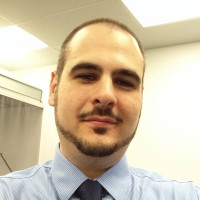 Approved by Evan Galasso 
Evan Galasso is a digital forensics and data recovery engineer with over 10 years of experience in the field. He presents opinions on the current state of storage media, reverse engineering of storage systems and firmware, and electro-mechanical systems of SSDs and HDDs.