"I'm thinking to perform a system restore, but I'm afraid of doing so because I know nothing about it.  If I restore my computer from a restore point, will my files be deleted? I have many good videos downloaded from YouTube."
"How about my files or programs if I started a sytsem image recovery from a USB drive? Will my files be affected? What should I do to make sure that files stay safe?"
System Restore and System Image Recovery are both Microsoft Windows tools designed to protect and repair computer if it experiences boot issues. System Restore takes a "snapshot" of some system files and the Windows registry and saves them as Restore Points. While System Image Recovery plays the same role, only to note that it requires a system image before it can take effect. When an install failure or data corruption occurs, both system recovery options can return a system to working condition without you having to reinstall the operating system.
Will System Restore Delete My Files?
Based on the description of what a system restore works for in Microsoft Windows, it's clear that you can bring your computer to a healthy state by doing so. Some Windows users even think that it's the best way to recover permanently deleted files without using the software.
System Restore indeed provides you with a second chance to access some missing documents, videos, pictures, and folders that were included in the restore point. However, you should notice that system restore is never the best way for lost file recovery. 
 Notice:

Always bear in mind that a system restore will affect your system files, programs, drivers and registry settings. That's 100% true.
Never take System Restore as a normal way to help you restore deleted or lost files on Windows PC. 
When you're planning to make a system restore, take time and think for a while about what this behavior helps and ruins! 
Here is a universal method that you can follow to check which programs, drivers and files will be affected by running System Restore on your PC:
Step 1. Press "Windows + R" keys in Windows 10/8/7 to bring up the Run box. 
Step 2. Type rstrui.exe in the empty box and hit Enter. This will open System Restore.
Step 3. Select "Choose a different restore point" and click "Next".
Step 4. Click "Scan for affected programs".
It will then scan for programs and then list the programs and drivers which will be affected or not affected. Here is a form that lists the affected and not affected programs and files by running System Restore:
Affected Programs and Files
Not Affected Programs and Files

Installed Windows programs
System files
Registry settings
Windows Updates
Desktop saved files and folders

Antivirus software
Documents folder located in the C drive
Personal files like photos, emails, etc.
Virus, Malware, etc.
Will System Image Recovery Delete My Files?
Being slightly different than System Restore, a System Image Recovery is to restore a computer from a system image you created on a disk. A system image includes everything on your system C drive, including OS, programs and all personal files. When you perform a recovery by selecting a system image, it will overwrite data on the destination drive. So, yes, if you run system image recovery on your PC, it will delete all your files and then replace all of the files that were that when the image file was created.
Two Suggestions
As you can see that System Restore indeed will affect some programs and files on Windows PC. And it's indeed not an ideal way for simple file recovery. To protect your personal data and prevent files being deleted by system restore, here are two suggestions for you to take.
# 1. Restore Lost Data with Reliable Data Recovery Software (Instead of System Restore)
If you accidentally delete a file or the file is not recoverable from the recycle bin, take a third-party data recovery software for help.  Unlike system restore, reliable file recovery software will only bring the lost files back without causing further damage to your currently existing data.
EaseUS hard drive recovery software - Data Recovery Wizard allows you to recover data from deletion, formatting or virus infection instead of doing a system restore.
Download, install this software on your computer and recover all types of missing files on your own: 
Step 1. Select a specific hard disk or location.
Choose the drive or partition where you deleted files. You can also select a specific location to scan, e.g. Recycle Bin, Desktop, or a folder. Then, click the Scan button to start finding files.
Step 2. Start a quick or advanced scan for lost data.
The time to scan depends on your file size and the health of your disk. When the scan is complete, you can see the detailed scan results, and you can filter the files according to the file types. 
Step 3. Preview and recover the files you need.
You can determine whether the scanned file is the one you want. Then, click the "Recover" button to save the recovered files.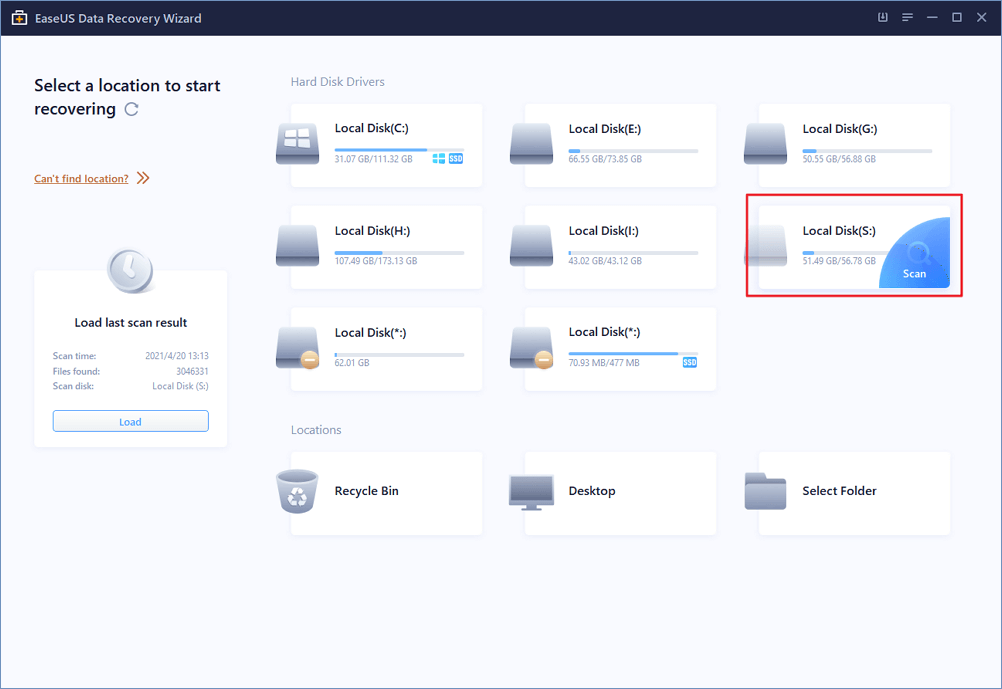 Caution: Don't save the recovered files on the partition or drive where you lost your data before making sure the device is secure to save data again.
# 2. Create a Full System and File Backup
If you've already decided to restore your Windows OS to a previous version, an essential step that you must take is to create a new backup of valuable files and Windows OS in advance. That's the safest way to protect you from losing more data.
EaseUS Windows backup software will allow you to backup a whole disk or partition or simply individual files in 3 simple steps:
Step 1. To start backup, click the Select backup contents.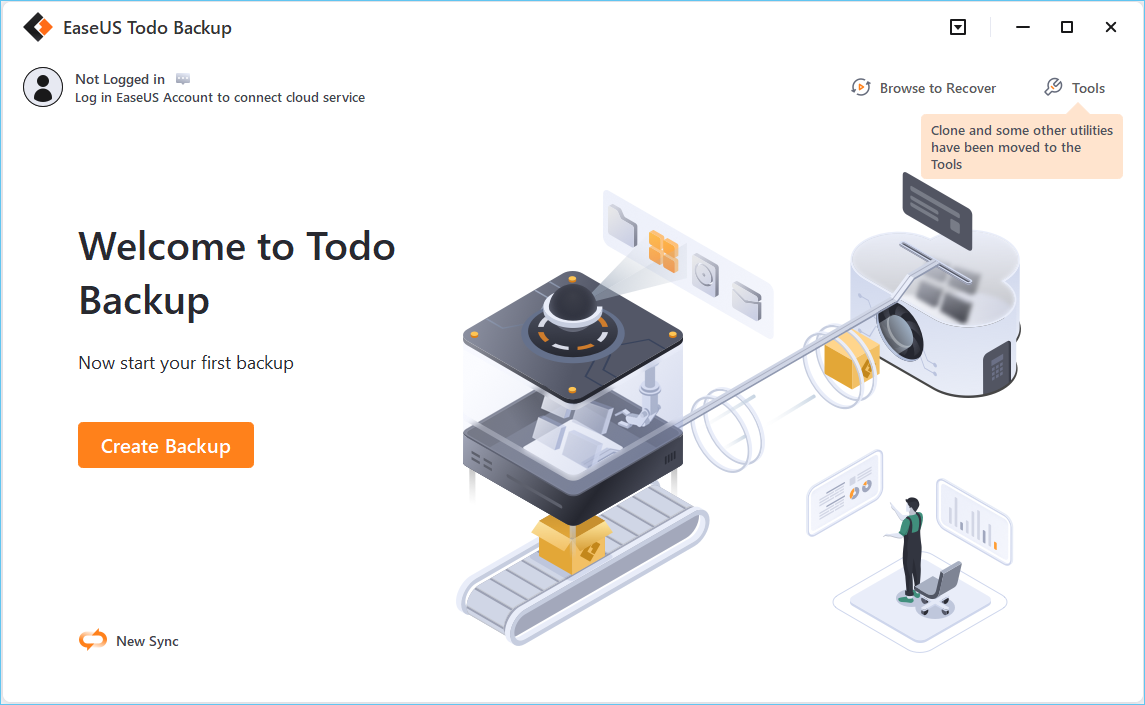 Step 2. There are four data backup categories: File, Disk, OS, and Mail.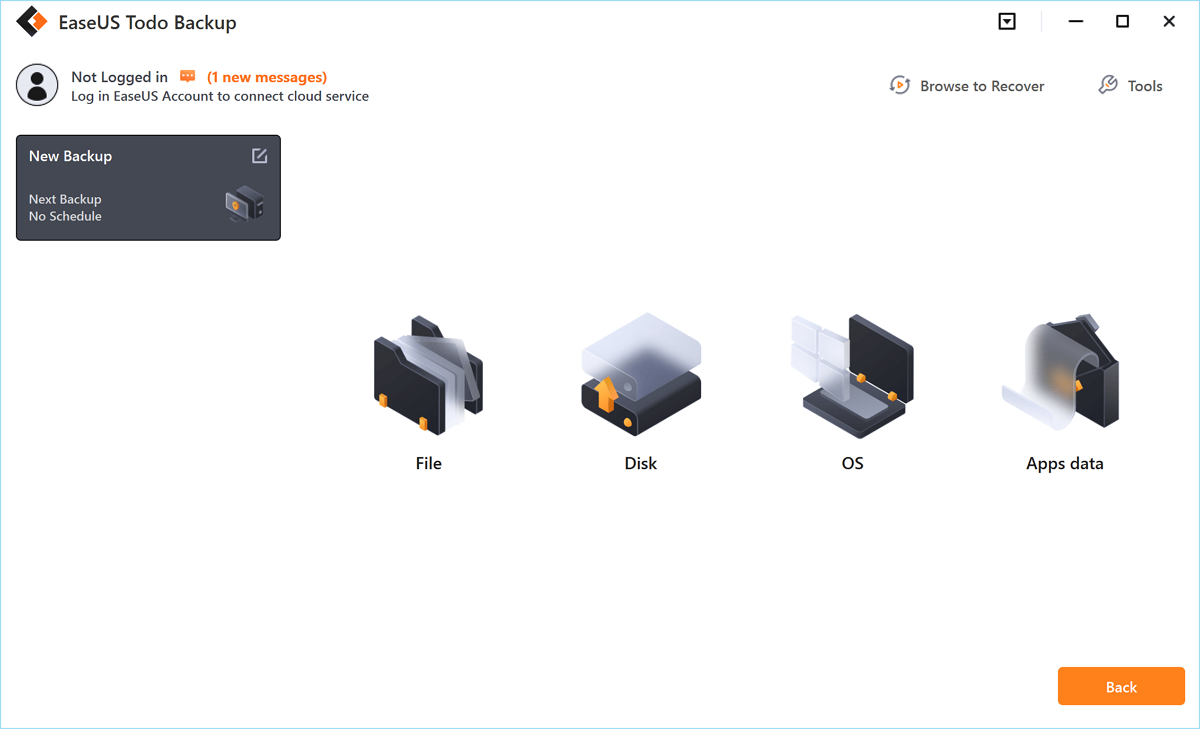 Step 3. On the left-hand side, you'll see a list of local and network files. Selecting the files to be backed up by expanding the directory.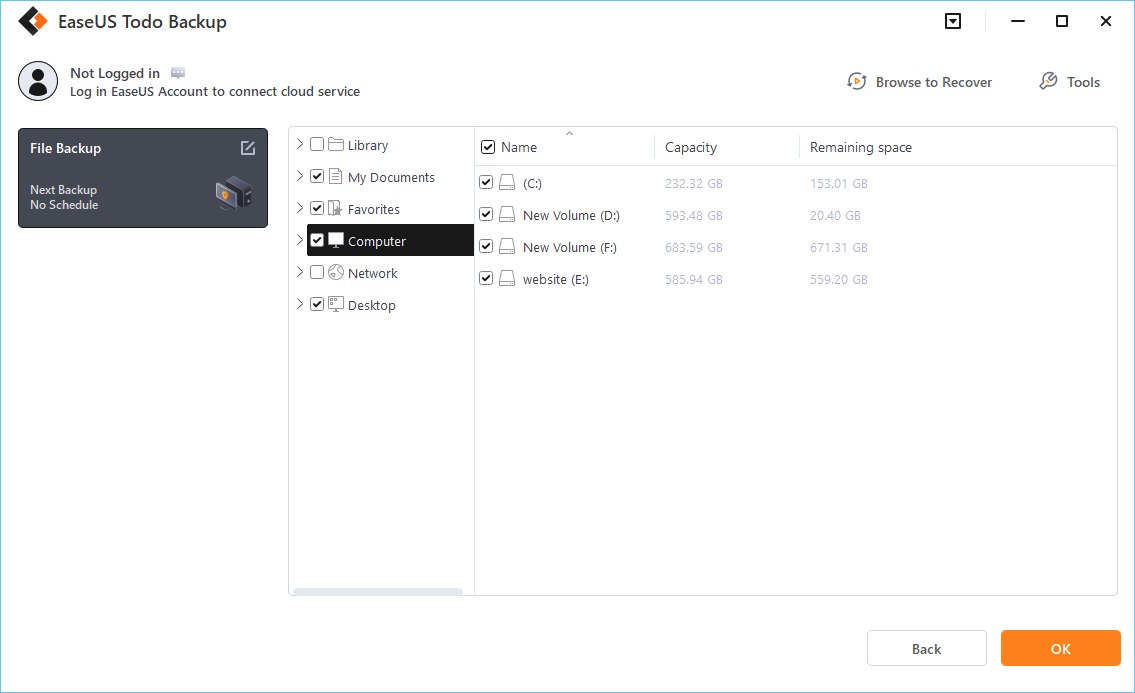 Step 4. Follow the instructions on the screen and pick the location where you wish to store the backup.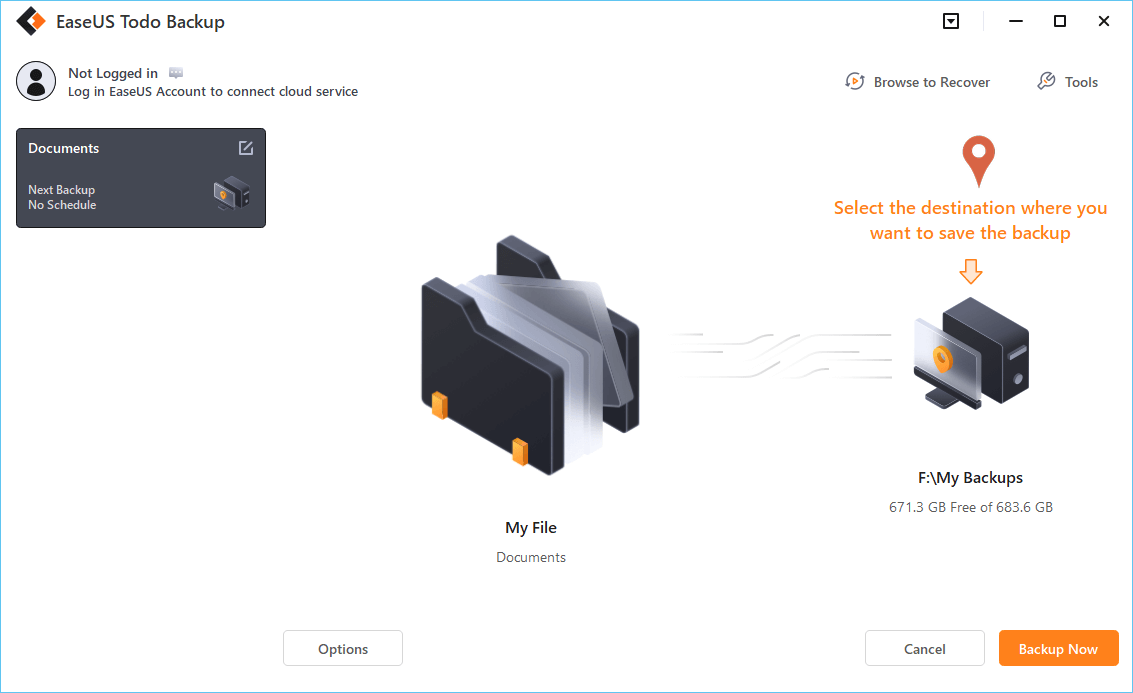 In Backup Options, click Options to encrypt the backup with a password, specify the backup schedule, and choose whether or not to start the backup at a certain event in Backup Scheme. There are a variety of customizable features available for you to explore, and you may tailor the backup operation to meet your specific requirements.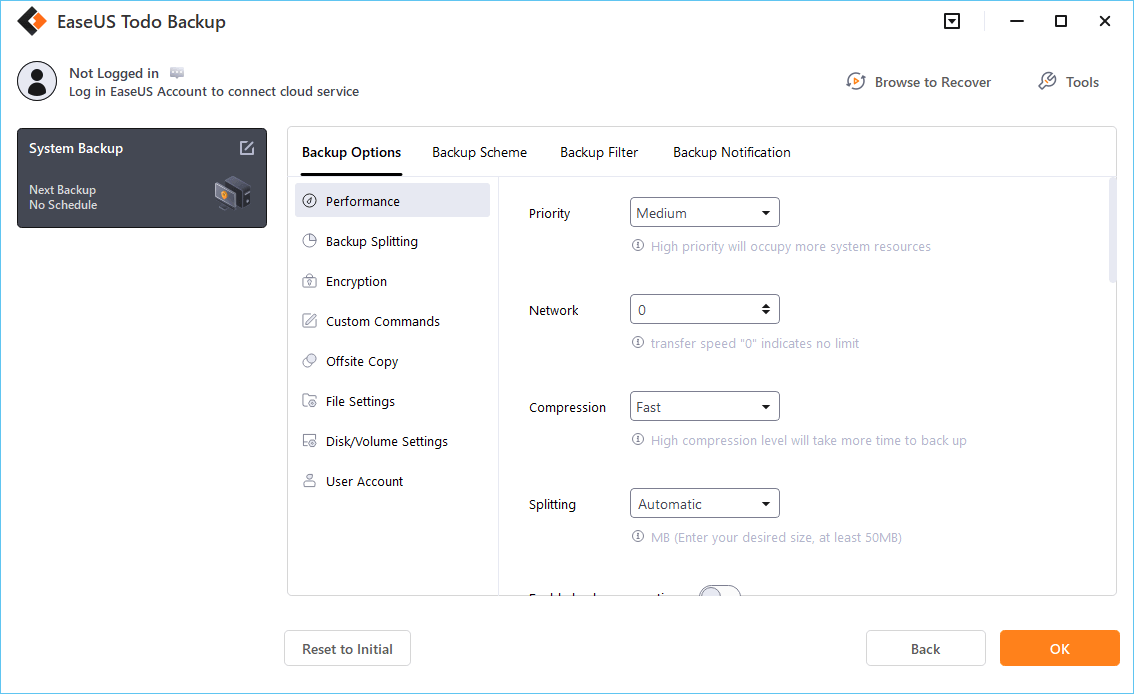 Step 5. Backups can be stored on a local disk, in EaseUS's cloud service, or on a network attached storage device (NAS).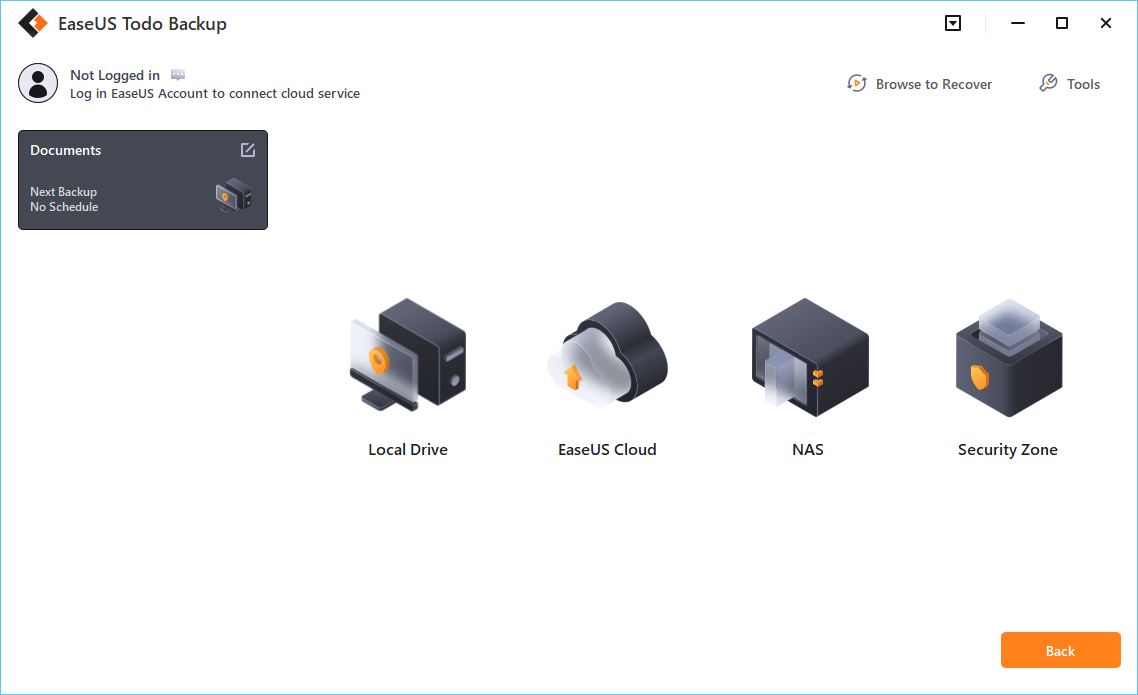 Step 6. EaseUS Todo Backup allows customers to back up data to a third-party cloud drive or the company's own cloud storage.
If you wish to back up your data to a third-party cloud drive, select Local Drive, scroll down to add Cloud Device and enter your account information.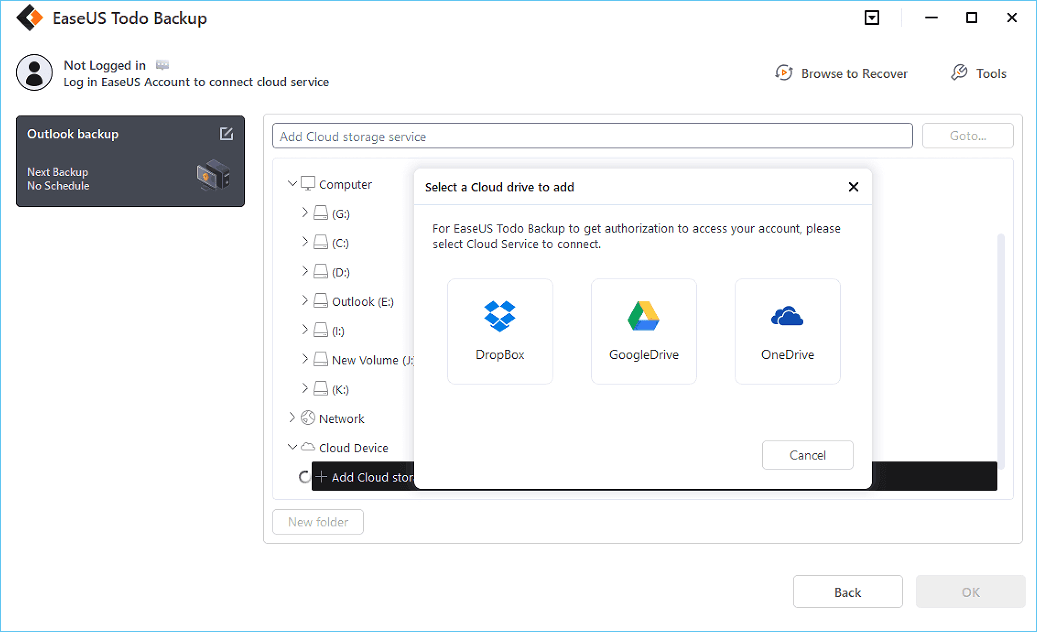 You may also use EaseUS's own cloud storage service. Click EaseUS Cloud, create an account using your EaseUS Account, then log in to your account.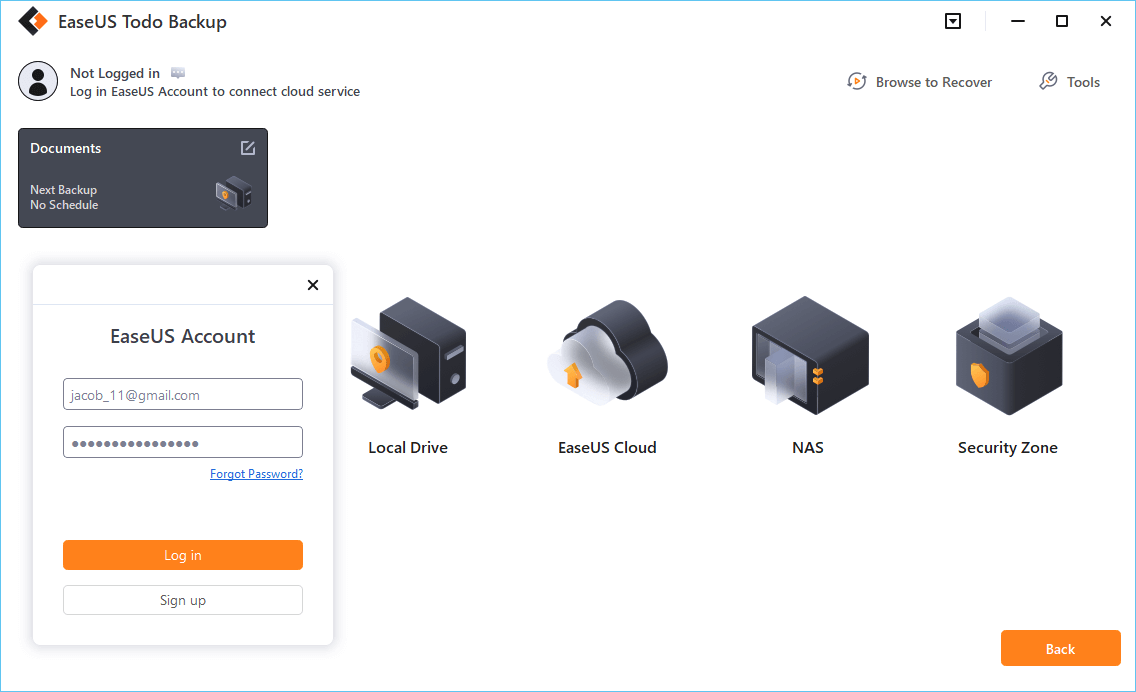 Step 7. To begin a backup, choose Backup Now. It will appear in the shape of a card on the left-hand panel when the backup process has been successfully finished. To handle the backup job in more detail, right-click on it.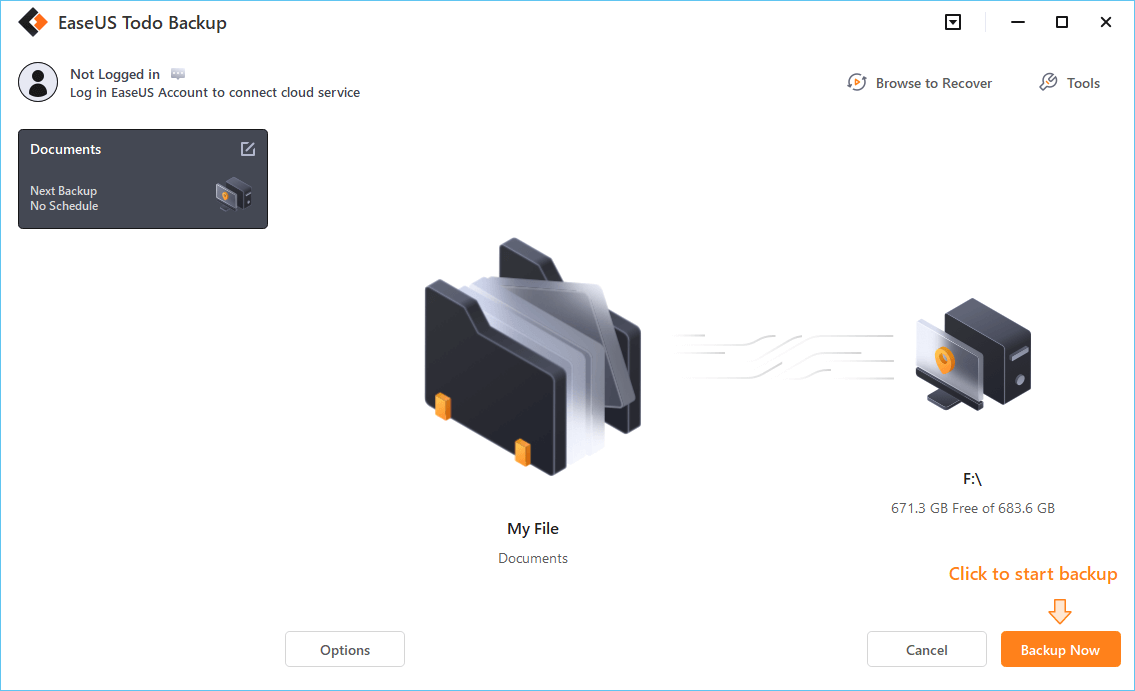 Jean has been writing tech articles since she was graduated from university. She has been part of the EaseUS team for over 5 years. Her special focuses are data recovery, disk partitioning, data space optimization, data backup and Mac OS. By the way, she's an aviation fan!