What is S3
S3 (Amazon Simple Storage Service) is an open cloud storage service and also one of the best services provided by Amazon Web Services (AWS). It enables users to store digital assets, such as videos, photos, files, etc. and helps users freely use them in various applications. When users use S3, it is like a machine in a virtual network that has a hard disk drive containing digital assets and processes all information at a high speed, including more complex service requests.
S3 provides almost 100% persistence for objects stored in services and supports multiple strict security and compliance certifications. Users can store or transfer data on Amazon's servers for a fee.
The Meanings of Using S3 Backup Software
Why do we recommend S3 backup software? In a fundamental sense, we actually recommend automatic cloud backup. Automatic backup in the cloud refers to selecting a tool to back up data to cloud storage, continuously monitoring your data according to your personal schedule backup, and automatically backing up your latest saved data to cloud storage space. When a data crash disaster suddenly comes, automatic cloud backup can help you effectively recover all the lost data after the disaster.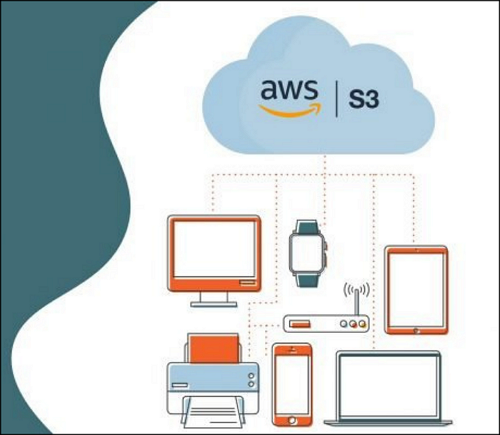 S3 alone cannot complete automatic cloud storage. Therefore, you need a special third-party solution to perform this task. Choosing a professional S3 backup software can bring you the following benefits:
Efficiency:
Professional automated cloud backup tools all use the most advanced technology to provide efficient and reliable data backup and recovery methods, which can not only accelerate the efficiency of backup but also facilitate users to find data by category.
Security:
During the backup process, excellent software encrypts user data and takes effective measures to prevent data damage caused by ransomware and prevent and control any security risks.
Customized backup schedule:
Cloud backup software supports users to customize initial settings. You can choose your favorite backup method from the differential backup, incremental backup, etc., and formulate a backup cycle to automatically and continuously protect your data security.
Reduce costs:
Cut costs by backup to the lower-cost Amazon S3 version storage with backup software.
Access at any time:
By using S3 backup software and saving important data in S3, you can access any backed-up files anytime, anywhere.
Top 5 S3 Backup Software 
We have selected the 5 best S3 backup software for you from the 6 directions of security, stability, functional diversity, automation, efficiency, and flexibility. Read the following text, you can get the information you want.
MSP360
MSP360 Managed Backup is a powerful S3 backup software, which can backup system or restore your data with great ease.
MSP360 supports all categories of Amazon S3 and uses S3's unified pricing for unified billing. At the same time, it can use your key securely and cooperate with IAM roles to reduce the pressure of management and deployment.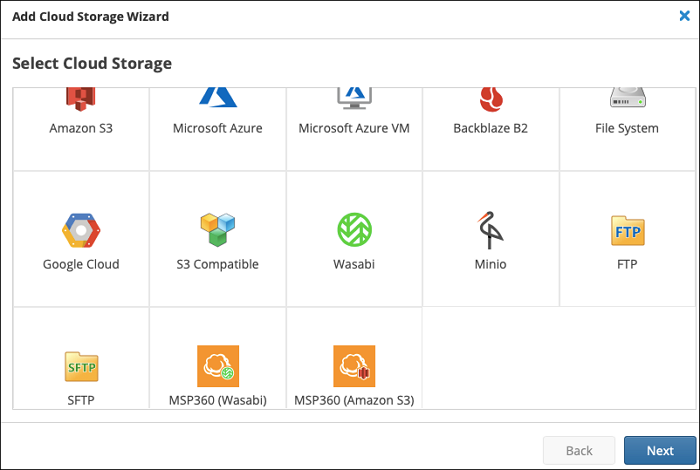 Supported system:
Main features:
Support 65 cloud storage platforms.
Optimize consumption of storage space
Can restore from the image backup
Covers almost all mixed backup solutions
Disadvantage:
CloudBerry Backup
CloudBerry Backup is a personal backup software under MSP360. MSP360 has the ability to centrally manage and monitor a large amount of data, which is more suitable for enterprises or groups of people to back up. The CloudBerry Backup cannot be used by more than 5 devices at most. However, it can also support multiple storage platforms and full backup of massive data. If you are an individual user, CloudBerry Backup will be a very good choice for you.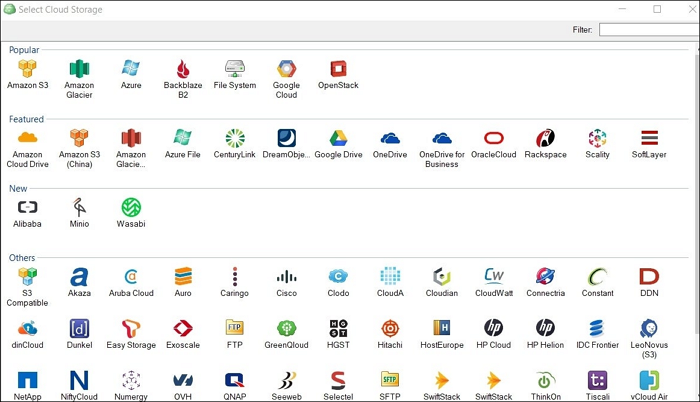 Supported system:
Main features:
Support 65 cloud storage platforms.
Multiple versions available
Good at backup servers and network devices
More suitable for individual users
Disadvantage:
Enterprise use is not supported
Ahsay Backup
Ahsay Backup is a very good S3 backup software with cost-effective performance. They can off-site backup a wide range of data types and use powerful means to prevent hackers and protect your data security. At the same time, Ahsay Backup also provides a free mobile application. When your mobile phone is connected to wifi, it will automatically back up your data to your PC.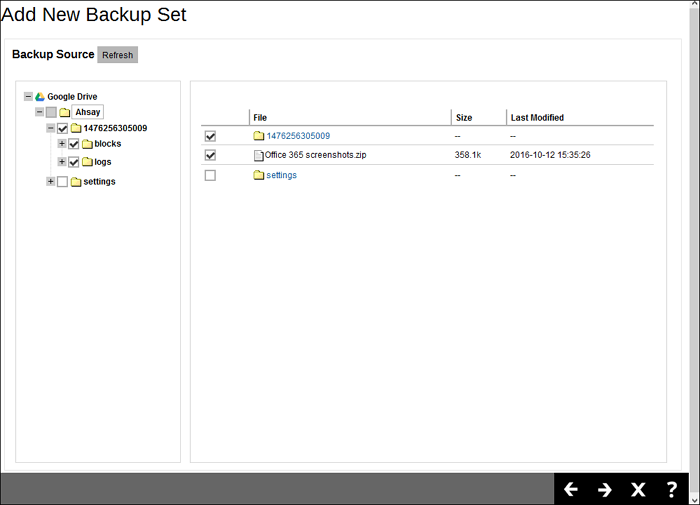 Supported system:
Windows, Linux, macOS, iOS, Android
Main features:
Supports any local / cloud storage
Provides free mobile APP
Low price
With 20 years of history
Disadvantage:
Enterprise use is not supported
Handy Backup
Handy Backup has no sense interface but professional performance in all sorts of backup solutions It can also encrypt and compress the files you want to back up, and support you to store them in S3 or other platforms. You can choose a more appropriate backup cycle from the automatic backup schedule provided by it according to your own habits
Supported system:
Main features:
Continuous upgrading
Provides free mobile APP
Works in cracking speeds
Disadvantage:
Customer service needs improvement
NAKIVO
The solution provided by NAKIVO allows you to back up data to Amazon S3 at an extremely fast speed without additional configuration or any risk. It has excellent automatic backup capability and can easily restore important data or documents. It supports various forms of backup and is also one of the best VM backup software.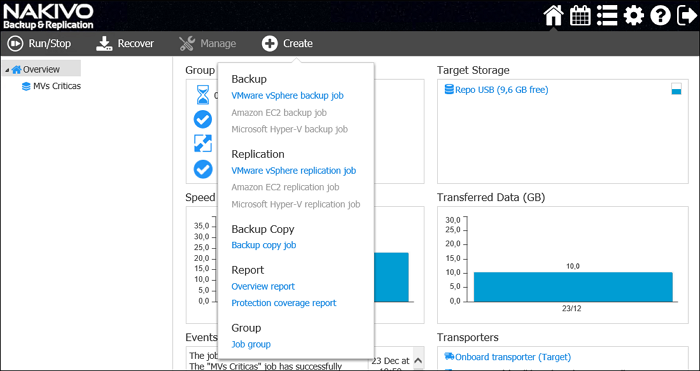 Supported system:
Main features:
Backup Data Tiering
Improves Operational Efficiency
Has multiple Recovery Options
Protect data by using the WORM model
Disadvantage:
The backup speed is limited by the performance of the hardware
Conclusion
In order to prevent your data from sudden loss, crash, or damage, it is very important to use S3 backup software to automatically back up your important data and store it in S3 space. This article introduces 5 excellent S3 backup software in detail. Each software has its own advantages and disadvantages, but you can find the one that is most suitable for you according to your own unique needs!
FAQs
Is S3 same as Google Drive?
No, they are not the same. Amazon S3 and Google Drive both have storage functions, but S3 belongs to the cloud storage category, while Google Drive needs to be classified as a file storage category. Amazon S3 enables users to store or search any amount of data anytime and anywhere, but the core function of Google Drive is to help users upload and download files.
How do I backup my S3?
Cloud backup is very efficient and has strong security. And automatic backup can periodically back up your important files, and make you develop good data storage habits. After reading this article, you will learn that there are 5 kinds of software that can support automatic backup and cloud backup at the same time. You can choose one and complete the S3 backup.
EaseUS Data Recovery Services
EaseUS data recovery experts have uneaqualed expertise to repair disks/systems and salvage data from all devices like RAID, HDD, SSD, USB, etc.