Many users often face the issue of "there is no partition selected in Diskpart" when they format a hard disk, USB drive, and CD. Mike has a similar issue up his sleeves. Here's his situation:
Mike needed his USB drive sufficient to utilize Diskpart on his Windows 7. So he tried formatting the drive using the command executed list disk > select disk two> list partition > delete partition; however, he got the prompt "There are no partitions selected, select a prompt and try again." Then he typed in select partition 1, only to receive yet another error message saying 'There is no partition selected."
If you are like Mike, you may be left frustrated, wondering what the problem is and why Windows could not select your drive. You may also experience other error prompts such as "There is no disk select" and "There are no partitions on this disk to select to list partition" when you type select disk and after you select the list partition command, respectively.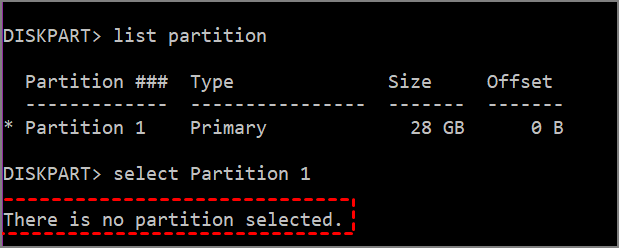 This guide will help you identify why you receive these prompts and provide possible ways to rectify these issues in the future.
Why Is There No Partition Selected in Diskpart
There are a few reasons why the prompt "There is no partition selected" may be displayed after you type a command on Diskpart. Following this, here are the basic reasons why you get the no partition selected error:
Diskpart already selected a partition: Sometimes, when you get the "There is no partition selected" error, it probably means that Diskpart has already selected the partition. 
Windows only recognizes the first partition on a USB: The first primary partition on any output or removable devices, such as a memory card, USB flash drive, and SD card, is usually recognized by Windows OS as a standard modus operandi.
The partition or volume lacks a drive letter: Windows usually apply driver letters for all drives on a computer. However, when a driver loses its driver letter, it becomes impossible for you to access the documents saved directly.
The next heading will depict various means you can use to rectify this issue. Read on!
How to Fix There Is No Partition Selected in Diskpart
You employ four basic methods to resolve the 'there is no partition selected" error in Diskpart. Any method can guarantee the desired result; however, they are subject to the specific cause of the error. The methods involved include:
Let's closely examine each method.
Method 1. Check the Selected Partition
As stated earlier, before Diskpart can be used, the item on the partition or disk must first be selected to give it focus. When an item has the given focus, it automatically reacts to any Diskpart you type. It's worth noting that whenever you use a list command, there will be an asterisk next to the item with focus.

Endeavor to check if there's an asterisk (*) in front of the partitioned item you want to select. You will always get the 'There is no partition selected" error if the volume or partition is already Diskpart selected. Ultimately, an asterisk (*) in front of the partition signifies that the partition is being focused on at the moment.
Method 2. Assign a Drive Letter to the partition
It is convenient to assign a drive letter using EaseUS Partition Master - a comprehensive disk partition tool. It can assign to each drive efficiently. And it's easy to use. Even if you are new to computers, you can know how to assign drive letter.
Follow the steps below to assign a drive letter to the partition with the aid of EaseUS Partition Master:
Step 1. Run EaseUS Partition Master, right-click the target partition, and choose "Change Drive Letter".
Step 2. In the new window, click the down arrow and choose a drive letter for the partition from the drop-down menu, then click "OK".
Step 3. Click the "Execute 1 Task(s)" button in the top-left corner, check the changes, and click "Apply" to change the drive letter of the selected partition.
Except for this tool, you can assign a drive letter to the partition using the Disk Management and Diskpart that comes with Windows. But you should be careful when using Diskpart to avoid the wrong parameters.
Method 3. Use Diskpart Alternative Tool to Delete Partition
Deleting a partition is the easiest way to generate unallocated space on your disk or USB, which can be added to another partition. You can do this using third-party partition software, such as the EaseUS Partition Master - a powerful tool related to disk partition.
The EaseUS Partition Master helps to effortlessly delete a partition or all partitions from an internal or external hard drive and a USB drive in Windows. Here are the steps to take if you're using the EaseUS Partition Manager:
Step 1. Launch EaseUS Partition Master, and click "Partition Manager".
Make sure that you've backed up the important data before deleting any partition on your disk.
Step 2. Select to delete partition or delete all partitions on hard drive.
Delete single partition: right-click on a partition that you want to delete and choose "Delete".
Delete all partitions: right-click a hard drive that you want to delete all partitions, and select "Delete All".
Step 3. Click "Yes" to confirm the deletion.
Step 4. Click "Execute xx Task" and then click "Apply" to save the change.
0:00 - 0:26 Delete single volumes; 0:27 - 0:53 Delete all partitions.
EaseUS Partition Master is a reliable tool for deleting partitions. You can delete different format of partitions, such as delete NTFS partition. And then, you can use and allocate the unallocated disk space.
Method 4. Use the "Clean" Command in Diskpart
When you've got a whole disk to clean, the Diskpart clean command can convert all stored data to unallocated space. This operation deletes all disk data by writing zeros on each disk sector, and Diskpart also deletes all partition and volume data from the selected drive.
Follow the given steps to clean a disk using the Diskpart command.
Step 1: Press "Windows + R" to open the run.
Step 2: Type "cmd" in the run box and click "OK" to open Command Prompt.
Step 3: Type "diskpart" in the command prompt and then type "select disk 0".
Step 4: Type "clean" and hit Enter.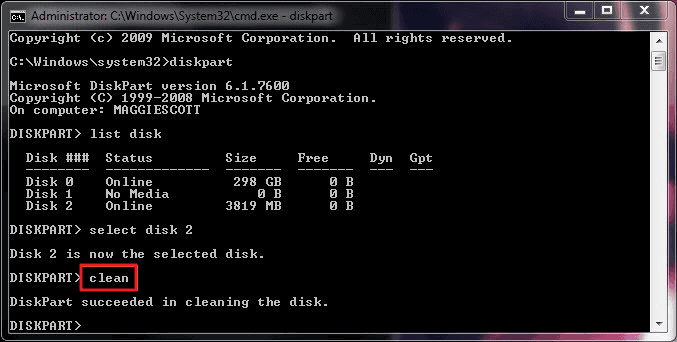 Step 5: Lastly, type "exit" to close Diskpart.
It would be more complicated when using Diskpart. You should be more careful when using the command. If Diskpart clean not working, you can use EaseUS Partition Master to replace it to delete partitions more efficiently.
Conclusion
You may encounter other issues when operating on Diskpart; however, when it boils down to the "There is no partition selected" error, the solution is already in the palm of your hand. If you're unfamiliar with the workings of Diskpart, we recommend you utilize the EaseUS Partition Master to operate on your disk. The tool works marvelously and will save you from typing the wrong commands on Diskpart. 
FAQ of There Is No Partition Selected in Diskpart
Fixing the error "There is no partition selected in Diskpart" can be done in a few easy steps. Peradventure, if you have further questions about "There is no partition selected," you will find additional answers in the following FAQ.
1. How do I select a partition?
Select a partition through the following steps:
Step 1. To select a partition, select a disk with the "Select Disk" command.
Step 2. The target partition in the selected disk is displayed if there's no specific partition number.
Step 3. The partition will be automatically selected when the volume is selected with a corresponding partition.
2. What does the asterisk mean in diskpart?
The asterisk in diskpart shows the properties and volume of the particular disk. It also shows the listed partition in the current disk partition table.
3. Does diskpart clean remove partitions?
All partition and volume information on a selected drive can be removed using Diskpart. Diskpart deletes all data on the disk with this operation by writing zeros on each disk sector.
EaseUS Data Recovery Services
EaseUS data recovery experts have uneaqualed expertise to repair disks/systems and salvage data from all devices like RAID, HDD, SSD, USB, etc.