What Does BIOS Mean
BIOS (Basic Input Output System) is a chip installed on the motherboard with firmware that performs a series of basic functions. Its primary function is to tell the computer basic boot and control functions. In addition, it performs system hardware identification and configuration tasks.
The BIOS is stored on an erasable programmable read-only memory (EPROM) chip. Storing in this type of memory allows data to persist even without a power supply connected.
BIOS allows it to recognize what is connected; processor, graphics card, RAM, storage units... and any other additional PCIe card. Without the BIOS, we would only have a motherboard, not a computer.
The computer's BIOS provides details about possible failures that may occur when starting the PC, especially hardware failures. It contains a sound sequence that must be emitted by the speaker in the event of a component failure.
Why Do We Need to Upgrade BIOS
Now, if we talk about BIOS updates, why do we need to update BIOS? BIOS plays an essential role in the performance of your computer. Correctly configured BIOS can optimize system performance and enhance security. The BIOS can improve a computer's performance by optimizing system settings. It can also help speed up the responsiveness of your computer's Boost system and decrease the time it takes for your computer to start up.
BIOS's proper settings and configuration can protect your computer from being infected with viruses and other malware. Optimizing the BIOS settings allows your computer to be stable and prevents it from freezing or crashing.
BIOS is undoubtedly crucial to keep your computer secure and to run optimally. You can avoid common problems like data loss and system crashes by updating your BIOS. Also, it's a helpful practice to update your BIOS so you can take benefit of new security features and bug fixes your motherboard manufacturer might have released. So let's learn how to update the BIOS.
More articles related to BIOS are provided below:
What to Do Before Updating BIOS
Updating BIOS is a more secure practice than installing or flashing a new BIOS because an incomplete installation can damage your motherboard. But prevention is better than curation. It is always an excellent practice to create a system image for your computer to restore it to a normal state when something goes wrong. Therefore, before proceeding, you should back up your PC in the case of BIOS corruption.
The EaseUS Todo Backup Home is the best tool that enables you to make a secure backup and avoid any possible loss. Due to any possible error/mistake or disaster, you can lose all valuable data stored on your PC/laptop and HDD. So before making any updates or changes to your PC/Laptop, you should back up your data. Suppose due to any potential disaster you lose, then there is no reason for fear, you already made a system backup with EaseUS Todo Backup Home, and it's in your hands. Whenever you want, you can get back your valuable data.
What do you get by EaseUS Todo Backup Home:
It allows you to back up your system & hard drive to a cloud drive.
It protects your important data from ransomware.
It enables you to have a complete backup and restore solution for organizational and personal use.
It lets you enjoy 250GB of free cloud storage.
And many other valuable functions and features, like cloning, upgrading, or transferring your system easily.
Here are the steps to use this program:
Step 1. Launch EaseUS Todo Backup on your computer, and click Create Backup on the home screen and then hit the big question mark to select backup contents.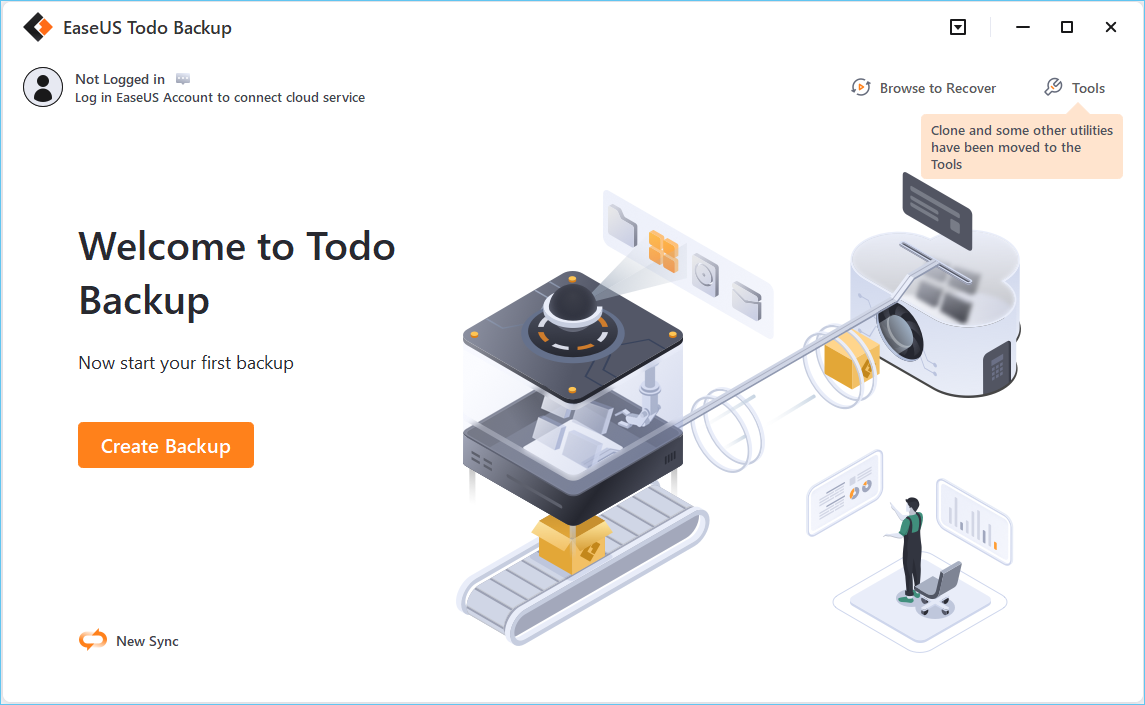 Step 2. To back up your Windows operating system, click "OS" to begin the backup task.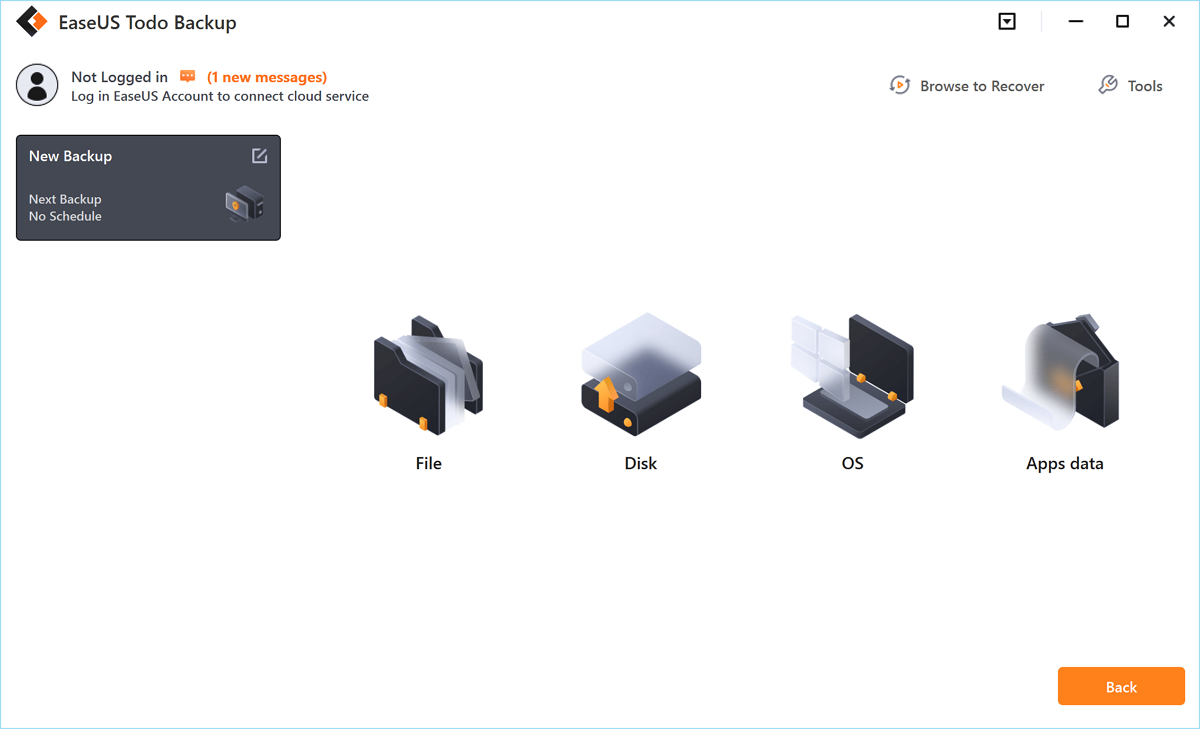 Step 3. Your Windows operating system information and all system related files and partitions will be automatically selected so you don't need to do any manual selection at this step. Next, you'll need to choose a location to save the system image backup by clicking the illustrated area.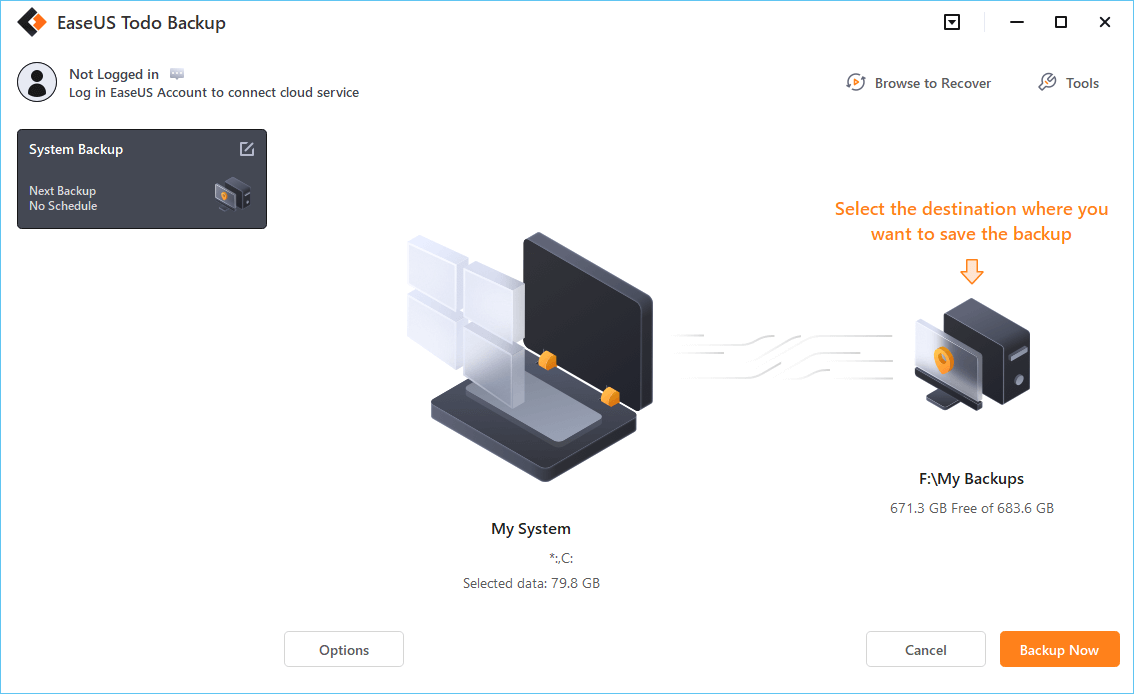 Step 4. The backup location can be another local drive on your computer, an external hard drive, network, cloud or NAS. Generally, we recommend you use an external physical drive or cloud to preserve the system backup files.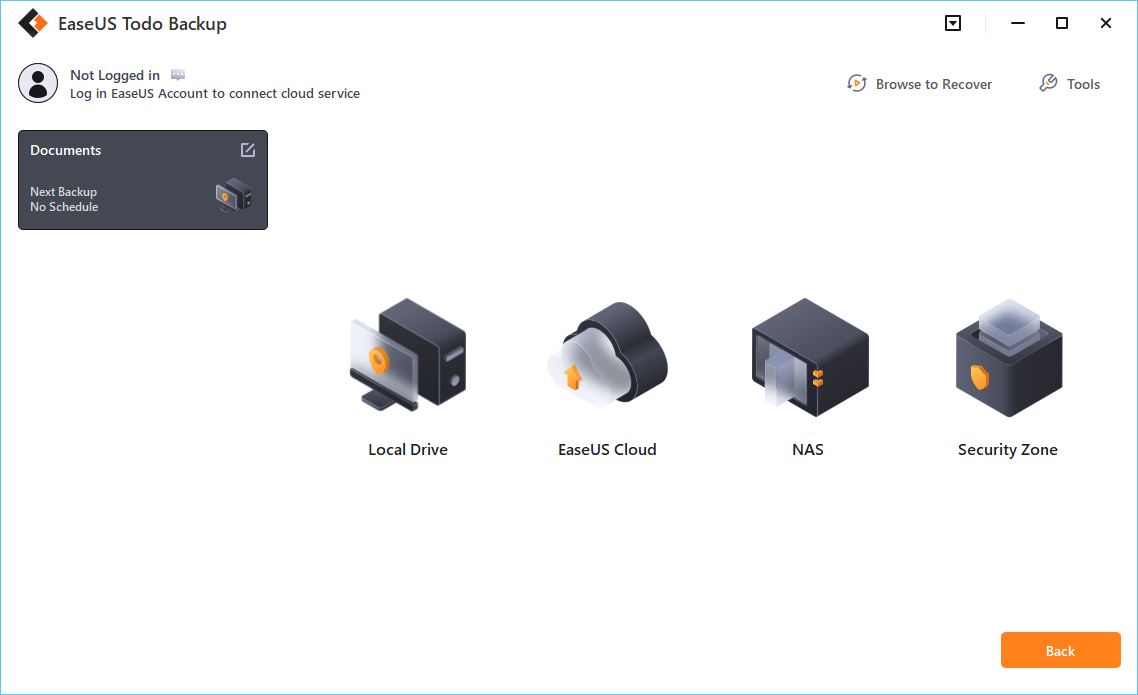 Step 5. Customiztion settings like enabling an automatic backup schedule in daily, weekly, monthly, or upon an event, and making a differential and incremental backup are available in the Options button if you're interested. Click "Backup Now", and the Windows system backup process will begin. The completed backup task will display on the left side in a card style.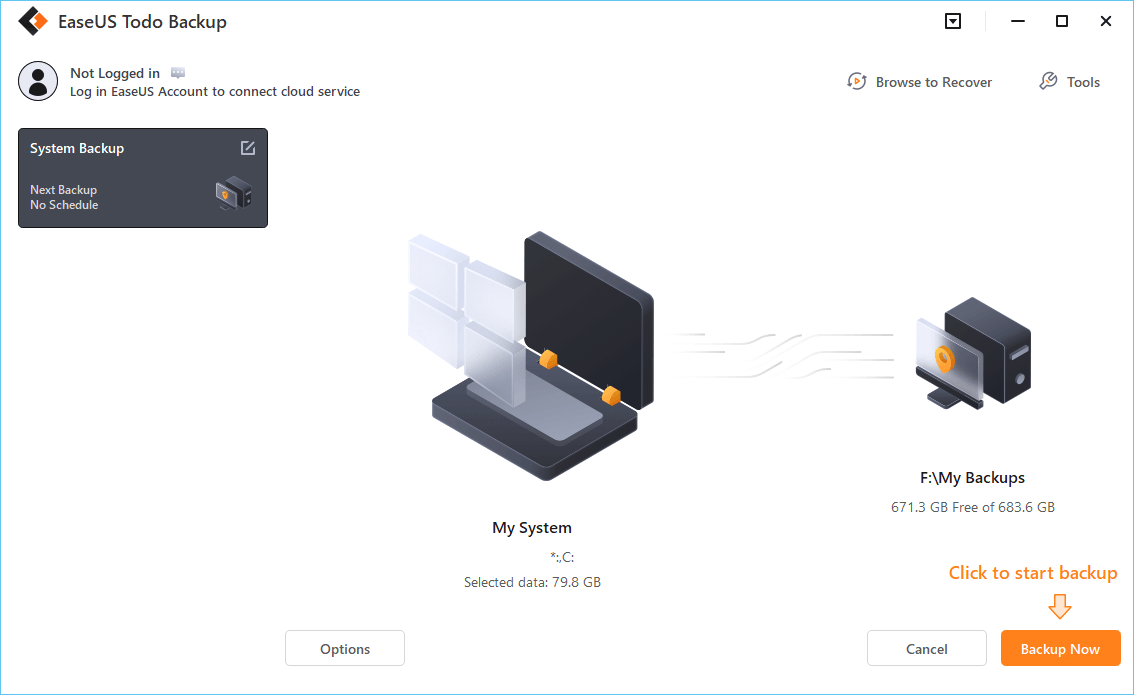 2 Ways to Update BIOS Without USB
Being Windows users, we need to update BIOS to get outstanding performance. We're showing you two ways to update your BIOS without USB quickly. You don't need to use any USB to update BIOS. Just follow the below methods with complete steps and screenshots.
Method 1: Download the BIOS Update Utility
In this way, we're going to download the BIOS update utility. The detailed steps are as follows:
Step 1. Log in or open Microsoft Store on your PC/Laptop, whether through the Microsoft Store Windows Application or the web.
Step 2. Search "MSI Center" in the search bar of the Microsoft Store and click on it when it appears in the search result.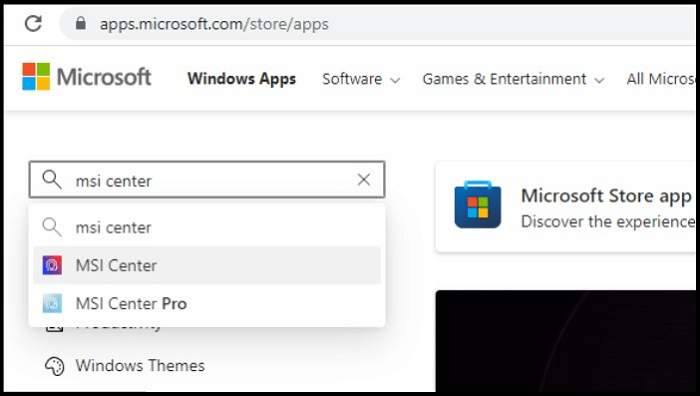 Step 3. Download "MSI". Just click on "Get".
Step 4. Open the app, go to the "Support" tab and choose "Advanced option".
Step 5. Select the "BIOS update" and wait a few minutes to complete the process.
 Notice:

MSI center tool works with MSI motherboards, in case you have another manufacturer, ensure to visit your manufacturer web to see if they have a BIOS updater program.
Method 2. Use UEFI Firmware Settings
This is another way to update BIOS without USB using UEFI Firmware settings. Follow the detailed steps:
Step 1. Open settings. Simply press the "Windows + I" buttons on your keyboard.
Step 2. Click "Update & Security".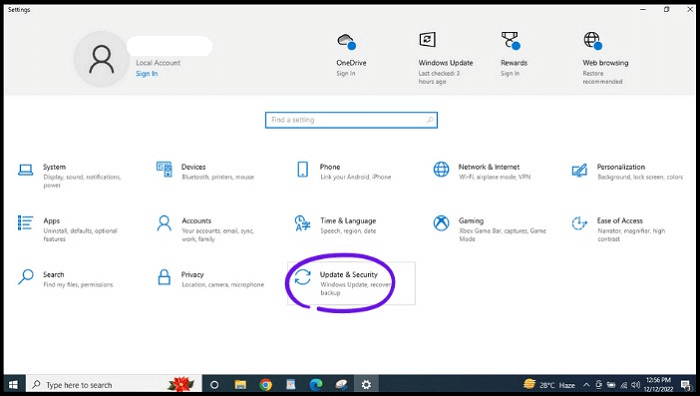 Step 3. Click "Recovery" from the left side menu.
Step 4. Under the "Advanced startup" section, click "Restart now".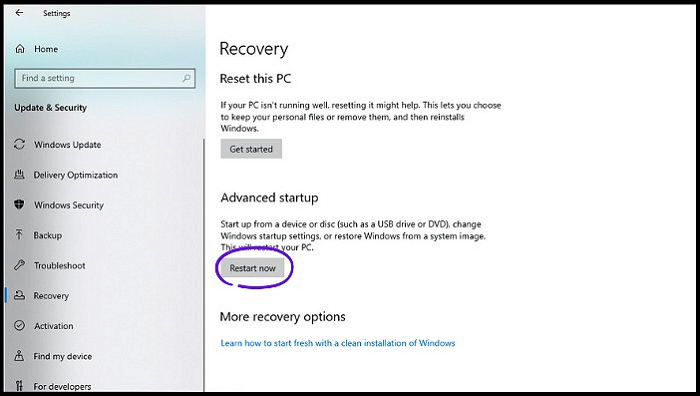 Step 5. Click "Troubleshoot" in the "Advanced startup" and click "Advanced options". You'll see different options here. You need to select only "UEFI Firmware Settings".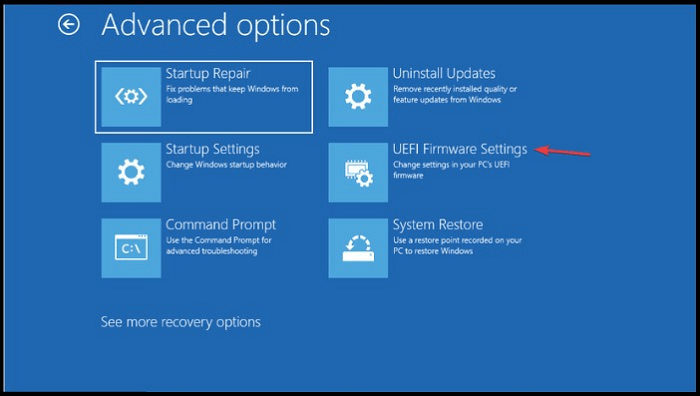 Step 6. Now, enter the "Advanced Mode" and go to the "Tool menu". Choose "Asus EZ Flash Utility" and press "Enter".
Step 7. Choose "by Internet".
Step 8. Use the "Left/Right" arrow buttons from your keyboard to choose your desired internet connection, and press the "Enter" button.
Step 9. Pursue the more on-screen process.
The Bottom Line
This is how to update BIOS without USB. These two above-described methods mainly enable you to update BIOS without a USB. Both are very useful and convenient methods. But be careful and keep in mind before updating your BIOS, you need to secure your data due to any potential data loss. In this regard, there is an excellent tool for you, EaseUS Todo Backup Home, an all-in-one solution to protect your valuable data.
FAQs on How to Update BIOS Without USB
If you have more questions on how to update BIOS without USB, you will find answers in the following FAQs.
1. Can BIOS get damaged?
The BIOS can be damaged due to several conditions like a power surge or outage, failed update, or virus effect. When BIOS is corrupted, the system attempts to restore it automatically by hidden partition during the PC starts.
2. What happens if you mess up updating BIOS?
Due to failed BIOS update motherboard may become ineffective. It corrupts the BIOS and stops your motherboard from booting.
3. What happens if you don't flash BIOS?
Generally, BIOS updates don't bring new features or noteworthy changes, and perhaps you won't notice any considerable benefits. However, the latest BIOS brings security patches, support for new hardware, or bug fixing.
4. What are the signs of corrupted BIOS?
The clear sign of corrupted BIOS is the PC/Laptop fails to boot to windows. If you're experiencing Windows not starting, caps lock, or num lock keys blinking. Or you'll see the Power light or charging light blink, BIOS APPLICATION ERROR 501 message, etc. These are clear signs of corrupted BIOS.
EaseUS Data Recovery Services
EaseUS data recovery experts have uneaqualed expertise to repair disks/systems and salvage data from all devices like RAID, HDD, SSD, USB, etc.