Reports of computer freezing problems never stopped. Now, it is becoming increasingly severe in Windows 10. Let's see a user story: 
My Windows 10 freezes randomly and frequently, how to fix?
"After upgrade to the latest Windows 10 update, I have been experiencing random computer freezes a couple of times. Is there any tip or fix for this?"
If you search computer freezing randomly on the internet, you can see such complaints everywhere. The issue can finally result in some other terrible problems like the black or blue screen of death, computer freezing randomly, system crash or even boot disk failure if users failed to find a way to fix it in time. In view of this, here we collect some most effective methods that said to be helpful by other users.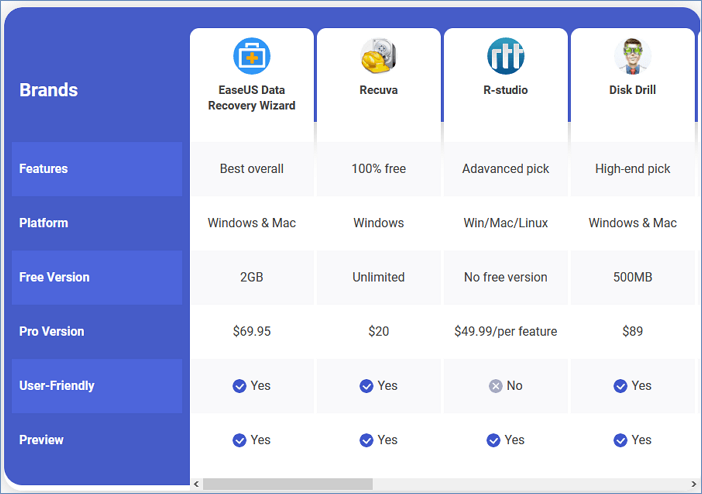 Quick Fixes for Windows 10 Computer Freezing Randomly
See the following solutions to troubleshoot Windows 10 computer freezing randomly. 
Fix 1. Free up Disk Space on the System Disk
Low disk space on the system disk will slow down the PC and even cause random Windows 10 freezing issue, so first, please make sure that you have enough free disk space on the C drive. If not, you can try to clean up junk files to free up some disk space using Windows 10 disk cleanup. Or trying another better solution - to extend system drive using EaseUS free partition software.
Fix 2. Disconnect All Devices
Disconnect all external USB devices even including the mouse and keyboard from the computer and then boot up to check if they are the causes of random computer freezes.  
Fix 3. Check for Faulty Hardware 
Damaged hardware is one of the factors that can trigger the computer freezing issue. But if the issue only happens in Windows 10, we can confirm that there is nothing wrong with your hardware.
Fix 4. Uninstall Incompatible Programs
Did you install any new programs before your computer freezing? If yes, it might the problem. Please try to uninstall them to see if it helps.
Fix 5. Scan with SFC to Repair Corrupt System Files
Random hangs & freezes on Windows 10 sometimes happens when system files get corrupted. To test and correct it, run a Command Prompt as administrator, in the black Command Prompt window, type: sfc /scannow. Then press Enter on your keyboard. 
Advanced Solutions to Fix Random Freezes on Windows 10 Computer
Getting tired of trying all these general methods one by one but none of them is useful? If yes, advanced solutions are offered in the next part to help. Please have a try!
Method 1. Updating All Device Drivers to the Newest 
According to users, random computer freezing usually appears after Windows 10 update. And the reason might be the incompatibility of hardware and drivers. To correct it, just update all device drivers.
1. Click the "Start" menu and click the "Settings" tab.
2. Click "Update & security".
3. Select Windows Update in the left pane and click "Check for updates"(make sure you have an active Internet connection).
Method 2. Flash Your SSD
If you have Windows 10 installed on your SSD, you might experience random freezing on your computer due to older firmware. To fix it, just install the newest firmware on your SSD.
1. Open your advanced power plan settings.
2. Expand open Hard disk and Turn off hard disk after, SET TO NEVER, and click/tap on OK.
Method 3. Perform a System Restore or a Clean Install of Windows 10
If your computer still freezes frequently and randomly on Windows 10, you may try to either perform a system restore to roll back to the previous version or do a clean install of Windows 10 to find a fix.
IMPORTANT WARNING:
Either a system restores or a clean install of Windows 10 will erase all the data you have created on your PC. To avoid this issue, please back up your data in advance. Here, EaseUS backup software is available for download to help. Here, if your PC freezes and cannot boot properly, click to learn how to backup data without booting to Windows.
Step 1: Launch EaseUS Todo Backup software and then choose "File Backup", "Disk/partition Backup" or "System Backup" for different backup purpose.
Step 2: Choose the system, disk partition, files or apps that you want to back up. Then select a destination where you want to store the backup file.
Step 3: Click "Proceed" to start the data backup process.