Is your computer working slowly? Does it hang time and again? Do you encounter app crashes now and then? Or does the screen freeze, or do you have to see weird error messages? It is when you think your system's lifespan is over or it is malfunctioning and of no use. But that's not the case. Sometimes bugs or similar technical issues cause such troubles. There's where Factory Reset has got you covered. If you are thinking about—How Long Does it take to Factory Reset your PC—we have all covered you!
What is A Factory Reset
You might often confuse soft reset, hard reset, and factory reset. All these processes vary. A soft reset is when you log off/reboot your computer. It clears the cache on your system. Hard reset is when you have an issue with your device and remove its battery to reboot it. It also clears the cache from your PC.
Factory reset is the most powerful. It clears all your data, system files, software, and programs and resets all your device settings and configurations to default.
While if you have a formatted hard drive of your computer, it is similar to that. Only the data in secondary storage or external devices are retained. There are several factory reset methods on your computer or laptop.
After a factory reset, your system reinstalls the OS and restarts. Moreover, if you want, you have to set up your device once more. It is because it resets all the settings to default. Further, you have to reinstall the software and third-party tools you initially had.
Though you find drawbacks associated with it but is not the most effective method to fix any issues on your computer, be it freeze, malfunctioning device, error messages, performance issues, or similar.
As electronic devices are machines and can malfunction at any instance. Similarly, you can reset your PC to fix any issues.
How Long Does it Take Factory Reset a PC?
Laptops and Computers require different times to perform a factory reset. It precisely depends upon your hardware configurations, the data you have, and the present condition of your PC.
Usually, the time varies from 30 minutes to 3 hours. To elaborate, if you have more data on your PC, it occupies more storage and will take longer to clean. Further, it also depends on the type of storage, Primary or Secondary. Besides, do you choose to retain the data and backup or erase and backup? Sometimes, users even wait overnight or for 6-7 hours to reset if their OC is relatively slow in functioning.
When you choose to reset, you will get two options to proceed one with Keep my Files and another with Remove everything. All your apps and settings are reset when you keep your files, but your files are retained. It takes a shorter fine to reset when you proceed with this option. It is so because the CPU does not have to delete personal files; hence, not everything is cleaned. All your files will remain on your system when the Factory Reset completes and the PC reboots.
Besides, if you proceed with Remove Everything, all your files, folders, including system and personal, and apps will also be cleaned up. Even all your system settings will be reset to default. The factory reset will take longer than usual as your files must also be cleaned up. When the process is complete and your system restarts all the files, other data will be lost.
How to Backup Data before Factory Reset
There are two methods to backup your data before a factory reset. First, you can use the Windows Backup and Restore option of Windows for the same. However, not everyone uses it. Therefore, Windows came up with retrieving data through file history, but that's not much effective. Backup and Restore is a suitable method but misses out on something where third-party tools have covered you. 
Backup using Windows Backup and Restore
Windows provides an inbuilt facility to backup and retrieve your files without using any third-party tool before performing a hard reset.
Follow the steps given below to Backup using Windows Backup and Restore on Windows 10:
Step 1: Press the Win+S keys simultaneously to open the search box opens
Step 2: Type Backup Settings and click on the first search result.
Step 3: Navigate to Backup and Restore; Select Restore my Files and go to Browse for Files
Step 4: Select all the files to Restore, and press the Next button
Step 5: Select the location where all the restored files should be transferred and then press the Restore button
Follow the steps given below to Backup and Restore files on Windows 11:
Step 1: Open the Control Panel, and then click on System and Security
Step 2:  Navigate to Backup and Restore. Under the Backup option, select Set up Backup. You might be prompted to input the administrator credentials.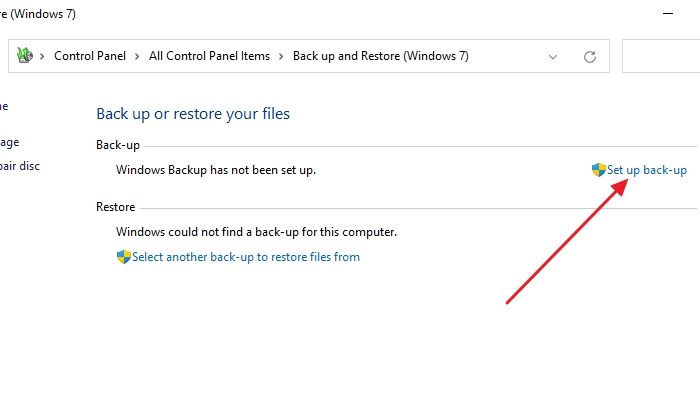 Step 3:  Choose Backup Drive, whichever you have. Press the Next button, and then click on Let Windows Choose. Then press the Next button.
Step 4:  All your files, folders, and multimedia will backup on your PC in the Backup Drive or Windows folder. Now, click on Save Settings and Run backup button.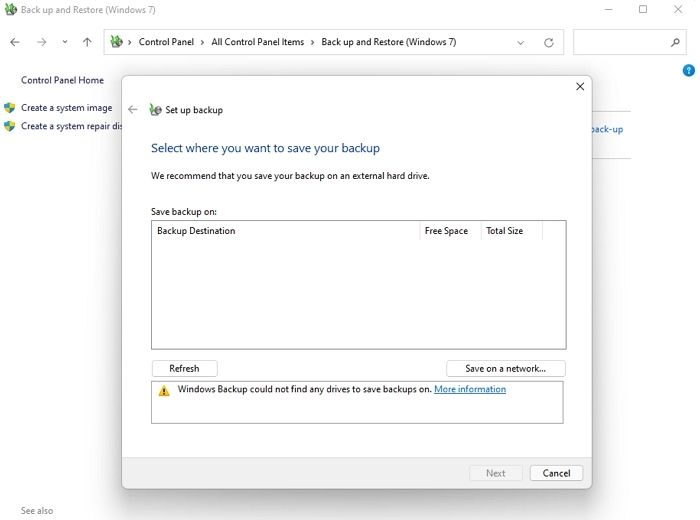 You lose some of your data when you retain all your files on your PC. Besides, if you do not choose to recover your files, it's a significant loss for you. Whichever method you go for, you will lose all your applications and software. However, you can use a third-party tool like the EaseUS Todo Backup that will backup all your data!
Backup using EaseUS Todo Backup
There are several benefits of using EaseUS for backup before Factory resetting your computer.
1. Cloud Storage: It uses cloud storage technology so that you can retrieve your files from any computer. However, it would help if you had an internet or WiFi connection to access your files.
2. Easy to use: The tool is easy to use, a friendly GUI. It is as simple as the Windows OS to use. You do not need to be adept with Command Line or technical skills.
3. Budget-Friendly: The EaseUS backup tool has several premium plans that you can choose, varying on your needs. 
4. Speed: One of the biggest boons of using EaseUS Todo Backup is better speed. You can transfer all your data, including applications, personal files, and other media, without wasting much time. Besides, it understands storage concerns and hence occupies less space.
Moreover, the tool is reliable and has been operating since 2004. It nails upon client satisfaction and does not lead to any data loss.
How to Perform a Factory Reset on a PC
As mentioned earlier, a factory reset is essential. So, if you are facing any problems with your PC or want to boost its performance, you must choose to rest your system.
Follow the steps given below to Factory reset your PC:
Step 1: Open Windows Settings using Win + I
Step 2:  Navigate to System > Recovery and click on Reset PC.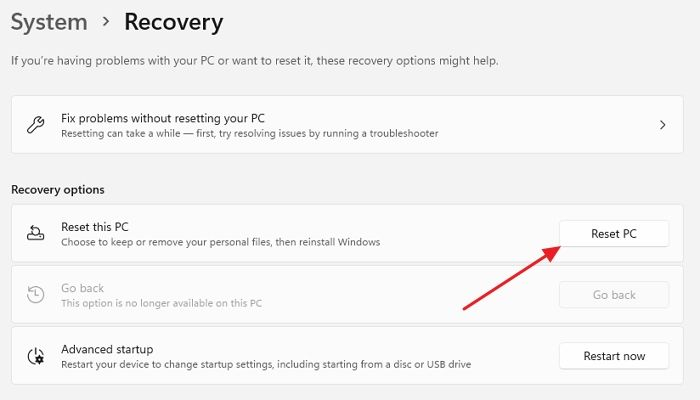 Step 4:  Now, you will get two options Keep my Files, or Remove everything. Select the one that suits your interests.
Step 5:  Another window will open saying Ready to Reset your PC, and it will display the information stating the effect a reset will have.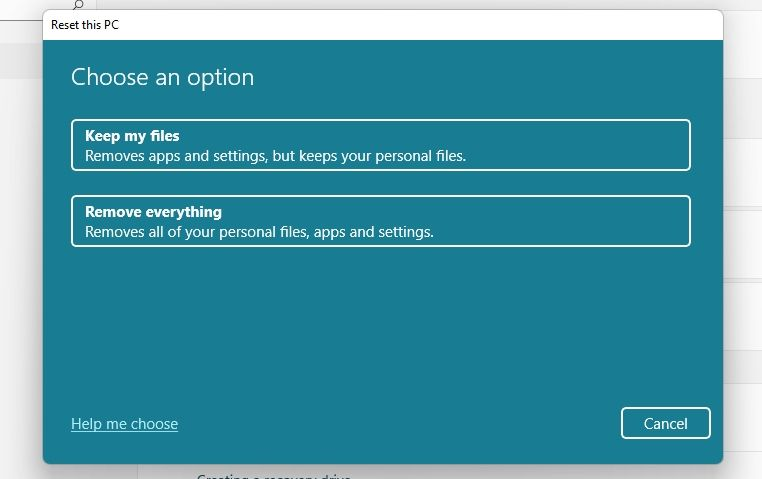 Step 6: Now, after reading, click on the Reset button. Further, your PC will start with the reset process, which takes variable time for different computers. After completing the reset process, your system will reboot.
How to Fix PC Factory Reset Stuck?
While performing a factory reset, your pull often encounters PC Factory Reset Stuck issue. But you need not worry; several fixes will let you resolve the problem!
Method 1: Wait for a While
Factory reset takes longer to run and complete. However, as it takes longer, you must wait a bit longer. Factory reset takes variable time as per your data and hardware configurations. For example, suppose your hard drive's LED light blinks, which signifies that the reset is running. So, you have to wait for the reset process to complete. Many people have been notified that their reset took longer than required. Several users have had to run factory reset and left it overnight to complete.
Method 2: Fix your Network Connection
It has been reported that internet connection often leads to factory reset screen issues. Therefore you have to disable the internet on your PC to finish the factory reset.
Follow the steps given below to do so:
Step 1: Unplug the Ethernet Cable on your PC.
Step 2: Switch off your router.
Step 3: Your Internet connection will be disabled, and the reset will be complete. After the process, you can turn on your router and plug the ethernet cable back into your PC.
Method 3: Modify the BIOS Settings
Improper BIOS Settings are often the issue. That leads to a factory reset problem. It's because BIOS functionalities interfere with Factory Reset on your PC. You have to configure the BIOS Settings on your PC. You have to deactivate Secure Boot and activate CSM for the same.
Further, choose USB Boot if you need it. Your Boot device should be a USB or boot disc. Now, save your changes and run a factory reset one more time. If you are unfamiliar with BIOS, then you can try any other methods or take expert help.
Method 4: Clean Install Windows OS
Sometimes, you would have no other option but to reinstall your Windows Operating System. To do so, you must clear install your Windows OS and proceed. Before doing so, again, you should backup all your files to restore them afterward.
Using these methods, you will get rid of the hard reset stuck on the screen.
Summary
If you were wondering about How long does it take to Factory Reset a PC, then you would have got your answer. As a factory reset takes away all your data, it is essential to Backup before the process. It usually takes around 30 minutes to 3 hours to reset, depending on your device configuration. Further, you can use Windows Backup and Restore or EaseUS Todo Backup for the same.
We recommend using the EaseUS Todo Backup option is safe and reliable. It can be your one-stop tool for all kinds of backups and later restores.
EaseUS Data Recovery Services
EaseUS data recovery experts have uneaqualed expertise to repair disks/systems and salvage data from all devices like RAID, HDD, SSD, USB, etc.