Don't worry if your phone keeps warning you that "The SD card is unexpectedly removed". This page answers this question of how to fix the SD card unexpectedly removed in 3 reliable fixes. Check and follow to make your SD card work now:
Workable Solutions
Step-by-step Troubleshooting
Fix 1. Re-mount SD Card
On Android phone, go to Settings > Storage > Unmount SD card > Remove SD card and reinsert it...Full steps
Fix 2. Reformat SD Card
Unplug and

insert SD card to PC > 

Scan and restore all SD card data first > Format it to FAT32...Full steps
Fix 3. Factory Reset Android
Backup Android data to PC first > Go to settings > Backup & reset > Factory data reset...Full steps
"My Samsung S7 Edge keeps saying SD card unexpectedly removed. This error message occurs when I tap on an app. I have restarted the phone many times, but the issue still exists. Why does the SD card keep disappearing? Is the card corrupted or something goes wrong with the phone?"
Android devices allow users to use an external SD memory card (TF card) to expand the storage capacity of the phone. So you might add a large SD card to your phone. While the longer you use the phone, the more likely it gets a problem. One of the problems that happen to Android phones is "SD card unexpectedly removed". If you are undergoing the same issue, this article is ready to help.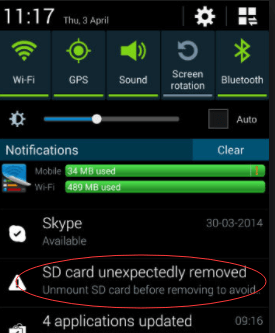 Why Does My SD Card Keep Ejecting
Here we have listed several possible reasons for SD card unexpectedly removed.
Your phone or SD card is damaged and makes a loose connection
Reinsert the card several times and restart your phone.
Or take out the card and connect it to the other phone of your family's or friend's, check if the memory card is ok.
SD card becomes corrupted
Usually, it develops bad sectors on it, you need to repair damaged SD card.
SD card is incompatible with your phone
A class 10 SD card won't get along with a phone that can only handle a class 2 or 4.
The SD card is just broken beyond fix
Give up the card and buy a new one.
How to Fix SD Card Unexpectedly Removed Error [3 Fixes]
Below are three methods of how to fix the SD card keeps disconnecting on your Android problem. Choose the troubleshooting workaround that suits you best.
Fix 1. Unmount and mount SD Card
Sometimes, it is the mobile phone or digital camera hardware failure that causes SD cards to be unreadable, showing the "unexpectedly removed" error. For Android phone users, you can unmount an SD card on your phone and then mount it again after rebooting your smartphone.
Step 1: Go to Settings > Storage > scroll down and select "Unmount SD card".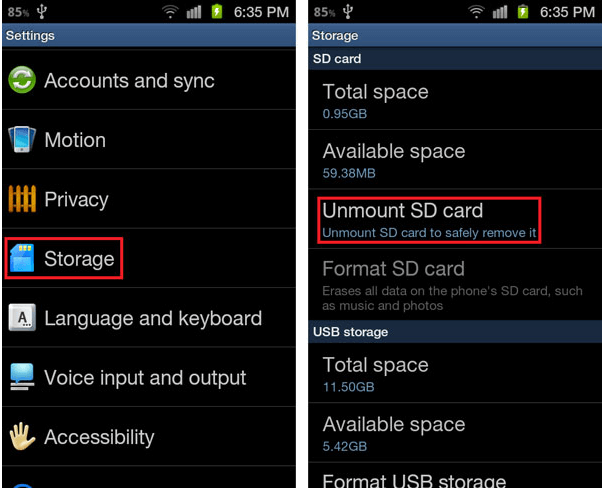 Step 2: After unmounting your SD card, remove it from the device.
Step 3: Now turn off your smartphone, and wait for a few seconds.
Step 4: Insert the SD card and then turn it back on.
Step 5: Again, go to Settings > Storage > this time select "mount SD card".
After finishing all these steps, you can check if the "SD card unexpectedly removed" error still exists.
Fix 2. Re-format SD Card
If your SD card is not formatted, the "not formatted" error will cause your phone to be unable to read the card, and send the message "SD card unexpectedly removed". In this case, reformatting the SD card can remove the constantly generated error message.
Formatting an SD card would erase all existing data on it. So do not directly format the SD card; recover the data on it first. Here we recommend a third-party data recovery tool - EaseUS Data Recovery Wizard for you to get the job done.
What EaseUS Data Recovery Wizard Can Do:
Recover deleted files from Recycle Bin, formatted, and RAW files in three steps.
Cover most data loss scenarios like virus attack, power failure, system crash, etc.
Support to preview the recoverable files before executing recovery.
100% secure and works well on both Windows and Mac computers.
Download EaseUS Data Recovery Wizard and follow the steps below to recover your SD card data first.
Note: To guarantee a high data recovery chance, install EaseUS data recovery software on another disk instead of the original disk where you lost files. 
Step 1. Launch EaseUS Data Recovery Wizard on your Windows 11, Windows 10, Windows 8, or Windows 7 computer. Select the disk partition or storage location where you lost data and click "Scan".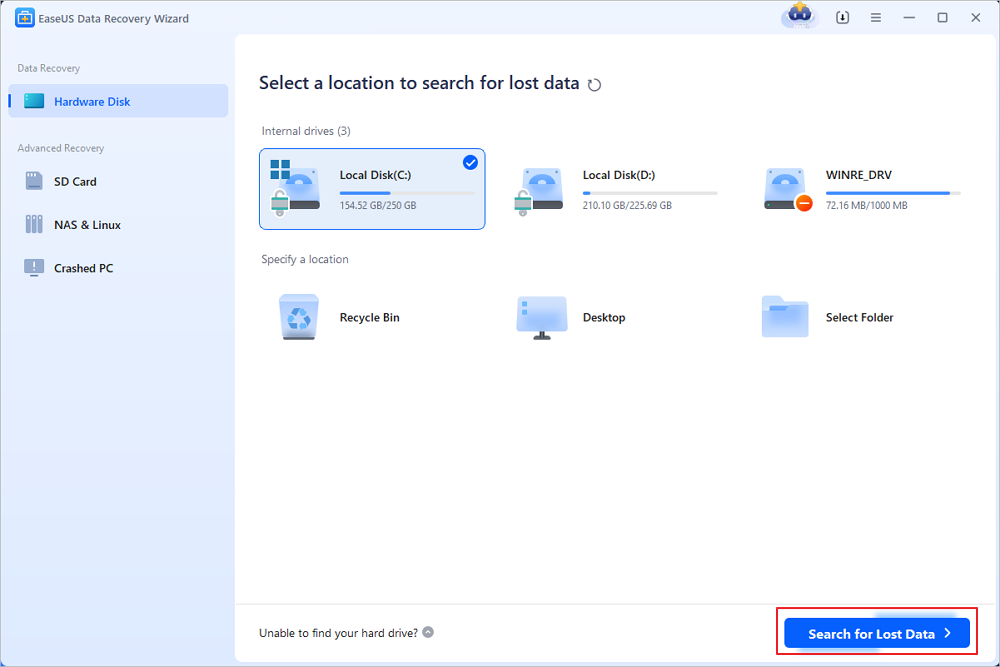 Step 2. This recovery software will start scanning the disk to find all lost and deleted files. When the scan process completes, click "Filter" > "Type" to specify lost file types.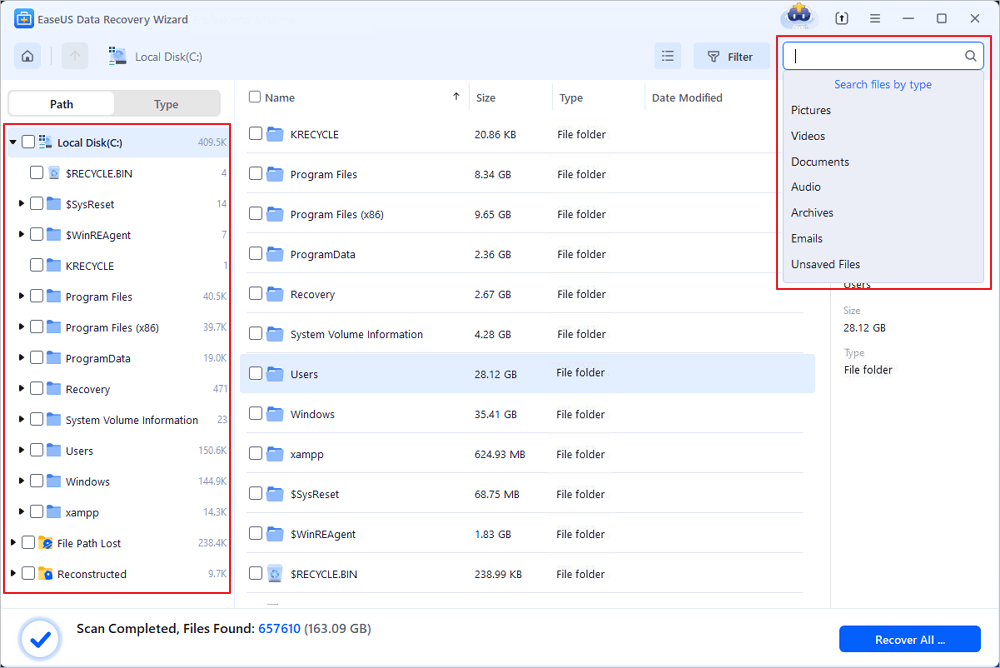 Step 3. Preview and restore lost Windows files. You can double-click to preview the scanned files. Then, select the target data and click the "Recover" button to save them to another safe spot in the PC or an external storage device.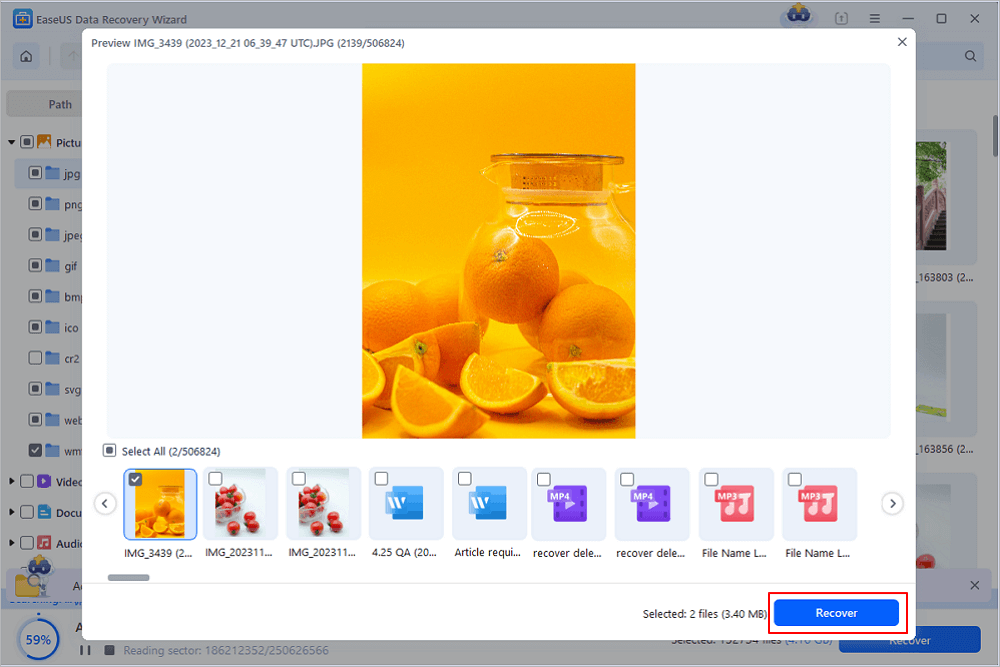 Now you can format the SD card via Windows File Explorer, Disk Management, CMD, or a free disk format utility. All options are free to use. Here we take the Windows File Explorer as an example.
Step 1: Connect the SD card with a card reader to your PC.
Step 2: In the Windows File Explorer, right-click the removable disk that represents your card, and select "Format."
Step 3: On the popup window, choose FAT under "File System" and Default Allocation Size under "Allocation Size". For other options, leave alone.
Step 4: Click "Start" to format the disk. Safely eject the SD card and insert it back to the phone. No error messages are there again. You'll get a blank card for reuse.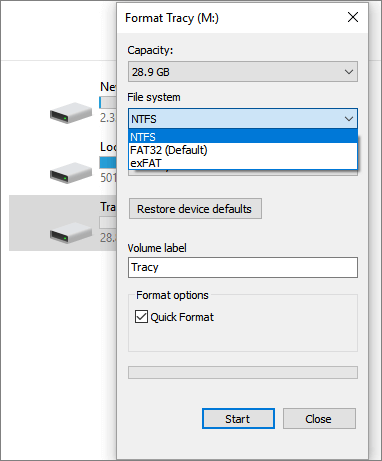 If Windows was unable to complete the format, you can only use the cmd or third-party free partition manager to format the problematic SD card.
Fix 3. Factory Reset Android
The last resort to remove the SD card removed unexpectedly error is to factory reset the Android phone. It's a risky operation, but most times, it solves the problem. 
Step 1: Go to Settings > Backup & reset > Factory data reset.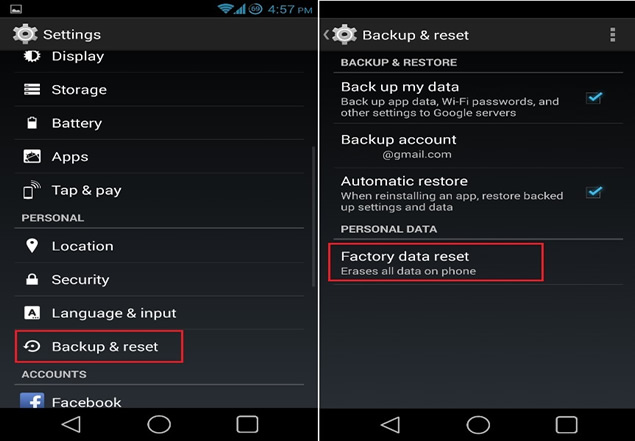 Step 2: Tap Erase all data (factory reset) and then Reset phone or Reset tablet. If needed, enter your PIN, pattern, or password.
Step 3: To erase all data from your device's internal storage, tap Erase everything.
Step 4: When your device has finished erasing, pick the option to restart.
Step 5: Set up your device and restore your backed-up data.
If all attempts failed eventually, contact the manufacturer and request a new phone or SD card if it's under warranty.
EaseUS Data Recovery Services
EaseUS data recovery experts have uneaqualed expertise to repair disks/systems and salvage data from all devices like RAID, HDD, SSD, USB, etc.