Have you recently purchased any MacBook Pro iMac, Mac Mini, MacBook Air, or Mac Studio? If yes, all these gadgets undoubtedly utilize Apple's own processor, for example, Apple M1 chip and Apple M2 chip. However, eventually, all these devices will get slower, and you might need a factory reset to make it faster!
The factory resetting M1 Mac to retrieve your MacBook to factory defaults implies deleting all data and reinstalling an empty macOS. Hence, this factory reset process might be distinguishable with the M1 Mac, including the M1 Mac mini, M1 MacBook Air, and others. Several situations exist when you should factory reset M1 Mac minis: you may want to sell it or troubleshoot the errors to optimize its performance.
But you should know that a factory reset includes eliminating all the contents, such as data, files, and the OS preserved on your MacBook. Basically, a factory resetting process is to erase M1/M2 Mac and reinstall macOS on M1/M2 Mac. However, this article will provide you with detailed steps of factory resetting. Before that, let us start with a video about factory resetting. You can check the key points first:
00:22 Click here on the Apple logo.
00:31 Select "System Preferences".
00:45 Erase all content and settings under "System Preferences".
What to Do Before Erasing All Content and Settings on M1 Mac
Are you willing to perform a factory reset M1 Mac? Before you factory reset macOS, you must have a proper data backup. If you're wondering what data retrieval tool to use to recover the omitted data from your M1/M2 Macs, EaseUS Data Recovery Wizard for Mac is your one-stop solution.
It's a professional data retrieval software for Macbooks, which can help you recover files after reinstalling macOS Ventura update and recuperate your lost data because of accidental deletion, open trash bins, and others.
This premium software helps solve several challenging data loss instances. You don't have to worry about how to recover deleted messages on Mac, you can recover deleted images, emails, documents, and more from all types of Mac-based devices. This functional recovery tool supports Mac hard drive recovery, Mac SD card recovery, Mac USB recovery, and so on. Some of its recovery features that can make the recovery more comfortable are the following:
File filter
Recover to Cloud
File preview
Create bootable media
These top-notch features will help you locate accidental deletion of data from scanning results and make your recovery easier. Let us start recovering files with EaseUS Data Recovery Wizard for Mac:
Step 1. Search for lost files
Select the disk location to search for lost files (it can be an internal HDD/SSD or a removable storage device) on macOS Sierra, High Sierra, Mojave, Catalina, Big Sur, Monterey and the latest Ventura. Click the "Search for lost files" button.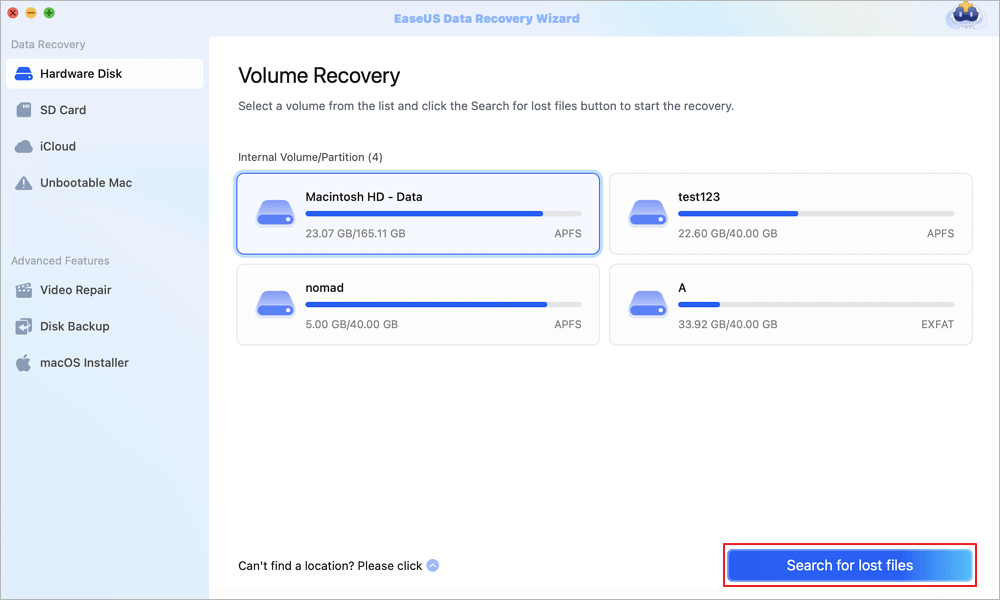 Step 2. Go through the scanning results
EaseUS Data Recovery Wizard for Mac will immediately scan your selected disk volume and display the scanning results.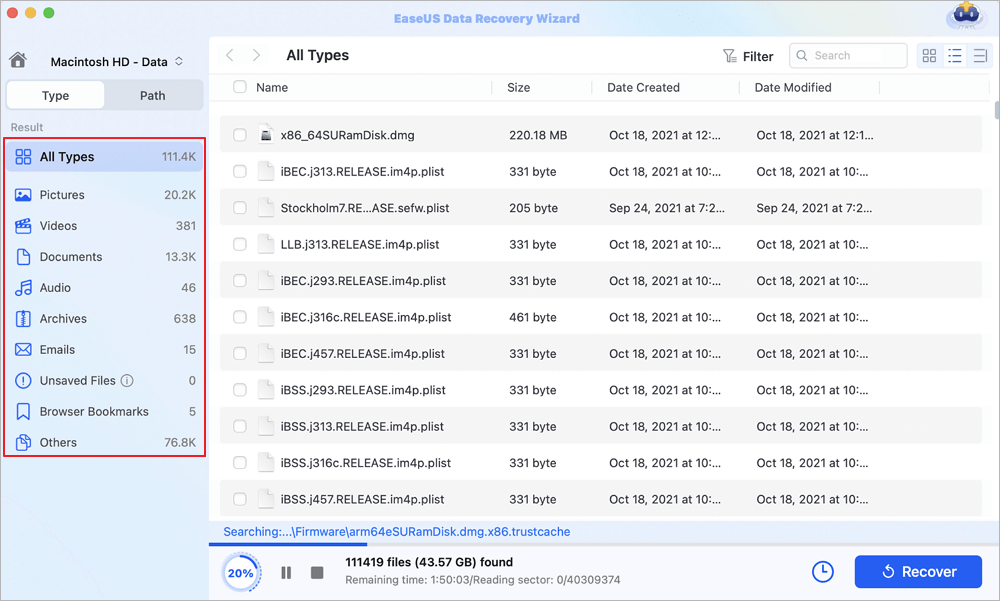 Step 3. Select the file(s) and recover
In the scan results, select the file(s) to preview and click the "Recover" button to have them back.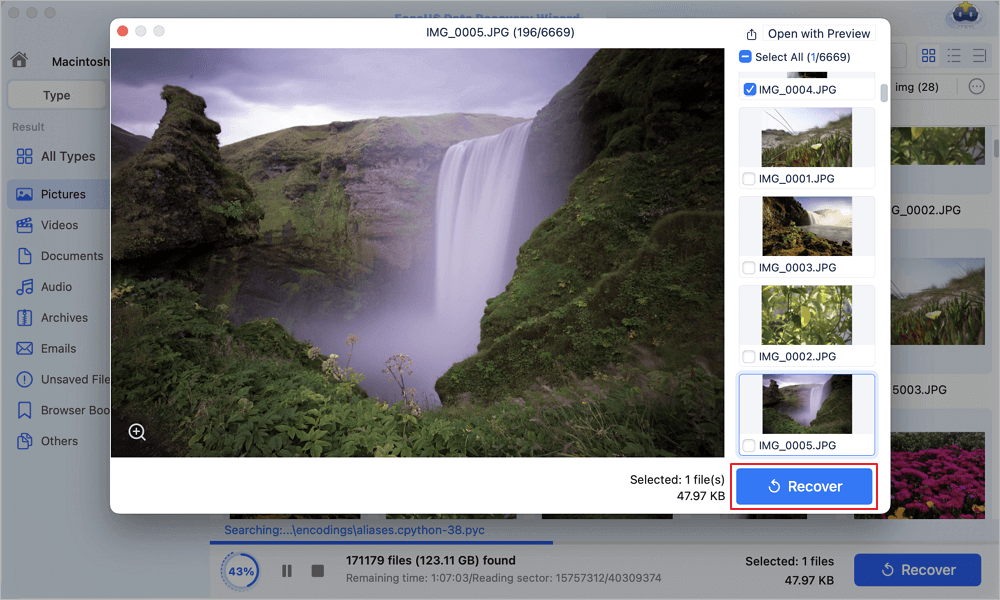 Factory Reset M1 Mac with Mac Erase Assistant
Prior to factory resetting the M1 Mac, you must log out of every account, for example, iMessage and iCloud, and back up your Macbook. In case you have a brand-new Mac running macOS Monterey, factory resetting will be more accessible due to the support of Mac Erase Assistant. These are the leading steps shown below:
Step 1. Open System Preferences. Hit the Apple logo from the top-left edge of the MacBook screen, and opt for System Preferences from its dropdown menu.
Step 2. Open Mac Erase Assistant. Besides the Apple logo, there is an option named "system preferences" in the menu bar. You must opt for "Erase All Content and Settings" from the dropdown menu.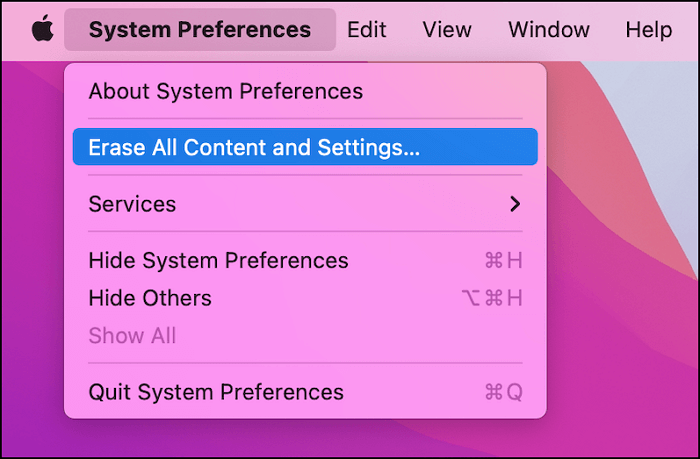 Step 3. Go with the Erase Assistant prompts. The Mac Erase Assistant will help you walk through the factory reset M1 Mac process, requiring you to log out of iCloud before the process is completed.
So, once you have gone through all the steps, your Mac will quickly reboot and get back to the factory settings, even though it will continue to run the most recent version of macOS rather than the one that came preinstalled.
Factory Reset M1 Mac in Recovery Mode
Are you wondering how to factory reset the M1 Mac? Several techniques are there to retrieve M1 Mac, and we will discuss two distinct recovery modes: factory resetting with disk utility and reinstalling macOS. This method will be useful when you need to factory reset Mac without password.
Fix 1. Factory Reset M1 Mac with Disk Utility
Prior to eliminating your M1 Mac, you need to install the newest macOS updates and keep a backup of every important file. However, you can easily erase the M1/M2 Mac with disk utility. The steps are given below:
Step 1. Switch on your MacBook and keep pressing and holding the Apple Power button until you notice the startup options window. You need to opt for "Options" and hit continue afterward.
Step 2. If prompted, choose a user whose administrator password you are familiar with and input it.
Step 3. Type the Apple ID and password, which were associated with the Mac if asked.
Step 4. Choose Disk Utility from the utility window, and hit continue.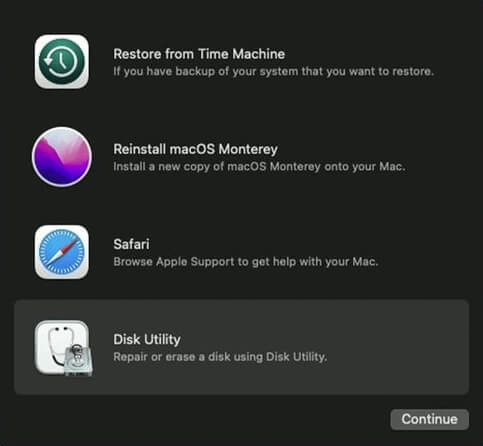 Step 5. Search for the volume termed Macintosh HD, which must be located in the internal section of this Disk Utility sidebar.
Step 6. Opt for every additional internal volume in the sidebar in case you previously utilized Disk Utility in order to incorporate volumes into your startup disk. After that, hit the delete volume button to eliminate the volume in the toolbar.
N.B: The volumes in the External and Disk Images sections of the sidebar, as well as any internal volumes with the titles Macintosh HD or Macintosh HD - Data, should be overlooked at this point.
Step 7. Macintosh HD should be chosen from the sidebar.
Step 8. Select a name and a format; after that, hit the Erase button in the toolbar.
Step 9. In case you notice an "Erase Volume Group" button, hit that button instead of clicking erase.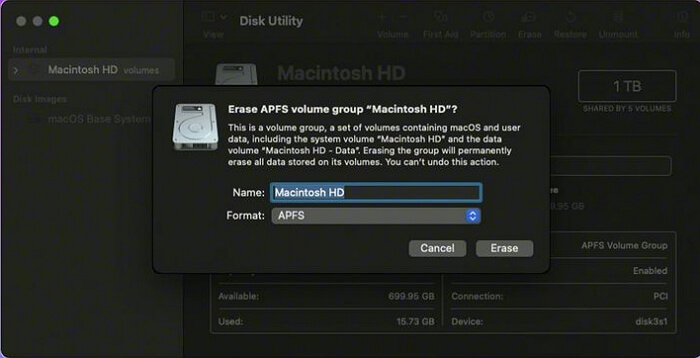 Step 10. Type your Apple ID if asked.
Step 11. Opt for the "erase Mac & restart" option whenever asked if you're sure about eliminating this M1 Mac.
Step 12. Follow the onscreen prompts to select your language after your Mac resumes.
Step 13. For Mac activation, Wi-Fi is required.
Step 14. Hit the "Exit" option to Recovery Utilities after Mac gets activated.
Fix 2. Factory Reset M1 Mac with Reinstall macOS
Once you've erased the drive, the final step is to reinstall macOS. The steps are shown below:
Step 1. Hit "Reinstall macOS."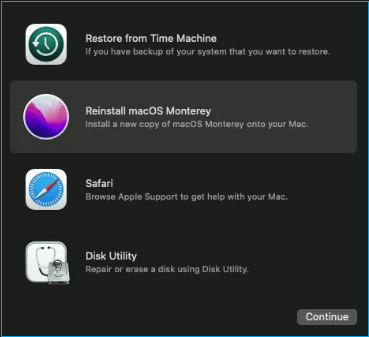 Step 2. Choose the continue button.
Step 3. Opt for a boot drive, and hit "Install." In case you're allowed to select between Macintosh HD - Data or Macintosh HD, it's advisable to choose Macintosh HD.
Step 4. Restart your Mac once the installation is over.
Step 5. Reinstallation of the Mac can take a couple of minutes. So, you must be patient!
Summary
Once you have gone through the steps mentioned earlier, your Mac will reboot after a factory reset. However, if you're thinking of using that M1 Mac again, it would be better to reinstall macOS on M1/M2 Mac. If you encounter data loss when you are using your Mac, install EaseUS Data Recovery Wizard for Mac to get back the lost files in one click.
Factory Reset M1 Mac FAQs
For a better understanding of the topic, let's consider the below FAQs:
How do I wipe my Mac M1 for sale?
You may reset your M1 Macbook to erase all content by restarting the Mac. After that, press and hold the Command + R. Select the recovery app window, and choose the Disk Utility, and hit the continue button. However, in the Disk Utility section, choose the volume you would like to erase in the sidebar, and after that, hit Erase in the toolbar.
How do you reset a Macbook Air M1 Monterey?
The steps are given below:
1. Log out from everywhere.
2. Boot macOS retrieval.
3. Eliminate the boot drive.
4. Reinstall macOS.
How do I wipe and reinstall M1 Mac?
Shut down your M1 Mac and keep pressing and holding the power button until the "Loading startup options" pop up. After that, you must select options, hit continue, and follow the onscreen guidance. Choose Reinstall for your macOS release in the Recovery app window, click Continue, and then adhere to the prompts on the screen.
How do I completely wipe my m2 Mac?
You can entirely wipe M2 Mac by:
1. Select the Apple logo and system preference.
2. Again, select system preference and choose "Erase content and settings."
3. Type your Macbook M2 password.
4. Hit continue and provide your Apple ID.
5. Type a verification code sent to your device.
6. Hit continue.
7. Click "Erase all content."

Dany is an editor of EaseUS who lives and works in Chengdu, China. She focuses on writing articles about data recovery on Mac devices and PCs. She is devoted to improving her writing skills and enriching her professional knowledge. Dany also enjoys reading detective novels in her spare time.