An external hard drive has many uses and gives us great convenience. But can you use it forever? Without a doubt, the answer is no. However, do you know the external hard drive lifespan? This page will give a detailed guide on it. So continue to read and learn more.
External Hard Drive Lifespan: How Long Does It Last?
In this part, we focus on the external hard drive lifespan. Assuming no physical damage occurs, the average life span of an external hard drive is about 3-5 years. Your external hard drive will certainly last longer if you carefully handle it. However, hard drives are delicate pieces of hardware, and a minor knock or bump can cause significant damage.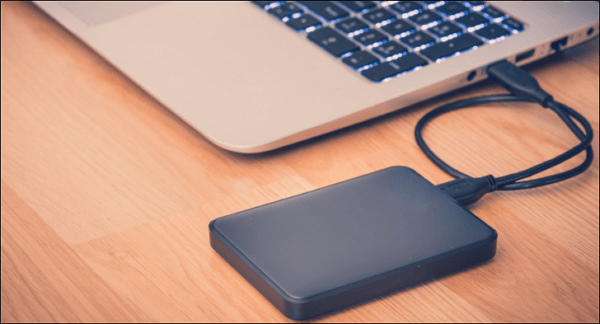 Besides, there will be some differences between SSDs and HDDs. There is a link to help you learn more about their lifespans.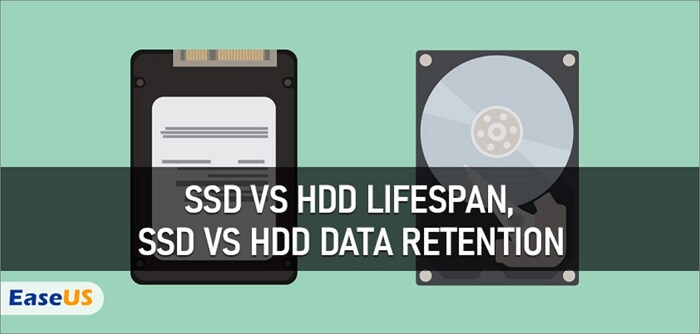 If you use an external hard drive to back up your data, you can replace it every few years to keep your data safe. However, a safer and more secure option is to back up an external hard drive to another external hard drive or NAS. Why does external hard drive lifespan vary? Continue to read.
What Affects External Hard Drive Lifespan?
External hard drive lifespan depends largely on how we use it and other factors such as configuration, brand, size, and environment. Next, let's learn how these factors affect its lifespan. 
1. Configuration
Some external hard drives are mechanical with removable parts inside, which makes it easy to suffer physical damage. In addition, the way HDDs are mechanically built gives them somewhat of a random failure potential. On the other hand, with fewer moving parts, greater shock resistance, and less heat generation, SSDs can last more than five years on average.
2. Environment
Where do you put your external hard drive? The environment is quite important. Temperature, humidity, and dust can have a big impact on the life of an external hard drive.
Unlike hard drives in desktop computers, external hard drives are designed to move around, which increases the risk of exposure to moisture. 
Humidity:
When moist air gets inside an external hard drive, internal components can oxidize, and a small amount of internal rust can cause heads to crash. The humidity is proper if it is between 45~65%.
Temperature:
As for temperature, neither too hot nor too cold is allowed, as this can lead to the failure of the drive's circuit components. It will be good if you keep the temperature from 20 to 25℃.
Dust:
Dust should not be ignored. Dust can get inside the external hard drive and accumulate on the internal circuitry and components of the hard drive for a long time, affecting the heat dissipation of electronic components.
3. Brand
Likewise, the brands of drives vary. The best-known drive brands are Seagate, WD (Western Digital), Toshiba, and Hitachi (acquired by WD in 2012).
Toshiba and WD external drives are both good. Seagate's external drives are the cheapest but less reliable. Hitachi drives are consistently reliable. In Backblaze tests, Seagate failed more often than WD or Hitachi drives. Also, based on Backblaze's testing, you can see that Toshiba drivers are more reliable than WD and Seagate drivers.
There is a link to help you if you want to know how long a hard drive lasts.
Since so many factors can affect the external hard drive lifespan, we need to take good care of our external hard drives to keep them longer. However, how? Let's continue.
How to Prolong External Hard Drive Lifespan - 5 Suggestions
Keeping an external hard drive longer is significant since it may store our private data or other important data. However, how to keep it longer? There are five suggestions in this part to help prolong the external hard drive lifespan.
1. Monitor External Hard Drive Health Regularly
Regular check is important. To finish this, you may like to know EaseUS Partition Master Free. It is a professional hard drive manager and can fix corrupted file systems to repair corrupted external hard drives. There are 2 guides on how to use it to monitor your external hard drive condition.
Guide 1. Use EaseUS Partition Master to Do Disk Surface Test
It can do a surface test to check the health condition of your external hard drive. There is a video to help you check the condition of your external hard drive with EaseUS Partition Master.
Step 1. Open EaseUS Partition Master. Right-click the disk that you want to check, and then click "Surface Test".
Step 2. The operation will be immediately performed and all bad sectors will be marked as red.
Guide 2. Use EaseUS Partition Master to Check Disk/Partition Error
Besides the disk surface test, EaseUS Partition Master can also check disk and partition errors. Let's see how.
Step 1. Right-click the target partition that has a problem.
Step 2. Choose "Advanced" > "Check File System".
Step 3. Confirm if you want to hide the partition or not.
Step 4. In the Check File System window, check the "Try to fix errors if found" option.
Step 5. Click "Start" to check errors on your partition.
After this process, you can find the bad sectors on your external hard drive to fix. Besides, EaseUS Partition Master can also convert MBR to GPT without data loss, convert FAT32 to NTFS, or format your external hard drive.
2. Control the External Temperature
External hard drives get hot when they are powered on and active. So it is important to keep the hard drive away from warm or hot conditions that could cause the drive to generate more heat and thus put more unnecessary stress on it. It is much more difficult to damage a drive at a lower temperature than at a higher temperature.
3. Don't Keep It on Power All the Time
The more active your external hard drive is, the more it works - even when it's idle - and the more it works, the more wear and tear it suffers.
4. Safely Eject the External Drive from the Host System
Perform this action before physically disconnecting or powering down the enclosure. This will help prevent potential data corruption, which can lead to more devastating hard drive failures in the long run. Follow these steps and you can safely remove your device.
Step 1. Right-click on the external hard drive on the toolbar below.
Step 2.  Click "Eject" and wait until it is removed safely.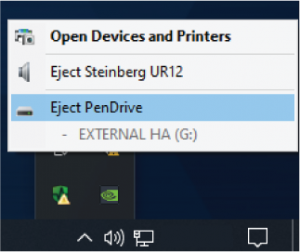 5. Try Not to Mess With the Connections
Avoid inserting or unplugging the external hard drive too often. This may damage the connection and may also lead to data corruption. Set it aside, glue the cable to your desk, or do whatever you must to ensure it doesn't move. Or, you may suffer some errors, such as external hard drive access denied.
Conclusion
The external hard drive lifespan comes down to many influencing factors. Do take care of your external hard drive well. And please always be prepared for data loss. It will be wise of you to back up your external hard drive. 
Besides, if your external hard drive doesn't show the full capacity, just click:
FAQs About External Hard Drive Lifespan
There are some questions related to external hard drive lifespan. If you are interested or facing the same problems, continue to read.
1. Should an external hard drive always be on?
Better not, because the more active an external hard drive is, the more likely it is to wear out. Therefore, power it on when you need to use an external hard drive.
2. How can I make my external hard drive last longer?
Power on the drive when you need to use it.
Do not move or turn off the computer while working.
Ejecting it from the computer safely before powering it off.
Keep away from humid, hot, or cold environments.
Not overloading your external hard drive.
Monitor the health condition of the external hard drive regularly.
3. Can an external hard drive last ten years?
Maybe, but most external hard drives last three to five years. You can prolong your device's lifespan if you take good care of it.
EaseUS Data Recovery Services
EaseUS data recovery experts have uneaqualed expertise to repair disks/systems and salvage data from all devices like RAID, HDD, SSD, USB, etc.