Windows bootable USB drive, mainly contains Windows official ISO files, is mainly used as an OS installation media. With it, you can boot PC from the bootable USB and install Windows OS successfully regardless the computer is running or dead. You can also use the bootable USB to repair some PC errors by setting PC to boot from the USB.
However, some users complain that the bootable USB is not working and the don't know why. Check out the reasons and follow to make your Windows bootable USB work again:
Error - Windows 10 Bootable USB Not Working
"My laptop is not booting from a bootable USB drive, help. I have a Seagate 1TB hard drive on my computer with Windows 7 on it, but I want to install Windows 10 on the through a Windows 10 bootable USB drive. 
Here is the thing that my laptop isn't booting form the USB. The BIOS setting is correct, the priority is the USB bootable drive. Why is my USB not bootable?"
A Windows bootable USB memory stick holds everything which enables a computer to boot up so as to reinstall Windows or fix some system errors. Sometimes, your created bootable USB may not work in your hand, it's worth your while to stop by this article.
Here, you'll learn why is your USB not bootable and how to turn USB back into bootable again on Windows 11/10/8/7.
Causes - Why Is Your USB Boot Drive Not Working
When you set PC to boot from the bootable USB but it's not working, it's important for you to figure out the exact causes first. Then, pick up the right fix to make your USB bootable again with ease.
Find out the reason that make your bootable USB not working:
USB format is not supported.
USB is not bootable.
Bootable USB is not detected as a boot device.
Bootable USB not showing up or recognized in bios.
Stuck on the boot menu screen and won't proceed.
Can't boot from USB, even select the right boot option.
Troubleshoot - Fix Windows Bootable USB Not Working (4 Fixes)
You may want to know how do I fix this error, attempting boot from USB, right? In this part, we'll discuss and show you the exact steps to turn USB back into bootable again on Windows 11/10/8/7 in * effective methods:
Before you start, we suggest you test the bootable USB drive on another computer first. It the USB boot up on the other computer, the problem is with your computer.
Let's start fixing your bootable USB not working error on Windows 11/10/8/7 with ease now.
Fix 1. Change USB Format to FAT32
As many external USB drives are formatted as NTFS and computers won't be able to detect or even boot from your USB if it's not formatted as FAT32. 
Then, here comes the issue, USB unbootable. So make sure that your USB is using FAT32 currently. 
If not, format it to FAT32 with the following steps:
Step 1. Connect the USB drive to your PC.
Step 2. Press Windows + E keys to open File Explorer.
Step 3. Right-click on USB and select "Format".
Step 4. Set the file system as "FAT32", tick "Quick Format" and click "Start".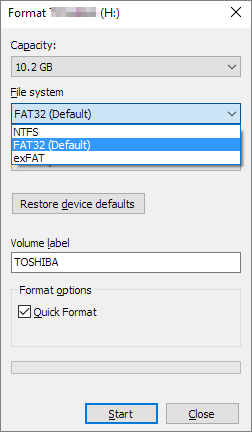 Wait for the process to complete. After this, you'll need to re-create a new bootable drive with Windows ISO files. If your USB is bigger than 64GB, Windows File Explorer may not be able to execute the formatting. 
In the case, you may follow to Format 128GB USB to FAT32 for help. 
Now, you need to move to the next fix, creating a new Bootable USB.
Fix 2. Create a New Windows Bootable USB
Mostly, the reason why your bootable USB not working is that it's not correctly created. You can reformat the USB and create a new bootable USB for Windows installation or computer repair.
USB specifications: 1. Empty; 2. 8GB or bigger capacity.
Steps to Create Windows 10 Bootable USB:
Step 1. Download Windows Media Creation Tool.
Step 2. Connect USB to PC and double-click to install MediaCreationTool.
Step 3. Select "USB flash drive" and click "Next" to continue.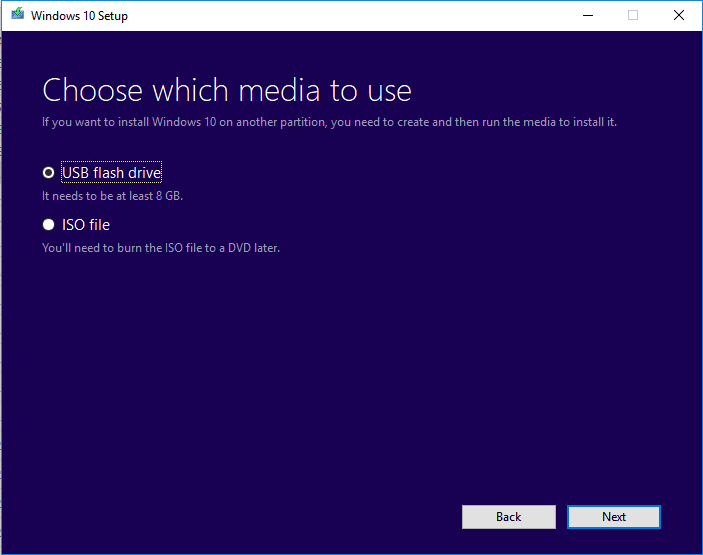 For the onscreen tutorial to complete the process.
Steps to Create Windows Bootable USB on Windows 8/7:
Step 1. Download Windows 8 or Windows 7 ISO file.
Don't open the downloaded ISO image
Don't unzip the IOS image
Step 2. Burn or flash the Windows ISO image to USB using a third-party tool.
After this, the USB is bootable and you can follow the Fix 3, 4, 5 to set up USB so as to allow the PC run from it smoothly.
Fix 3. Set USB as Boot Drive - Setting Boot Priority to USB Drive
Another reason why USB not working is that sometimes people connected the USB drive to the PC but forgot to set up the USB as a boot device. Windows cannot detect it. So the best way is to set up the USB.
Here are the steps:
Step 1. Connect USB Bootable drive to PC.
Step 2. Restart PC, press F2/F8, or Del to enter BIOS.
Step 3. Go to the Boot option, set USB as the first boot drive.
Step 4. Save the changes, run PC to boot from the bootable USB.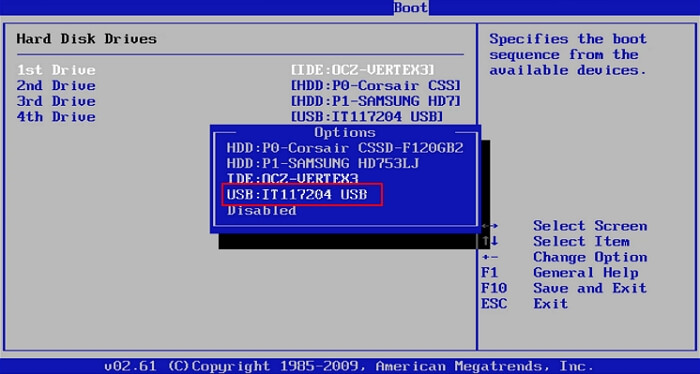 If this still not work, continue with Fix 4.
Fix 4. Disable Secure Boot Control, Enable CSM or Legacy Boot Mode
Most new computers and laptops would use UEFI/EFI to boot from USB. So, by enabling Legacy Boot Mode and disabling Secure boot will help to configure your computer to boot from the UBS drive.
Here are the steps:
Step 1. Keep the bootable USB to PC.
Step 2. Restart PC and press F2/F8 or Del to enter BIOS.
Step 3. Click "Secure Boot Control" and select "Disabled".
Step 3. Click "Boot" and select "Launch CSM", change "Disable" to "Enabled".
Step 4. Click "UEFI/BIOS Boot Mode" and select "Legacy". 
After this, save all the changes and restart PC. Now, your computer may be able to run from the Bootable USB again. After entering the bootable USB, you are now good to go installing Windows or repairing PC.
Bonus Tip - Create Windows Emergency Disk - Bootable USB Alternative 
Sometimes, you may not want to install a new Windows OS but need a Windows recovery disk that can bring you back to a healthy state of your current Windows OS.
If this is what you want, stay here. In this part, you'll show you how to create a Windows emergency disk with reliable third-party USB bootable software.
EaseUS Todo Backup, a reliable Windows backup software, with its System Backup and Emergency Disk feature presents you an excellent option to restore your computer OS back to a healthy state anytime:
Pros: Easy to use, Supports all Windows OS, System restore anytime.
#1. Backup OS
Step 1. To backup only Windows 10 on your computer, please directly choose the option "OS" on the home screen.
Step 2. Now the new window pops up, where you can customize your own Windows 10 backup by choosing a backup location(HDD, USB hard disk, network drives, Cloud drives...), adding a plan name and text description to it. 
Since it's about backing up OS, it's significant to turn on the "Schedule", where you can enable an automatic Windows 10 backup at a set time like daily, monthly...or upon an event, telling the Windows 10 backup to start when system startup, system shutdown, user logon or user log off.
Step 3. Once all the basic settings were made, click "Proceed". Wait for a while you will create a full Windows 10 backup to protect your system from unexpected disasters.
Note: To backup Windows 10 to an external storage device, you must ensure that the storage device has been correctly connected to your computer in advance. Click the "Browse" button in the "Destination" area, you can choose the connected hard disks as a backup location. Also, the software supports many more paths to save your Windows 10 backup, including the cloud devices of OneDrive, GoogleDrive and DropBox, and Network/NAS devices.
#2. Create Windows Emergency Disk
If you tend to create the emergency disk to a USB drive, connect it, and set it as target location to save the ISO image.
EaseUS Todo Backup supports boot disk types of a USB drive, CD/DVD disc, and an ISO file.
EaseUS Todo Backup emergency disk lets you restore your computer from one backup when Windows becomes unable to boot normally, with which you can restore operating system and files without booting into Windows.
Step 1. Prepare a USB drive which can be written and read.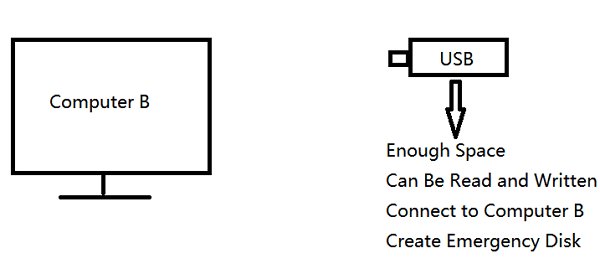 Step 2. Launch and install EaseUS Todo Backup on the Computer B
Step 3. Open the tool and click "Tools" > "Create Emergency Disk".
Step 4. Select "Create WinPE emergency disk".
Step 5. Select a bootable media type: here we choose USB drive.
Step 6. Click "Proceed" to create a bootable disk.
When your computer encounters a problem or the Windows system fails to boot up, here is how to restore your computer from the bootable USB mergencncy disk:
1. Connect EaseUS emergency bootable disk to PC.
2. Restart PC and press F2/F8, Del to enter BIOS.
3. Set EaseUS bootable USB as the boot drive.
4. Save the changes to restart PC and enter EaseUS Todo Backup.
5. Click Recovery, browse to find the system image and restore it to your current PC.
If your computer hard drive is dead, you can also use this option to backup data wtihout booting into Windows.
Conclusion
On this page, we explained why is your bootable USB not working and how to fix this issue with 4 practical fixes. 
If you are with this issue, the most effective way is to reformat the USB and create a Windows installation USB drive again. Then follow Fix 3, 4 to set up the USB, making it bootable again.
After this, you can use it to fresh install Windows 10/8/7 or repair computer or system errors via the bootable USB.
However, if you prefer to stay with the current OS but need a emergency disk that can help you revert the OS back to a healthy state, EaseUS Todo Backup is the best option.
First, back up the OS. Next, create a Windows bootable USB. Last, restore OS from the bootable USB whenever the OS goes wrong.