What's Windows Backup and Recovery Software?
Backup describes the process of copying or saving a copy of specific data on a Windows computer to a separate location, which can be a local hard drive, external storage drive, a NAS drive, or cloud. And recovery is performed when your original data is lost, you need to recover the lost data from the copy of the backup. Therefore, Windows backup and recovery is a method that protects individuals, organizations and enterprises from the catastrophe of data loss. 
To be able to create a backup and perform a worry-free recovery, you need a piece of software to help you make it. Windows backup and recovery software is responsible for that.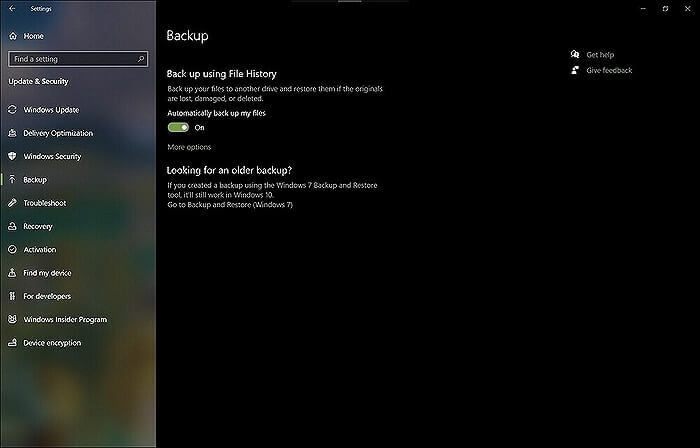 10 Reasons to Download EaseUS Backup and Recovery Software - Infographic
Windows backup and recovery software is essential for cyber security and disaster recovery. Here are the top ten reasons for you to choose EaseUS backup and recovery software over the native Windows Backup and Restore program or File History.
#1. 100% Free for Personal and Home Use
EaseUS Todo Backup is featured with several editions that cover needs of different levels of backup demands. The free edition is open for the public to download for free, and they can keep it for use as many days, months and years as they want. After getting accustomed to EaseUS Todo Backup, over 99% of our customers will no longer turn to other utilities. That's the first evidence we want to show you that EaseUS backup and recovery software is worth downloading.
#2. Complete Backup Plan for Disk/Partitions, Files, System, and Mails
Having one piece of EaseUS Todo Backup, you got a whole world of data backup solutions. When you search online "What should I backup?", or "What software can back up a Windows system?" and so forth, we shall say: EVERYTHING.
Everything you care is better to save up. For professional photographers, try to back up your photo works without losing HD. For companies, it's compulsory to back up databases associated with your business confidential. For IT providers, it's more common to backup the whole hard disk or partitions to examine storage issues. No matter who you are and what you do, EaseUS Todo Backup gets you there, with a wide array of backup solutions available. It's no problem to backup files, documents, photos, videos, HDD, SSD, partitions, Windows operating system, Outlook, Exchange, SQL, and so on. The complete backup plan is definitely the second reason we want you to download it and try.
#3. Auto Backup on Schedule
If there has to be a reason people don't try backup software, it's about the inconvenience. Don't worry, EaseUS backup and recovery software won't bring you the same trouble. All successive backup tasks can be automated after the first full backup.
With the advanced backup options, you can set a backup schedule like these:
Set a time or interval for each backup task
Start a new backup at one time, daily, weekly, monthly or upon an event
System startup - Backup runs automatically when system starts up.
System shutdown - Backup runs automatically when system is shutdown.
User log on - Backup runs automatically when Windows logs in.
User log off - Backup runs automatically when Windows logs off.
USB device plugged in - Backup runs automatically when USB device is plugged in provided that it is set to be the destination.
Are you interested in the third reason to enjoy EaseUS Todo Backup's auto backup features?
#4. Local Backup and Cloud Backup at One Roof
A risk-free backup usually relies on multiple backup locations. Local backup and cloud backup are two of the most popular strategies to save backup files and images. When it comes to local backup or cloud backup, both have their advantages and disadvantages. 
Nonetheless, EaseUS Todo Backup enables you to save backups to a local disk, external HDD, USB drive and NAS drive. At the same time, it's integrated with the EaseUS cloud. All you need is to register and log in, and we can protect your backups with a cloud service!
#5. Full, Incremental, and Differential Backup
Backup ensures data safety, but with more and more backups created, your backup images will grow in extremely large sizes. To balance the backup size and recovery speed, EaseUS Todo Backup allows users to selectively create a full backup, incremental backup and differential backup.
Full backup: a full copy of the backup, consuming the largest backup file size and longest recovery speed.
Incremental backup: Only back up the data that has changed since the previous backup. It's a backup method to increase backup speed and decrease the storage space.
Differential backup: Starts with a full backup and subsequent backups only contain data that has changed. It consumes less storage than a full backup but slower recovery speed than an incremental backup.
#6. Compress and Combine Backup Images
Based on a backup method of full, incremental or differential backup, users can still manage their backup image files by compressing to a smaller size or combining many backup files into one. Backup image compression is necessary for organizations with big databases to backup. If you're business user, try our EaseUS backup and recovery's compressed image function in the Advanced backup options.
#7. One-click Smart Backup
It's a distinguished feature you can find in EaseUS Todo Backup. Smart backup is more than manually setting up an automated backup schedule. All settings the smart backup strategy is preset according to the most frequent backup method people use in daily backup.
When a Smart Backup task is initiated on your computer. it works as below:
Every 7-day is a complete backup circle in Smart Backup mode, and the 1st day is the date when you create the backup task. The first image of each circle is always full.
For the other 6 days in this circle, every day starts with a differential image.
The rest image files on every valid day will be incremental backups.
No backups are created on the invalid days. It is deemed to be an invalid day when your computer happens to be powered off or not functional.
#8. Pre-OS and WinPE bootable USB Support
In case your system is shut down and never boot again, you need to restore a backup without booting into the operating system. Instead, access to a WinPE environment. EaseUS Todo Backup software gives two options for such an environment: Pre-OS and Create an emergency disk.
When you use the backup and recovery program for the first time, it's advised to turn on the Pre-OS feature or create an emergency disk.
#9. Easy and Fast System Recovery
For ordinary computer users, one of the nightmares is to encounter a system crash which means everything must start from scratch. Reinstalling an operating system seems impossible to finish. But with a regular system backup at hand, it's no longer a problem.
All you need is to open EaseUS Todo Backup and select a system backup of a previous state and click Recovery. Your operating system and data will be fully restored to that working state.
*Try to boot the computer with the EaseUS Todo Backup emergency disk to accomplish system recovery on a non-bootable machine..
Step 1. Click Browse to Recover to luanch EaseUS Todo Backup.
Step 2. Navigate to the backup location, and then select the system backup file you need. (The backup file created by EaseUS Todo Backup is a pbd file.)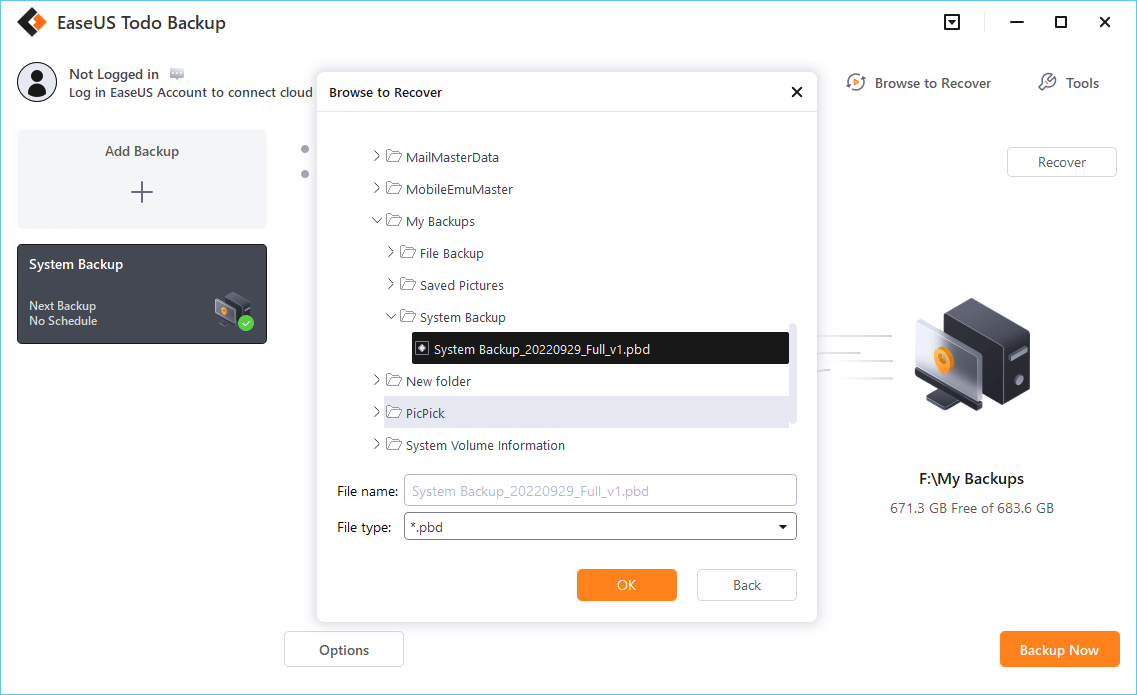 Step 3. Select a recovery disk. Verify that the partition styles on the source and recovery disks are same.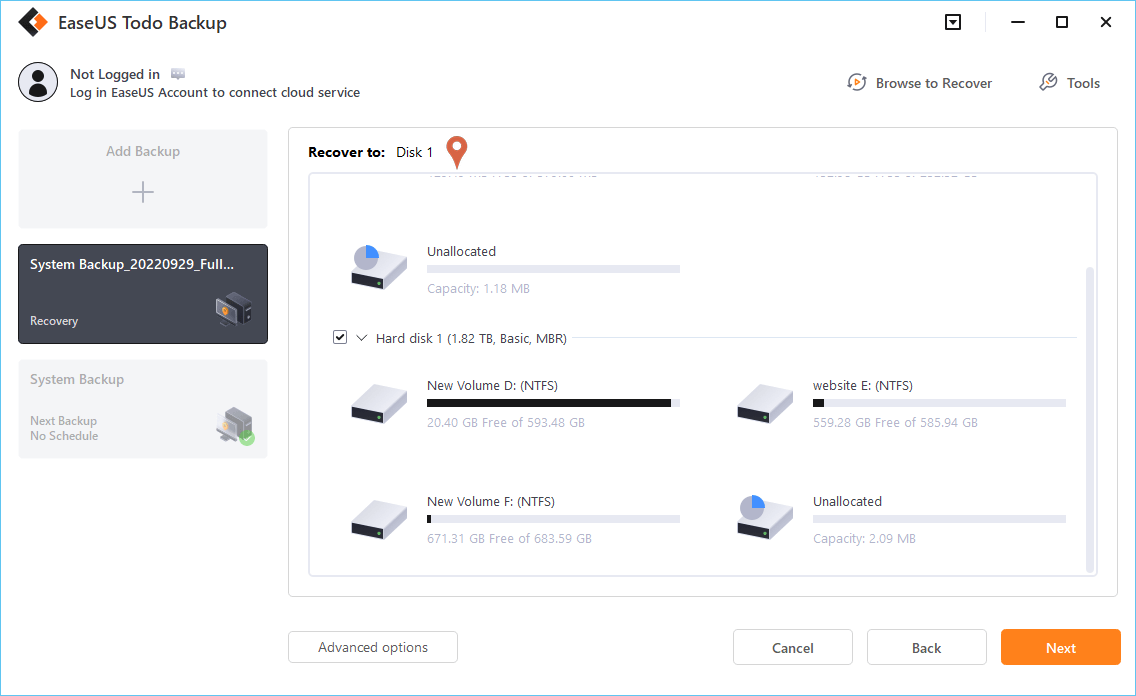 Step 4. You may change the disk layout to suit your requirements. Then, to begin system backup recovery, select Proceed.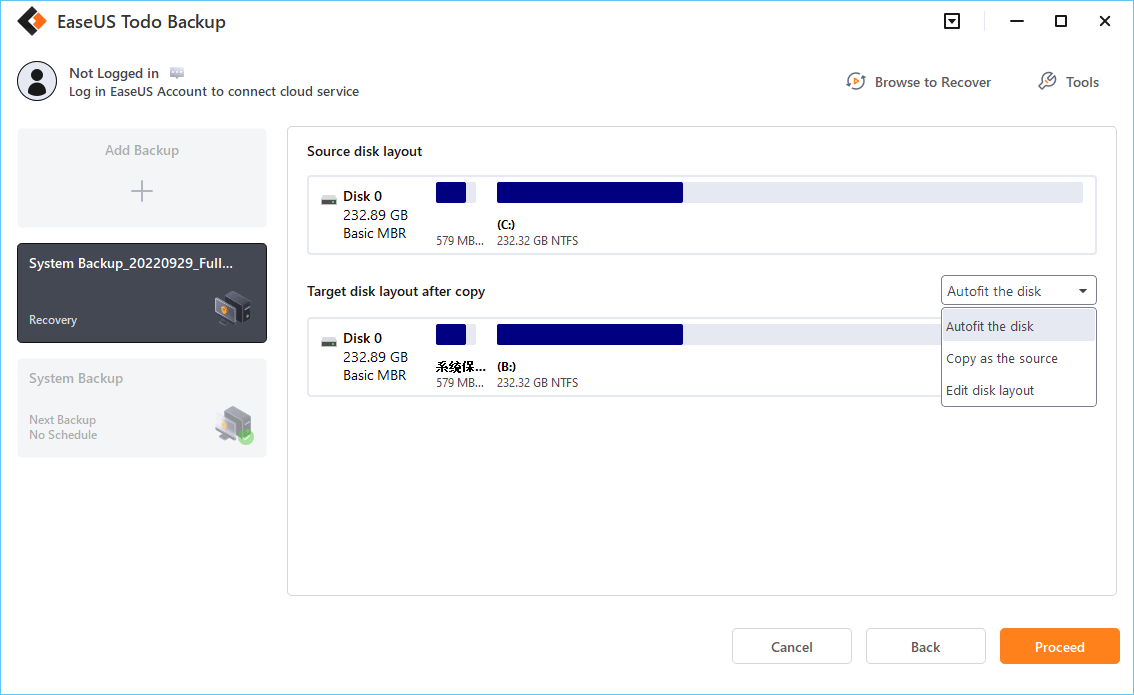 #10. Featured with Disk Clone and Windows Portable USB Creator
EaseUS Todo Backup is a top-notch Windows backup and recovery tool that serves a multi-direction of backup demands. Moreover, it's also a top ranked hard drive cloning software for HDD, SSD, and disk partitions!
The Clone mode supports disk and partition clone of both MBR and GPT styles. While the System Clone is for OS migration of both the system drive and boot drive, to make sure that you can successfully boot Windows from the cloned hard drive without any booting issue.
What's more, the standalone feature in the system clone is to create a Windows portable USB drive! With a portable drive that carries your original Windows operating system, configurations, settings and programs, you just feel at ease using it on any device in an accustomed operating system environment.
What Else EaseUS Todo Backup Can Attract Your Eyes?
Besides the software itself is rich-featured, our customer support is the most responsive in the market. And our website is full of tutorials and guides on how to effectively use EaseUS Todo Backup to protect your data and cyber security.
We can hardly list all useful features in EaseUS backup and recovery software here once for all. So, why don't you download it and give it a try? As long as you get used to it, you'll feedback us more than 10 reasons to download this user-friendly yet powerful software for Windows 11/10/8/7 use.

Jean has been writing tech articles since she was graduated from university. She has been part of the EaseUS team for over 5 years. Her special focuses are data recovery, disk partitioning, data space optimization, data backup and Mac OS. By the way, she's an aviation fan!
Taking everything into consideration, we can say that EaseUS Todo Backup Home can offer you a little extra sense of security with a set of advanced tools. The interface provides quick adaptation, every process guiding you all the way through so you don't get stuck or further damage your system rather than keeping it safe.

 Read More

EaseUS Todo Backup Free lets you create backups of your important files or your entire computer through its streamlined interface. Just choose the backup type you'd like to get started, and let the program do the reset.

 Read More

EaseUS includes all the features I expect from backup software like versioning, incremental backups, and scheduling. For more advanced users, EaseUS allows you to install a pre-boot environment onto your hard drive so you can use it to restore files without burning a CD or putting it on an external USB drive.

 Read More

EaseUS Todo Backup
Smart backup tool for your files and entire computer in Windows 10/8/7.
Install Windows on Multiple Computers at Once? No Problem!
Learn how to install Windows 11/10/7 and special programs/software on a batch of computers. Use 10 minutes to do the 10 hours work without making a single mistake!
Get Free Solution!