What Is System Image? How Do I Create a System Image Backup?
Updated by
Gemma
on May 07, 2022
Quick Navigation:
| Workable Solutions | Step-by-step Troubleshooting |
| --- | --- |
| 1. Using Windows Backup Software |  Launch EaseUS Todo Backup on your...Full steps |
| 2. Using  Backup & Restore Feature | Open the Windows Settings (Win + I), then...Full steps |
| 3. Using File History | Open Windows Run prompt (Win +R) and...Full steps |
System Image is a replica of the system drive or a complete drive. What makes it different from standard backup or copy is that you can use it on any other drive and make another PC running in no time. It offers more than backup but doesn't replace it.
The good news is that creating a system image is easy and is also offered as a built-in feature in Windows, but then there is additional software that can enhance the experience. This post will show you to create system image backup and how it differs from backup.
What Is System Image
Technically, System Image is a serialized state of a computer system or drive which can be used to create multiple copies and attached to another computer in no time. The image includes the state of the OS, applications, activation status, browsing history, device drivers, PC settings, and so on.
1. Is the system image the same as backup?
Technically no, but it can help restore the PC to the state when you created the System Image, the same as if you created a backup. However, unlike backup, a System image cannot be incremental and needs to be made from scratch.
Instead, the backup system can be updated by changing only what has been modified or deleted, but it can never be used to bring back the PC to its original state without installing Windows. That is the substantial system image vs. backup difference.
2. What can a system image backup do for you
It can help you switch hard drives, transfer PC, deploy the same setup on multiple computers. A system image should be created when everything is updated, you have the list of apps installed, and you are sure this is what you want if you had to restore.
3. When do you need to create a system image backup
System Image Backup can be created anytime. There is no rule, but they are typically created when the system is stable, or when you are about to upgrade, or when you are moving to a new PC and do not want to install everything again.
4. When to use a system image backup
It can be used in various situations such as a PC crash, upgrading multiple computers using the same image. Using this, you can completely restore your PC, Settings, and applications.
How Do I Create a System Image? (Multiple Methods)
A system image can be created in three ways: with professional software such as EaseUS Windows Backup Software, through Windows Backup and Restore, and through File History. This works on Windows 10, Windows 8, Windows 7, and any other version of Windows.
Method 1. Using EaseUS Windows Backup Software
In addition to operating system backup, users can create files backups, partition backups, and disk backups with EaseUS ToDo Backup software.
Pros: More options compared to the standard Windows features as it combines both System Image and File Backup into one place. You also have better control over the backup.
Cons: Trial is limited but displays the potential of the software.
As soon as the software is installed, you can select a disk, system, or file or create a clone using the wizard. You will have full control over the files you want to backup. You have the option to restore the files if necessary.
Features
One-click backup, instant recovery.
Schedule and run backup every day or when a file changes.
Recover System or Deleted data.
Block-level disk image tech to back up the entire partition.
Back up the entire system to another location.
Supports external device, FTP server, network share, online storage.
Quick Restore from backup copies
Smart backup
Cloning makes it easy to migrate the system.
Supports full, incremental, and differential backup.
Compression methods save space on backup images.
Encrypts backups to secure confidential and personal files.
Step 1. Launch EaseUS Todo Backup and choose "Create Backup" on the home page, click "Select backup contents".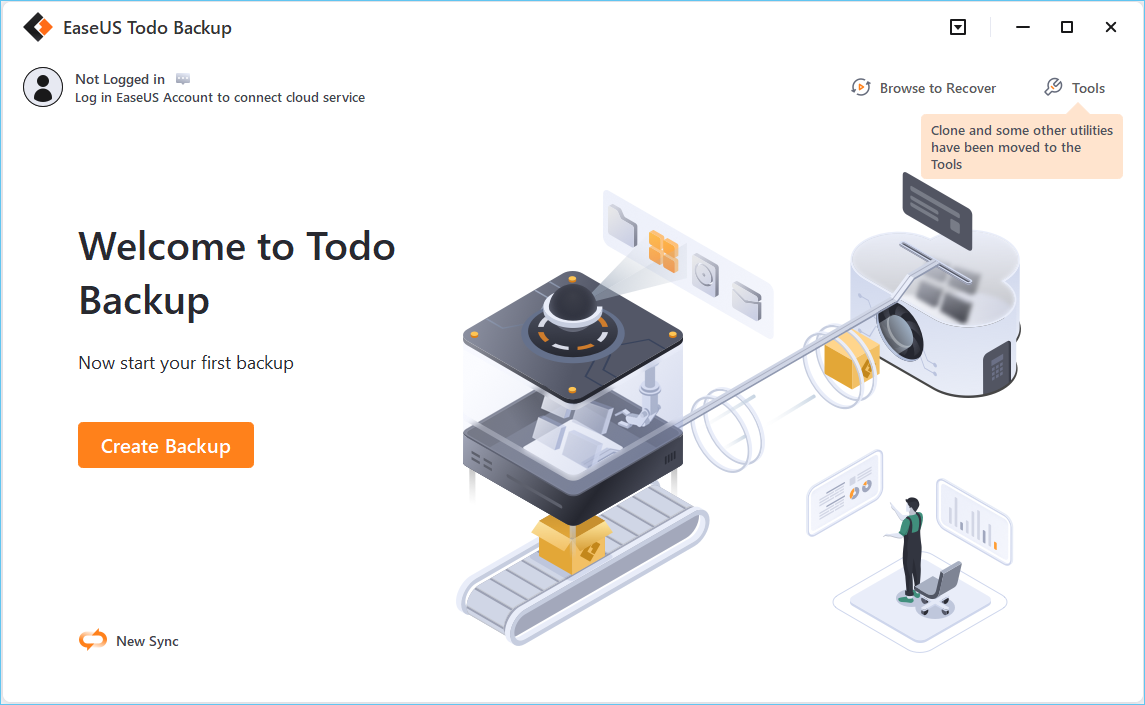 Step 2. Among the four available categories, click "OS" to start back up.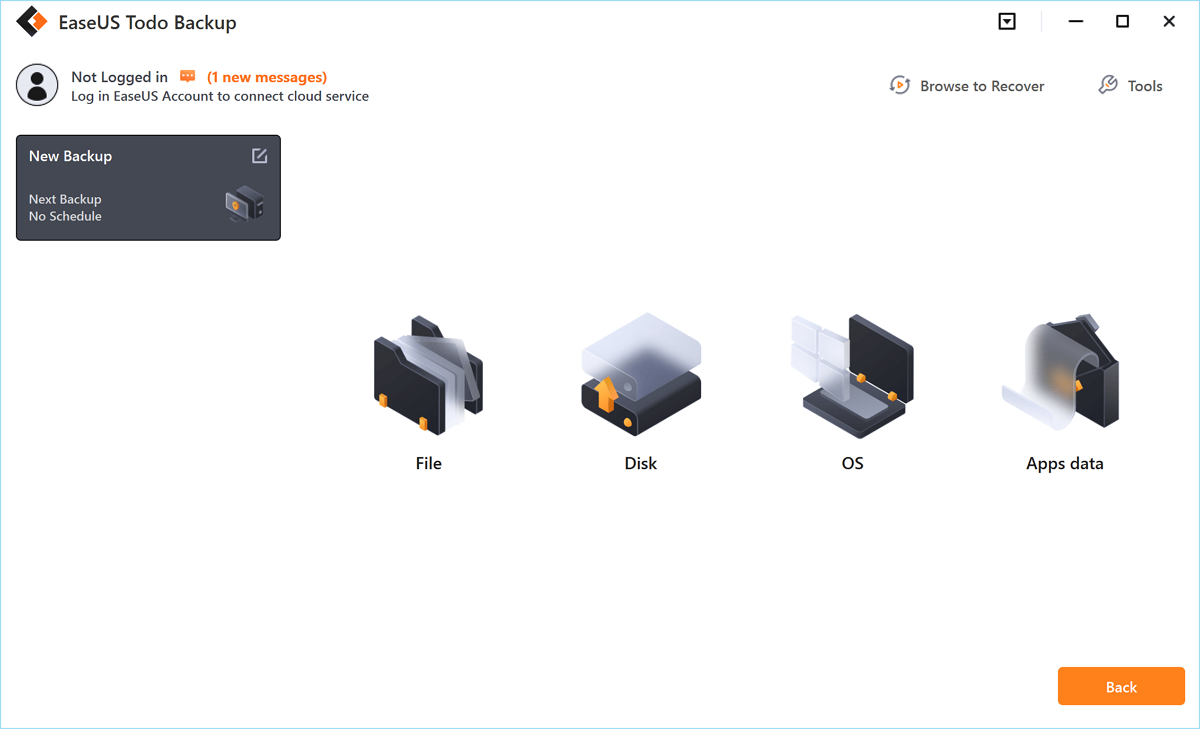 Step 3. The system partition will be automatically selected, you only need to select the location.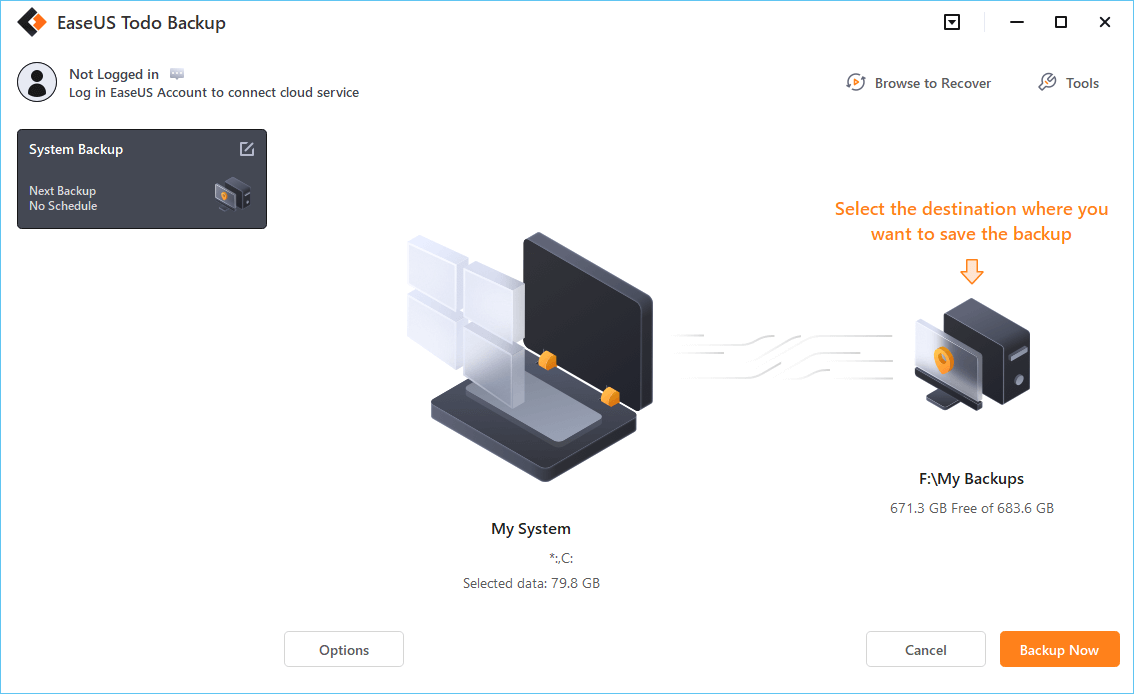 Step 4. Local Drive, Cloud, and NAS are available for you to save the backup file. You can also connect an external hard drive to preserve the system backup files.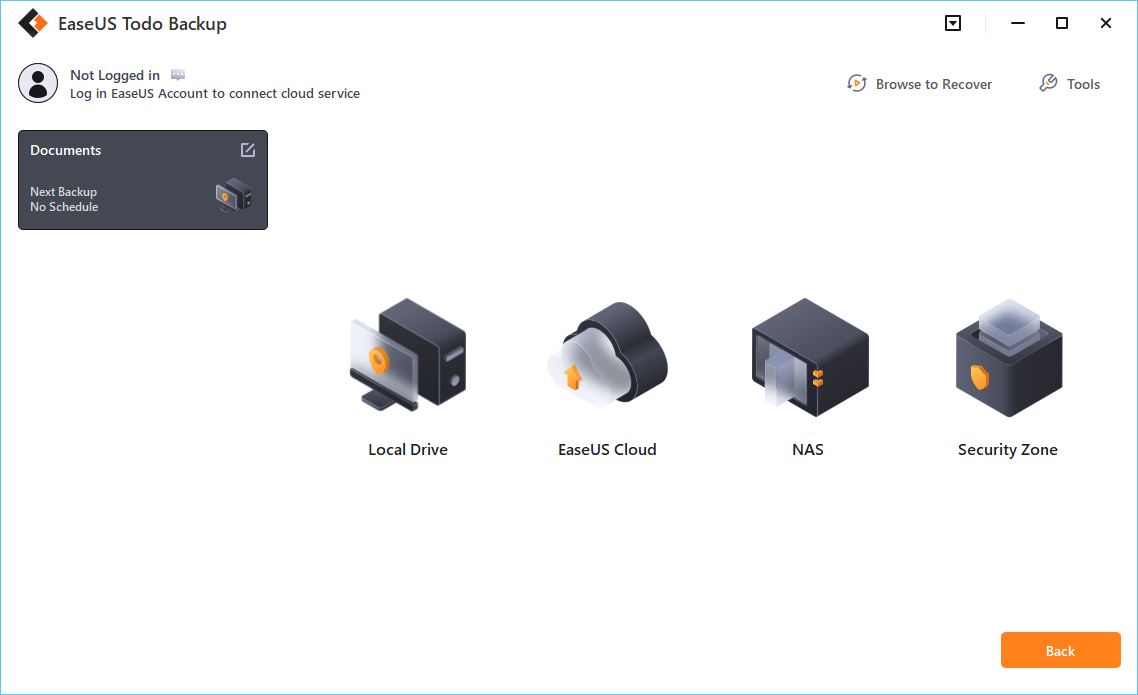 Step 5. You can customize the settings in "Options" at the left bottom. After that, click "Backup Now", and the process will begin.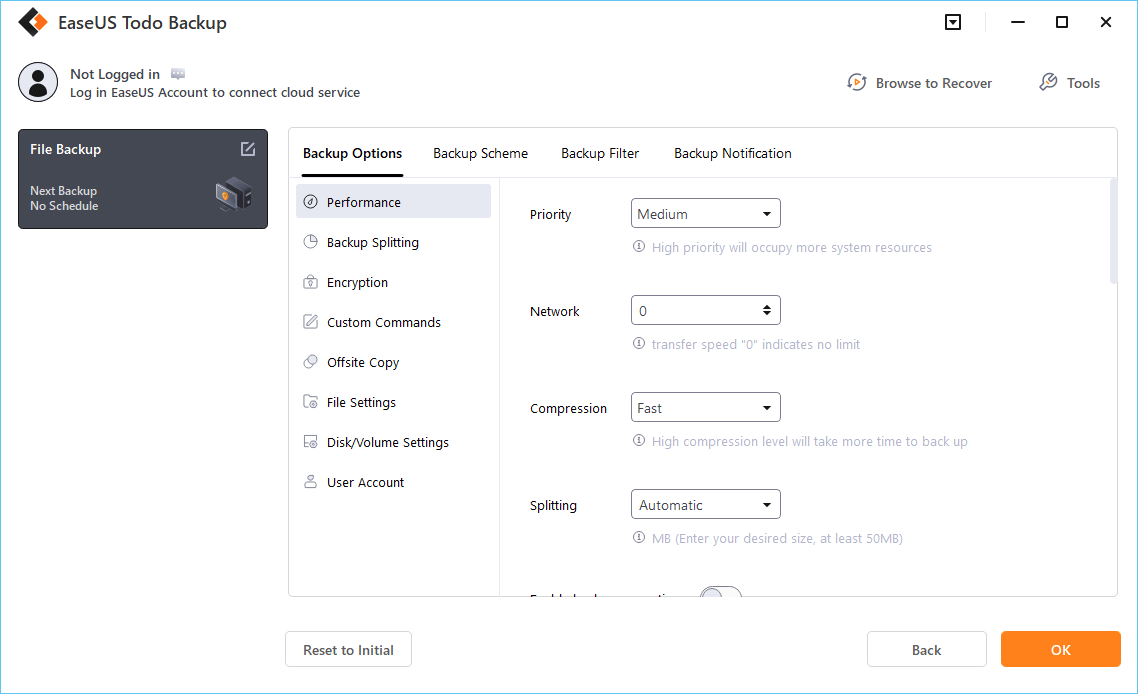 *After finishing the backup process, you can check the backup status, recover, open, or delete the backup by right-clicking the backup task on the left.
Method 2. Using Windows Backup & Restore Feature
This is the official method to create a System Image in Windows. You can reuse it on the same or a new PC since it creates a replica of the system drive. It saves a lot of time which one would have to spend reinstalling software, driver, reactivating software, and setting up user files again.
Pros: It can be used to recover PC in case of a system crash and a faster way to bring everything back to as it was before.
Cons: You need to manually create an image, and it takes more space than the usual backup methods.
Step 1: Open the Windows Settings (Win + I), then navigate to Update & Security in the left navigation pane and select the Backup & Restore option.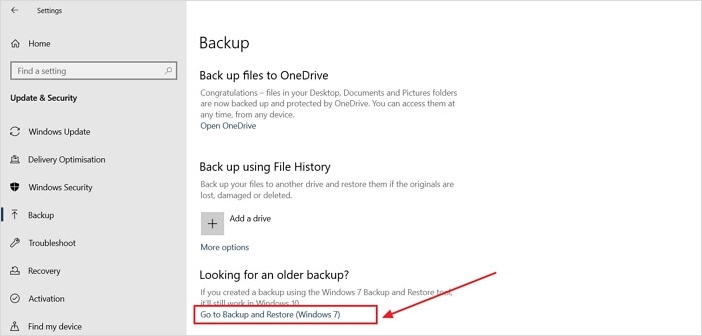 Step 2: In the Backup Restore section, click on Create a System Image link in the left panel. Once the Wizard is ready, you have three options—Hard disk, DVDs, and set up a network location.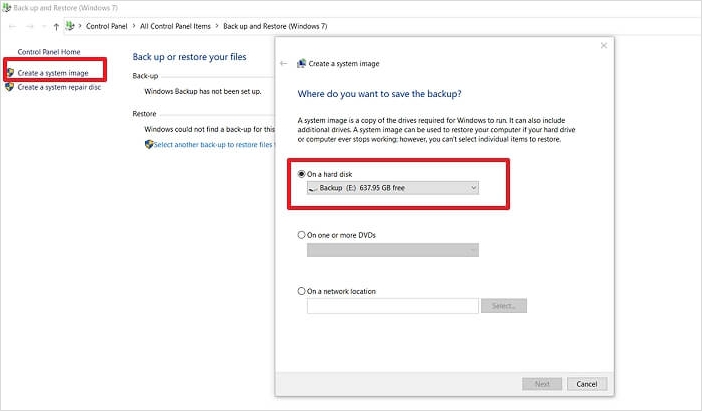 Step 3: Connect a hard drive where you can save a system image. Please select it from the dropdown, and then click on the Next button. Let the wizard completes the job, and the system image will be saved into the path.
Method 3. Using File History
The File History feature saves copies of your files so you can get them back if they are lost or damaged. It is similar to any backup method where any change in the file is quickly synced back. It also offers version history, which allows users to bring back the old version when needed.
Pros: It is very easy to use and can take regular backup of selected files as they are modified.
Cons: It cannot be used to bring back the OS if there is a crash.
Step 1: Open Windows Run prompt (Win +R) and navigate to the following path Control Panel\All Control Panel Items\File History. You can also go to Windows Settings > Update & Security > Backup and click on Add a drive.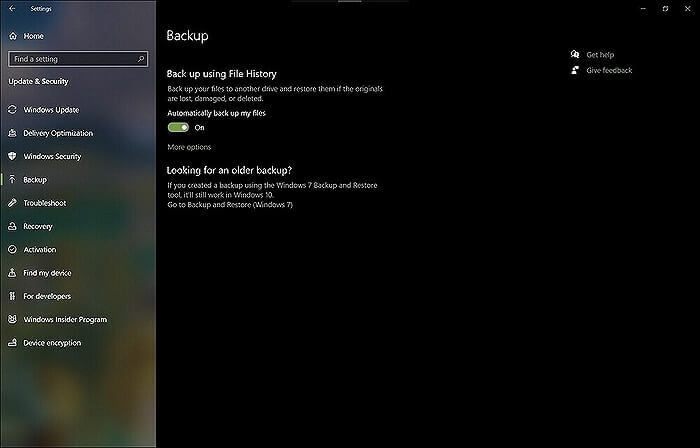 Step 2: Connect the hard drive, and then it should appear in the list of connected drives in the File History section.
Step 3: Click on the Turn on the button, and it should start making copies of files at Libraries, Desktop, Contacts, and Favorites or anywhere else which is selected.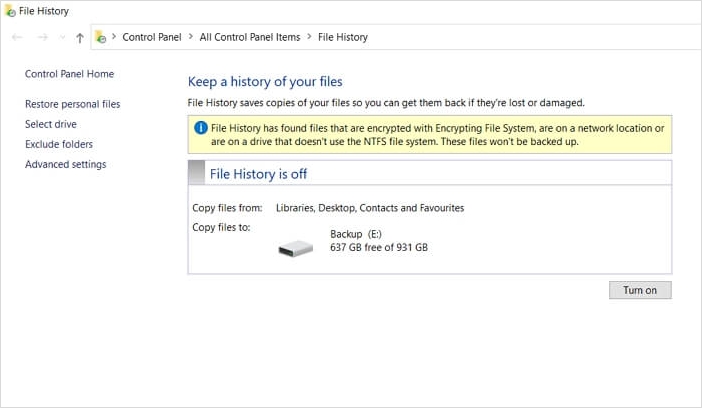 If you are using both Method 2 and Method 3, keep a separate drive for each of them. Compared to this, backing up files to OneDrive makes more sense, especially if you are using Microsoft Office 365.
Conclusion
Now that we know what a System Image means, the multiple ways to create a system image, take backup, it's clear that creating a system image is crucial. So, if you have till now, make sure to ahead and create one of your PC. It is important that when you create a backup or system image, you don't save it on the same computer. Instead, you should save it on an external drive or a network location.
That said, while Windows offers a built-in tool to create a system image, and file backup, it is better to use professional backup software such as EaseUS Windows Backup Software, which offers more flexibility, encryption, scheduler, and so on.
Gemma is member of EaseUS team and has been committed to creating valuable content in fields about file recovery, partition management, and data backup etc for many years. She loves to help users solve various types of computer related issues.
Written by Tracy King 
Tracy joined in EaseUS in 2013 and has been working with EaseUS content team for over 7 years. Being enthusiastic in computing and technology, she writes tech how-to articles and share technical solutions about Windows & Mac data recovery, file/system backup and recovery, partition management and iOS/Android data recovery.
Taking everything into consideration, we can say that EaseUS Todo Backup Home can offer you a little extra sense of security with a set of advanced tools. The interface provides quick adaptation, every process guiding you all the way through so you don't get stuck or further damage your system rather than keeping it safe.

 Read More

EaseUS Todo Backup Free lets you create backups of your important files or your entire computer through its streamlined interface. Just choose the backup type you'd like to get started, and let the program do the reset.

 Read More

EaseUS includes all the features I expect from backup software like versioning, incremental backups, and scheduling. For more advanced users, EaseUS allows you to install a pre-boot environment onto your hard drive so you can use it to restore files without burning a CD or putting it on an external USB drive.

 Read More

EaseUS Todo Backup
Smart backup tool for your files and entire computer in Windows 10/8/7.
Install Windows on Multiple Computers at Once? No Problem!
Learn how to install Windows 11/10/7 and special programs/software on a batch of computers. Use 10 minutes to do the 10 hours work without making a single mistake!
Get Free Solution!