
Table of Contents

About the Author

Related Posts
3 Ways to Repair Recovered MP4 Video Files
Brithny
Updated on Jan 26, 2022|
min read
We all love recording MP4 videos of our favorite moments with smartphones, the reason this file format is popular nowadays.
Many users kept great records throughout the years, then the files got corrupted, becoming unplayable. After that, they search for a tool to repair damaged videos, but after doing all the processes, they discover the video is not working again.
If it happened to you, do not worry. This guide will explain why it happens and teach how to repair recovered MP4 video files properly, by manual tricks and with EaseUS Repair Video.
Why Are MP4 Videos Got Corrupted After Recovery?
To figure out why the videos get corrupted, I have listed the possible reasons below:
Your MP4 videos are not playing despite having successfully recovered them using data recovery software. 
It appears that something went wrong during the recovery process that resulted in some damage.
The data recovery process can be hampered if a loss of internet connection or a sudden power outage happens, causing incomplete data recovery. 
So, the videos are corrupted because a failure while attempted recovery damaged the frames, sound, or even the header of the files, which resulted in them not playing after recovery.
Additionally, it's possible your video was corrupted while being saved to the media storage. Also, not using reliable and 100% safe data recovery software may damage all recoverable files. 
Repair Recovered MP4 Video Files with EaseUS Video Repair
Using EaseUS RepairVideo, you can repair damaged videos online for free. You can use it to recover videos that have stopped playing, including MP4s that got corrupted after a recovery attempt or videos that got corrupted due to malware.
Your damaged MP4 video can be restored quickly and easily. Just enter your email address on the EaseUS website to start restoring. Your video results will be downloaded for free.
To see just how powerful EaseUS RepairVideo is at resolving videos' problems, check out these features:
Since EaseUS RepairVideo works almost anywhere via browser, no special software is required to use it.
Video damaged by editing, converting, transferring, or while being recovered can be repaired using EaseUS RepairVideo. The software also fixes corrupted videos, video losses caused by a dead battery, and other issues.
This software can be used on any of the following platforms: Windows, Mac OS X, Android, and iOS.
With RepairVideo, all popular video formats can be recovered, including 3GP, M4V, FLV, AVI, MOV, WMV, MP4, MKV, NPEG, 3G2, RM/RMVB, etc.
RepairVideo helps you recover videos from LG, Sony, HTC, Samsung, Huawei, Motorola, and ZTE phones. 
Besides being able to recover videos from cameras and dashboards, EaseUS RepairVideo can also recover data from USB flash drives, pocket cameras, CTTVs, corrupted hard drives, and lots more.
Step 1. Add Damaged MP4 Video
Go to the official site of EaseUS RepairVideo. Click "Upload video" or drag the MP4 video directly.
Step 2. Enter the Email Adress
Input the right email adress to make sure that you can receive the extraction code. Then, click "Start Repairing".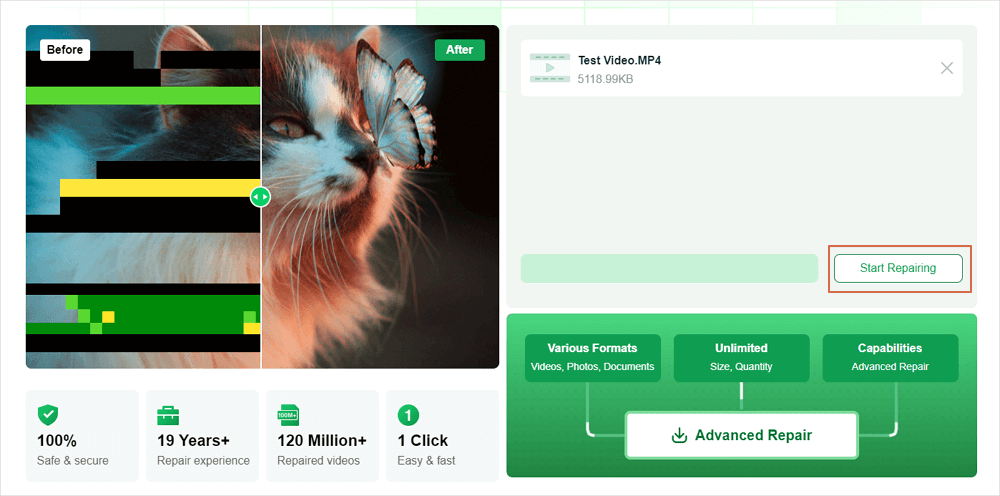 Step 3. Repair Damaged MP4 Video
EaseUS RepaiVideo starts the repairing process automatically. If your MP4 file is very large, it would take some time. You can close the site, and EaseUS will inform you through the email.
Step 4. Download the MP4 Video
When the repairing process completes, click the "Download Video" button and enter the extraction code from your email. Then, you can get the repaired MP4 video.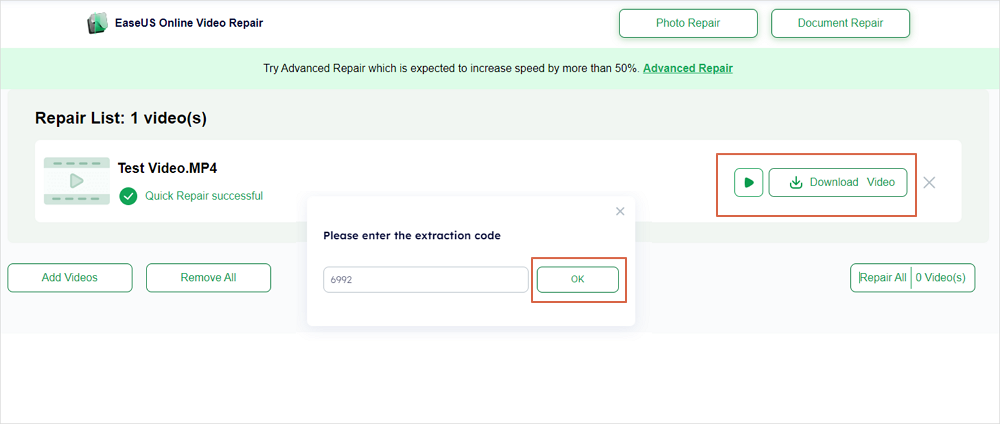 Repair MP4 Video File with VLC
There is a free, open-source, multi-platform media player known as the VLC Media Player, which enables you to play all types of files, regardless of their format, no matter what the codec is. VLC began as a plain media player, but developers added many new features over time. 
A simple and straightforward interface is one of the most appealing features of the VLC Media Player. It is also worth mentioning that VLC has many advanced features, including the ability to play videos during a download process. 
The video can also be converted into an alternative format with VLC Media Player so that you can try to recover the file. 
Since the process on VLC Media Player is offline, you can repair your recovered MP4 video files by doing all the processes manually. Below are the steps you need to follow.
Step 1. To begin, open VLC and click on the "Media" tab. Click "Convert/Save" after that.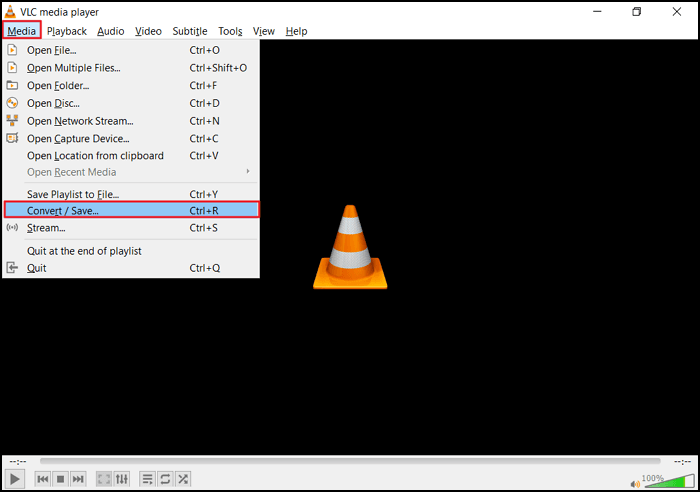 Step 2. The Add button can be used for adding videos to the VLC Media Player transcoding list.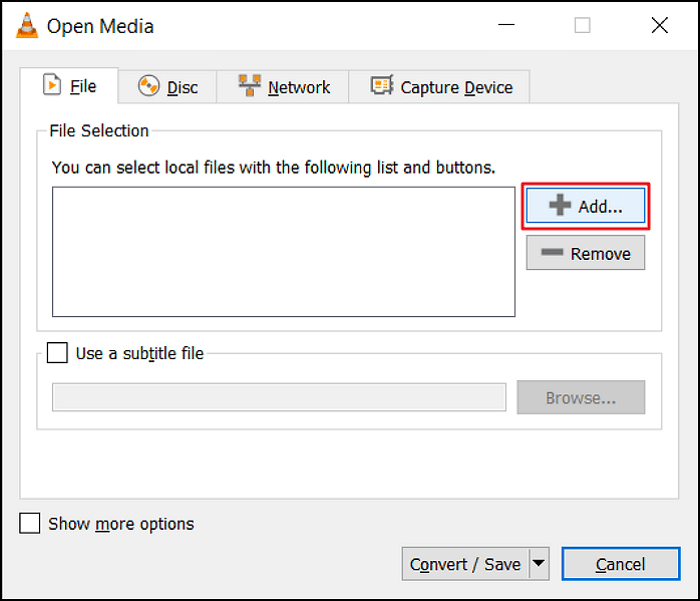 Step 3. The file name and location must be entered into the Convert box of the VLC Media Player.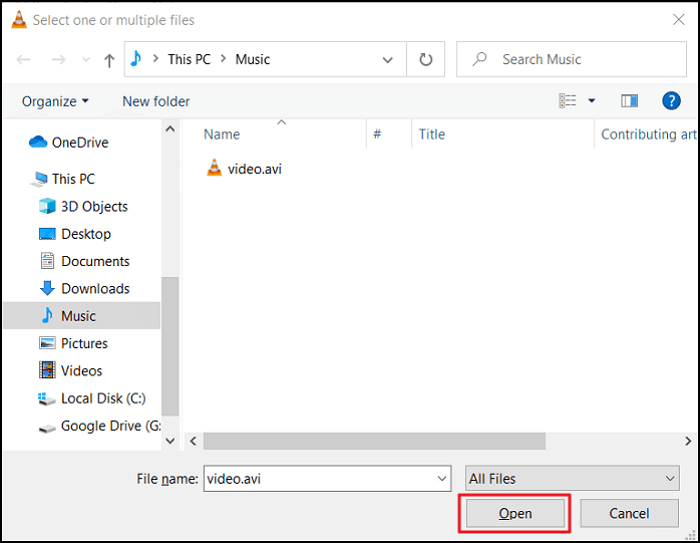 Step 4. Click on the "Convert/Save". Click the Profiles tab to select an input codec in the new VLC window that appears.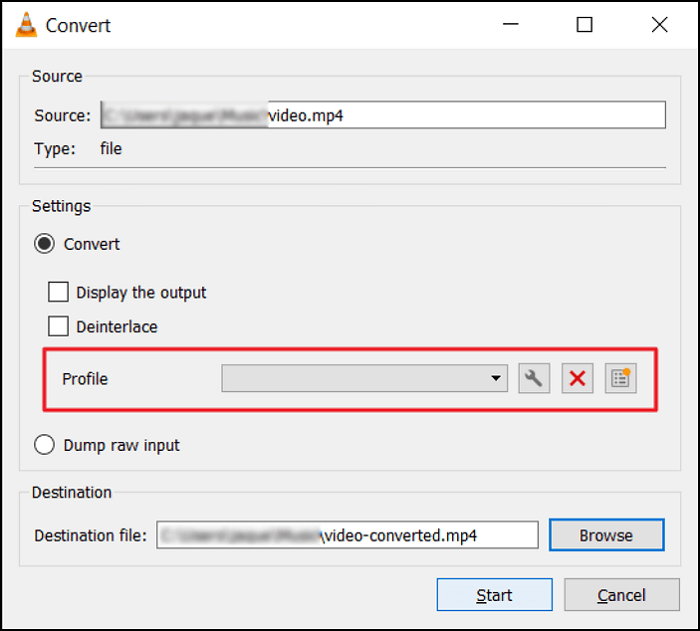 Step 5. Then, simply click on the Start button and, as soon as the process starts, everything will be taken care of by VLC.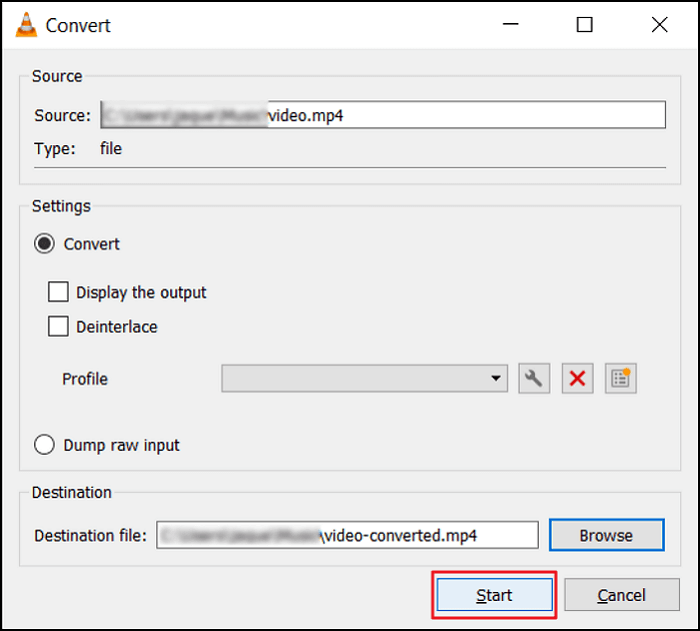 Repair Recovered MP4 Video by Changing File Extension
For repairing your MP4 files that aren't playing after past attempted recovery, you may try changing its format to another type. 
In the case the media player can't do it easily, change your media player to another one or install a codec pack on the computer. 
The codec packs are packages that contain codecs for different types of video formats, allowing your computer to play all file formats, regardless of the media player used, whether it's Winamp, VLC, Windows Media Player, or another one.
Conclusion: The Best Way of Repairing Corrupted MP4 Video File
Those of you who enjoy using MP4 have undoubtedly had a few videos that they would like to recover. You can try bringing them back manually by converting the format to another one, but there is a better way to repair recovered MP4 video files that went wrong. 
Using EaseUS RepairVideo, you can easily fix any kind of damaged and corrupt videos, whether they were damaged by data recovery software or crashed due to a broken storage drive, failed file transfer, or malware infection.
About the Author

Brithny is a technology enthusiast, aiming to make readers' tech life easy and enjoyable. She loves exploring new technologies and writing technical how-to tips. On her spare time, she loves sharing things about her favorite singer - Taylor Swift on her Facebook or Twitter.