Jean updated on Apr 12, 2022 to Windows System To Go | How-to Articles
Quick Navigation:
What's Windows 10 Installation USB Drive? 
If you need to install a fresh copy of Windows 10, you can install Windows 10 from a USB drive. In a matter of minutes, you can install a new version of Windows installed on your support device. A Windows installation USB drive is generally used because of its portability, and it guarantees compatibility with every desktop and laptop computer. As some of the PCs might be lacking a DVD drive, they sure have multiple USB ports. 
Installing Windows 10 from a USB drive is also much faster because a USB drive can boot faster than an optical drive. You may be wondering how to create a Windows 10 installation drive. Several methods are available, the most common of which is to use the Windows 10 Media Creation Tool. 
Using the Windows Media Creation Tool, for example, is a time-consuming and complex process when compared to using the EaseUS OS2Go software. However, the only official way to create a Windows installation USB drive is with the Windows Media Creation Tool. We'll discuss each method in brief. 
Method 1. How to Create Windows 10 Installation USB Drive Without ISO
Before you continue, you should understand what an ISO file is. An ISO file is also referred to as an ISO image. It is a single file that contains all of the installation files for a single program. Windows operating systems are distributed as ISO files to aid in installing the operating system. It is, however, used when using the Windows Media Creation Tool. It is also a disadvantage of using the Windows Media Creation Tool, as it requires an ISO file to work with.
You can also create a Windows 10 installation USB drive without an ISO file using the EaseUS OS2Go. EaseUS OS2Go can automatically download the desired Windows 10 version for you in just a few clicks. It can make portable Windows 7/10/11 on USB. It is beneficial if you travel a lot and need your Windows with you, but you can't take your laptop everywhere. 
It is accessible from multiple computers and can run Windows on a Mac without bootcamp if you need to run Windows-specific apps or games. You can create Windows To Go without enterprise edition on Non-Certified USB drives using the EaseUS OS2Go utility. It offers seamless integration and outstanding 24x7 customer support.
Below are the detailed steps.
Step 1. Install EaseUS OS2Go on your Windows computer. Plug in a USB drive or external hard drive that is large enough.
Step 2. Choose the third tab "Windows Install Drive Creator". First choose the Windows versions you want to install, EaseUS OS2Go supports creating Windows 11/10/8.1 installation media. You could also select a local ISO file. When all set, click "Create".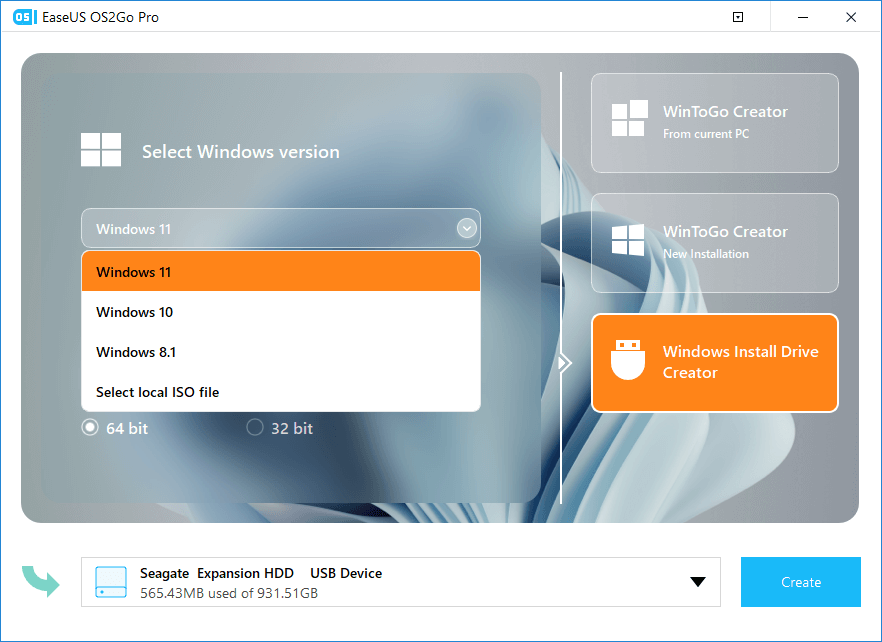 Step 3.Then you will see a safety warning message, telling you that all data on the selected disk will be deleted. Click "Continue" to proceed.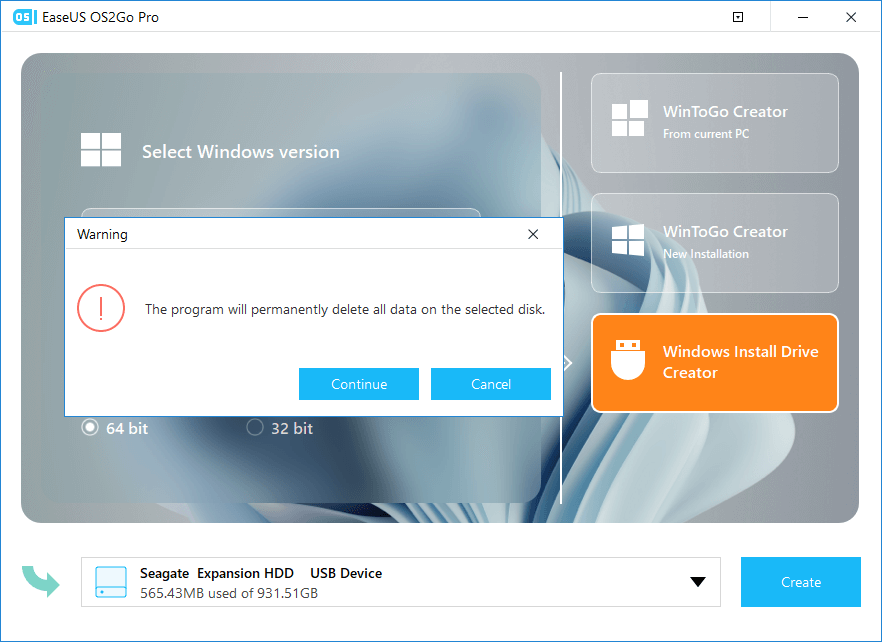 Step 4.Then EaseUS OS2Go will start to create the Windows Installation media. It usually takes a while to download a ISO file, the time it takes depend on your OS and Network condition. When the progress reaches 100%, the USB drive should be bootable now.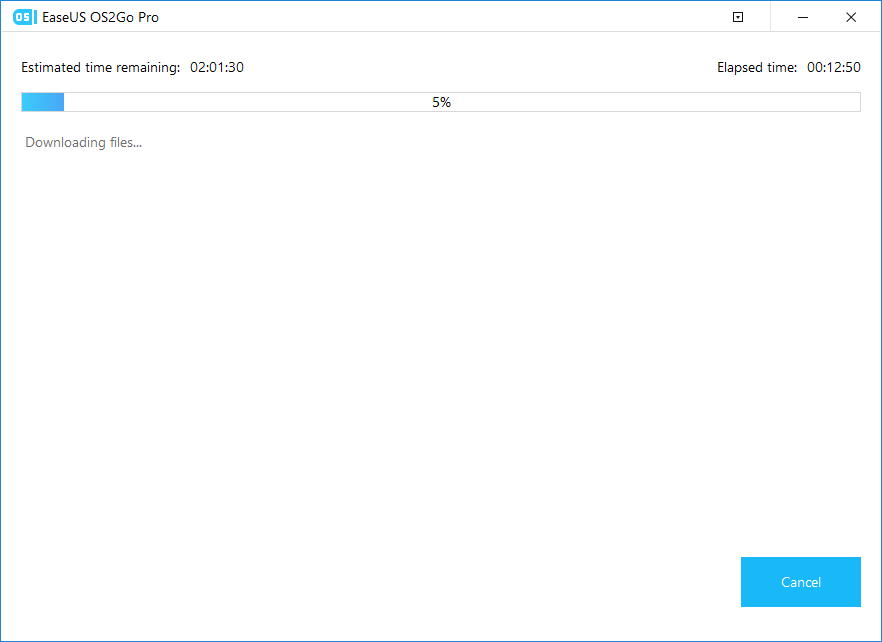 Step 5. Insert the Windows Installation media to your computer and start the installation process.
Method 2. How to Create Windows 10 Installation USB Drive by Downloading ISO
It is the official and most obvious way of creating Windows 10 installation media by using the Media Creation Tool. This tool allows you to download the Home or Pro versions of Windows 10 OS. Below is the complete guide on creating a Windows 10 installation USB drive by downloading ISO. 
Make the Windows 10 Bootable USB 
Insert your formatted USB drive on your laptop or PC. Now, we'll be downloading the Windows 10 Media Creation Tool. To download this, head over to the Media Creation Tool page and click on Download Tool now. 
Download this tool on your PC and ensure you have a stable internet connection. When the software is downloaded, select Create installation media for another PC. Windows 10 will be downloaded within the application itself. There you can choose your version, system architecture, etc. If you wish to install it directly to a USB drive, follow the instructions below. 
Download Windows 10 ISO Directly From Microsoft 
Here's the method by which you can download Windows 10 ISO:
Step 1:  Go to Windows 10 ISO and press F12 on your keyboard to open the Developer Options. 
Step 2:  Press CTRL + SHIFT + M to open the Toggle device toolbar, which will appear above the webpage. From the dropdown menu, select Responsively and press F5 to refresh the page.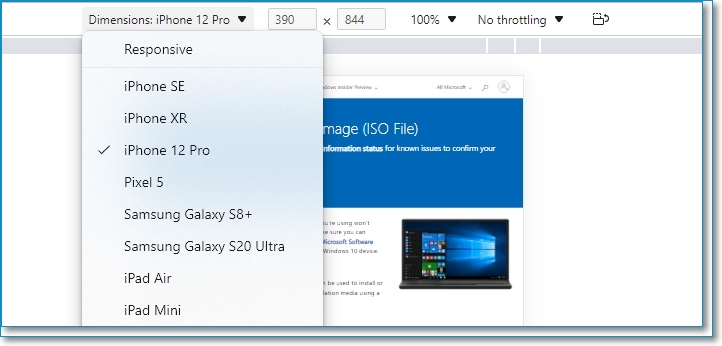 Step 3: After the page refreshes, select the latest version of Windows 10. Confirm the download.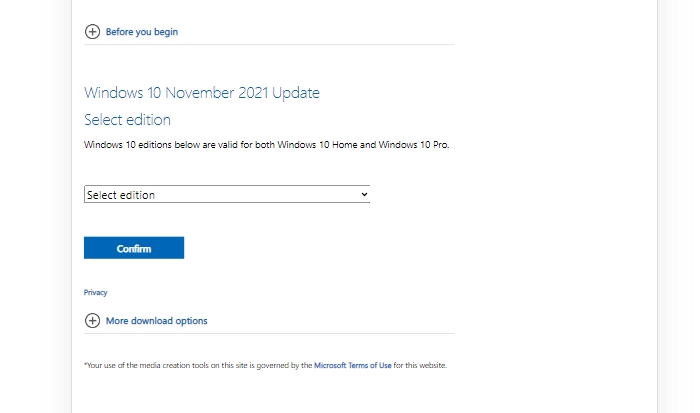 Make Windows 10 Installation Media
You will need ISO to USB burning tool to create the USB installation media. We'll be using Rufus in this scenario. 
Download and install the Rufus application on your PC. 
Select the required USB drive from the dropdown menu, and select Windows 10 ISO. 
Now, Rufus will automatically update the properties and burning options. 
Click on Start to burn the Windows 10 ISO to the USB drive. 
It will take a while to complete the burning process fully. 
Closing Words
Using EaseUs OS2Go is a quick and easy way to create a Windows 10 installation drive because it eliminates the need to download ISO files, reducing workload and speeding up the process. 
Furthermore, it includes a slew of useful features to help you. You can also use the Media Creation Tool, the most well-known method for creating a Windows 10 Installation Media, which also necessitates the download of an ISO. You can select either of them based on your preferences, as they are ideal for your efficiency.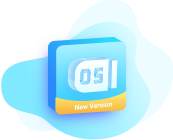 EaseUS OS2Go
Create portable Windows to USB
Copy installed Windows OS to USB
Clone Winodws OS drive to USB
Run Windows 11 on any PC
Run Windows 11 on unsupported PC
Run Windows 11/10 on a Mac
Download Now