Imagine you are using a laptop, but the system suddenly crashed due to a virus or malware infection, how can you continue to use your laptop system? Or if you need to work from home, what is the best method to increase efficiency? Whether you using the computer at work or using the computer at home, how can you work seamlessly?
All the questions above have one answer - creating a portable Windows with a USB drive. Windows itself actually developed a feature to help users create a portable Windows which is called Windows To Go. Unfortunately, Windows To Go has many limitations, especially hardware limitations. Here we will list the minimum requirements of Windows To Go, you can check if your USB drive is qualified.
Hardware Considerations for Windows To Go
Windows To Go certified USB should have high random read/write speeds and support the thousands of random access I/O operations per second required for running normal Windows workloads smoothly.
Windows To Go certified USB should ensure that it starts and runs on Windows 7 and later certified hardware.
Here is the list of Windows To Go Certificated USB sticks.
Imation IronKey™ Workspace W300/W500/W700 
Kingston DataTraveler Workspace 
Spyrus Portable Workplace
Spyrus Secure Portable Workplace
Spyrus WorkSafe
Super Talent RC4/ RC8 
WD My Passport Enterprise
Windows To Go Alternative - EaseUS OS2Go
You could see that only specific USB sticks can use Windows To Go, your USB drive might not on the list. What's even worse is that only Windows Enterprise and Education version has Windows To Go. In Windows 10 2004 and higher version, Microsoft has already removed this function. That's why we'd like to recommend a Windows To Go Alternative - EaseUS OS2Go.
The basic function of this alternative is the same as that of Windows To Go - to help users create a portable Windows USB drive. What's make it stand out is EaseUS OS2Go does not have hardware limitations. You don't need to buy a specific brand of USB drive. The only requirement is that the size of the USB drive should be larger than the used space of the C drive. Here we suggest that your USB drive should be 120 GB or larger and with a USB 3.0 port.
How to Create A Portable Windows of Your Laptop
In this part, we will introduce the detailed steps of how to use EaseUS OS2Go to create a portable Windows USB. To create portable Windows 10/8/7, you should prepare:
A USB drive: USB flash drive, pen drive, or external hard drive (should be larger than the used space of the C drive). Also, you need to erase the USB drive.
A functional computer.
First, download and install EaseUS OS2Go on your computer. Then connect your USB to the laptop and follow the guide below to create a portable Window.
Step 1. Install EaseUS OS2Go on your Windows computer, it will display your system drive's used space. Plug in a USB drive that is larger than the system drive used space. Choose the target USB drive and click Next to continue.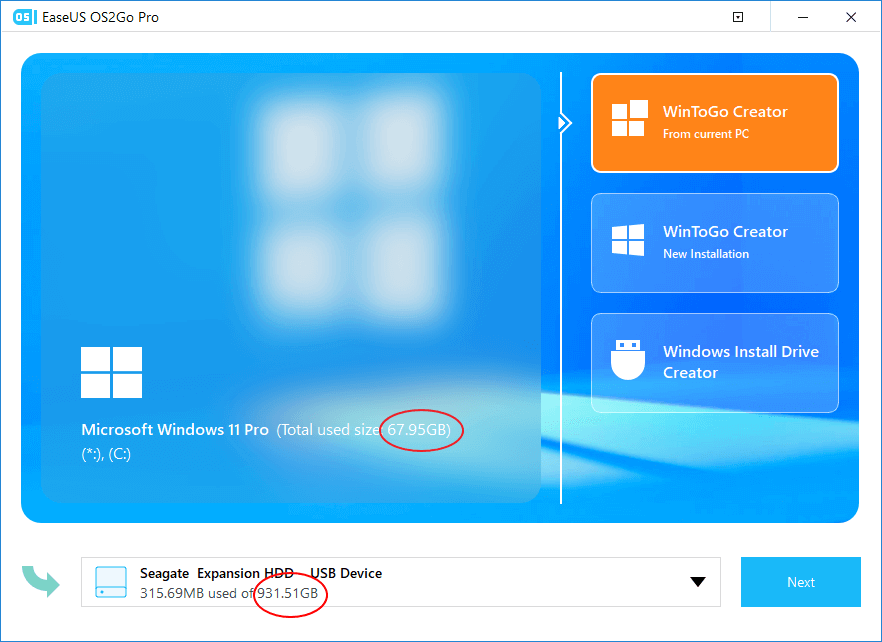 Step 2. EaseUS OS2Go will notify you that the following operation would delete all data on your drive. Make sure that you have backed up all the important data. Click the Continue button to proceed.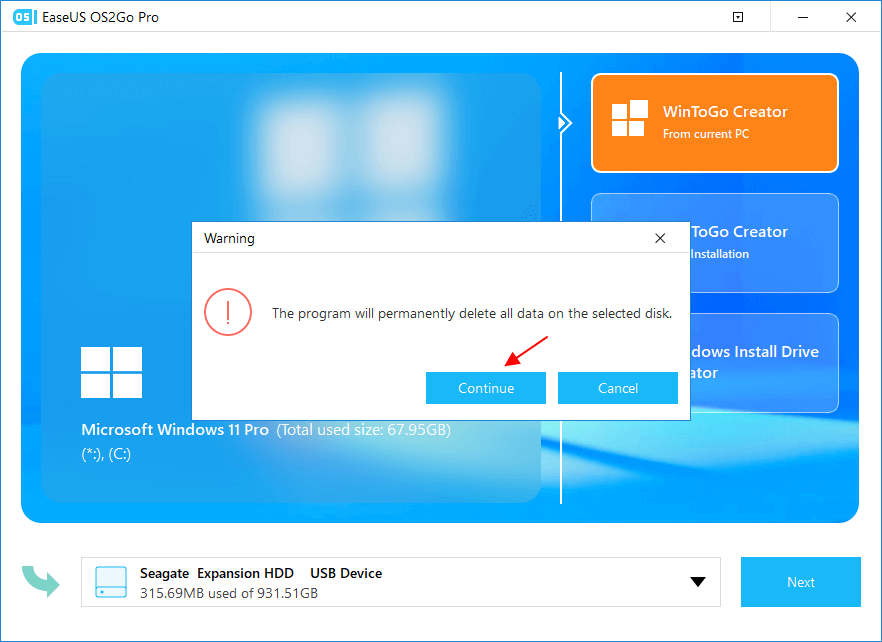 Step 3. Adjust disk layout. The default disk layout on the target drive will be exactly the same as the resource drive. You could also edit the layout according to your needs. Tick the option there if you're using a Solid State Drive as the Windows bootable drive. Next, click Proceed.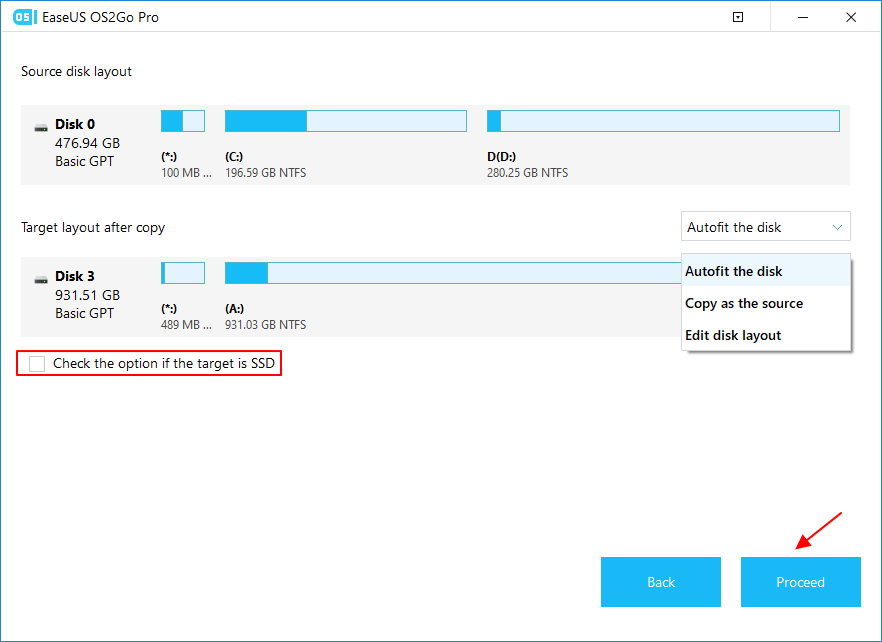 Step 4. Then EaseUS OS2Go will start to create the portable USB drive. It usually takes a while depending on your OS and Network condition. When the progress reaches 100%, the USB drive should be bootable now.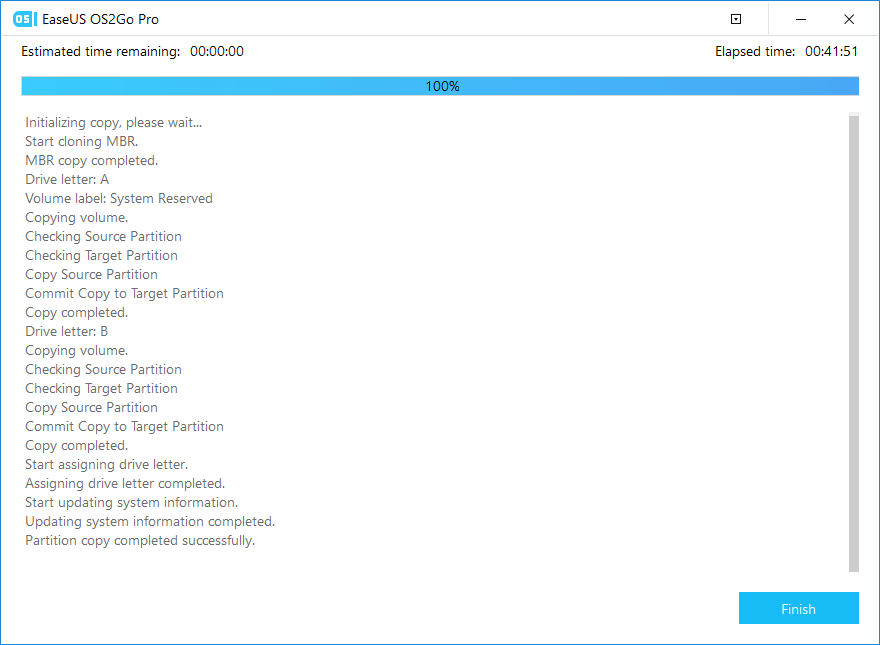 Step 5. Insert the portable Windows USB and start your computer. Press the required key (F2, DEL, F10...) to access BIOS. Choose to boot from the USB disk.
Note: Please make sure that the boot mode (UEFI or Legacy) of the portable USB and your target computer are the same, otherwise you may not be able to boot.
Now you've successfully created a portable Windows on your USB drive, and you can use it to run your system on your desktop. 
Sum Up
In this article, we have introduced the easiest method to create a portable Windows USB. It is highly recommended for you to prepare a portable Windows USB drive in case your laptop can't boot normally. Or, with a portable Windows USB, you can use your own Windows on someone else's computer or public computer and get the same experience as on your own device.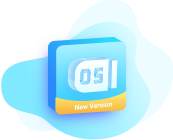 EaseUS OS2Go
Create portable Windows to USB
Copy installed Windows OS to USB
Clone Winodws OS drive to USB
Run Windows 11 on any PC
Run Windows 11 on unsupported PC
Run Windows 11/10 on a Mac
Download Now