Summary
It's common that a hard disk or partition suddenly becomes RAW and you cannot access its data. The general solution to this issue is to convert RAW to NTFS. Given that, we will show you how to convert RAW to NTFS without losing data with the help of RAW file recovery software - EaseUS Data Recovery Wizard.
What Does RAW File System Mean
When an (external) hard drive, USB flash drive, partition become the RAW format, it indicates three kinds of possibilities.
The file system of the disk is not recognized by the operating system of your computer
There is no file system on your disk
The file system of your hard drive or partition is damaged
For example, Windows supports the file systems including FAT, NTFS, exFAT, Live File System, and ReFS. If you connect an external hard drive that is formatted with AFPS to your Windows computer, you will see the file system of the disk shown as RAW in its properties.
Systems of Hard Drive/Partition Becoming RAW
You can decide whether the file system is RAW in properties or in Disk Management. However, you can only realize that your external hard drive or USB device may become RAW after you receive the following notifications:
"You need to format the disk in drive X before you can use it."
"The disk in drive X is not formatted. Do you want to format it?"
"There was an error accessing drive X: The disk is not formatted."
"The type of the file system is RAW. CHKDSK is not available for RAW drives."
Why Do You Need to Convert RAW to NTFS
When your hard drive or partition becomes RAW, you cannot access the files on it. Besides, you are not able to use it for data storage until you convert the RAW hard drive to NTFS by formatting. But how can you repair the RAW disk and convert RAW to NTFS without losing your data? As we all know, converting will remove all the existing files on your hard drive or partition. And since the files on a RAW hard drive/partition is inaccessible, you can not back up them before the operation. Luckily, it's practical to convert RAW to NTFS without losing anything.
How to Convert RAW to NTFS Without Losing Data
Simply speaking, you can convert RAW to NTFS without losing data by doing RAW file recovery first and then formatting the RAW device to NTFS.
First, Restore Data from the RAW Hard Drive/Partition
As long as you apply the professional hard drive recovery software - EaseUS Data Recovery Wizard to perform RAW file recovery in advance, you can convert your RAW hard drive to NTFS without data loss. EaseUS data recovery software fully supports RAW file recovery on a local hard drive, external hard drive, disk partition, USB flash drive, SD card, and other storage devices. It enables you to easily restore data from RAW disk or partition under Windows 10/8/7/Vist and more without any obstacles. In addition, it's 100% secure for your computer system and data, no second damage will be caused.
To perform RAW disk/partition recovery:
Step 1. Locate the RAW hard drive
Download and install EaseUS Data Recovery Wizard on your Windows PC or laptop.
Launch the software. Make sure that Windows has detected your RAW hard drive and correctly listed the drive letter on the disk map.
Left-click on the RAW drive and then click the "Scan" button.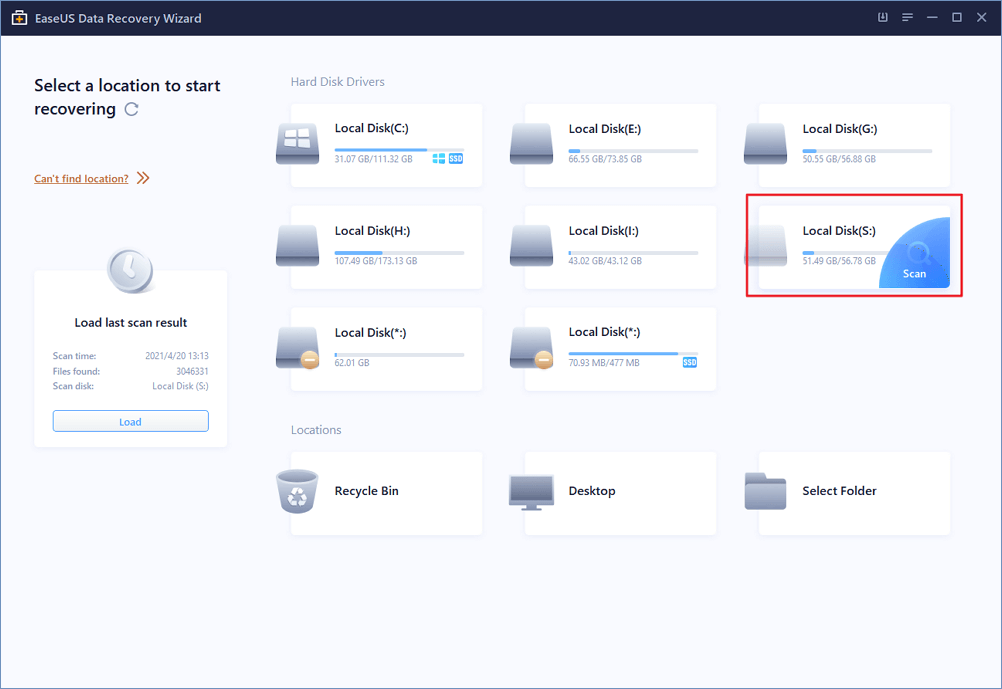 Step 2. Scan the data on the RAW hard drive
At this stage, the software would work very hard to search all data through the entire drive, and timely display the data as the scanning task goes on.
Tip: users are allowed to pause the scan process for an instant recovery as soon as the target files show up, but it's better to stay and wait for a complete scan till the end.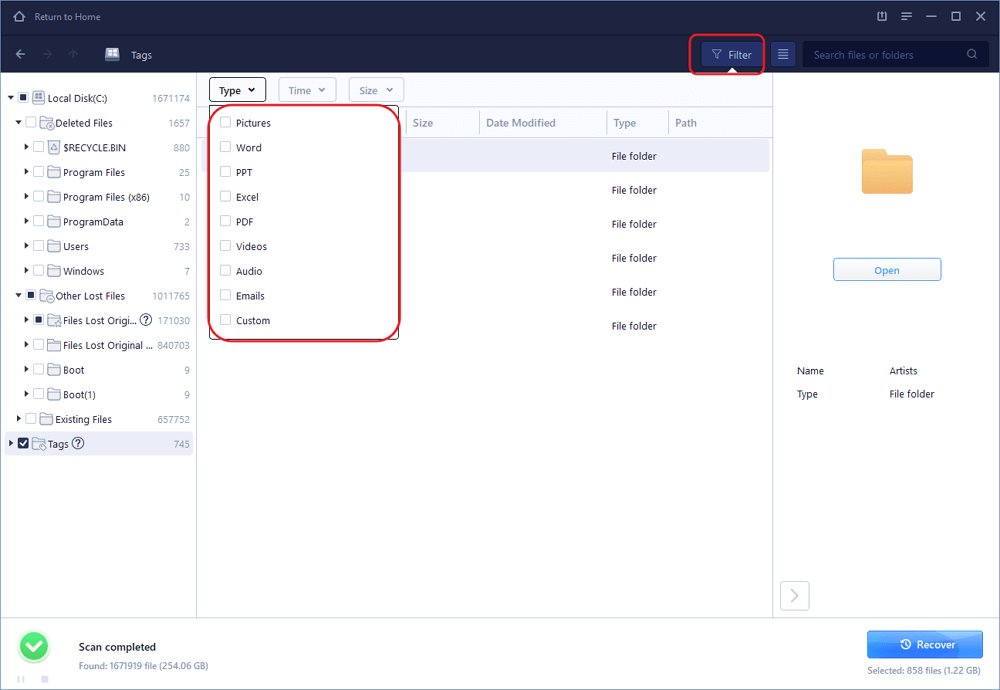 Step 3. Check files under the "Extra Files" result
Besides the general scan results of all lost data on the selected drive, the "Extra Files" is specially designed for RAW hard drive/USB flash drive/micro SD card data recovery, under which you're likely to recover what you want with a high success rate.
Of course, check all the scan results if necessary. Choose the target files and click the "Recover" button. You should save the items to a new location.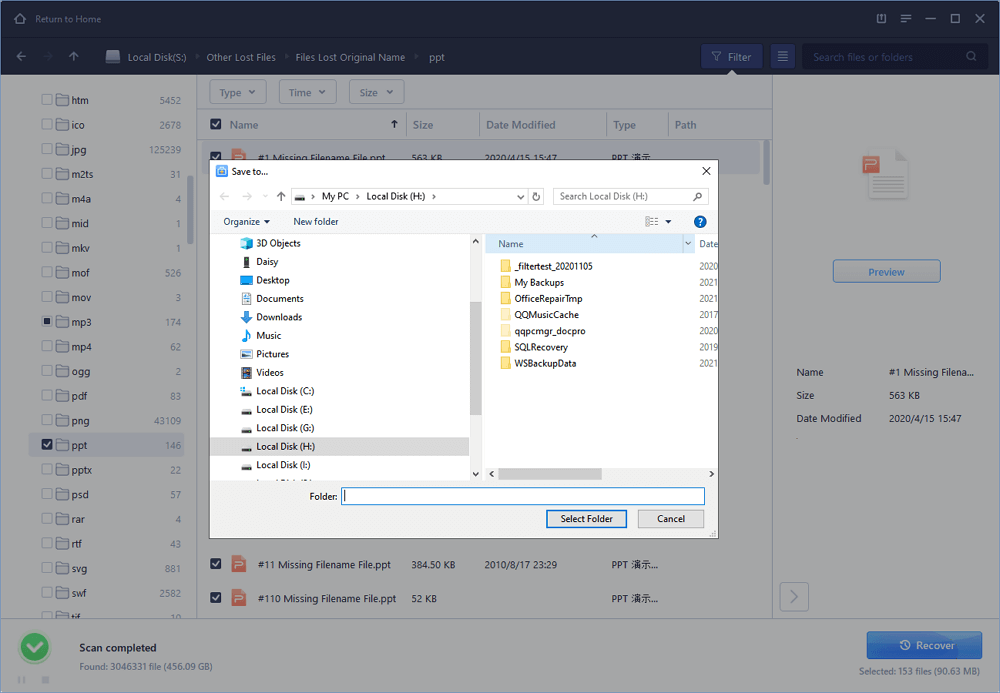 In addition to RAW file recovery, EaseUS Data Recovery Wizard is helpful in deleted files recovery, formatted file recovery, recycle bin emptied data recovery, lost partition recovery, virus attack recovery, and other tough data recovery situations.
Second, Convert RAW to NTFS
There is more than one way to format a hard drive. Choose a preferable way to convert RAW to NTFS.
Method 1. Format RAW to NTFS
Step 1. Open "This PC" (Windows 10), righ-click the RAW disk/partition, and choose "Format".
Step 2. Select the NTFS file system and set up other necessary options.
Step 3. Click "Start" > "OK".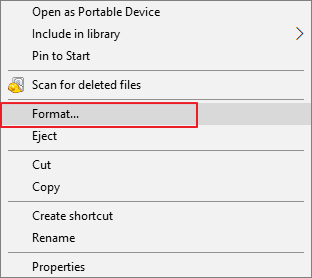 When the process has done, your hard drive or partition is usable again. You can copy the files recovered in the first step back to the disk according to your needs.
Method 2. Convert RAW to NTFS via CMD
Using the command line to convert RAW to NTFS is not necessary but it's also a way to do it. With the correct command, you can change RAW hard disk/partition to NTFS.
Step 1. Search "Command Prompt", right-click it and choose "Run as administrator".
Step 2. Type convert X(driver letter): /fs:ntfs and hit "Enter".
Step 3. Type the mane of the partition or disk you want to convert to NTFS and press Enter.
After this all you need is to wait patiently, the partition will be converted from RAW to NTFS automatically. When it has done, you have successfully convert RAW to NTFS without losing data.
Bottom Line
Some of you may think that you can get back lost and inaccessible files after converting RAW disk drive to NTFS. But, it is not the case. The fact is that you need to rely on data recovery software to recover files from the raw drive. So, whenever you want to convert RAW disk drive to NTFS, format it after full data recovery.
100% of people found this article helpful.
Frequently Asked Questions
1. Why cannot I recover 2GB data for free?

It is recommended to check the version installed is Free or Trial because they are different versions.

Trial has data preview function but cannot save any files, while the Free version enables to recover 2 GB files. The default free space is 500 MB and you may share the product on social media to get another 1.5 GB.
2. Why cannot the recovered files be opened?

A file is saved as 2 parts on the storage device: directory info (which is comprised by file name, time stamp and size info, etc.) and data content.

If the files with original file names and folder structures cannot be opened, one possible reason is the corrupted directory info. There is still a chance to recover the data content with the RAW Recovery method in our software.
3. Why isn't it suggested to recover the files back to the original drive?

The storage structure of the lost files would be altered or damaged by any changes on the drive. If you save the recovered files back to the same drive, the original data structures and data content would be corrupted or overwritten, which causes permanent data loss. So you should prepare another disk to save the files.
4. How can I check whether my data is recoverable or not before purchase?

The Free version helps you save 2GB files to better verify the recovery quality of our product before purchase.
5. How long does it take to scan the drive?

It strongly depends on the capacity of your hard drive and the performance of your computer. As reference,most drive recoveries can be completed in around 10 to 12 hours for a 1-TB healthy hard drive in general conditions.
About Data Recovery Wizard
It's super easy to recover 250+ types of files after deletion, disk formatting and virus infection. Click the links and compare the difference of each version.