First of all, you must have a CD-burning software which create bootable CD like such as free burning software.
The Partition Magic rescue floppy disk contains a Dos Boot disk and the Partition Magic program. The only extra step to make a Boot CD is adding the contents to the CD.
Prepare a Win98 bootable floppy. If you do not have one, please download from internet. Then launch your burning software, and use the DOS boot floppy as the source image for your bootable CD project.
And then drag the following files into the burning CD:
pqmagic.exe
pqmagic.ovl
pqmagic.pqg
pqpb.rtc
pmhelp.dat
mouse.com
You can copy directly from the rescue floppy disk or drag to the Boot CD direct these should be on rescue floppy, or drag directly from the Partition Magic CD (\english\dosmake\disk2 directory.)
Edit the config.sys file on the boot floppy to eliminate the useless "without CD support?" boot option, as you'll always be booting the CD with CD support.
Burn the files to the CD and use the Boot CD to boot. Make sure DOS drive letter is assigned to the CD drive. When booting is finished, you'll be left at the A:\ prompt. Switch to the CD drive letter ("CD e:", for example), then launch pqmagic.exe. Now Partition Magic is running on DOS.
An alternative for Partition Magic - EaseUS Partition Master
However, we have to face the fact that Partition magic is now not available any more on the market. So it is almost impossible to create a Partition Magic bootable CD/DVD. Many people would wonder what they can do without this powerful partition manager software. Here I would like to introduce a wonderful alternative of Partition Magic - EaseUS Partition Master, which aims to optimize the usage of the computer and maximize its performance with basic and advanced partition functions.
Its commercial edition provides WinPE bootable disk which is needed when your operating system has crashed. If you want to resize the primary drive to reinstall other operating system or even manage partitions on a computer which has no operating system, EaseUS Partition Master bootable CD will also help you a lot.
Compared with the way of creating bootable CD/DVD of Partition Magic as mentioned above, EaseUS Partition Master offers WinPE bootable disk which is apparently more convenient and easier both for novice and experienced computer users.
How to create EaseUS Partition Master bootable CD/DVD?
Attention: EaseUS Partition Master WinPE bootable disk is only provided to our purchased users.
1. Launch EaseUS Partition Master.
2. Select "Tool" from the menu and select "Create WinPE bootable disk".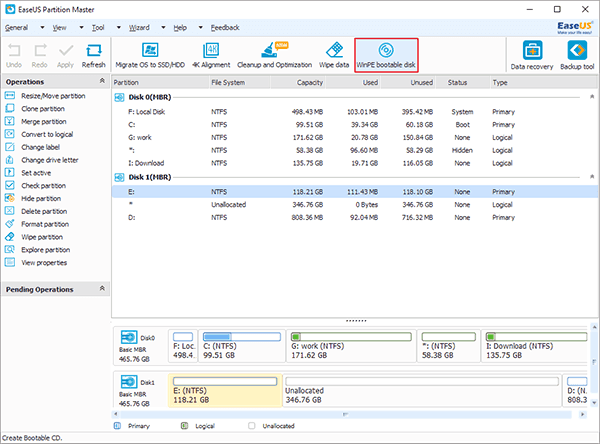 3. Start to create bootable disk of EaseUS Partition Master.
4. Run EaseUS Partition Master to manage your hard disk partitions from the bootable disk.