Summary
By accident, you closed an unsaved Pages document which contains a lot of important notes. Or, carelessly, you lost or deleted a Pages document that you desperately need. To recover your unsaved pages documents on your Mac, you can go to Finder and have a try. While to recover a lost/deleted Pages document, you can do it successfully with the help of EaseUS Data Recovery Wizard, the powerful and popular data recovery tool, or Time Machine.
PAGE CONTENT:
Part 1. Recover an Unsaved Pages Document
Part 2. Recover a Lost/Deleted Pages Document
Part 1. How to Recover Unsaved Pages Document
"My Mac froze and I was unable to click or move anything so I restarted the computer. Then I realized I closed my Pages document without saving it by doing so. The unsaved Pages document that I was working on contained a few weeks worth of notes. Now I desperately need to recover it, and I'm sure there's some kind of folder or something to help me recover this."
Like recovering unsaved Word documents, there are also three ways to recover unsaved Pages documents on Mac. How to recover a pages document that wasn't saved:
Method 1. Go to Finder to Look for the Unsaved Document
Step 1. Go to "Finder" > "File" > "Find" on your Mac.
Step 2. Search "This Mac" and confine the kind to "Document".
Step 3. Click the second tab in the View menu to list the search results.
Step 4. Find your unsaved Pages document and save it to your desktop or somewhere else.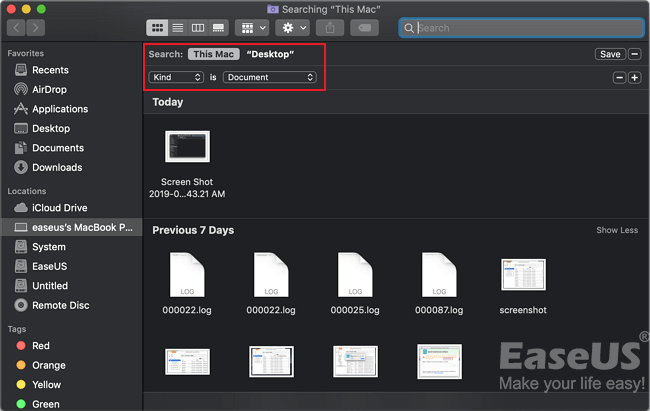 If you can't find your unsaved documents, there are more possible ways to try.
Method 2. Restore Unsaved Pages Documents from Temp Folder
Step 1. Go to "Applications" > "Utilities" and double-click "Terminal".
Step 2. In Terminal, enter open $TMPDIR and you will be directed to the TMP folder which is used to keep files temporarily.
Step 3. In the TMP folder, find and open the folder named "TemporaryItems". In it, right-click the desired unsaved Pages files, choose "Open with...", and open the file with the corresponding program. .
Step 4. Save the Pages file by clicking on "File" > "Save As" and save it to another location.
Method 3. Recover a Pages Document from Auto-Save
The Auto-Save feature is turned on by default and will take effect once you saved a document. Thus, if you unsaved the new edits on a document that had been saved before at least once, it's possible for you to recover the unsaved content with the help of Auto-Save feature.
Step 1. Go to find a Pages document.
Step 2. Open it with Pages.
Step 3. Then you will see the document you just opened and other documents you left opening or unsaved in the window.
Step 4. Choose the one you need and recover it.
Part 2. How to Recover Lost/Deleted Pages Documents
"I got some important Pages documents deleted accidentally by mistake. This case occurred to my MacBook Air last weekend while I was planning to delete those useless files and save more available space. After the deletion, I tried to edit a Pages document which was stored in a file folder. But I could not find any tracks of the page document. The whole folder was gone and all Pages documents disappeared from my Mac. How can I get those lost pages documents on my Mac back? If you have any effective methods, please help me. Thank you."
To be honest, the chances to recover an unsaved Pages document are, if any, slim. However, if your documents are lost or deleted by accident and you want to get them back, you will have a high chance of success.
Suggestion for Retrieving Lost/Deleted Pages Documents on Mac
Pages documents on Mac is usually used by Mac users for processing word application with advanced features including spelling check, grammar check and style sheets, etc. Losing page documents on Mac is not a rare case which may occur anytime and happen to any Mac users. Luckily, after you've got your important Pages documents lost or deleted, you can retrieve your desired files with effective. Here we recommend you try two reliable solutions to restore lost pages documents: recover pages documents with Mac data recovery software or recover Mac pages documents via Time Machine.
Method 1. Recover Lost/Deleted Pages Documents on Mac with EaseUS Data Recovery Wizard
 Important

Once you get your documents lost or deleted, stop using the hard drive where you stored you saved the files. And, don't install the software on the same hard drive as the one on which your Pages documents saved.
If you didn't enable Time Machine, you can successfully recover the lost/deleted Pages documents with Mac data recovery software - EaseUS Data Recovery Wizard for Mac. This software provides a professional solution for different data loss situations on various devices. For example, it can recover deleted files after emptying Trash Bin, recover lost photoshop files, and retrieve lost files from an SD card. Don't hesitate to give it a try.
Steps to retrieve lost/deleted Pages documents on Mac with EaseUS Data Recovery Wizard:
Step 1. Select the disk location (it can be an internal HDD/SSD or a removable storage device) where you lost data and files. Click the Scan button.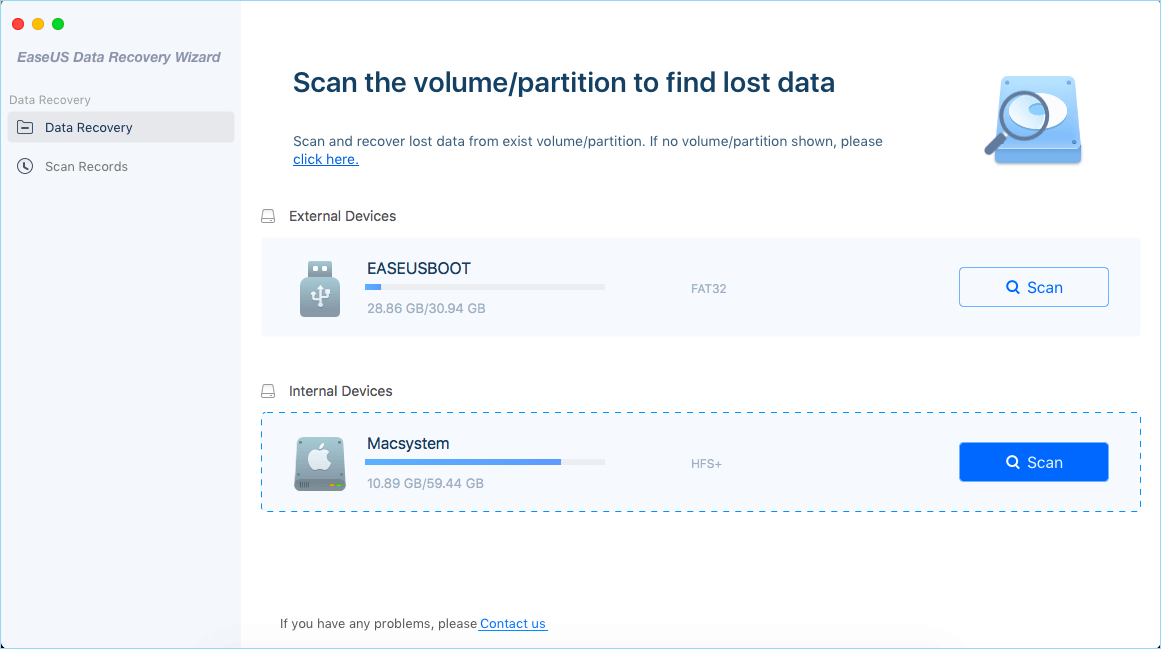 Step 2. EaseUS Data Recovery Wizard for Mac will immediately scan your selected disk volume and display the scanning results on the left pane.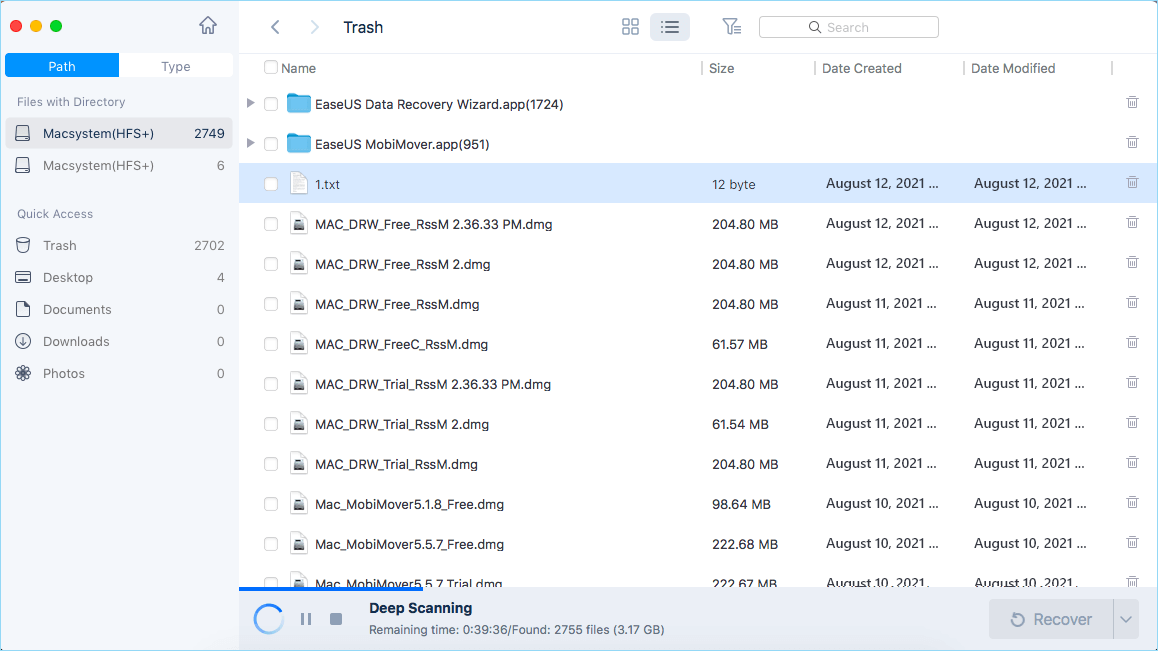 Step 3. In the scan results, select the file(s) and click Recover Now button to have them back.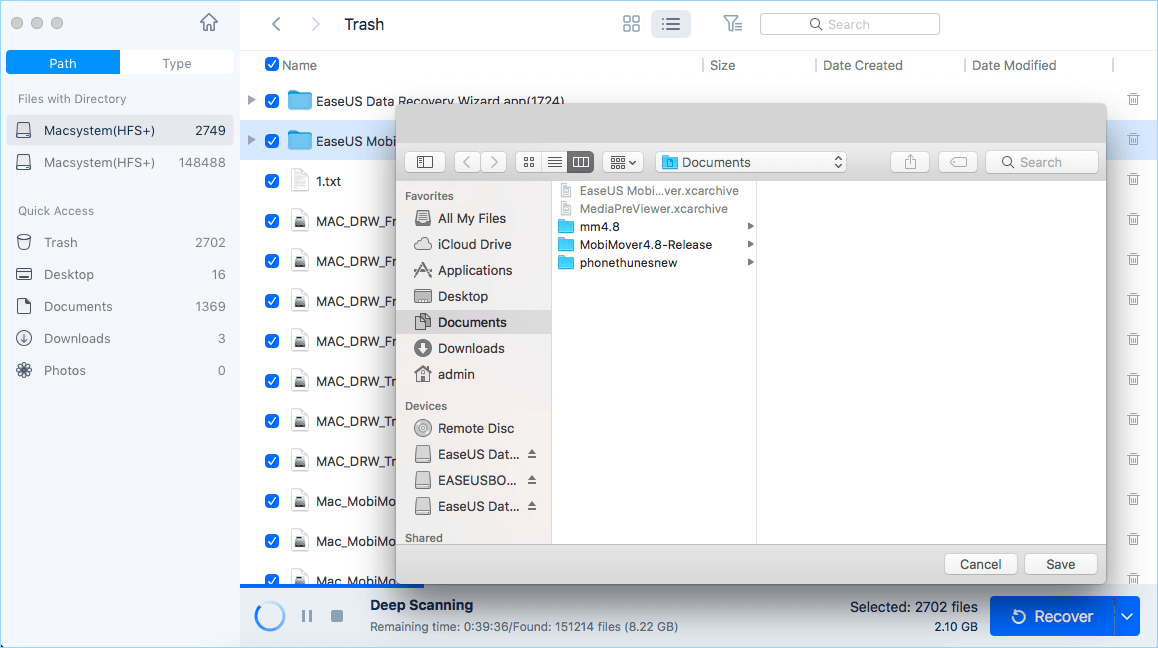 No obstacles will be encountered to use this software to recover lost Pages documents. As mention above, you can also apply EaseUS Data Recovery Wizard for Mac to other data loss situations to get back your files. In a word, it's a tool well worth trying.
Method 2. Recover Pages Documents on Mac with Time Machine
If you have turned on Time Machine and made a backup plan for backing up important Pages documents on your Mac, you can follow the next steps to recover Pages documents with Time Machine:
Step 1. Launch Time Machine.
Step 2. Select "backups" and choose "Pages documents".
Step 3. Click "Restore" to recover your lost Pages documents.
100% of people found this article helpful.
Frequently Asked Questions
1. Why choose EaseUS Data Recovery Wizard?

"EaseUS Data Recovery Wizard is the best we've seen. It's far from perfect, partly because today's advanced disk technology makes data-recovery more difficult than it was with the simpler technology of the past, but it's fast and efficient..." —PCMag

"The first thing you'll notice about EaseUS Data Recovery Wizard Pro is that its interface is very clear and uncluttered, with only a small collection of self-explanatory controls. You won't find lots of extra options hidden in a system of hidden menus, either; what you see really is what you get." —techradar

"Recover lost files, even after deleting a partition or formatting your drive." —Macworld
2. Why cannot I recover 2GB data for free?

It is recommended to check the version installed is Free or Trial because they are different versions.

Trial has data preview function but cannot save any files, while the Free version enables to recover 2 GB files. The default free space is 500 MB and you may share the product on social media to get another 1.5 GB.
3. Why cannot the recovered files be opened?

A file is saved as 2 parts on the storage device: directory info (which is comprised by file name, time stamp and size info, etc.) and data content.

If the files with original file names and folder structures cannot be opened, one possible reason is the corrupted directory info. There is still a chance to recover the data content with the RAW Recovery method in our software.
4. Why isn't it suggested to recover the files back to the original drive?

The storage structure of the lost files would be altered or damaged by any changes on the drive. If you save the recovered files back to the same drive, the original data structures and data content would be corrupted or overwritten, which causes permanent data loss. So you should prepare another disk to save the files.
5. How can I check whether my data is recoverable or not before purchase?

The Free version helps you save 2GB files, so verify the recovery quality of our product before purchase.
6. How long does it take to scan the drive?

It strongly depends on the capacity of your hard drive and the performance of your computer. As reference,most drive recoveries can be completed in around 10 to 12 hours for a 1-TB healthy hard drive in general conditions.
About Data Recovery Wizard
It's super easy to recover 250+ types of files after deletion, disk formatting and virus infection. Click the links and compare the difference of each version.