Quick access to the 10 troubleshooting methods to fix the Macbook or iMac won't turn on problem:
| Workable Solutions | Step-by-step Troubleshooting |
| --- | --- |
| Basic Troubleshooting | |
| Advanced Troubleshooting | |
What Causes MacBook or iMac Failing to Turn on
Opposite to Mac won't shut down, Mac won't turn on is an issue that Mac users have been facing in the past. There are various reasons which can prevent your Mac from booting. Let's see the possible reasons behind the startup failure on Mac:
Component Failure: Your Mac works using a keyboard, screen, SSD drive, battery, and touchpad. If any component is misbehaving, it can prevent your Mac from startup.
System Management Controller (SMC) Problem: SMC is responsible for handling all the power supplies to your Mac. So, whenever you turn your Mac on, SMC does its job to handle all power-related issues. If SMC fails, your Mac won't boot.
Battery: Without a power cable, your Mac runs on the battery. If your battery is insufficient, your Mac won't work.
Broken Applications: Any firmware or startup application misbehaving or not working can also cause problems with Mac startup.
These are some of the key reasons that can create problems for your Mac.
How to Get Your Data Off a Mac That Won't Boot
The essential thing in your Mac is your data. So, if your Mac isn't working, how can you get your data off of your Mac? Luckily, you can do that with the help of EaseUS Mac data recovery software.
The top-rated Mac data recovery software can help you recover data from a dead Macbook. It works even if your Mac fails to load the macOS.
The software provides a bootable recovery method for your Mac. Using its bootable recovery feature, you can quickly rescue all your data files on Mac even if it does not boot.
Let's see below how to rescue data from an unbootable Mac using EaseUS Data Recovery Wizard Pro:
How to Create a USB Bootable Media
Step 1. Install and run EaseUS Data Recovery Wizard for Mac on another Mac computer, and select "File > Create Bootable USB". Then, choose a USB drive to create the bootable disc.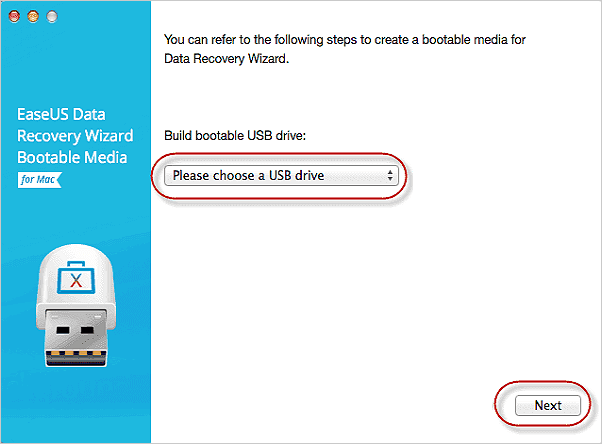  Warning

The creator will prompt to erase the drive to reallocate the space; then it can write the bootable files to this drive. Please back up all USB files before processing "Eraser".
Step 2. The program starts to create a 2GB space and save the boot files. The rest space on the USB can be still used for storage.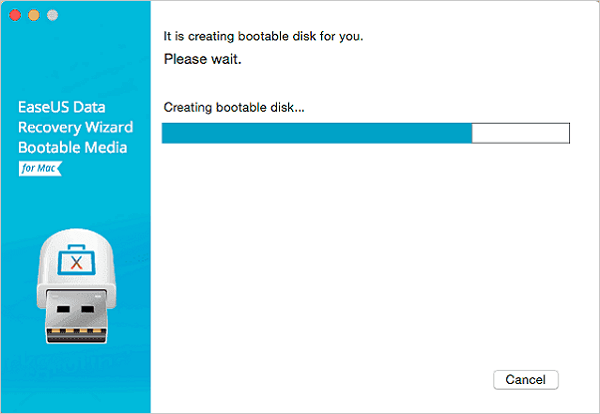 Step 3. Once it completes, please follow the guide to boot the corrupted Mac from the bootable disc and start the recovery. We suggest you restore the data to an external hard drive.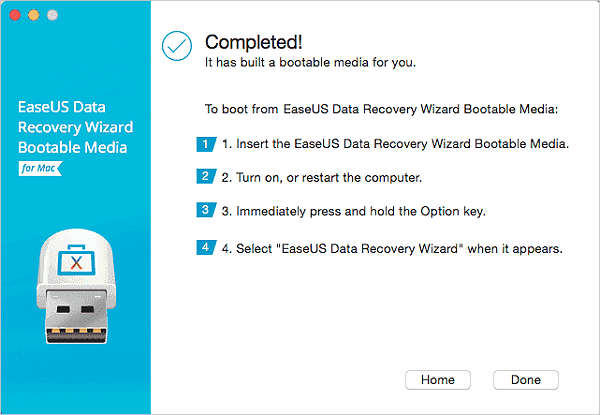 How to Recover Data from Mac Hard Disk
Step 1. Select the disk location (it can be an internal HDD/SSD or a removable storage device) where you lost data and files. Click the "Search for lost files" button.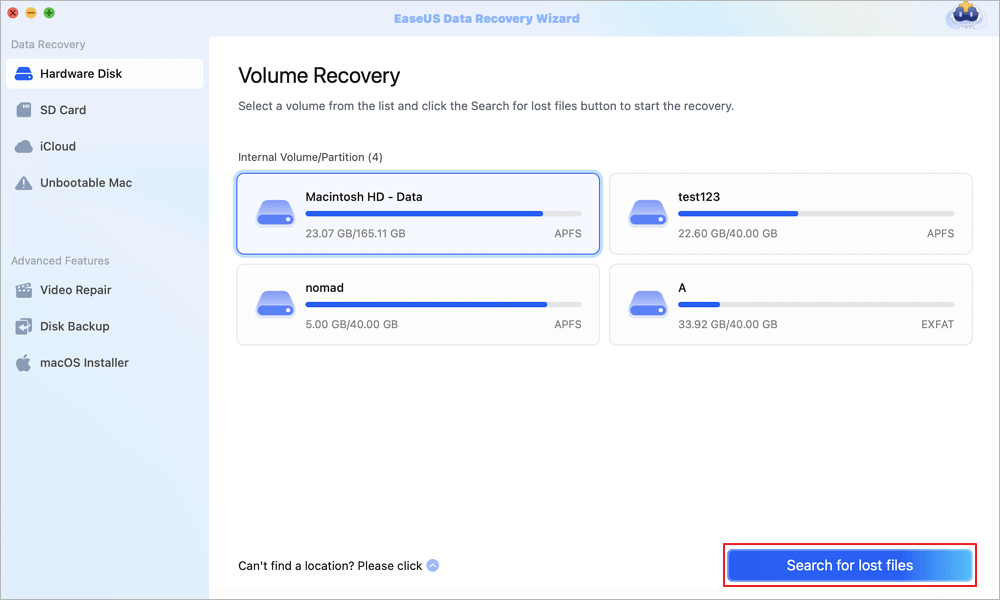 Step 2. EaseUS Data Recovery Wizard for Mac will immediately scan your selected disk volume and display the scanning results on the left pane.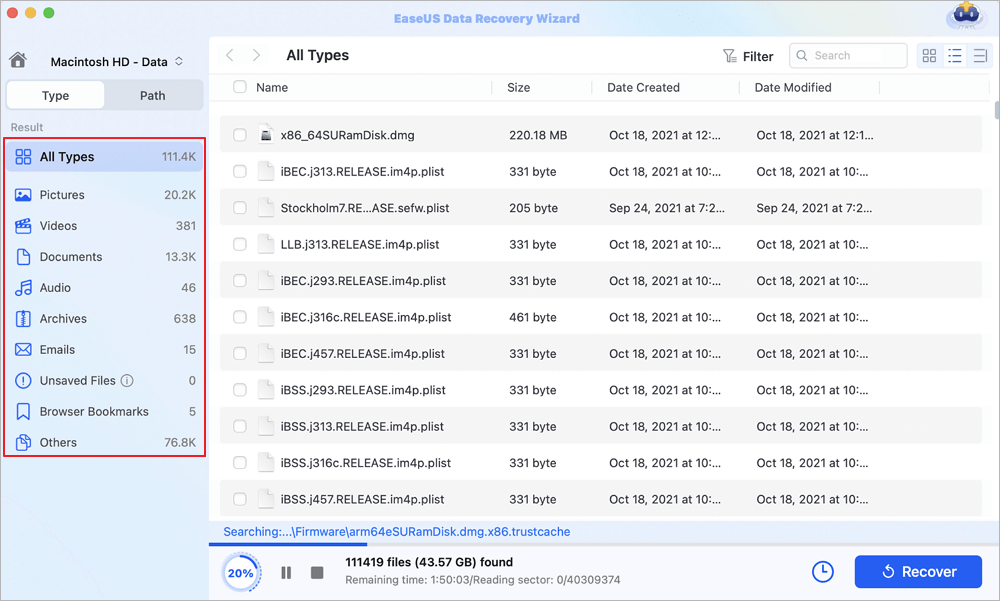 Step 3. In the scan results, select the file(s) and click the "Recover" button to restore data from Mac.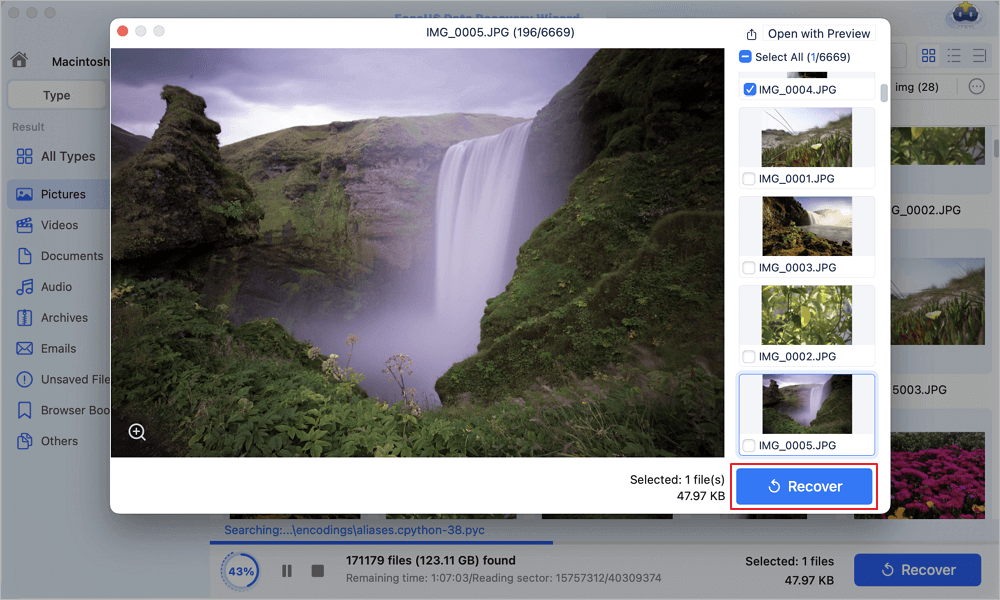 Follow the 10 Fixing Methods to Repair a Mac That Won't Turn on
It is recommended to stay on the safer side and rescue your data first using the EaseUS Data Recovery Wizard for Mac. Once done, you can use the below methods to fix your Mac that won't boot.
Fix 1. Check Power Status
As you know, that Mac will boot if your battery has sufficient capacity. If not, you need a power cable to boot your Mac. Therefore, you have to check your Mac's power status.
If your battery isn't working, try to plug in the charger and see if your Mac is charging. Also, make sure that your power cable adapter is in good condition. Replace the charger if its cable is broken.
Fix 2. Assess the Signs Indicating Power on
Identify that your Mac is at least turning on by assessing some key signs. There are various ways to assure that Mac is loading up, such as:
Hit the power button and see if you can hear the fan's noise.
Check if any light on your keyboard is lighting up. Also, see power cable light is enabled.
Press the Caps Lock key and look if it lights up.
If you can not see any sign, then the apparent reason would be that your Mac is not getting a Power supply. You need to try different chargers or fix the power supply port.
Fix 3. Disconnect Peripheral Devices
Try unplugging all the peripheral devices from your Mac. Such as an external mouse, keyboard, HDMI, printers, etc. Sometimes, an external device can have a short circuit inside of it. Hence, it will draw more or inconsistent power from your Mac.
SMC (System Management Controller) will prevent Mac from booting in such a scenario. So, disconnect all peripheral devices and try to power Mac again.
Fix 4. Try Mac's Power Cycle
When your Mac doesn't turn on, you can try a force restart, enabling a power cycle.
Follow the below method to enable a power cycle on your Mac:
Step 1: Keep pressing your Power button key on Mac.
Step 2: Remove all power cables.
Step 3: Hold the power button key for 10 or more seconds.
Step 4: Restart Mac again.
Fix 5. Check for Display Issues
If you are loading your Mac on an external display, there can be a problem with the external display. First, make sure that the external display has power and working.
You can also see if your Mac fan is working. In case it does, the problem is likely to be with your external display. Check and connect the external device cables correctly with power and your Mac device.
Fix 6. Check Hardware Cables
Properly connect any internal or external hardware device cables to your Mac. A loosely connected cable would be the cause for your Mac not able to boot.
Also, check that no internal or external cable is broken from anywhere. You need to replace the cable if there is any tear or fraying on it.
Fix 7. Boot Mac in Safe Mode
There is a high probability that a 3rd party application or drive issue is causing the issue with your Mac. You can try to run Mac in Safe Mode to eliminate this probability.
Safe Mode in Intel-Based Mac
You can access safe mode in Intel-based Mac by turning on your Mac and then pressing and holding the Shift key from your keyboard. Keep pressing the Shift key until you see the login screen.
Safe Mode in M1 Mac
In M1 Mac, hold the power button key until you see the startup options window on the screen. You can select the startup disk and hold the Shift key to load Mac in Safe Mode as the screen appears.
Fix 8. Use Mac's Recovery Mode
Using Mac's recovery mode, you can quickly repair your SSD, reinstall macOS, or restore Time Machine backup.
You can enter the recovery mode by turning on your Mac and immediately pressing and holding the Command + R key.
In M1 Chip, recovery mode is accessible by pressing and holding the Power Key, which will lead you to Load startup options through which you can choose the recovery option.
Fix 9. Reset SMC
Resetting SMC helps you fix low-level functions that are not working in your Mac. You can reset the SMC on your Mac by following the below steps:
Step 1: Turn off your Mac.
Step 2: Hit the Power key.
Step 3: Now, press the Shift + Control + Option + the Power Key for seven seconds.

Fix 10. Schedule an Appointment with Apple Genius Bar
If you fail to turn your Mac on with the first nine methods, it is better to reserve an Apple Genius bar appointment.
You can visit https://www.apple.com/retail/geniusbar/ and schedule an appointment with them. They can help you by providing you assistance with your Mac's issue.
Conclusion
Mac boot issues are here from the beginning. Although they rarely appear, they are frustrating and can stop you from doing your important work.
Usually, the Mac won't turn on if there are problems with your hardware components. However, you can fix the commonly occurring issues by the methods mentioned in this article.
Whenever your Mac runs into a boot issue, it's always best to rescue your Mac's data. The best approach is to use EaseUS Data Recovery Wizard Pro, which helps you perform bootable recovery on your Macbook.

Dany is an editor of EaseUS who lives and works in Chengdu, China. She focuses on writing articles about data recovery on Mac devices and PCs. She is devoted to improving her writing skills and enriching her professional knowledge. Dany also enjoys reading detective novels in her spare time.

Jean has been writing tech articles since she was graduated from university. She has been part of the EaseUS team for over 5 years. Her special focuses are data recovery, disk partitioning, data space optimization, data backup and macOS. By the way, she's an aviation fan!